We've finally made it to the tail-end of Real Housewives of New Jersey Season 13 and I feel like reaching the peak of the drama is like climbing a tower of Teresa Giudice's wedding weave. The season has somehow felt so short yet so dragged out. For example, I already feel as though Danielle Cabral is an old friend. Meanwhile, if I never had to see her fight with Rachel Fuda about the same nonsense ever again, my life would be more peaceful. Thankfully, the finale is just a week away.
The latest episode of RHONJ centered around the final days before Teresa's wedding to Luis Ruelas. The mounting tension is growing between Tre and her brother Joe Gorga, but producers are making fans wait until the absolute last minute to watch this pot boil over. Here are the five main takeaways from the latest RHONJ episode "Rat in the Street."
Let me tell you something about the RHONJ families
To be honest, a lot of RHONJ Season 13 Episode 14 was a lot of family fluff I didn't care about. Danielle continued to get emotional about the estranged relationship with her brother, this time with her mother crying by her side. Jennifer Aydin kept (rightfully) complaining about her marriage to Bill Aydin. This time, she did it in the setting of the amazing apartment that she helped her brother move into, so he was obligated to listen. Rachel also made strides in adopting John Fuda's son whom she's known for years. It's a heartwarming anecdote, but it's just an odd contrast to the Tre vs. Gorgas storyline. At this point in the season, it seems out of place.
One of the rare light-hearted family moments from the episode is when Jennifer Fessler introduces Margaret Josephs to her mom and her identical twin. The two curly red-heads had a fiery personalities to match their looks and still have a habit of dressing the same in their 80s. "I have never seen two whirling dervishes like this in my life," Marge said about the twins. Hey, Andy Cohen, can we get these two divas to serve as guest bartenders on Watch What Happens Live? The RHONJ fans absolutely need more of them.
Tre's wedding week woes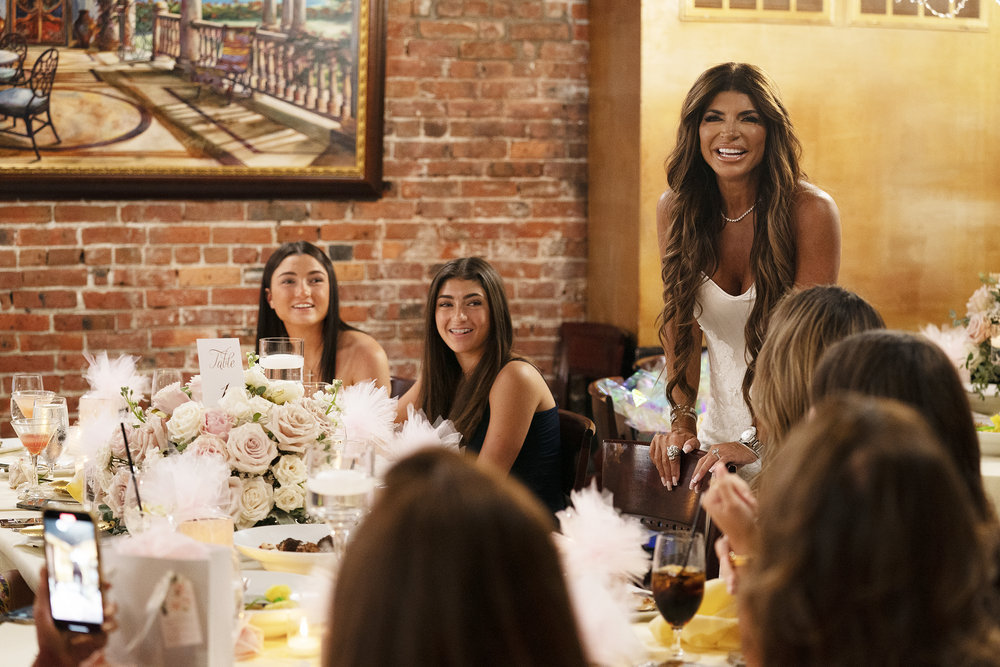 Teresa had just a few days before walking down the aisle and she had so much to do. She and Luis finalized the seating chart. They had to confirm the sequence of the reception. And she definitely had to practice walking while balancing all that hair (kidding). To Teresa's pleasure, Luis' family has been pretty accommodating throughout the whole thing. Luis called his mom during the episode to ask if she wanted to do a mother-and-son dance. When Tre brought up that she would watch since she didn't have family members to dance with, "Mom," as Teresa also called her, said she wanted the day to be about the happy couple. "The difference between Luis' family and my family? It's like you can't even compare," Tre said in a confessional. Ouch.
While she had so much to do, Tre wasn't acting all Bridezilla about it. Tre's in love love love and nothing will pop that bubble. She didn't even lose her mind when she had to hunt down Melissa Gorga via text to RSVP to the rehearsal dinner, but MelGo said her family would ONLY be making it to the wedding. Shady shade. Tre commented that Melissa's actions don't match her words, which is a solid point. It's just another example of the writing that was on the wall for how the wedding turned out.
Paulie's big plans
Dolores Catania had a big week as she, Paul Connell, and Frank Catania all attended a dinner to celebrate their son's new job. All of the adults, aside from Brittany Mattessich who's in her own world, were nervous entering the dinner. As expected, once the two macho men got to know each other, they actually got along. Frank gained a lot of respect after hearing Paul's immigration story. Brittany broke the ice when she asked if Paul had to learn English when emigrating from Ireland. Just let it sink in. We still love her for Frank.
One of the most shocking moments of the dinner was when Frank asked Paul if he planned on marrying Dolores. Paul admitted, in front of the entire family, that he already had the ring. Everyone was shocked, but Dolores wasn't getting too excited until she saw the rock herself. Frank ultimately felt good about the state of his relationship with his ex. "The family's getting bigger," Frank cried like a big baby.
The Gorgas are a ticking time bomb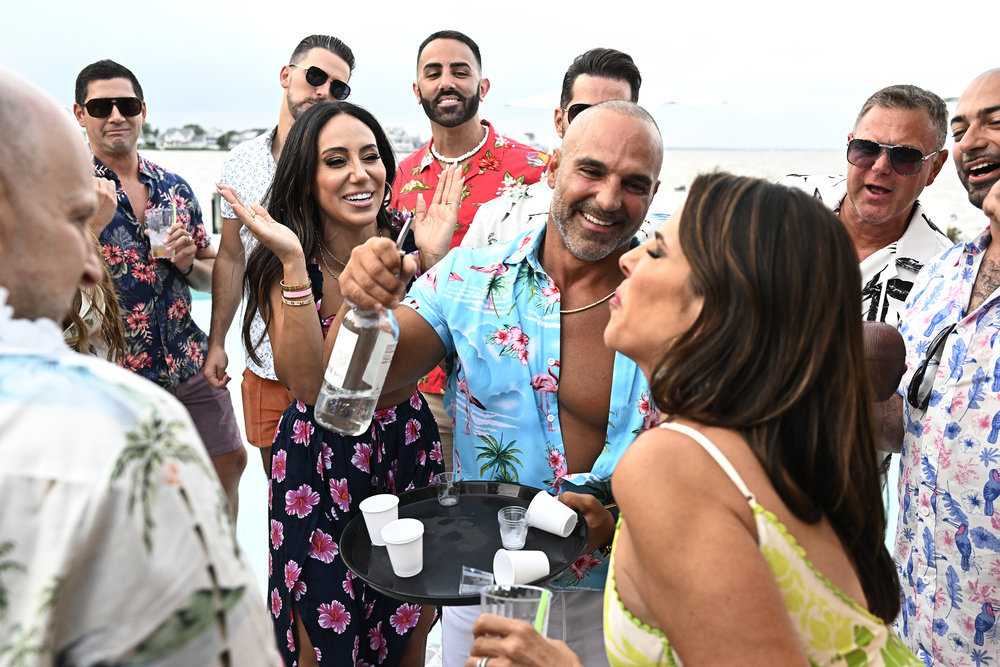 Somehow at this point in the season, we didn't get our first scene with the Gorgas until there were less than 15 minutes remaining of the episode. Maybe Bravo really is testing out what the show would be like without Melissa. The pair show up when preparing for Dolores and Paul's prohibition party. Joe called Frank who obviously spilled the beans about Paul's plan to propose. MelGo asked if the party, which Frank and Brittany were invited to, was an engagement and Frank got a little easy. It seems like baby steps are really the way to go with this man.
While the Gorgas weren't a major part of the episode, a rumor about Melissa definitely was. It appears that during the finale, Danielle drops the gossip about MelGo making out with another guy. Marge's ex-friend Laura Marasca Jensen kept being brought up in the episode, as well as the tea she spilled. While Danielle got ready for the party, the rumor was weighing on her heart.  "I just want to clear the air," she said. "I don't want her to shoot the messenger." Famous last words.  
Luis reaches his final fiery form
The giant elephant in the episode was Luis and his absolutely unhinged anger toward the Gorgas. We learn that Joe Giudice was speaking with his daughters about the tension between Tre and her brother. Juicy took it upon himself to call Luis and give him some man-to-man advice. These two are the duo of my nightmares. "He said to me, 'Don't let Joe Gorga interfere in your life because he's going to try to do that," Luis proclaimed until he was literally red in the face.
Luis kept the harsh words coming for Joe and Melissa every time the camera panned to him during the episode. He called Joe "an animal," a "pig of an energy," and "f–king trash," and that was just him getting started. At one point, he said he wouldn't even share a cup of water with Joe, which is just oddly specific. When Tre told her fiancé that her brother was ignoring her calls for days, Luis planned on confronting him at Dolo's party. "I would like to talk to your brother as much as I want to talk to a rat in the street," he said. He also promised Tre that if the Gorgas started a fight, she wouldn't recognize him. Guys, I'm starting to get scared.
Tre was stone-faced the entire time Luis was bashing her family. She kept up her "peace" speech but did recognize that if Luis' sisters were speaking to him about her in that manner, she would be upset. "I've never heard Luis talk like this before but I don't blame him," Tre said. Oy vey. Luis ended the episode proclaiming that he didn't want the Gorgas at the wedding at all, which is hopefully the final foreshadowing until we see that become the truth.
Real Housewives of New Jersey continues Tuesdays at 9/8c on Bravo.
TELL US – WHAT DID YOU THINK OF THE LATEST REAL HOUSEWIVES OF NEW JERSEY EPISODE? HOW DID YOU REACT TO THE WAY LUIS SPOKE TO TERESA ABOUT HER FAMILY?