Season 8 of Real Housewives of Atlanta ushered in many changes. NeNe Leakes, the final "OG" cast member, quit the show. But surprise! She popped back up for the ladies' Jamaica trip. And actress Kim Fields, who starred in The Facts of Life as a child, joined the cast. She was not made to be a reality star. Let's relive the biggest bombshell moments from Season 8 of RHOA.
Peter Looked Like a Cheater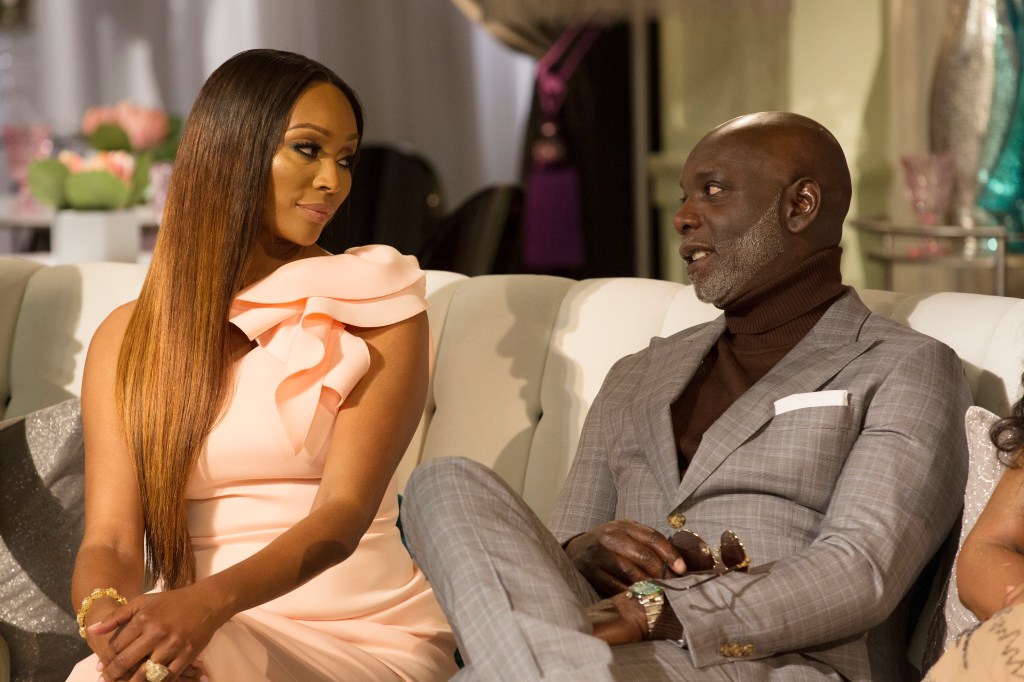 Cynthia Bailey's marriage to Peter Thomas was not in a great place. He was seen getting pretty close to a young woman at his bar in Charlotte, NC. Peter was nuzzling this lady and touching her neck. Of course, the video went viral.
Cynthia asked her husband about it, and he reassured her that the woman was a regular patron and he was "networking." Interesting. Is that what they are calling it now? Cynthia was embarrassed that everyone had seen the video. But she didn't seem particularly emotional about it.
Booze Cruise Chaos
Kenya Moore rented a boat for a booze cruise on Lake Lanier. What was supposed to be a fun, alcohol-fueled party turned into an altercation between Cynthia and Porsha Williams. When Porsha jokingly called Cynthia a "b*itch," Cynthia was furious. Porsha explained that she was being playful, and told Cynthia that she was just sensitive right now. Shout out to Peter.
Cynthia went to relax in a lounge chair. Porsha followed and again tried to tell Cynthia that she didn't mean any harm. Cynthia insisted Porsha was being disrespectful and rude. Both peaches started screaming, and Porsha put her fingers in Cynthia's face. When Porsha stood up over Cynthia, the model kicked her in the stomach. Ouch! Porsha made a beeline for Cynthia and was restrained by production.
Kenya Slammed Kim's Experience
I'll bet that Kim never expected to find herself in the middle of all this craziness. Cynthia asked Kim and Kenya to prepare pitches for her eyewear line commercial. Kim was prepared, and someone else wasn't. Kenya was pissed that Cynthia hired Kim. So, she decided to drag Kim for fun.
She asked Kim how many commercials she has directed, and implied that Kim has no resume. Then she insulted the newbie Real Housewives stars' looks and age. Kim told Kenya, "You are really tired." Kenya replied, "Everything about you is tired."
Kim was officially over Kenya's shenanigans. She started to get ready to leave the table, so Kenya stood up, applauded, and pulled Kim's chair out with her in it. "You are really a piece of work," Kim remarked as she headed to her room. Truer words were never spoken.
Don't Ask Kenya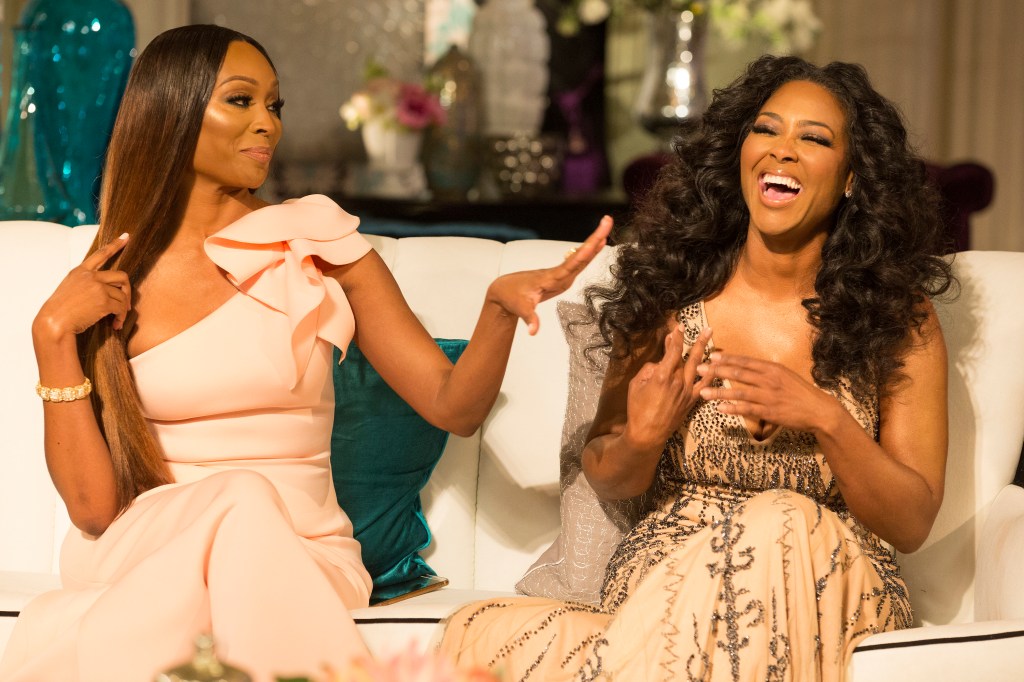 During the Jamaica trip, viewers saw NeNe pop in as a guest. Drama over Cynthia's commercial was at an all-time high. When asked why she wasn't going to be in the commercial, Kenya stated that Kim wanted to handle it herself. Peter, who never gets involved in women's business, asked what was going on between Kim and Kenya.
Kenya said that she didn't want to run through the dispute again. She told her RHOA co-stars, "I would rather take a spoon off the table and gouge my eyes out one at a time than talk about this another minute." Well, okay then.
Kim said that she apologized to Kenya. But Kenya coughed and said, "Bullsh*t."
Miami Vices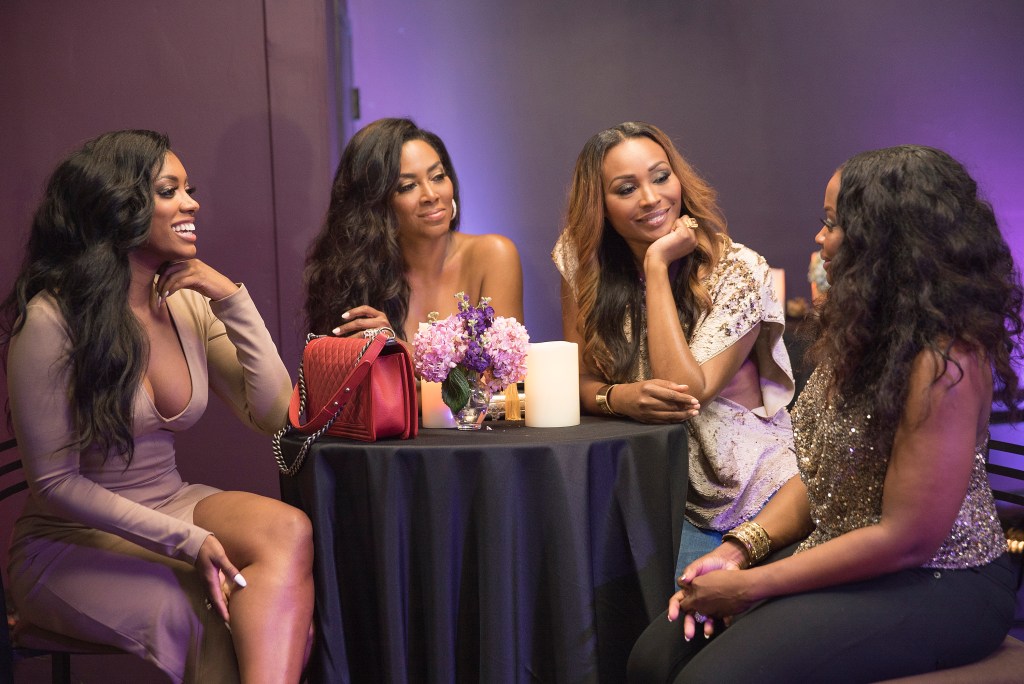 During a cast trip to Miami, Kenya invited Glen Rice, Jr. back to the mansion to hang out. At first, it looked like Kenya might have found a lust connection. But Glenn became more surly and rude as the night went on. He mouthed off to pregnant Kandi Burruss when she didn't want to answer his questions about her baby.
Kenya and Glen started to squabble, so Kenya decided that Glen needed to be evacuated. While Tammy Browning was walking Glen out to the door, Kenya played Miss Manners and dissed his behavior as a guest.
Glen charged at Kenya, and called her a "little bitch!" Tammy tried to stop Glen, and he shoved Tammy. We don't know whether the push was an accident or intentional. But poor Tammy fell and hit her head on the marble floor.
Phaedra Parks sprang into action, telling the ladies to bring ice and call 9-1-1. As for Glen? He was tackled by security.
Tammy went to the hospital. But who brought her back at 4 am? The guest from hell, Glen. The ladies weren't in the mood for a sequel, so they didn't let them in. And fun fact: Sheree Whitfield suspected that Tammy had an affair with her ex-husband, Bob Whitfield.
Season 8 of RHOA featured some ridiculous disputes, explosive confrontations, and cheating allegations. While Kim certainly wasn't a great fit for the show, watching the drama through her eyes was entertaining.
TELL US- WHICH MOMENT WAS THE CRAZIEST FROM SEASON 8? DID YOU THINK THAT KIM WAS A GOOD FIT FOR THE SHOW? WAS KENYA BEING IMMATURE ABOUT CYNTHIA'S COMMERCIAL?
(Photo Credit: Getty Images/NBCUniversal /Mark Hill/Bravo/NBCU Photo Bank )