On the Watch What Happens Live after show, Lisa Vanderpump opens up about her friendship with Kyle Richards and the demise of her friendship (err, a stretch? working relationship?) with Eileen Davidson. Also, she responds to the mean-spirited blogs written about her this week.
A caller asks if Lisa would hire Stassi Schroeder to work at SUR again. "NO." Lisa says her presence on Vanderpump Rules is "authentic" because she's still very much a part of that group but she will not employ her. "She's too much a pain in the ass," Lisa mutters under her breath. Ha.
CLICK CONTINUE READING FOR MORE!
Lisa's thoughts on her friendship with Kyle? And would she trust Kyle with her deepest, darkest secrets? "A reality show is a huge test of a friendship. We've definitely had our moments, but I really really love her. I really do. Do I tell anybody my deepest, darkest secrets? Probably not. If you don't want anyone to know anything, then don't tell anybody. But I do love her very much."
Andy says he loves how funny Lisa and Kyle are together this season. "That's why we love each other.. because we have such a bloody good time," she says.
"The interesting thing is, and this happens with friends over the years, it seems like you can really say almost anything to each other," adds Andy, "and you will recover."
Lisa surmises, "It's very much an English sense of humor – we are much more aggressive. A lot of American women, I find, are too sensitive when you're having a laugh. Kyle is not like that. We laugh it off. I think we really love each other."
The next caller asks for an update on the sex shop Ken Todd bought. With a chuckle, Lisa explains, "That is a complicated scenario. We still have the lease, but we sublet it. It was either that, or get a divorce."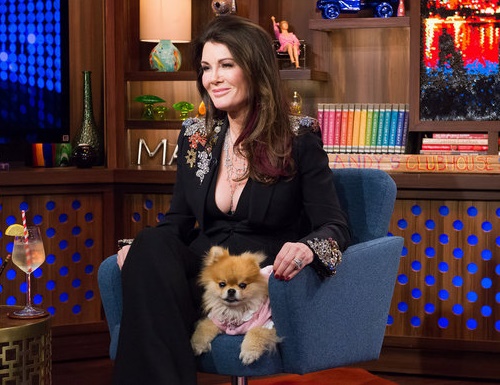 Lisa says she likes her stomping ground when Andy suggests she open a SUR in Las Vegas. Andy argues… but to open a third restaurant on the same strip… Lisa laughs. "Don't worry. I got this. You do your stuff, I do mine." Andy suggests the Hamptons, and Lisa snarks, "I did not have a good experience in the Hamptons."
Speaking of the Hamptons, a caller brings up Eileen's down, down, downward spiral since last season, all because Lisa asked her about her marriage.
"I don't understand," admits Lisa. "Of course I regret saying it because I didn't realize she was going to be so upset. Maybe it's a culturally different thing as well. She had an affair and turned it into a love story, and really, I thought that it had been brought up a couple times on the show. I was just asking her how that developed."
Andy deadpans, "It didn't go so great." Lisa bemoans, "No, and it went on and on and on and on for the whole season, which is just crazy." Andy adds, "And it continues at the reunion."
Lisa repeats that she doesn't get it. But, at the same time, she does, because Eileen is the type of woman who will make you sleep on the couch for a week if you forget to take out the trash. <paraphrased>
In other news, both Eileen Davidson and Yolanda Foster wrote some hateful things directed at Lisa and Stop Yulin Forever in their Real Housewives of Beverly Hills blogs this week. In response, Lisa tweeted:

RELATED: Yes… Lisa Is Passionate About Dogs… But Also So Much More
TELL US – ARE LISA AND KYLE "REAL" FRIENDS OR "HOLLYWOOD" FRIENDS? THOUGHTS ON EILEEN AND YOLANDA INSINUATING THAT LISA DOESN'T CARE ABOUT HUMANS, ONLY DOGS?

Photo Credit: Charles Sykes/Bravo