If the preview for the rest of this season of Real Housewives Of Orange County is any indication, the ladies are in an all-out war. On one side there is Vicki Gunvalson and newbie-disaster Kelly Dodd; on the other side there is Shannon Beador and Tamra Judge, and sometimes Meghan Edmonds. In the middle, aka – standing at a distance from "low-base bullshit" – is Heather Dubrow.
Vicki declared this the nastiest fighting that has ever been between the cast – "much worse" than even Tamra vs. Alexis Bellino. (Alexis threatened to sue Tamra at one point) – and drama has erupted between the women this week.
CLICK THE CONTINUE READING BUTTON FOR MORE!
Involving themselves in the mess are desperate extras Gretchen Rossi and Lizzie Rovsek. Mysteriously, Gretchen is now BFF with Vicki, and is friends with Kelly as well. I always considered Lizzie sensible and normal, not a desperate famewhore, so I'm disappointed by her involvement here.
Sigh. These are grown women, right? I just want to make sure…
Things kicked off when Shannon read Kelly's blog about her mother-in-law drama, and then following Kelly's birthday party which was attended by Gretchen and Lizzie, Gretchen started dragging Shannon on social media.

"I don't understand why you are so upset about my blog! My intentions were good. I'm sorry if u feel otherwise," Kelly argued. "It's not our fault their family is dysfunctional! It's not our fault they do not get along for the kids sake! Blame them!"
"If I were you Kelly, I wouldn't talk about other families you label dysfunctional," shaded Shannon, reminding us about this week's episode. Touche!
That's when Gretchen jumped in to defend Kelly… something about people living in toxin-free glass houses shouldn't throw crystals.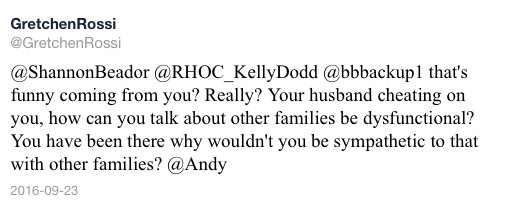 With Gretchen and Kelly in the mix battling Shannon, Lizzie felt compelled to defend her dear, dear friends. Which is nice, I guess… (sarcasm).

"Lizzie you're not on the show anymore. Give it up my friend. No one is interested in your POV," sniped Shannon.

"I will always defend my friends," continued Lizzie. "This show has gone to that lady's head. The ego is such a trip isn't it?"

Of course Gretchen had to leap in again – this time to defend Lizzie! "Her POV is important cause she knows these women." Gretchen added, "Lizzie was nothing but a good friend to Shannon! For her to say that her tonight is so mean and a low blow."
Kelly then implied Shannon and Tamra are just menopausal bitches. Because we haven't heard 'menopause mama' insults before. (eye-roll).

"Kelly Dodd take the high road babe. You are entitled to your opinion as is everyone. Defend yourself & let it go. God knows your heart," urged Lizzie. Is it possible for Kelly to take the high road? #rhetoricalquestion
From that point on, Gretchen and Shannon continued arguing in full-force.
Gretchen called Shannon arrogant and accused her of letting reality TV fame go to her head for being mean and unnecessary to Lizzie. Yeah, Shannon, be cool, don't be all, like, uncool.

"@ShannonBeador don't flatter yourself," snapped Gretchen. "I am simply responding to my fans with the questions they have for me. And yes you were nice to me then, so you can imagine my surprise when you were so cold to me on WWHL (even before we went on) when I had done nothing to you. But it's cool, I'm not mad at you. But I will defend my friend Lizzie because it was not cool of you to say 'no one cares about her POV.' She has plenty of fans who do, and that was incredibly mean and arrogant to say."

"I have constantly filmed for other shows since leaving RHOC…hate to break it to you but being on RHOC does not determine relevance," Gretchen replied to Shannon.
When it was clear Gretchen wasn't gonna give up, like ever, Shannon stopped engaging. Finally. Cause Gretchen is that desperate for relevance.

When asked for her input on the bickering, Vicki tweeted, "Well I don't know what to say. I don't get it."
Tamra and Shannon then flew to Tampa, FL together, where they got caught up on the Twitter mayhem.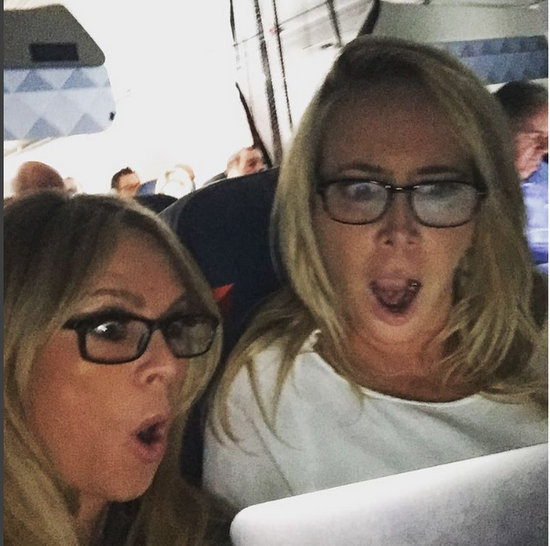 "With @shannonbeador on a flight to Florida reading mean tweets. Lynette says Shannon is a nasty person this season like Tamra. Laughing our butts off. #justpassingthetime. #whosnastynow #thankyouLynette" Is Lynette right?
[Credit: instagram]
That wasn't the end of it though. Meghan then posted a tweet aimed at Vicki's Woe Is Me Uber ride after Glamis.

Vicki didn't respond but she did allude that the ladies are trying to get her fired again, which she is confident will never happen (and I agree – given that Vicki pretty much single-handedly causes ALL the drama!).

Then, Vicki took a shot at Tamra being a bad friend when a viewer expressed sadness that they'll be fighting again per the previews. "Yeah me too, but she thinks this is the way friends should be towards each other.  #shelikesitthisway #imontoher," Vicki responded.
So – did I miss anything? If you continued reading through all of this, you get awarded reader of the day!
Thank you, Heather, for staying sane.
TELL US – WHO IS THE WORST: TAMRA, SHANNON, VICKI, KELLY, OR EXTRA-EXTRAS LIZZIE AND GRETCHEN?
[Main Photo Credit: Bravo]