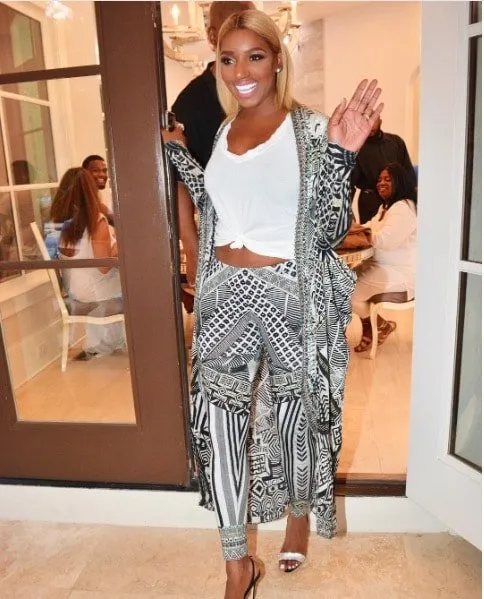 NeNe Leakes threw a party this weekend with a theme I don't understand. At all. The concept appeared to be wear white, bring a gay guy friend, come over to gush over NeNe's newish multi-million dollar home, and in some cases, get thrown out for assaulting another guest. Anyway, the official title was "Gurls & Gays" but the official hashtag was "NeNeNeverForget".
I believe this is NeNe's first "event" since rejoining Real Housewives Of Atlanta, and she also got to show off her home in the process. Since homes are the source of such contentions in this group! Most of the cast attended – including Kim Zolciak who embroiled Kenya Moore in some mighty Wigs-N-Cigs drama!
RELATED – Cynthia Celebrates Birthday With "50 Shades Of Cyn" Party
Porsha Williams was absent because, if you recall, NeNe wants her fired from the show. Kandi Burruss also wasn't there, because she was in Kenya attending Shamea Morton's wedding. Bizarrely Marlo Hampton attended – apparently she and NeNe are fast-frenemies again, which probably means we can expect to see her in a 'friend' role again this season. And even more surprisingly Lisa Wu-Hartwell showed up to this little reunion!
Also present were a couple other ladies RHOA is 'testing' as potential cast members. You can see Photos of NeNe's event below.
TELL US – THEME FOR NENE'S PARTY: LAME OR FUN? 
[Main Photo Credit: Instagram]