Last night the Real Housewives Of Atlanta reunion ended with Porsha Williams playing devil's advocate, NeNe Leakes slamming metaphorical doors, Kim Zolicak trying to blame Andy Cohen as the reason that no one likes her, and Kenya Moore pretending she hadn't just asked for a cocktail despite being pregnant. Good times, y'all, good times…
It's fair to say that it wasn't just NeNe who slammed the door shut on Kim's Housewives career but Andy as well (Go Andy, it's your birthday…). Kim showed up all season emotionally tardy for the party and positivity challenged, and also maybe her brain had been injected with Botox so it froze recollection of all her actions, words, and bad behaviors. How many times did Kim claim something didn't happen then cut to footage of her saying some atrociously hideous lie? 
Some things of note from last night (AKA, The Wigs-N-Cigs Files):
Where is Kim's scooter?! I do desperately want to see Kim just cruising between RHOA and DBT on a scooter with a little cupholder retrofitted for wine glasses. She'll have a personalized license plate on it – even though scooters don't actually like drive on roads and need handicapped spots – and it will say: "Wigging out!" Or maybe: "If you can see my old face in the mirror, you're too close." She can use this scooter to stalk NeNe all the days of her life, then deny that she's the one taking photos and videos of NeNe's life and pretend 'a fan' (what fan?) is also stalking NeNe. I mean COME ON, you know this is Kim's future! You just know she'll also have a little sidecar for her wigs and for her Kroy, and whenever she needs to leave a party she can just back right out and the back-up beepers will have the added benefit of drowning out everyone yelling at her.
Does Kim really, like for real, not understand that she's FILMING A REALITY SHOW? I still don't understand how she can denying saying that Kandi Burruss tried to eat her box, when duh – it's ON TAPE. Or I don't understand how she can deny that she called Kenya's husband fake, when it's on tape. I'm going back to my earlier Botox comment about how it must have accidentally paralyzed the memory reserves in her brain.
Kim accusing NeNe of sleeping with Gregg while he was married is the most laughable attempt at an insult I have ever heard. This from a woman who GOT ON NATIONAL TELEVISION FLAUNTING HER KEPT-WOMAN MISTRESS STATUS WITH BIG POPPA. Apparently he wasn't the only one, but that's probably because Kim needed a second job while "Lee" was busy with his five children – and I don't know how you explain to your wife that you're not having an affair while Kim is on TeeVee bragging that you paid for this wonderful plastic wig assortment and personalized naked photo collection. Did Kim meet these kindly gentlemen whiles stripping at Oasis in her nurse costume? ALLEGEDLY. I really need a lot more information here. (Call me, NeNe!) Kim, if husbands are off-limits that means ALL HUSBANDS, but that does not include adulterous married men you canoodled with! #CloseYourLipsToOtherPeoplesMarriages
What is up with Sheree Whitfield also trying to lie by claiming she had no recollection of seeing the roach video on Kim's phone weeks before Barcelona. Girl, unless she put anesthesia in your french fries, you remember. Bone Carrier, LLC disbanded or maybe reported to the Better Business Bureau for poor service. At least someone needs to leave a bad Yelp review.
Likewise Kim doesn't understand the concept of implied information. Like when she tires to tell Kandi the reason Kroy drives her around is because Dr. Doolittle surgically attached a wine glass with magical refill capabilities (like one of those water bowls + automatic dispenser you have for a cat). Then Kim acts as if it's preposterous that anyone could suppose she has a drinking problem. Also you'd think that Kim might consider the amazing potential of a Wig Does Rehab season of Don't Be Tardy. It'd be an sensational foil for her secret trip to the plastic surgeon's to get her double-chin filed down into a singlet.
I don't think NeNe has a drug problem or is "on something," but I can't believe Kim was upset anyone said she had a drinking problem when um, you know…  Clearly irony is as lost on this woman as reality is!
Speaking of: where did Kim come up with that double-chin? And does Kroy do makeup? Rhetorical question – of course Kroy does makeup, but not, apparently contouring. Time to get him a class at the local beauty school!
I'm like literally never on Kenya's side about anything except when she was throwing Kim to the wolves while a full moon was out.
I forgot to mention this last week because I was so distracted by Kim's appearance and Kroy's new career as sycophant, but did Kenya really ask for a cocktail while allegedly pregnant. Things that make you go Hmmm…?
Again, where is Kim's scooter?! I really really need it to be pink and bedazzled and with a wig on a pole attached to the back bumper like a 'Watch Out Flag' so other Target shoppers can see you coming up the aisle.
Porsha playing 'devil's advocate' or "keeping the fun going" as she called it was to die for. Sometimes I am surprised by her Housewives smarts. We are talking about a woman who thought there were 265 days in the year, but then she can subtly shade NeNe and Kenya and Kim simultaneously! This is why she's still here after all those bad, bad, BAD deeds. I mean Kim actually whined to Sheree that Porsha was the only person defending her out there and Porsha called Brielle "your ho daughter" on national television. Damn right that crown stayed attached!
Kashmere has made $15 million dollars this year? Raise your hand if you've bought it.
I think Brielle is fair-game, but NeNe shouldn't talk about her vagina. I think that crosses boundaries.
Andy Cohen for the win! At the end while Kim is crying in the bathroom and blaming Andy for letting everyone be mean to her, he was all Look I know you're the only white woman but that doesn't make you eligible for special snowflake treatment. You didn't give us any positive things all season, so how are we gonna make a lump of coal into a diamond? Kroy – any ideas? Then I'm sure Andy gave Kim a little warning squeeze and murmured into her wig that if you don't want the DBT scooter to stall out, you best collect yourself before you wreck yourself!
I'm conflicted on Kim being an alleged racist, but according to her racism, like social media, is a new-fangled thing! (UHHHHHH…WTF) Anyway, I don't know enough about the roaches = projects narrative, but some of Kim's comments about her being the only white woman willing to sit up there with five African-American women was pretty damn tone-deaf. However NeNe's comment that her so-called roaches were the only roaches that come out for a film crew instead of running from the spotlight was hilarious, though. Aspirational Reality Star roaches rule!
Thank you John Legend. I bet Kim will have an iPod jack on her scooter!
Is anyone jealous of Kim? I mean, she does have a Kroy who drives her everywhere and squeezes her into designer dresses using Saran Wrap and tweezers, and tailgates RHOA reunions… Suffice to say I think I've been inoculated against Jealous Of Kim-itis.
OK, now we have to talk about Tyrone. His appeal was denied so apparently his relationship, whatever that may be, with Sheree is over, correct? She said she wouldn't wait another 2 years. Or is it 4. I'm gonna go ahead and assume Chateau Sheree will have I dunno been sold or fallen into a ditch by that time so Tyrone will never get to enjoy that man cave!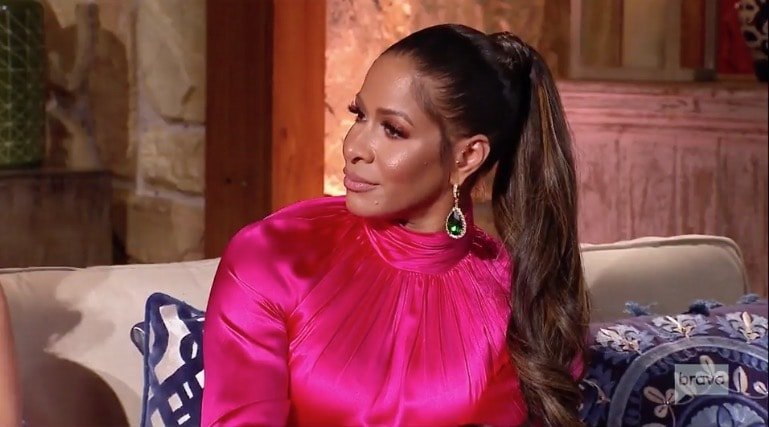 Tyrone told Andy that NeNe stalked him. Maybe Kim was actually stalking Tyrone, but pretending to be NeNe? Basically it's hard to make a judgement on whose being honest here since none of these fine upstanding individuals are prone to telling the truth, right?! NeNe claims she's never called Tyrone.
I forgot Cynthia Bailey was there again last night. Did she do anything? I vaguely remember her defending Kenya to Kim, but I could've been imagining that she rumbled to life from her mountain of satin.
Well I guess that's it because part 3 was a Kimtastic Voyage that made everyone seasick and ready to drown themselves. But they all survived, "the door is closed" on Kim, and Porsha's crown didn't even fall off her head (you know she glued it to her Go Naked hair with superglue!).
Marlo Hampton Comes For Kenya On Social Media – Accuses Her Husband Of Owing Money To The IRS
TELL US – DID KIM DESERVE ALL THE SHADE SHE WAS THROWN? 
[Photo Credits: Bravo]