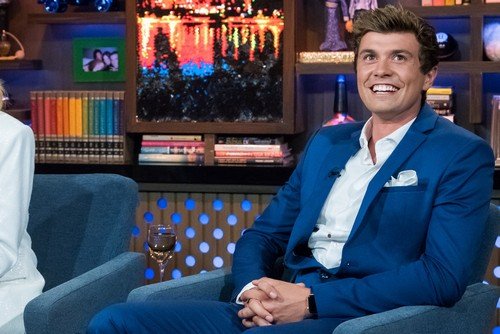 When Season 3 of Below Deck Mediterranean started out, it seemed like Conrad Empson's main storyline would be his work tension with João Franco. In a way more interesting turn of events, the baby-faced bosun has struck up a romance with chief stew Hannah Ferrier– an "older woman."
These two have been accused of being more into each other than their work by both João and their boss Captain Sandy Yawn. Conrad stopped by Watch What Happens Live to answer a lot of questions about Hannah discuss Season 3 with Andy Cohen.
Andy asked Conrad about João's argument with Hannah. Conrad said, "He shouldn't speak to any woman like that, let alone Hannah herself." He added, "It was just aggressive and uncalled for. Yes, Hannah was getting aggressive towards him and he was defending Brooke [Laughton], but he should have never done all that."
Andy skipped the pleasantries and just straight up asked, "Why do you like Hannah?" Conrad explained, "I saw a different side to her than we see on the show. She was just funny, bubbly, and wants to have fun."
A fan asked Conrad, "Do you think that João is kissing up to Captain Sandy just to irritate you?" Conrad admitted, "Yeah, massively because obviously, that makes me look horrific in Sandy's eyes. It does really annoy me, but I'm hoping that it will switch the other way."
One viewer got pretty harsh with Conrad and asked, "Do you think your relationship with Hannah is authentic or is it simply because you have limited options at sea?" Damn. That's rough. The bosun maintained, "We genuinely really liked each other when we got on board."
Another fan asked, "Do you agree with Adam [Glick] that Hannah is distracted with you the same way that he was with Malia [White]?  Conrad insisted, "No, if I'm honest. You do a lot of hours on a boat and I think you're more tired than anything. I don't think I was distracted by Hannah. I was just…tired." Could it have been a combination of both fatigue and infatuation?
RELATED: Fredrik Eklund Doesn't Think He Would Work With Bethenny Frankel Again; Captain Sandy Yawn Weighs In On Hannah Ferrier's Argument With João Franco
TELL US- DO YOU THINK HANNAH & CONRAD ARE A GOOD MATCH? IS THEIR RELATIONSHIP DISTRACTING THEM FROM THEIR JOBS?