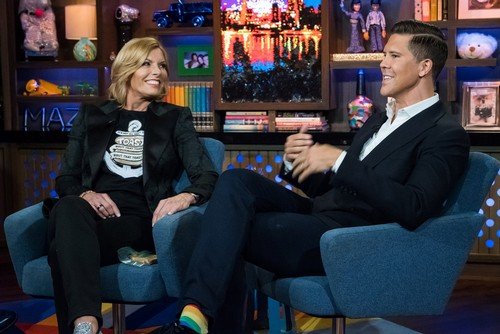 There is a lot of great programming on Bravo aside from the Real Housewives franchise. Below Deck Mediterranean is going strong during its third season. Million Dollar Listing New York just started up again on Monday and the drama is already good.
Captain Sandy Yawn and Fredrik Eklund visited the Bravo clubhouse as Andy Cohen's guests on Watch What Happens Live and there was a lot to discuss.
Andy asked Captain Sandy, "Is there a danger with making the guy in charge so young?" She explained, "Well, when you're really young and you're bossing someone around that's older than you, that's difficult. I'm not sure how much experience that Conrad [Empson] has, but you can see there was a little rivalry. I didn't see it." Of course she didn't. They are all smart enough to hide their personal drama from the captain. Unfortunately for them, she gets to watch it all when the episodes air.
Andy hit Fredrik with a hard-hitting question: "What do you think of Steve Gold's haircut? I like it. I was with him all day doing press for our new season and he's so freaking handsome. He was sitting in the interviews, open showing his chest hair." Andy interjected with a surprising comment: "He's gotta calm down with the chest hair."
Fredrik told Andy, "I mean, I like it. It's different. He can't be me and Ryan [Serhant]. It's good to have someone different and he's so freaking attractive." Yes, he is. Andy said, "I agree, but he's gotta button the shirt though." Fredrik responded with, "I like it." Same here. Steve Gold can pull off any look. Andy concluded, "It's a little too much" and I can't help wondering why Andy has such a strong opinion about something so inconsequential.
Andy asked Fredrik, "How do you and Derek [Kaplan] find time for romance?" Fredrik confessed, "Our sex life is actually really amazing."
Fredrik elaborated, "There was a period right when they arrived where we were a little overwhelmed by life and them, but now it's such a sexy thing seeing him with the kids. Him holding the babies is like… Like I said to you before, he's getting hotter and hotter. He's getting really good looking."
Switching gears to Below Deck Mediterranean, Andy asked Captain Sandy, "Is it me, or are the guests tougher this season?" She admitted, "Honestly, I had no idea. I wish the crew would come to me and share this with me, but they don't.  So how can I help them?"
Then Captain Sandy addressed the budding romance between Conrad and Hannah. She said, "It's not Hannah's fault. He was just in Hannah Land and that was his demise."
Andy switched back to Million Dollar Listing New York. He asked Fredrik to weigh in on the "joke" Steve made during the Season 7 premiere episode about Ryan's employees leaving his company. Fredrik told Andy, " I feel like I'm the old, sweet guy this season. I'm not bringing a lot of drama this season. I'm not fighting." Fredrik added, "It feels good."
Andy asked, "You're just happy to be out of it, is what you're saying?" Fredrik admitted, "Yeah."
Steve may have thrown Ryan's company under the bus, but Fredrik almost did the same thing to Ryan's spin-off series Sell It Like Serhant. He was asked, "Have you watched Ryan's new show and what do you think?" Without hesitation, he admitted, "I have not watched it."
Andy joked, "Well, that's kind of you." Fredrik claimed, "I don't watch a lot of TV." Andy asked, "You had no curiosity about watching your costar?" Andy was really stirring the pot last night.
Fredrik said, "If Ryan's watching this, I'm sorry. I'm going to watch it." Andy told him, "No, you're not." Yikes.
A fan called in to ask Captain Sandy about the fight between João Franco and Hannah Ferrier on the bus. The viewer also wanted to know if Captain Sandy thought it was right for Hannah to play the chief stew card during the argument.
Captain Sandy said, "I think alcohol has a lot do with it, so I would think that no, neither one of them are correct. Hannah is a Chief Stew. She has a position. João is the Lead Deckhand and has a position. We don't do that on a boat. There's one hierarchy and that's me: the captain." You tell them, girl.
Andy pointed out, "You seem a little tougher this season." She started to say, "I learned last season…." Andy cut her off and said, "You were very nice last season."
Captain Sandy explained, "Yeah, but kindness isn't a weakness. This year with Adam [Glick] and Hannah, I just wanted them to know that I was gonna keep an eye on them. I'm all about forgiveness and resetting, but there's a point where you just go 'enough' and that's where I am."
A fan asked Fredrik, "What's the hardest thing about working with Bethenny [Frankel]? Would you work with Bethenny in the future?" Fredrik said, "I honestly don't think we're gonna work together. We're cool. We're friends." Then he looked at Andy and asked, "Why are you smiling so much?" Andy continued to smirk and said, "because."
Fredrik concluded, "Her and I are cool. It was a lot. We had a lot of fun too. A lot of fun." Emphasis on "a lot."
RELATED: Hannah Ferrier Shares Opinions On Captain Sandy Yawn; Says Brandi Glanville Is Her Dream Charter Guest
TELL US- DO YOU THINK BETHENNY WOULD BE TOUGH TO WORK WITH? ARE YOU SURPRISE THAT FREDRIK DOESN'T THINK HE WILL END UP WORKING WITH HER AGAIN? WHAT DO YOU THINK OF THE CURRENT SEASONS OF MDLNY AND BELOW DECK MED SO FAR?