The last episode of The Real Housewives of Potomac was highly emotional. Ashley Darby gave a tearful speech about her miscarriage, and Karen Huger broke down in a cave. Karen and Ashley are finally on the same page, but who knows how long that will last. Also, Monique Samuels FINALLY got the apology she wanted from her mother-in-law. It's about time!
The Michael Darby secret is likely coming out tonight, and I'm screaming! Candiace Dillard and Robyn Dixon have kept this mostly under wraps which is shocking. Both typically act like the bone collector so keeping this big of a secret is monumental for them. SHOOK. This dinner is going to go down in Housewives infamy. Let the legendary episode commence!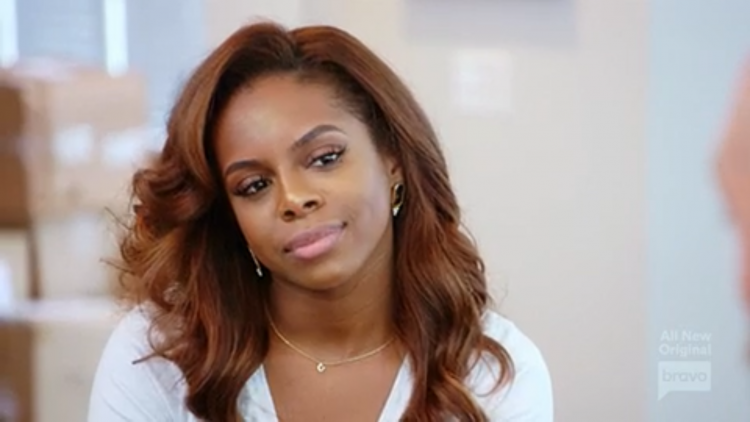 Candiace and her new husband Chris Bassett argue a bit over cleaning up their home. There's a lot of boxes everywhere, and he wants it picked up.
Candiace, on the other hand, is in no hurry to do that. She wants OUT of her mother's home. It's after this that Candiace spills the real tea though.
She reveals that at a friend's wedding, her overbearing mother Dorothy SLAPPED HER IN THE FACE WITH A PURSE. WHAT? WHO DOES THAT? Ignoring that fact that it's her mother, who does that in general?
Chris needs to test out some new recipes for his restaurant which means a group party. All of the ladies are coming over including Ashley. She and Michael do own a restaurant so her input is important I suppose.
Candiace and Ashley have tension every time their together lately, so this dinner party won't end well. Drama alert.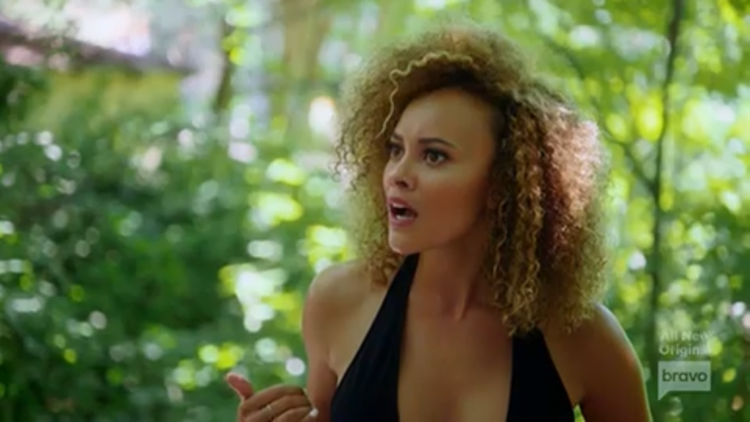 Gizelle Bryant meets with Ashley and Robyn for a walk and they briefly go over the New Orleans trip. Nobody is able to make sense of Candiace's actions and behavior.
Ashley is performing at Gay Pride Virginia. I would pay money to not see Ashley perform anything ever.
Gizelle delivers the news to the ladies that Candiace called out Ashley for crocodile tears. She believes Ashley put on a performance at Monique's rainbow party, and that's going a little far.
A lot about Ashley is suspect, but a miscarriage is a tragedy for anyone who goes through it. Nobody is a HUGE fan of Ashley, but there are some subjects you shouldn't broach.
Ashley is understandably outraged by this, and the likelihood of drama at the dinner increased by mounds. Robyn explains in her confessional that she thinks Candiace is on to something, but doesn't want to meddle.
It's shocking that Robyn doesn't want to get involved here, but she made a valid point. She doesn't want Ashley in her life, so she shouldn't get involved in hers. Fair enough.
Karen and Ray Huger take a dance class, which is very off-brand for her. The Grand Dame does a lot of things, but dance isn't one of them. Ray has ZERO rhythm, so it doesn't last long.
It's nice that Karen is spending time with her husband. We don't see them together that much, and that makes people ask questions.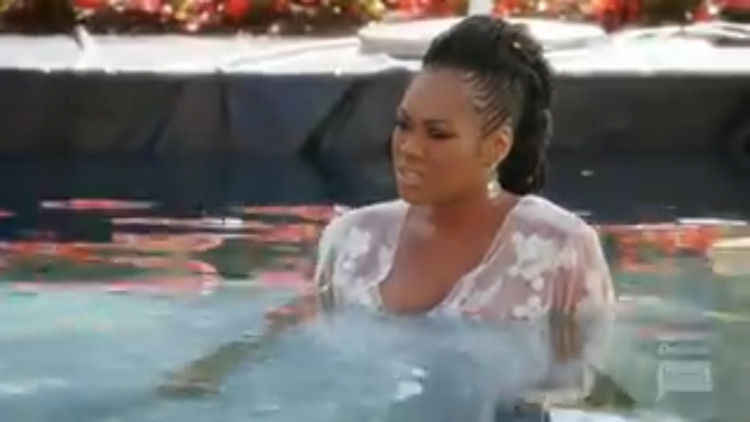 Monique invites Ashley over for an underwater maternity shoot which is fun. Monique has a lot of fun solo scenes, to be honest. She has an effervescent personality which always shines through.
Ashley is grateful that Monique relates to her and is seeing her point of view regarding Candiace. Ashley really went after Monique last year, and Monique sees Candiace doing that to Ashley.
Situations seem very different to me, but Monique is buying everything Ashley's selling. Not sure how long this friendship will last, but by the end of the season I wouldn't be shocked if they fell out. Ashley can't seem to keep a friend in this group of women. She's had a go with just about every one of the women.
The conversation shifts to Monique's comments about Katie Rost allegedly looking like a slave. Monique feels Candiace is taking her comments of context, and it appears that way.
Candiace is THIRSTY this season and coming at everyone from any and all directions. Monique's comment is clearly in jest and she had no ill intentions behind it.
Candiace is slowly losing allies this season and could end up on an island by the end. That's never a good position to find yourself in.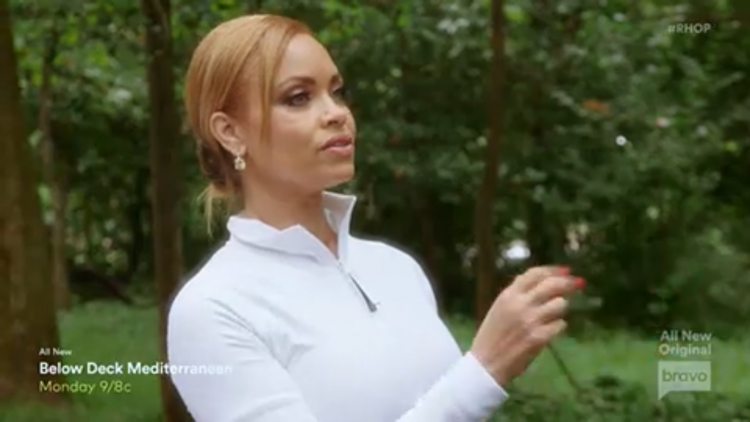 Gizelle gives an update on her home renovation project. I already have higher hopes for this one than I do Robyn's. That poor woman Robyn is in way over her head. She's stretching this story for two seasons now. Not a good look.
Gizelle's mom admires her for the hard work she's doing with this project, and it means a lot to her. Take note Robyn. Nothing major happened here besides Gizelle gearing up to outdo Robyn.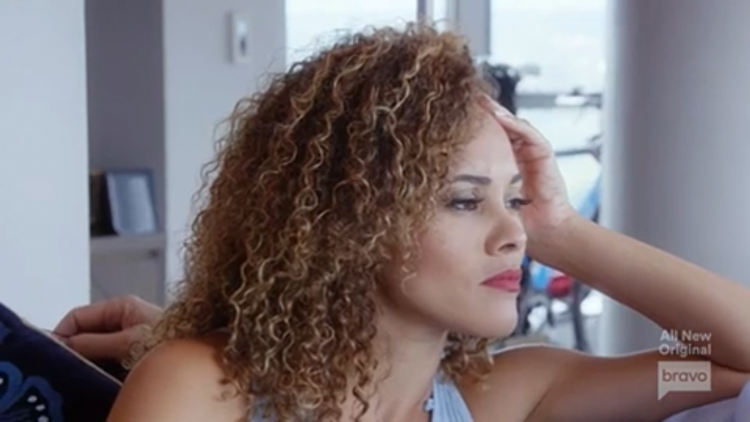 The pool table is leaving Ashley and Michael's home. She isn't pregnant yet, but it's time to baby-proof the house. The bachelor pad is no more!
They briefly discuss Michael's emotions at the rainbow party, and he looks really sad. Obviously, the miscarriage affected him on some level. However, part of their conversation came across manufactured to me. VERY PRODUCED.
She elects to keep Candiace's comments from him to avoid furthering his pain. Ashley's very hesitant to go to Candiace's dinner because she suspects an ulterior motive.
Candiace is clearly NOT your friend Ashley. She's trashing you to anyone with ears this season. This feud is tricky because neither come across that likeable to me. Their lack of likability makes choosing a side impossible.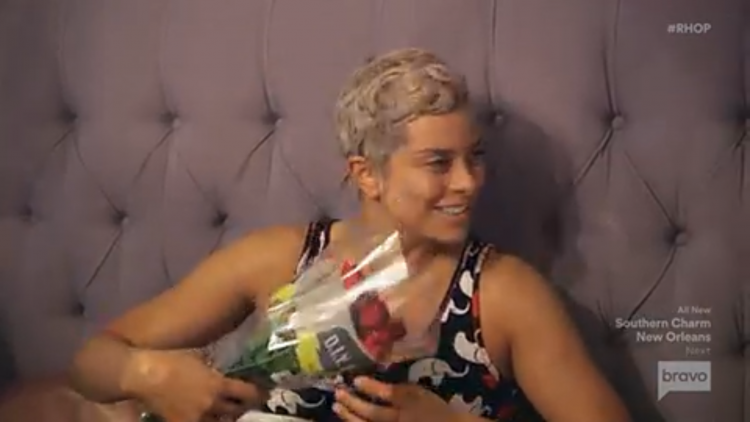 Robyn solo scene. Can't wait. Completely and utterly thrilled. Juan Dixon and the boys make Robyn breakfast in bed which is cute, but like eh. Snooze.
It saddens Robyn that her children found out about their divorce from Google. How do you let your children learn something so huge from the internet? That's so bizarre. Their living arrangement must be confusing for the children as well. What a wonky situation.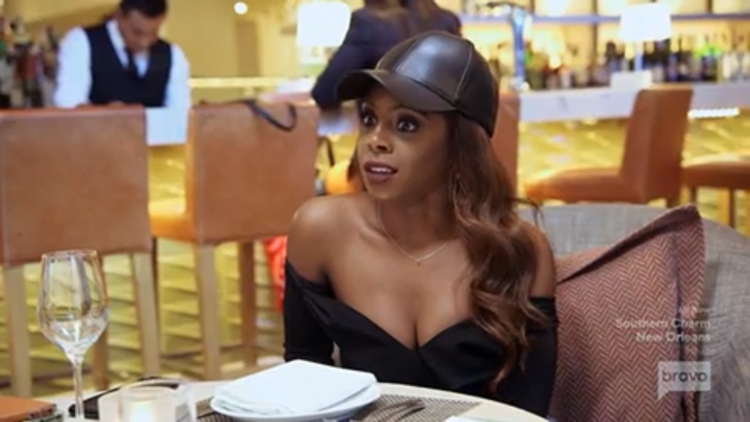 Monique and Candiace meet for lunch, and I'm waiting for the fireworks. Candiace seems disgusted at the idea of Ashley coming to Monique's home.
Candiace is also majorly downplaying this Monique/Katie thing. She says she didn't say the slavery part but those dreaded flashbacks proved her wrong. She acts shocked that Gizelle WHO HATES MONIQUE would repeat this would a negative spin on it. It was a calculated move Candiace. Don't even lie.
Monique tells Candiace not to bring her name up if she's not there because it always turns to drama. Valid. Monique also makes a quick comment about Candiace's mother which escalates the tension at the table.
The two talked over each other for the remainder of the lunch, and nothing was solved. Candiace proclaims that Monique doesn't even like the women so why would she even care.
Candiace is also upset that Monique warned her about turning into the next Ashley. Monique might be onto something with that. There are a lot of messy similarities between the two Potomac beauty queens.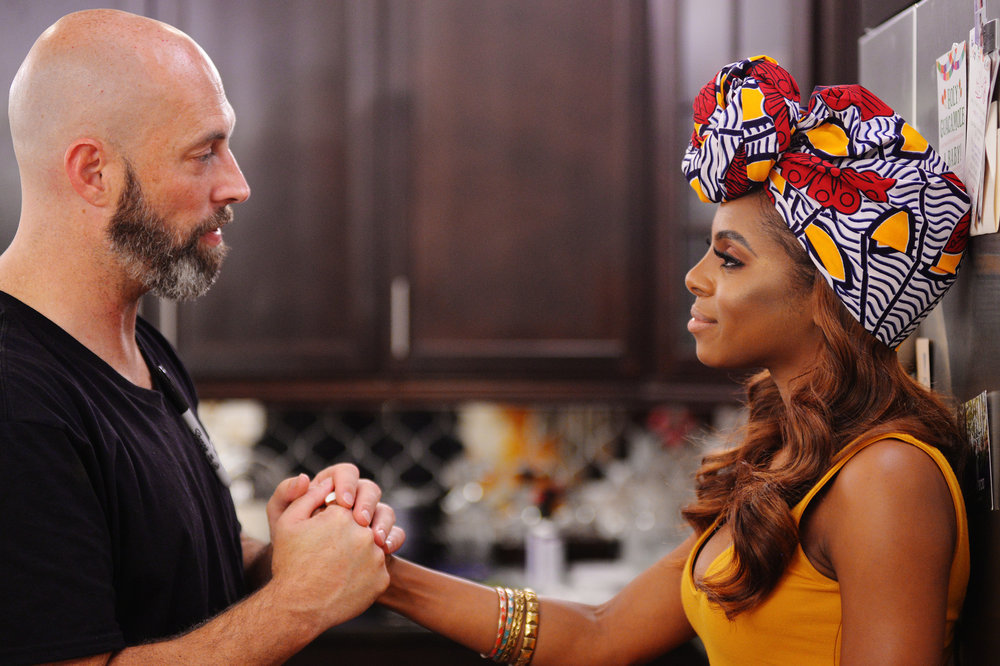 It's time for the dinner! SO PUMPED FOR THIS. The Michael secret is coming out, and my spirit is ready to receive this.
ROBYN IS THE FIRST TO ARRIVE. Robyn. The woman who is perennially late to EVERYTHING is the first to arrive. Time for the gossip and petty messiest to ensure, and I'm here for it.
Gizelle is the next to arrive. Cue more drama and gossip. I'm shaking in my chair guys. These dramatic Housewives moments are why I LIVE for this genre.
Candiace refers to Ashley as fake, and Gizelle stands up for Ashley saying her entire life isn't fake. Robyn chimes in also wondering why Candiace has such a "hard-on" for Ashley's life.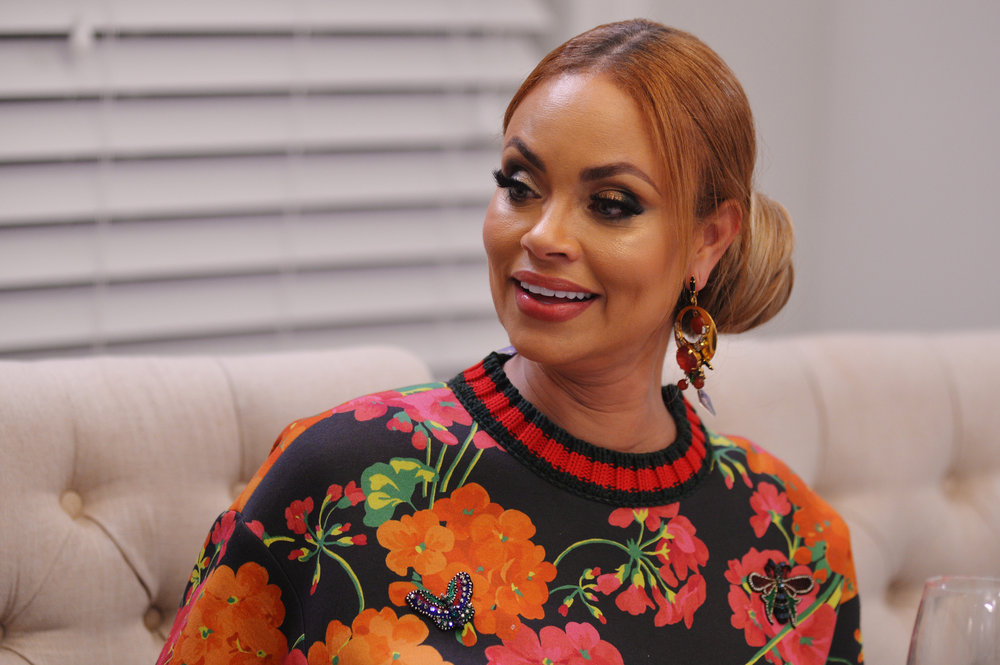 Here it comes. Candiace is about to spill IT ALL. Gizelle is shook about Michael's alleged comments that he would perform oral sex on a man. Robyn is acting like she thought she made it all up before this dinner. Okay, Robyn.
I think we now know the motivation for Ashley being invited to this dinner. Candiace believes that Ashley hurried Michael out that night to keep him from saying more.
Robyn reveals that it was one of the husbands that Michael made the comment about. WHICH ONE THOUGH? Candiace and Robyn try to make sense out of why they never talked to each other about it. Everyone's arriving, and they're still reeling.
Gizelle can't even be messy with Monique right now because this Michael drama is way too sizzling.
HIDE THE KNIVES CHRIS. DO IT NOW. You won't regret it. Have we ever had a Housewives stabbing? Hit me with the stats in the comments.
Ashley and Katie are the last to arrive, and you can tell Ashley's a little on edge. Katie makes a rapid comment to Monique about how they need to talk later.
Ashley is the one who opens up the floor to her own drama at the dinner which was silly. rehash all of the drama between the two, and Candiace again mocks Ashley for "performing".
Forever messy, Ashley makes a comment about Candace's mother (doesn't everyone?), and Candiace becomes entirely unhinged. She leaps up with a knife in hand and screams in Ashley's face. Complete chaos has erupted. 
TEL US – WHICH HUSBAND DO YOU THINK MICHAEL ALLEGEDLY MADE THE COMMENT ABOUT? WHO IS THE MESSIEST REAL HOUSEWIVES OF POTOMAC CAST MEMBER? ARE YOU ENJOYING THIS SEASON OF THE REAL HOUSEWIVES OF POTOMAC?
[Photo Credit: Bravo; Shannon Finney/Bravo]