The dramatic Real Housewives of New Jersey reunion has reached its conclusion. This episode is all eyes on Danielle Staub. Her final act as a cast member of this show is coming. It's sure to be a fiery ending to her run. Also, what will happen with Teresa Giudice and Margaret Josephs' friendship? That hair pull might have ruined everything between them forever. I don't really see how Marge and Tre move forward after that.
Jennifer Aydin has been stealing the show at this reunion, but the other women are sick of it. Melissa Gorga & Jackie Goldschneider are likely hoping Jennifer stays quiet during this final part. Good luck with THAT. She was entertaining, but it started to border on obnoxious. Just. Let. Someone. Else. Speak. PLEASEEEEEE. Can someone convince Dolores Catania to go full Patterson Dolo on her?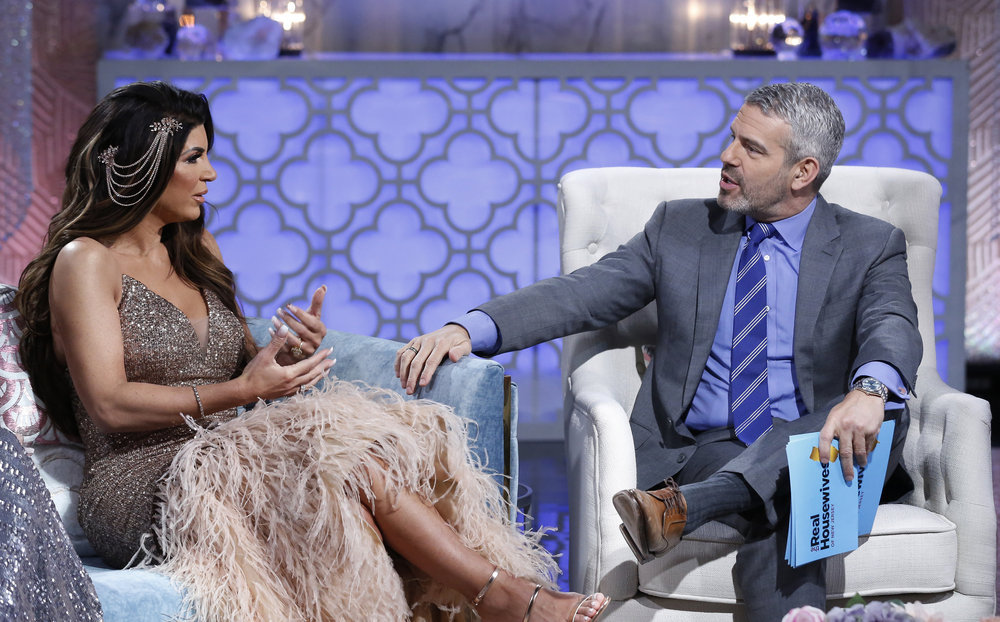 How does Danielle think people gang up on her for no reason? She is TOXIC. Plain and simple. She is a loose cannon, so this is something that was inevitable. She's demanding to be in the seat next to Andy Cohen. In all fairness, Vicki Gunvalson got that seat as just a friend. Considering that fact, maybe they should let Danielle sit next to Andy.
Teresa reveals that she paid all of Joe Giudice's debt, and apparently it was A LOT. Joe needs to stop blaming Teresa for ruining his life. He was A CRIMINAL. The show may have put more eyes on him, but he was still breaking the law. He could've been caught at any time.
Teresa doesn't think Joe will come after her money, but her brother feels differently. Get out now while she still can is basically Joe Gorga's sentiment. They show that interview Andy did with Teresa and Joe, and Joe was a total douchebag in it. He was so disgusting to Teresa.
I have no idea how she put up with him for all of those years. Such a prick. How sad is it that Teresa is so used to Joe's crap behavior? Everyone is trying to get her to see that his actions aren't appropriate, but she still defends him a little.
They play a look back at all of the times someone accused Joe of cheating on Teresa. What a moment. How did she stay with this man? Teresa once again refutes Jacqueline Laurita's claim from the Season 4 reunion about the secretary. The jury is still out on that one for me. I wouldn't put it past Joe to do that.
Joe Gorga definitely has a lot of love for his sister and did a lot to protect her it seems. He's upset about everything Joe's done, but he still feels for him. All he wants is for Teresa to be out of that relationship. SAME, JOE. SAME.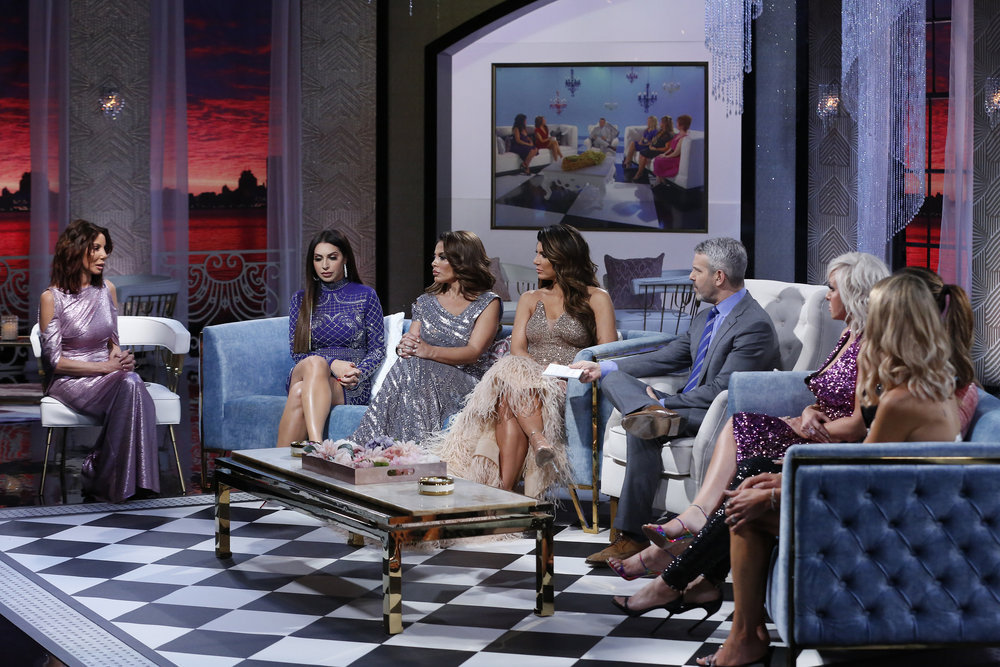 Danielle is shown backstage again, and she's still demanding to sit next to Andy. She says "the game ends here" in the most cryptic way possible. Beverly is so thirsty for attention. Honey, just exit gracefully and move on. Please do that for yourself. Going out kicking and screaming didn't work for Vicki, and it won't work for you.
I feel bad for the daughters about being so far from their father. However, I don't feel bad for JOE himself at all. Absolutely not. I think I'd feel differently if his attitude didn't suck. He's just so smug all the time. Get over yourself dude.
They ask if Joe would relocate to Canada, but that's not on the table right now. That's so weird that he wouldn't want to move closer to his kids. He is such a selfish man. He's delusional too. Why would he think Teresa would want to go into business with him? Joe has such a lack of self awareness.
Teresa reveals she has no attraction to Joe anymore. Joe wanted to have sex with her in Italy, and she had to deny him. It's crazy how things evolve over time. She explains that they death of her mother was the final straw for her and Joe. All of the legal issues caused so much stress leading up to her passing. That's heartbreaking.
Andy finally goes backstage to speak with Danielle, she demands to be heard. Andy makes a great case as to why Danielle can't sit next to him. There is too much history of violence between her and Teresa/Margaret to get that first spot. He can't risk some sort of altercation if Danielle sits next to either of those women. They put the WEIRDEST and most random chair out there for her to sit in. She's going to be on the end isolated from everyone.
If Margaret is even defending Jennifer as a good person in comparison to Danielle, it's real. The only person who doesn't see Danielle for who she is, is Teresa. For some reason. she's totally blinded by this woman. TAKE YOUR BLINDERS OFF.
Danielle isn't willing to fully discuss anything about her marriage to Marty Caffrey. The only thing she says is that Margaret is the reason they got divorced. HOW? In what world? She trashes Margaret for not being an OG of the show. How is that an insult? Danielle left the show after two seasons, and didn't resurface for like five more. Margaret has been a full time housewife now for three seasons.
Teresa finally admits that she regrets defending Danielle all season. F**KING DUH. Welcome to the world of common sense. Teresa's behavior at that salon were so off the wall. It's not shocking at all that she egged on the hair pull. Danielle's reveal about Teresa's involvement gives me chills every time. It was such a real and totally unexpected moment.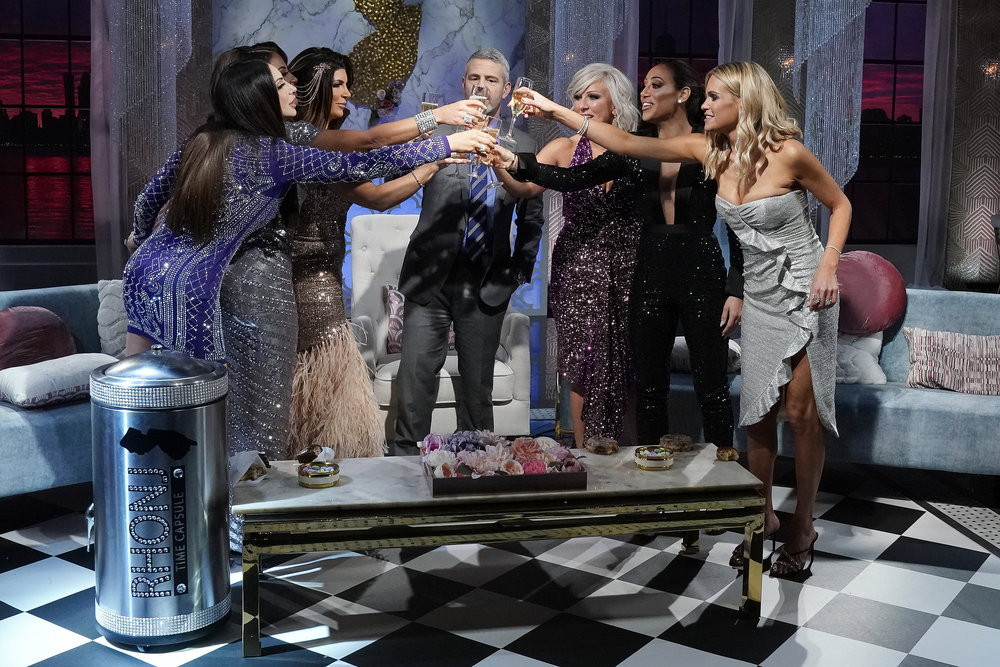 Danielle refuses to take any accountability for any of her actions. She has zero remorse for anything she did to Margaret. Can someone please take Beverly off this stage because I'm over her?
Teresa says she was just caught up in the moment but fully regrets instigating that. I guess that's some sort of step forward. However, Danielle is a total hypocrite for this hair incident after it happening to her many years ago. She wanted to prosecute when that happened, so why would she do it to Margaret? GLASS HOUSES, BITCH.
Teresa also claims that she never saw the hair pull, but the footage shows differently. SHE IS LYING. Why can't she just own her shit? Forrreal though. I love Teresa, but this sucks because playing dumb is not a cute look.
Margaret never did anything bad to Teresa, so she doesn't get what Tre's problem was. Teresa is mad at Danielle because she sold her out to Melissa and is disloyal. Danielle didn't really do anything to Teresa here. Why is THIS the one thing that ends their friendship because they've been through so much worse?
Margaret is right. It was so violent. The actions were so brutal. Teresa never reached out to Margaret when the episodes aired. It might've ended their friendship, but Teresa gives a very heartfelt apology.
Danielle gives a final speech to her friends and supporters. Those five people will really appreciate it. Everyone else is just ready to see her go. Enjoy your cooking channel! She hints at the end that it's likely not the end of us seeing her. Yay us.
TELL US – ARE YOU SAD TO SEE DANIELLE EXIT REAL HOUSEWIVES OF NEW JERSEY? WHO WOULD YOU LIKE TO SEE RETURN NEXT SEASON? DID YOU ENJOY THIS SEASON OF THE REAL HOUSEWIVES OF NEW JERSEY? 
[Photo Credit: Heidi Gutman/Bravo]