Relationships went bang and fizzled on last night's Below Deck Sailing Yacht. The good news is Jenna MacGillivray finally got her wish to f–ck Adam Glick! Cue a marching band to play in their honor. The bad news is Jenna also f–ked Georgia Grobler's ex-boyfriend, Johan. Yo, Johan, wherever you are we need a Below Deck cameo immediately! Identify yourself.
Also this is a cautionary tale of why you do not stalk ancient instagram photos of your ex. A) You might accidentally 'like' one of his 3,000 year old photos, thus outing yourself as a stalker. B) You might discover that your ex is also the ex of your current boss. Tres Awkward! Especially when current boss is now dating your other current boss, who is none too happy about the spit you swaped with previous companions.
And oh man is Georiga swapping the spit this episode!
After a harrowing charter with bird people who ate only dried figs and leaves, the crew deserves a much-needed rest. Captain Glenn Shephard surprises them with an entire day off at a nearby beach club. They too can live the lifestyles of a the rich and wannabe famous!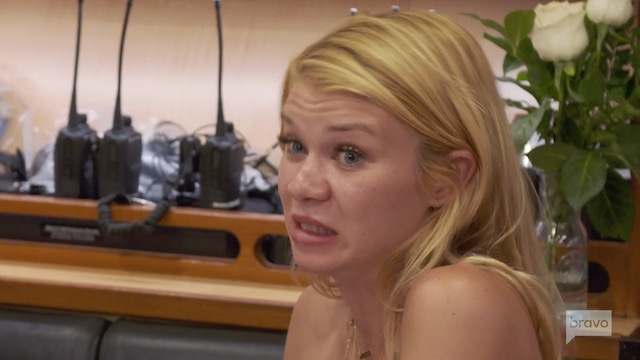 Before departing the boat, Jenna sits down with Glenn to share that Madison Stalker has potential, but her attitude is whack. Furthermore, she's more focused on getting into Parker McCown's pants than she is in getting her chorse done. Madison has formed a bad habit of stying up until 4a m to early morning rendezvous with Parker as he comes on shift. Then, she spends the entire day complaining about being tired. Captain Glenn agrees that's unacceptable and calls Madison to his office.
Maison argues that Jenna is "bitchy" to her and therefore she can't take anything she says seriously. Madison also argues, rudely, with Captain Glenn. He gets frustrated and warns her to either respect the hierarchy or else she's out. But, she can't get fired — what about falling madly in love with Parker?!
Also, I think we found Captain Glenn's weak spot (maybe?): he puts seniority and respecting the hierarchy before all else. He expects Madison, like everyone else, to earn her stripes, and until then shut it. Is Madison working in a chaotic and frenzied way? That I don't know. It certainly seems that Jenna doesn't appreciate her, and that is the underlying issue for Madison. However, Madison did herself no favors by the way she reacted to the criticism and in front of Captain Glenn no less!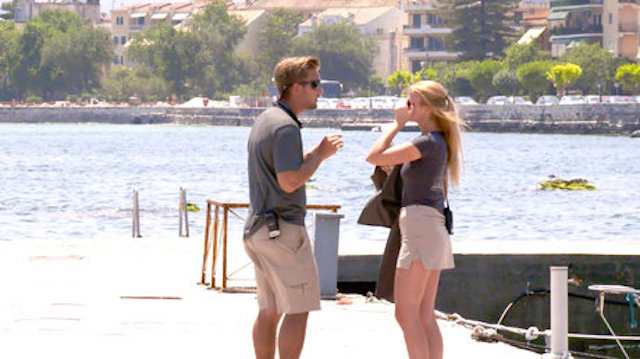 Down in the crew mess, Madison is sulky and tantrumy. Even though Glenn is standing right there. Parker insists Madison come outside to talk with him about what's wrong. According to Parker, Madison does not need to take Jenna's shit. In fact, Parker literally yells that she needs to yell at Jenna to watch her mouth. Madison feels soothed and reassured that someone is on her side.
Then, the crew all changes into bikinis to lounge until they reach the dock to hit the bar. Georiga has been flirting up a storm with Paget Berry. Which means showing him scented stickers in her trapper keeper and letting him scratch and sniff them. Proving his maturity Paget is also openly ignoring Ciara Duggan, aka his girlfriend, whenever Georiga is around. He's openly drooling at Georiga. Ciara tries to subtly remind Paget where his eyes should fucking be – her booty in a thong – but finally resorts to just flirting with Georiga herself as if that will make Paget see her again.
Like if Ciara surgically attaches herself to Georgia then Paget will see her existence. Or maybe she's just so desperate to keep him, she'll even share him? Georgia isn't sure what to think. One one hand, she has feelings for Paget, and Ciara is well, a kind of inconvenience, but not a terrible one; on the other hand, she knows it's wrong to go after an attached man. But Ciara is so… mean mommy that it almost makes it acceptable.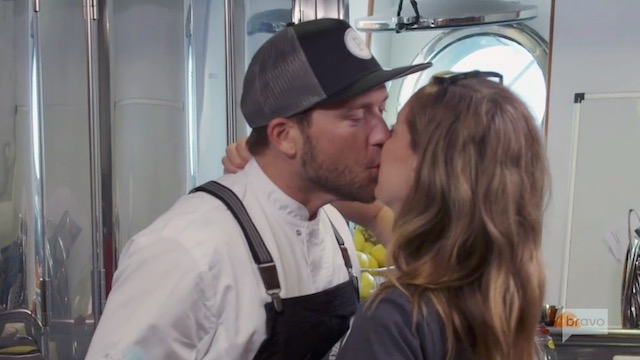 Jenna and Adam are thrilled to finally play a real life couple after weeks of sneaking around on boat. Except these two have been openly ogling and molesting each other since day one. They spend the entire day speaking to no one but each other. Meanwhile, Byron Hissey is so excited to get crunk that he's pounding drinks and dropping ever-more sarcastic comments as the day goes on. Byron doesn't get out much but when he does… out he comes!
Madison sees this as her chance to finally convince Parker to want her, but instead he's on the phone with his ex-girlfriend and actually offers to buy her a plane ticket to Corfu. Is she going to sleep in the luggage rack? Parker confides in Ciara, but then begs her not to tell anyone else about his plan. Parker is rolling over far too easy for a girl who dumped him and broke his heart, but now wants to come crawling back while he's filming a TV show. Watching out Parky Pantsalones.
Over dinner Parker decides to make a toast by reading the entirety of the letter his mommy recently sent. It consists of about 25 inspiring quotes all designed to make Parker believe he is the most special boy alive, and a sentence of encouragement born of mommy's own bon mot about what a star and amazing success Parker is. Adam surmises that whatever this letter is and is not saying, it's telling all about why Parker is the way he is. Madison is the only person who finds it endearing. Everyone else endures, like it's a Covid-19 quarantine regulation and they all have to just get by eating ritz crackers and mealy tomatoes and washing it down with last holiday's Manischewitz wine.
Byron, who is trashed, asks Adam how his sex life is and he's forced to explain how it's non-existent. Adam pretends he just doesn't know where to have sex on the boat to ensure their privacy, but luckily Byron is here to give us a double-entre'd list. Get hanky in the hull! Get sexed in the steerage. You get the drift… Drunk Byron is a delight!
This is the opportunity to call out Jenna and Adam for being so openly gross in their coupledom, and truly maybe if they were nicer to others and not so exclusionary no one would care that they're hooking up. As it stands everyone pretends they're fine with it, with Ciara even insisting the only concern is that things go south and affect the dynamic of the boat. Foooooreshadowing in the frontage!
Adam and Jenna take Byron's advice and leave the boat early for a little making love in the master.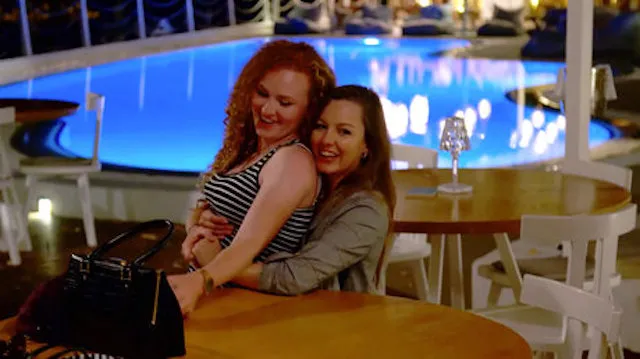 The remaining crew hits the club for more drinks, more innuendos and flirting, and more confusion. Georiga is more certain than ever that she's agreed to be the 'ahhhh' in a menage-a-trois with Paget and Ciara, but when they all finally make it back to the boat Paget and Ciara disappear to pass out before Georgia can even build her liquid courage. Georiga gives up and goes to bed.
Meanwhile, Madison joins Byron and Parker in the hot tub where they completely ignore her as Byron plays life coach to Parker's potential career in the yachting industry. Eventually, she too gives up and goes to bed. So it's strike out for almost everyone except for Jenna and Adam who dub their first night together phenomenal and life-changing. They both get emotional in the confessionals about potentially having found the one after finally, FINALLY letting someone in. Well, that's very nice. Especially since it's only been 5 weeks.
Over breakfast, Jenna serenades Adam with a song about falling in love. Cause we haven't gagged enough this episode!
Georgia is also surprised how normal everything is after all the heavy flirting and petting from the night before. Is this how Paget and Ciara roll: business in the morning; boinking in the bunks? Apparently so. They make no reference to the prior evening's shenanigans, leaving Georgia a little unsettled. Which is probably why Georgia turns to the IG to make her self feel better by looking up an ex. After all nothing makes a girl feel more alive than seeing an ex in duress… Or looking at 32,00 photos of wannabe aspirational lifestyle gurus with access to Blue Spirulina and light ring kits purchased on Amazon for $49.
Then it's time to meet the new guests! The primaries are Maisa and Chuck. Maisia is an internationally acclaimed model no one has ever heard of (seriously) and a scout for Playboy Slovakia, which no one has ever heard of either. Aka in the sex trafficking industry. Chuck is… her bankroll.
Their prerequisites include no mushrooms and some other run of the mill food intolerances, plus plenty of locations for which to do sexy Instagram photos. They also want a beach picnic. Let's hope will go better than the last one this crew attempted. The difference is their beach must be "secluded." Are they planning naked romps and auditions for potential playmates? Probably!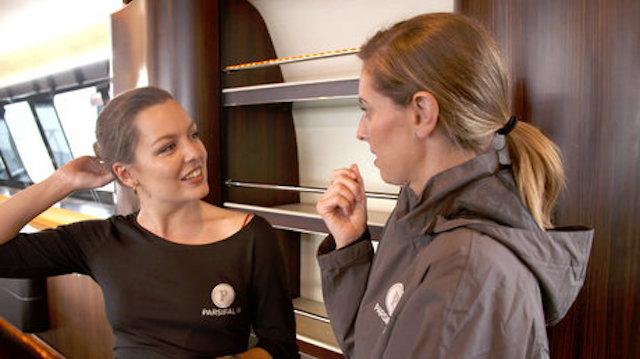 Just when Adam and Jenna have ironed out all their issues and insecurities, Georiga makes a shocking discovery: Jenna once dated her ex-boyfriend d and they went to Universal Studios together. The shame! The scandal! The true scandal and shame is that Georgia admitted to an IG deep dive on national TV. Yacht life is not supposed to seem that boring. It's supposed to seem riveting, exciting, jet-setting, and dreamy. Like you are your very on influencer!
While Jenna jokes that Johan had "the best dick" (why?! Why would you say this?!) and proceeds to tell everyone the shocking coincidence, Georiga seems a little miffed. She's had 2 significant relationships, Johan being one of them, and she treated him badly (and seemingly regrets it). Jenna only dated him a month or so, but we know she moves at the speed of light so she probably was actually planning the wedding and calling his mom to discuss floral arrangements.
Jenna is so comfortable in her newly minted sexual conquest of Adam, that she jokes about Johan right in front of him, completely oblivious to him sulking and glowering. When Jenna teases Georgia about having bad taste – in food – and Georgia shoots back that obviously not in men since they shared an ex. Jenna has left the room at this point, but Adam is still there and literally flips out. He snaps at Georgia that the situation is "disgusting." He's furious to even think of Jenna with another man.
And in other bad relationship dramas, Parker corners Madison in her bunk to explain to her that they're just friends. Only friends. He may love her and love hanging out with her, but all the sexual feelings she has, they go one way. And that way is not a one-way ticket to Corfu!
Parker was just trying to take Georiga's advice to get ahead of the situation before Madison confessed her feelings to him. Parker, bless his heart, handled this horribly. I think he was trying to do the right thing, but the timing and the place… Madison is mortified, but at least Madison won't be staying up til 4 am anymore and can finally stop feeling so exhausted!
That Georgia – aways in the middle of everything!
TELL US – IS ADAM OVERREACTING TO GEORGIA AND JENNA'S COINCIDENCE? DID PARKER HANDLE THE SITUATION WITH MADISON WRONG? WHAT DID YOU THINK ABOUT LAST NIGHT'S BELOW DECK SAILING YACHT EPISODE?
[Photo Credit: Bravo]