Well…that charter certainly didn't go well, did it? If last week's Below Deck Mediterranean ended on a down note, this week it was all hands on deck…for total disaster. And frankly, the root of the problems start in the galley. Two weeks ago, Chef Kiko Lorran conquered an unimaginable feat with his 72-plate, six-course meal. But just one charter later, he's been sent spiraling by single vegan charter guest. Or maybe it's just the lack of moqueca?
This Below Deck Mediterranean episode picks up in the aftermath of last week's raw fish debacle. Kiko is shaken up by his poor performance, even going as far as declaring that it was the "worst day of his life." With some encouragement from Bugsy Drake, the chef calls it a night by reminding himself that tomorrow will be a new day. But will it be better? Spoiler alert: not necessarily. Meanwhile, Pete Hunziker is relegated to the latest possible anchor watch for three reasons. 1. To keep him away from all-female crew members. 2. To give him plenty of time to think about his bad behavior. And 3. To thankfully keep him off of our screens during the day as much as possible. Fired by Bravo and officially demoted, this week finally felt like the beginning of Creepy Pete being edited out of the rest of the season.
The next morning is the second day of charter, and not only that, it's a charter guest's birthday. So the pressure is on, but problems keep popping up. Jessica More is struggling to do turndowns with her broken finger. Captain Sandy Yawn is micromanaging in the galley. Kiko has to cook a vegan breakfast. The only department that really seems trouble-free is the deck crew, where Malia White is leaving Alex Radcliffe in charge of the anchors.
Oh wait, spoke too soon. There's drama on the deck too. After anchoring off the coast of Sóller, Rob Westergaard starts bleeding from an unspecified injury to his toe while setting out the water toys. At the same time, there's some sort of misunderstanding between Malia and Alex over where to find the instruction manual for the flooded jetsurf. Both of these incidents manage to aggravate the bosun, whose tone is markedly clipped as she snaps at her subordinates to pick up the pace.
Sensitive Rob doesn't react well to Malia's energy, leading to a philosophical argument over polite communication and "holding space for negative energy." Malia doesn't want Rob to take orders so personally, but Rob just wants everyone to take a breath and focus on how they speak to one another. Setting up the slide only makes things worse — you can practically see Rob start to shut down as Malia barks orders at him.
Meanwhile, Kiko is out to redeem himself with a sushi birthday lunch, but isn't quite sure what the ponzu sauce is that the primary has requested. While the chef's sushi looks beautiful, the problem with small bites is the guests quickly devour everything he made. Before you can say deja vu, Kiko is cooking from behind once again, rushing to multi-task and leaving the guests waiting for more food. Uh oh…As the Below Deck chef flounders between mushrooms, ponzu and extra tempura, lunch devolves into another mini-disaster.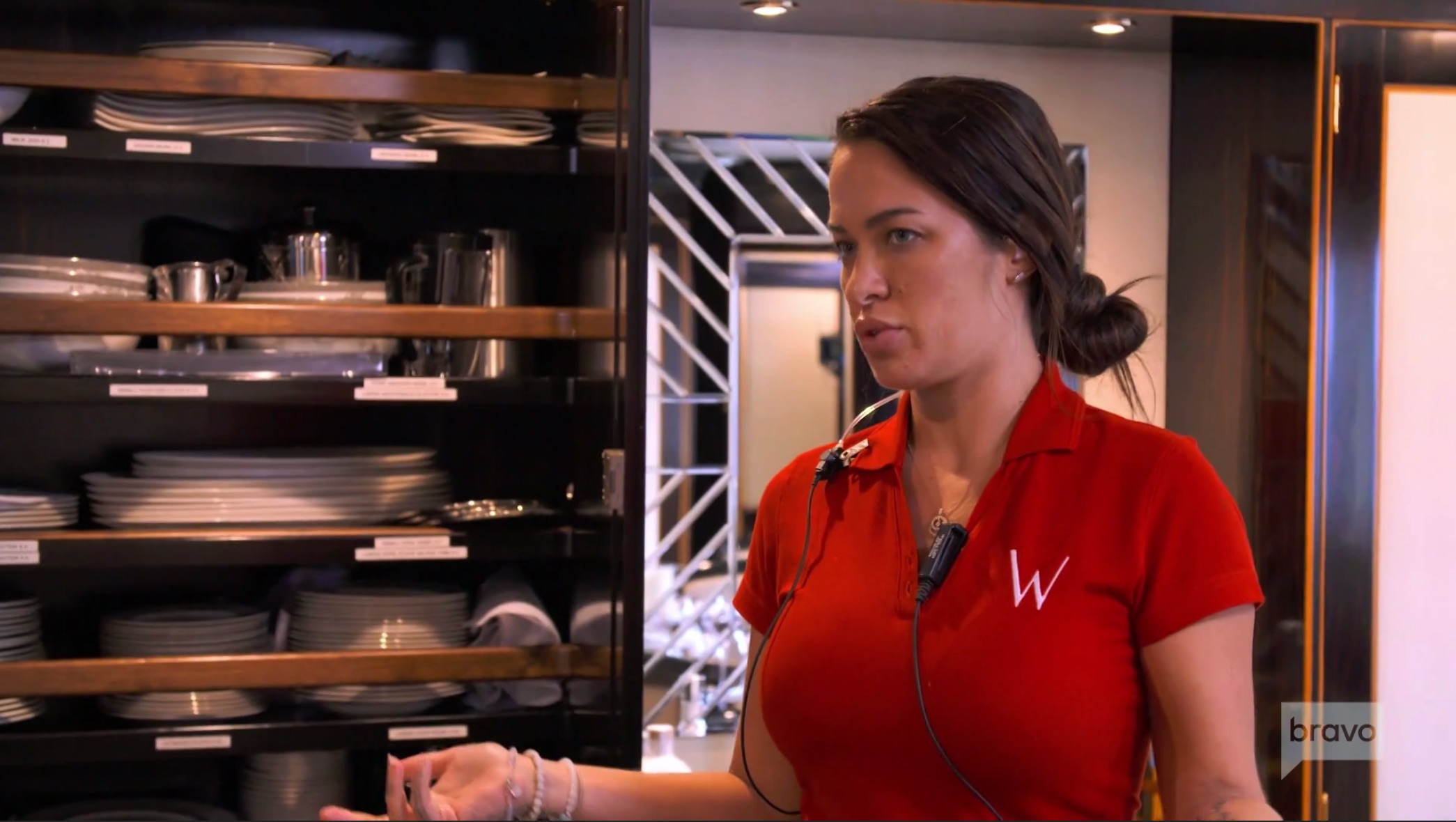 During lunch service, a separate miscommunication starts brewing in the interior. It seems Jess can't understand Bugsy's South African accent over the radio, leading her to misunderstand the second stew's simple request for wine glasses multiple times. The two stews snip at each other throughout service (petty points to Jessica for her "See what happens when you enunciate?" dig) and the tension quickly erupts into a full-blown argument. Curiously, Hannah Ferrier can't be bothered to step in, opting instead to sit silently the sidelines. Bugsy and Jess's argument gets so loud that it even draws the attention of Captain Sandy, who has to break up the spat while Hannah…watches.
Dinner goes relatively better than lunch. There's a mariachi band to liven the mood and drown out any tension! However, the vegan guest complains about being served pasta, the texture of Kiko's prawns turns out funny and one woman hardly touches her plate. When Captain Sandy drops in to ask how the meal was, the primary gives feedback that can only be described as middling, calling Kiko's cooking "very average" at best. Watch out Kiko, now Sandy is officially upset.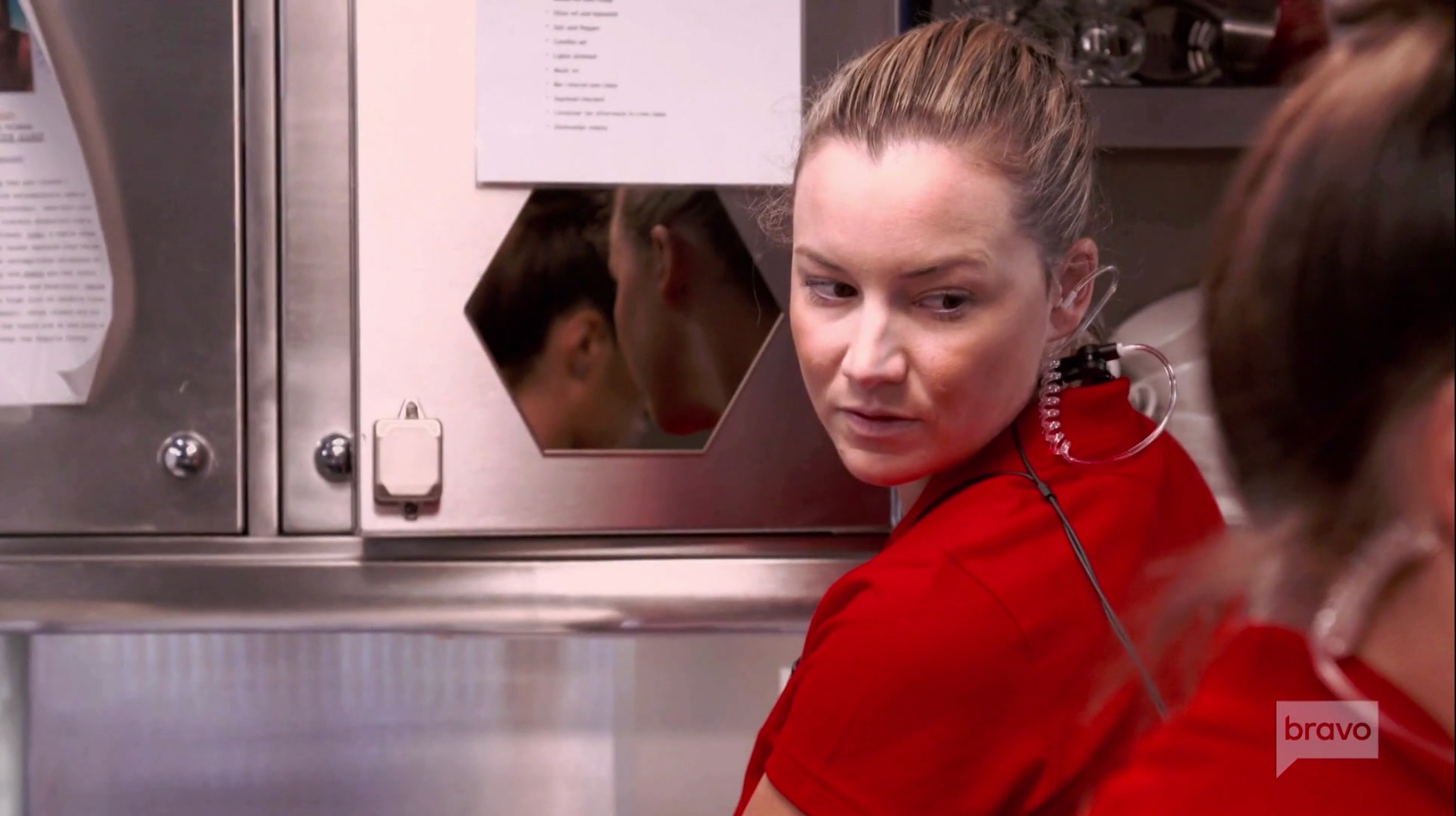 Finally, morning arrives and it's drop-off day. There's only one more meal to get through. So how bad could one simple breakfast be, right? Wrong. Oh so wrong. Kiko admits via confessional that he's already feeling depressed because of all the stress he's under. And his mood affects his food, got it? However, the problem actually starts with Hannah this time. Upon waking, Jess tells the chief stew that the guests are planning on breakfast at 9 a.m. Somehow, the allotted time comes and goes. By the time Sandy waltzes up to the table at 9:25, the guests admit no one has come by to serve breakfast or check on them.
This lapse in time management is a major dropped ball, and sends Captain Sandy into a rage. She even wakes Bugsy up hours before her shift to save the meal. Hannah tries to pass responsibility off to Jess, blaming her for not radio'ing. But we just watched Hannah acknowledge Jess tell her 9 o'clock, right?As Sandy points out in her confessional, what is Hannah doing? Because the captain certainly doesn't see her leading, and honestly neither do the viewers. By the time food comes out — over an hour late — this Below Deck Med charter is officially sunk. Not even a last-minute appearance by Bugsy can keep it afloat.
Sandy rewards Malia by letting her drive the yacht to the dock. After a truly torturous three days, the charter is over. However, as the crew assembles on the dock to see the guests off, the primary shares some tough love while handing over the tip: the entire group found the food and service generally lacking and below the expectations of a super yacht like The Wellington. Ooof — that's exactly what Captain Sandy didn't want to hear, though Bugsy gets a special shoutout for being the guests' favorite.
During the tip meeting, Sandy reprimands the crew for the disastrous charter, citing it as a total failure. She even threatens to start letting people go if changes need to be made. Mostly, she's looking at Kiko and Jessica. Ultimately the crew's tip was a meager $1230 USD per person.
The episode closes out with Sandy pulling Hannah aside for a much-needed chat. The captain wants to know what's going on with her trusty chief stew: is she resigned? She letting things fall through the cracks left and right and just seems checked out in general. I mean, she hasn't even criticized Kiko's cooking the way she would have in seasons past!
No matter how many times Hannah says everything is fine, Sandy can't shake the feeling that something is different. Then, she calls a meeting with Kiko on the bridge. While the chef seems like a great person, it's ultimatum time: fix the food or ship out. Kiko can't have another average charter — he needs to be spectacular or Sandy will be finding another chef.
Check out the Reality Tea Merchandise Store to buy clothes, accessories, mugs, and more!
TELL US – DO YOU THINK KIKO CAN REDEEM HIMSELF? DOES HANNAH SEEM DISENGAGED? IS JESSICA UNFAIRLY RECEIVING THE BRUNT OF CRITICISM FOR HANNAH'S FAILINGS AS A LEADER?
[Photo Credit: Bravo]