Tonight we were in for a supersized episode of Below Deck Mediterranean, which delivered supersized drama of epic proportions for Kiko Lorran.
All the pressure was on the chef this week to deliver a Vegas-themed feast. But like any bad trip to Sin City, what happened in the galley didn't necessarily stay in the galley. If the previews for next week are any indication, it appears some major changes are about to happen aboard The Wellington. But let's not get too ahead of ourselves, shall we?
Last week's reprimanding from Captain Sandy Yawn left may have poor Kiko in tears, but there's no time for crying because we have another preference sheet meeting to attend to! This week's charter guests are Sean Foote, an Atlanta-based record label owner and real estate developer, his wife Crystal, an advertising executive, and their closest friends. The primary's favorite foods include totally normal yachting fare like fried chicken, beef sliders and nachos. Among their other requests on the four-day charter are an anniversary dinner on Night 1, a trip into Mallorca on Day 2 complete with a casino night and a 90s-themed party on Night 3. Sounds easy, right? (Think again, those nachos will come back to haunt us all.)
Since the charter doesn't start until the next morning, the crew gets ready for a night out in Port Adriano. While flirtations are still flying between Alex Radcliffe and Bugsy Drake, and Rob Westergaard and Jessica More are fully in boatmance mode, Kiko decides to stay behind and focus on the work he has to do for the upcoming charter. Naturally, the crew gossips at dinner about Kiko's failures over the last two charters. However, the chef explains via confessional how his mentality coming from Brazil motivates him to never give up. Meanwhile, the most exciting thing in Palma is Bugsy's penchant for sparkly hair clips, which frankly pales in comparison to Bravo's unparalleled queen of hair accessories Dorit Kemsley.
The next morning, it becomes clear that the other target for this charter has firmly landed on Jessica's back. The third stew's broken finger already has Captain Sandy questioning whether she can keep up, and now there are multiple issues happening in the laundry room — Jess's primary job on the boat. If a few weeks ago was Messy Jessie and the Case of the Missing Epaulet, this week it's the Case of the Crew Uniforms.
It seems that somewhere along the way, Jess told Malia White that crew uniforms weren't a priority. The bosun relays this information to Hannah Ferrier…right in front of Captain Sandy, who's naturally listening in on their meeting. Oops. The game of telephone quickly devolves, making Jess look bad. When confronted, the stew insists it was a simple misunderstanding, but Sandy's anger is already brewing. However, the fact is that while, yes, things are missing from the laundry for nearly everyone, Jess seems to be getting blamed for a lot of issues that frankly aren't her fault. Or at the very least, problems that should be the responsibility of her higher-ups. (Cough, cough, looking at you, Hannah.) Either way, Jess had better perform perfectly this charter or else.
The charter guests arrive, and it quickly becomes apparent that they're both high maintenance and ready to party. Kiko is determined to make everyone happy, but right off the bat, the co-primary wants to have a chat about the menu. Every preference sheet is different — some guests don't eat meat, but will eat fish. Some are strictly gluten-free. And others don't even want any vegetables. However, they all agree that the oysters Kiko greeted them with, as well as the paella for their first lunch, are generally delicious. However, Sandy decides the filet mignon looks terrible and Kiko admits that it seems all the captain wants to do when she comes to the galley is judge him rather than help.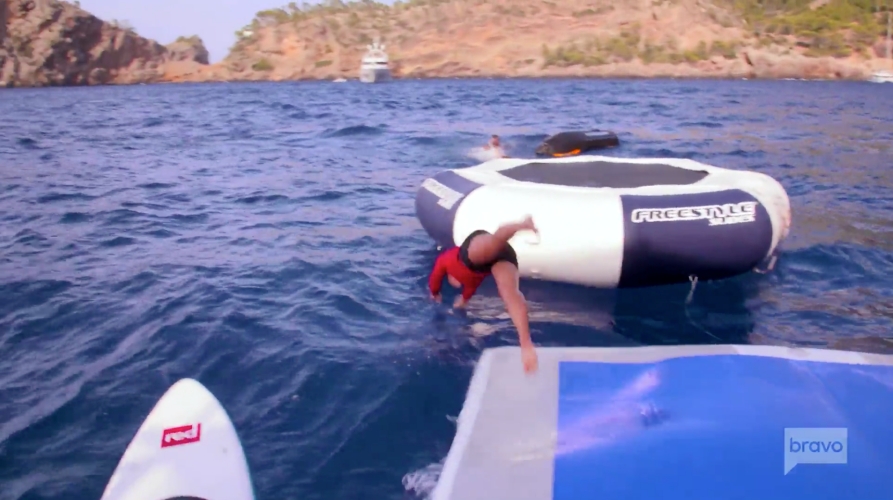 Next, the deck crew finally sees some action when two of the guests decide to take a jet-ski out for a spin. However, the sea is rough and choppy, with swells coming in, and before you know it, they've tipped the water toy and landed straight in the ocean. Another guest on board yells out that — despite wearing a life jacket — one of their friends in the water doesn't know how to swim. That's all Malia needs to hear to rip her mic pack off and dive in like she's on Baywatch, swimming out to save the day with Alex right behind her. Overall, the deck crew handled the minor emergency like a well-oiled machine, even with Creepy Pete Hunziker weighing them down. Eventually, the sea gets so rough that the boat is forced to pick up anchor and head back to port.
That evening is the 15th-anniversary dinner for two of the charter guests, and it's all hands on deck in the galley to help Kiko succeed. Plus, the pressure is on because Sandy is joining the guests for the meal. Dinner only starts five minutes late, and despite Kiko's nerves, it looks delicious. First, he pulls off seared scallops on a bed of savage rice with a strawberry vinaigrette for a starter. Then, the main course is bacon-wrapped chicken with potatoes au gratin, a perfect marriage of Kiko's rustic cooking style and the expectations of a super yacht. Finally, the dessert consists of classic tiramisu, and even Sandy is singing Kiko's praises by the evening's end.
The next morning, Kiko's confidence is boosted and the guests are ready to get off the boat. Bugsy and Alex are the lucky pair chosen to take the guests ashore for an excursion from Palma to Sóller. The day trip consists of a ride on one of the world's oldest electric trams. However, it's really just a perfect excuse for more sparks to fly between the two yachties. The guests even take notice, asking if the pair are together. The day out soon morphs into something of a date for Alex and Bugsy. And I must say, of all the boatmances in Below Deck history, I'm here for this one. Are you shipping Alex and Bugsy as much as I am yet? Or maybe just crushing on Alex? The man proves to be more charming and thoroughly adorable with each passing episode.
Faster than you can say "Viva Las Vegas," the casino night dinner is upon us. And since he's never been to Sin City, Kiko leans on Hannah for guidance with the evening's menu. She's suggested plenty of finger foods (like nachos), all things fried, and brownies for dessert. Meanwhile, Pete and Alex are going to be dressed up as the Wellington Chippendales, complete with drawn-on bowties.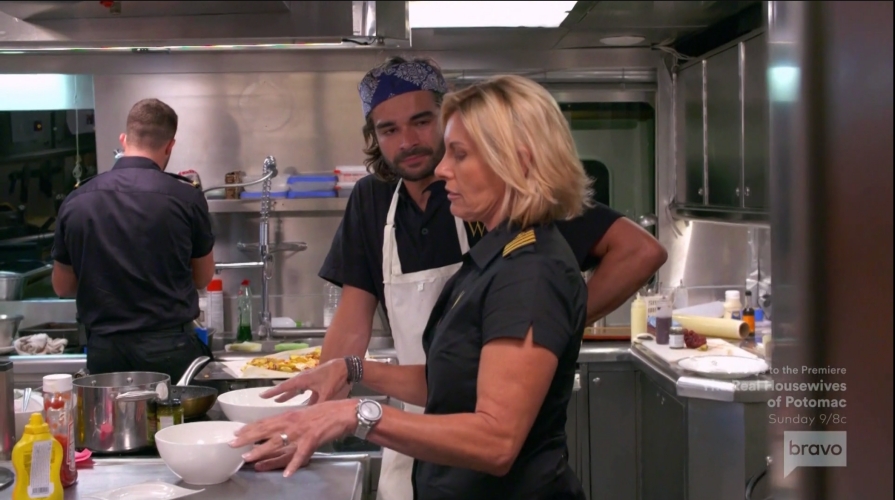 However, the dinner immediately gets off to a bad start when Hannah sees what Kiko's serving. While the parmesan truffle fries look scrumptious, his take on nachos rival Mila Kolomeitseva's from last season. In fact, they might be even worse. I'm not sure why exactly nachos are always the downfall of every Below Deck Med chef, but here's a hint. The secret to good nachos involves nacho cheese. When Sandy drops by to check on the guests, they quickly complain about the food. It's "too much fried," they say. It's "like a kid's birthday party," the co-primary jokes. Uh oh. Sandy spots the nachos and now she's on the warpath.
Captain Sandy charges down to the galley, ready to take Kiko to task. First she reams out Bugsy, then Hannah — questioning why she served Kiko's nachos but not Mila's. Hannah passes the buck, and now Kiko has to face Sandy's wrath. He defends himself by pointing out that he's never even been to Vegas, which Sandy takes issue with. (Because apparently it's his fault that, being from Brazil, he's never been to Nevada?) She then throws his dinner from the night before under the bus, calling it crew food, and Kiko is done. He tells Sandy point blank that if she wants to fire him, he'll leave. But Sandy wants to finish the charter first, and then Kiko will be out. Ugh, all I can say is poor Kiko.
Check out the Reality Tea Merchandise Store to buy clothes, accessories, mugs, and more!
TELL US – WERE YOU SURPRISED AT KIKO'S NACHOS? DOES HE DESERVE TO BE FIRED FROM THIS SEASON OF BELOW DECK MEDITERRANEAN? ARE YOU SHIPPING ALEX AND BUGSY?
[Photo Credit: Bravo]