For a filler episode, this week's Real Housewives of Orange County was quite the roller coaster, wasn't it? There was a heartwarming high. There were low-budget lows. And then right at the end, was the lowest low of all. Personally, over the course of the episode I went from getting choked up. To being weirded out. To being completely shocked, emotionally triggered and happily surprised at the return of a familiar face. And finally, to feeling physically sick to my stomach by the final scene. For a Housewives season many fans are choosing not to watch, this year in the OC is certainly delivering all kinds of emotions so far. And we haven't even reached the earth-shattering outbreak of a global pandemic!
Let's just start with the low-budget low, shall we? The episode kicks off with Emily Simpson FaceTiming Gina Kirschenheiter to rehash last week's drama. Which would be a totally ordinary thing to do in the world of Housewives if Gina weren't busy shopping at…Walmart. Now listen. I'm not saying shopping at Walmart is sad and depressing the way some 'Wives might. But it's normal. Which is precisely what I don't want from a Housewives show. Give me luxury! Give me wealth! At the very least, give me Trader Joe's. I mean. Can you imagine Heather Dubrow deigning to shop at Walmart during her five seasons on the show? I didn't think so. Gina getting caught shopping at Walmart on camera just goes to show how far this show has fallen from its glory days.
Next, the high. Which involves Braunwyn Windham-Burke taking a break from her personal struggles to help her son Jacob Windham-Burke embrace his newfound love of drag. And I have to be honest, this scene made me fully tear up. At last year's reunion, Braunwyn shared that being open up about her own sexuality on the show inspired one of her kids to open about about questioning their own identity. And while she doesn't confirm that revelation was about her oldest son, it's possible seeing as he's now exploring the world of drag. With the passionate, unabashed and loving support of his entire family, might I add.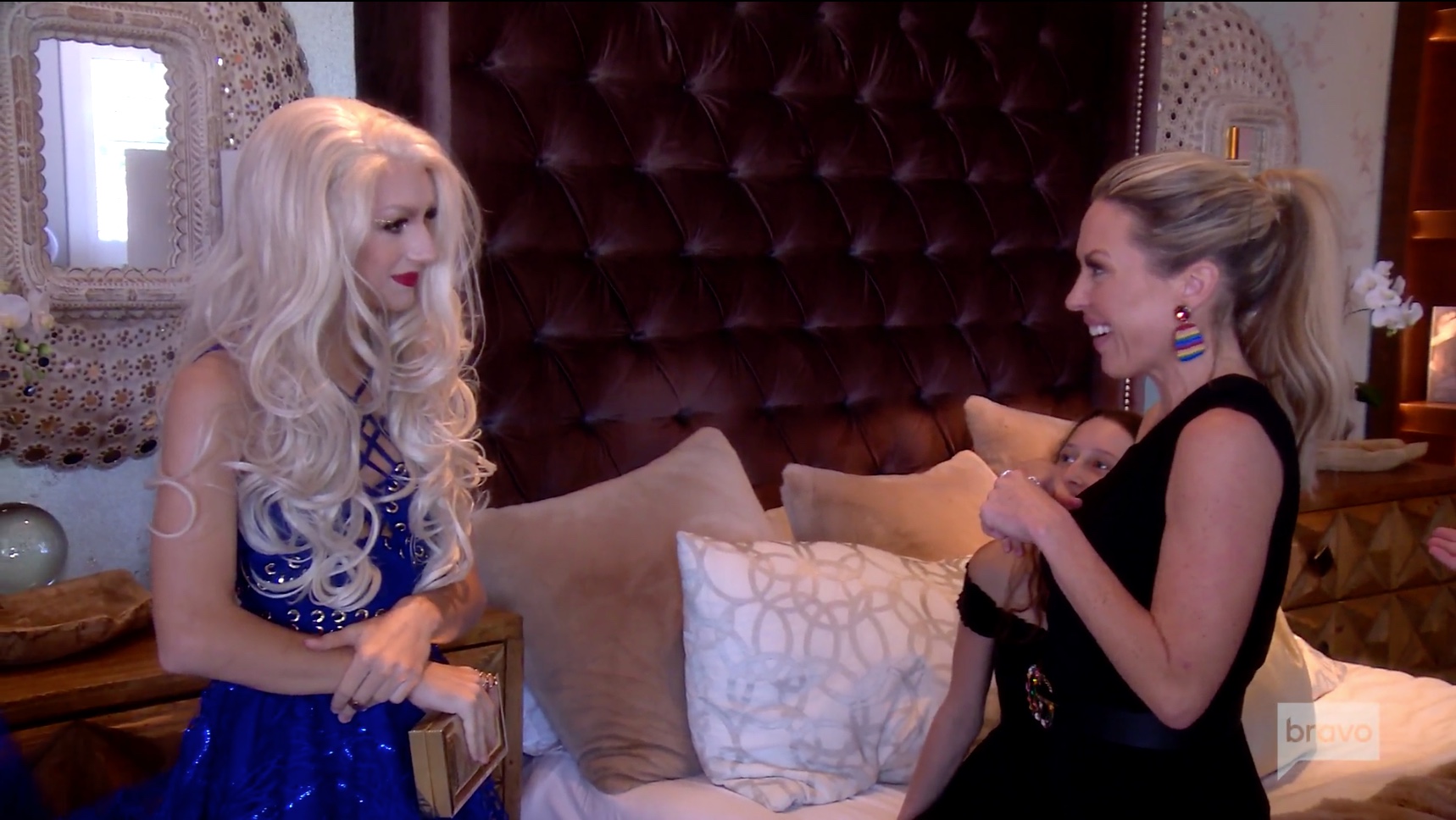 Braunwyn's also protective of Jacob and his choices, clarifying via confessional that he hasn't said one way or the other what this new hobby means for his sexuality, gender identity, etc. And frankly, it shouldn't matter! It's so refreshing and moving to see the family rally around Jacob in support of his drag dreams and watch his drag persona of Divine Devon come to life. Especially in such a deeply conservative area like Orange County. Divine may be his alter ego, but I hereby proclaim that Jacob is indeed the baddest queen at the ball. Talk about being a true inspiration.
Over at the Beador residence, Shannon Beador is having a heart-to-heart with her oldest daughter Sophie Beador. Remember that book she was writing last season about being a child of divorce? She's now shopping it to publishers, which means she didn't have a book deal when she decided it would look good on her college applications. But of course, Shannon's more concerned about the trauma she's passed down to her children over the last seven years on national television.
And while rebellious Stella is usually my favorite Beador child, I have to admit I laughed out loud when Sophie deadpanned during her confessional that her book will be titled How to Weather the Shannon Storms Beador. An instant New York Times best-seller if I've ever heard one! She also throws some shade at her mom's new boyfriend, John Janssen. Via confessional, she worries the guy can't support her mom both emotionally and financially. And now I'm suddenly worried. Do we have another grifter on our hands in the OC??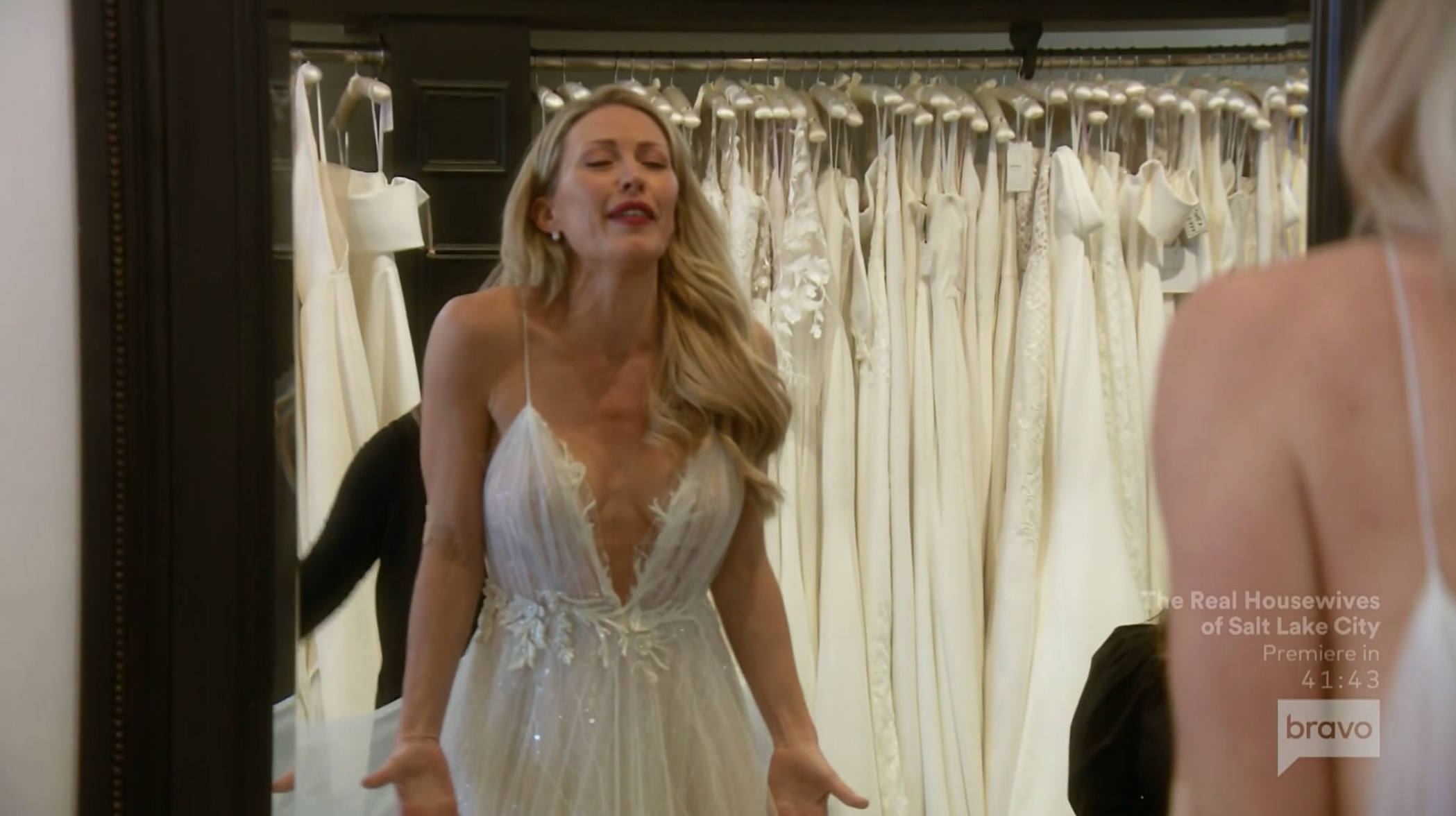 While Braunwyn brings Kelly Dodd along to try on wedding dresses for her upcoming vow renewal, Elizabeth Lyn Vargas opens up about her younger sister's drug addiction. Both of these scenes are triggering for me for different reasons. The former demonstrates the fundamental difference between Braunwyn and Kelly's attitudes (and general character). Braunwyn is excited and gleefully shares that Jacob might even wear a dress to the big day. Kelly, meanwhile, complains, criticizes every dress Braunwyn has her try on and rudely asks if Jacob is doing drag just to get attention. God she's just the worst.
Elizabeth's scene with her mom will certainly hit a nerve with anyone watching who's ever had a family member caught in the trap of addiction. I know it got to me. But it also did a great job of humanizing the newbie. Up until this point, I've felt she hasn't really offered much.
And I'll admit I came into the season with preconceived notions that I wouldn't like her. But I dare say, I might…actually…be starting….to like…Elizabeth Vargas? That pains me to say — and don't hold me to it if I change my mind later this season. But between this and her generosity when it comes to her nouveau riche mega wealth, she's kind of winning me over.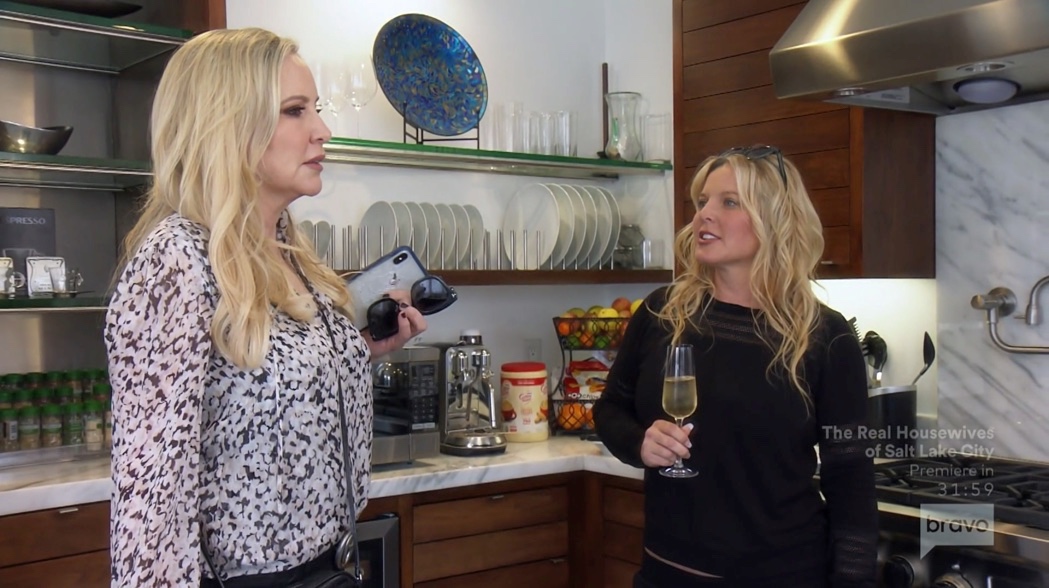 One person Elizabeth might not be winning over is Shannon. The vet has claimed in multiple press interviews that she immediately liked the new girl, but the awkward tension between them tonight was real. And honestly, I was kind of living for it. There's maybe nothing I love more than when Shannon Storms Beador is threatened by a fellow Housewife's wealth.
First, Elizabeth invited her and Gina over for lunch and a tour of her bougie beach house. Then, she brought her and Kelly along to shop for a Ferrari to put in said beach house's garage. All the while, Shannon grimaced, judged and threw passive-aggressive shade about the newbie's lifestyle choices and spending habits. As a general rule, I tend to be turned off by RHOC 'Wives who are weirdly obsessed with cars (see: Peggy Sulahian, and also Peggy Tanous.) But now, I'm more than ready for the Shannon/Elizabeth feud we all deserve.
While the others are car shopping, Braunwyn and Gina meet up to go to an AA meeting. (One because she's a newly confessed alcoholic, the other because it's court mandated by her DUI conviction.) It may seem like a strange way to bond, but somehow, the experience helps the two 'Wives turn a serious corner in their fraught relationship.
Gina finally sees a vulnerable side to Braunwyn. Braunwyn admits she was lashing out to hurt Gina and opens up about how her drinking led to her past split with Sean Burke. Before I know it, these two are hugging it out over coffee and suddenly, everything has changed. File this scene under the part where I was completely shocked.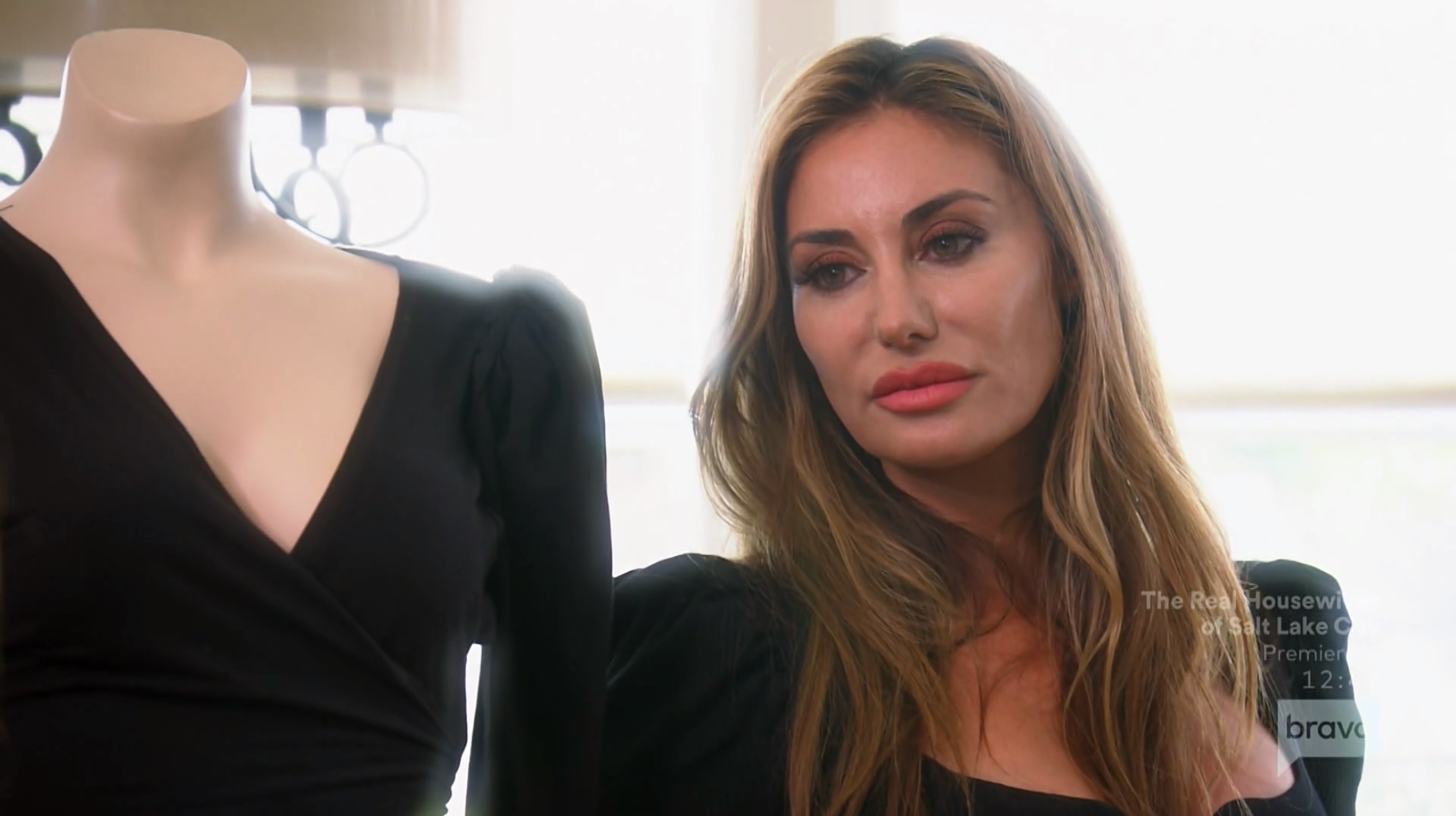 Is Emily still on this show? She's been completely absent for the entire episode besides the opening Walmart FaceTime call. But suddenly we're back at her house for the surprise and welcome return of a familiar face from seasons past. Lizzie Rovsek is back on our screens! It turns out the two pals are collaborating on a swimsuit for curvy ladies. Which is really a great thing. But seeing the former Housewife mostly just makes me think about the injustice that Lizzie was relegated to one-season wonder status (two if you count being demoted to Friend of the Housewives for Season 10).
Meanwhile someone like Gina — and Emily, frankly — has made it three seasons and counting. It's no secret that I love Emily as a person, but I loved what Lizzie brought to the show much, much more. She had a hot, hot husband (though they've since broken up). Lizzie was almost universally beloved by her fellow Housewives at the time. She stood up to Vicki Gunvalson's hazing with a smile on her face. Plus, she's the only Housewife who's ever sent Tamra Judge fleeing in humiliation across the lobby of a Balinese hotel. Basically, can we please bring Lizzie back for Season 16?
Finally, let's get to the scene that made me sick to my stomach. The episode's final moments revolved around Gina's on-screen reunion with ex-husband Matt Kirschenheiter at their daughter's birthday party. Most fans will know that this was Matt's first appearance ever on the show, after refusing to film for the last two seasons. And it's also the first time we've seen him following his arrest on charges of domestic violence, which Gina heartbreakingly opened up about at the Season 14 reunion.
It was frankly gut-wrenching to watch Gina plaster a smile on her face in the scene, all while talking about choosing to make a victim impact statement against him in her confessional. I support Gina as a survivor, but my heart also breaks for her that she has to co-parent with a Long Island douche canoe who not only cheated on her, but also (allegedly) physically assaulted her. The entire scene just felt gross and menacing, and was a weird, weird note to end on. But here we are.
TELL US –  HOW HEARTWARMING WAS JACOB'S DRAG TRANSFORMATION? WERE YOU SURPRISED TO SEE BRAUNWYN AND GINA TURN A CORNER IN THEIR FRIENDSHIP? WOULD YOU WANT LIZZIE TO RETURN TO REAL HOUSEWIVES OF ORANGE COUNTY FULL-TIME? WHAT DID YOU THINK OF MATT'S LONG-AWAITED APPEARANCE?
[Photo Credit: Bravo]