Well, that's it. My brain is permanently scarred. My eyes can't unsee it. Did anyone have Kelly Dodd filming in bed with a shirtless Rick Leventhal on their 2020 Bravo bingo card? Because that's how this episode of The Real Housewives of Orange County opened. And in the immortal words of one Valerie Cherish, "I don't need to see that!" (Listen, if you know, you know.) Honestly, the less said about the Fox News reporter wanting to hang things Kelly (in 7 minutes though?), the better. The only good thing about suffering through that opening scene was seeing it get interrupted by Hoda Kotb reporting on the encroaching coronavirus.
This season is turning out to be a bit like Game of Thrones when it comes to the pandemic. Like the families of Westeros, the women are busy fighting and feuding and getting offended. But the real problem on the horizon is the proverbial White Walker they're all dismissing. It's coming, ladies. Even if Rick Leventhal isn't worried about it. And it's going to lay waste to this season, which apparently, we might already be about halfway through? If that's true, is this jaunt to Palm Springs supposed to count as one of Season 15's cast trips?
Emily Simpson and Gina Kirschenheiter meet up for another workout scene, but all I can focus on is how terrible Gina's hair continues to be. I mean, the flyaways. The visible extensions (AGAIN!) That's not the definition of a messy pony, sweetie. Em asks how last week's sinister birthday party went, and while Gina's happy with where things are with Matt Kirschenheiter, I'm still not over it. I'll probably never be over it. And neither, it seems, will Emily, who reads Matt for filth in her confessional, calling him a "classic narcissist who uses guilt" to manipulate her BFF. However, Gina is, thankfully, still committed to submitting a victim impact statement. This is the best thing she can do, and Emily agrees to go with her for support.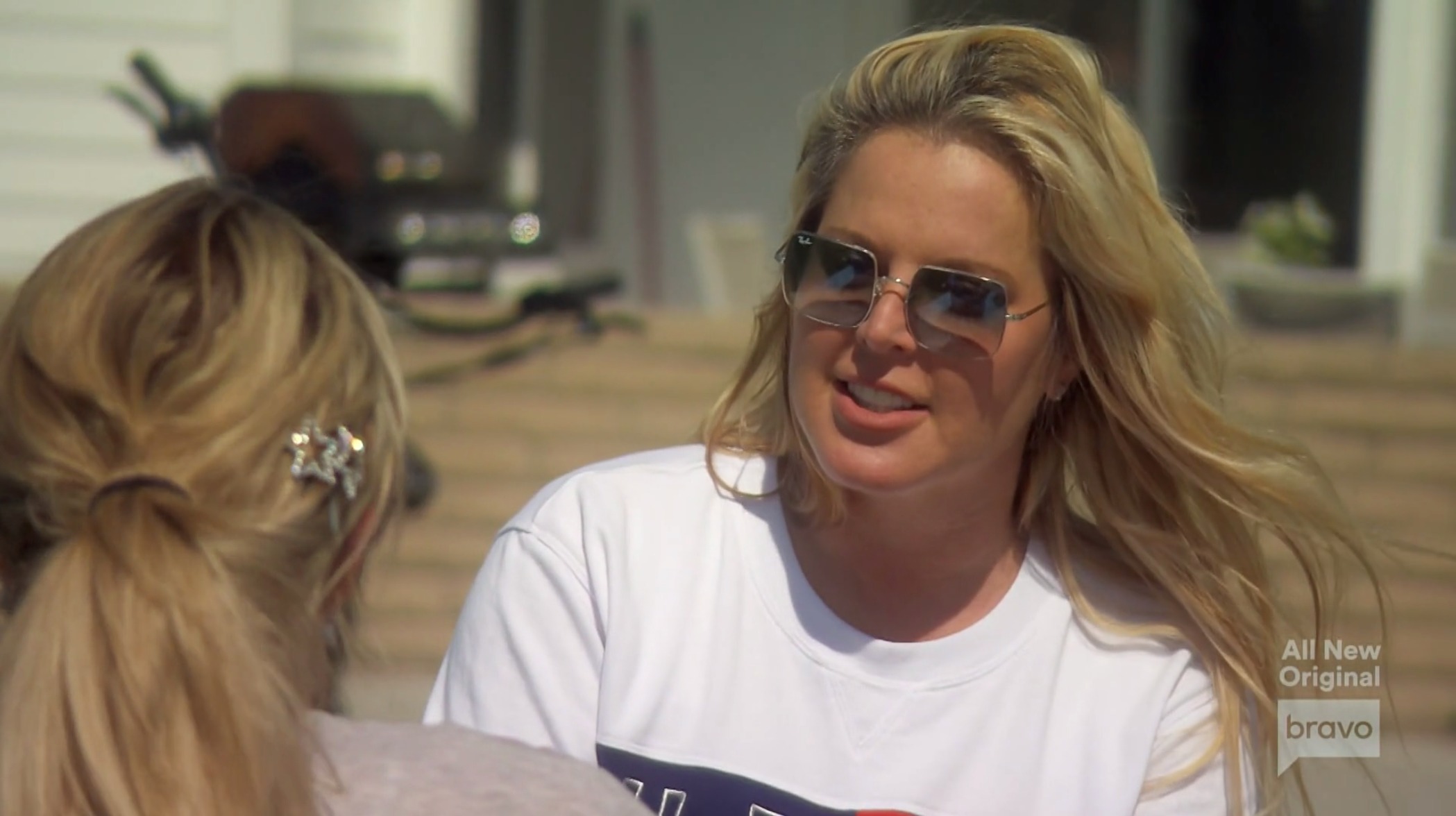 Meanwhile, Braunwyn Windham-Burke and Elizabeth Lyn Vargas go on a little bike ride for a heart-to-heart. In the wake of all the drama surrounding her sobriety, Braunwyn's questioning who her real friends are. And I'm glad she's opening up to Elizabeth, because the newbie seems to get it. She's empathetic and supportive in ways most of the other women simply aren't being to Braunwyn. Elizabeth also opens up about how all of her fake friends dropped her the second she split from her billionaire ex-husband. So maybe she joined the because she actually needed a new group of gal pals?
Later, Gina, Elizabeth and Shannon Beador go out on a triple date with all their respective men. The conversation immediately turns to the looming coronavirus. Of course, Shannon's already stockpiling and buying out the frozen food section of Trader Joe's. Apparently at this point during filming, Amazon had already run entirely out of hand sanitizer. So that means the full-blown crisis moment can't be too far around the corner. Gina also shares how she's drastically turned a corner with Braunwyn. Ever since they went to that AA meeting together, her perspective has totally changed. Which is nice to hear, but one person who's not ready to move on with the newly sober 'Wife is Shannon. I mean, if you didn't expect the vet to hold a massive grudge, you haven't been watching the last six seasons.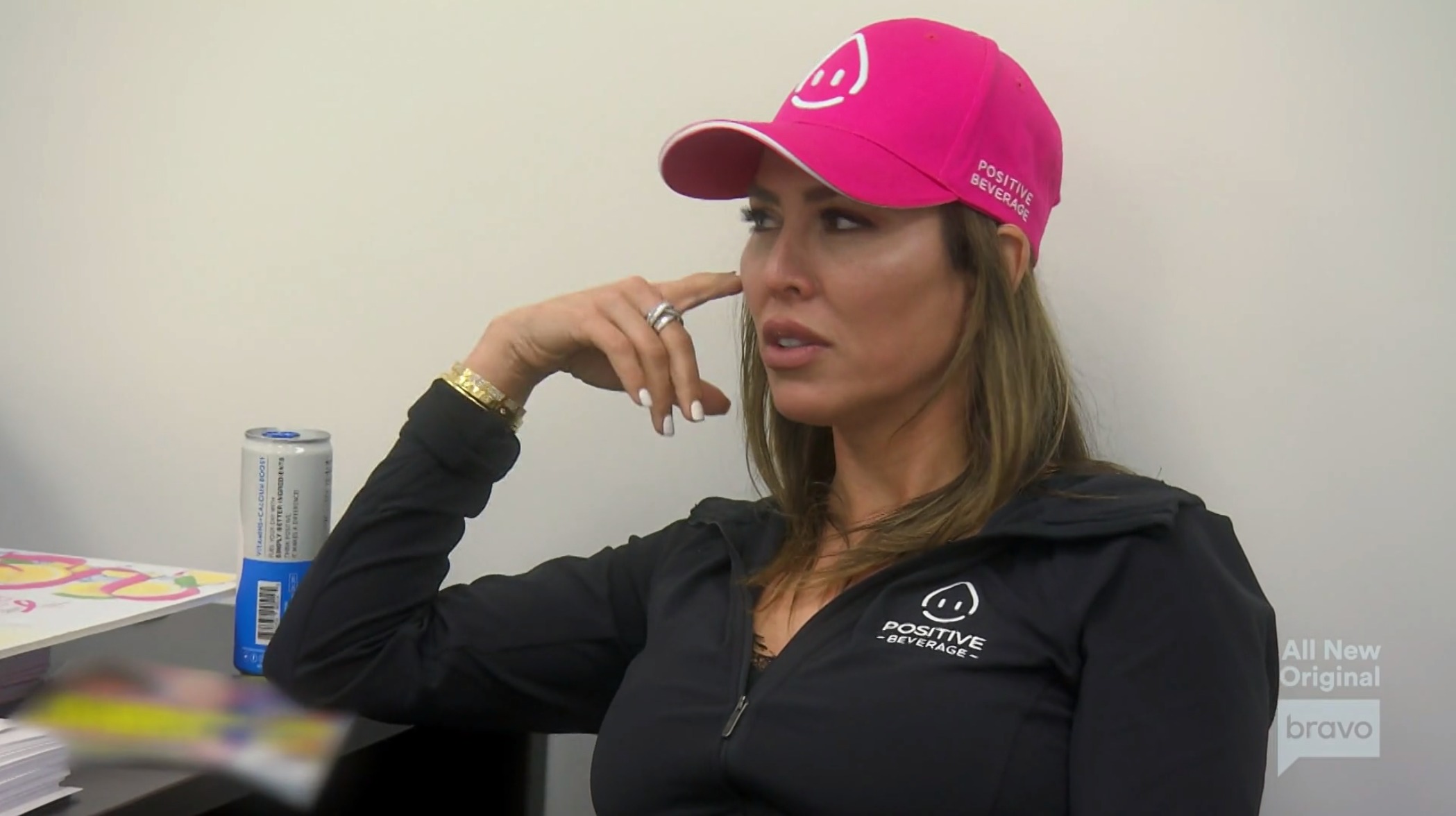 Next we're treated to a sparkling display of Kelly's non-existent business acumen. She claims she's now a serious business lady because she dumped $250,000 into a water company. But she doesn't know anything about the flavors. And she's more preoccupied with getting a TV for the office so she can watch her gross boyfriend on Fox News. During this show of near-complete ignorance, Kelly even has the audacity to claim Shannon told her she's starting a competing water company. Or as we in the Housewives fandom know to call it, a cheater brand. Never mind that the product Shannon's releasing is a tincture based on Yolanda Foster's favorite master cleanse and not a beverage at all. But Kelly's probably not smart enough to know the difference.
Braunwyn arrives in Palm Springs ahead and heads straight to her mom's house to just rip the band-aid off. Last season I really had a hard time understanding where the animosity came from between the two. But now, everything Dr. Deb says to her daughter seems sinister. She's lobbing hurtful jabs with a serene smile on her face. All while sitting in a zen garden like the one the 'Wives visited in Arizona last year. Braunwyn claims her mother has weaponized her drinking against her for years. (Don't forget she tried to blackmail her after seeing how she was characterized last season.) And in the context of Braunwyn's recent vulnerability over her alcoholism, I really do believe everything she's saying about Dr. Deb. But the holistic doctor is still her kids' grandmother, so there's no way she wouldn't be invited to the vow renewal.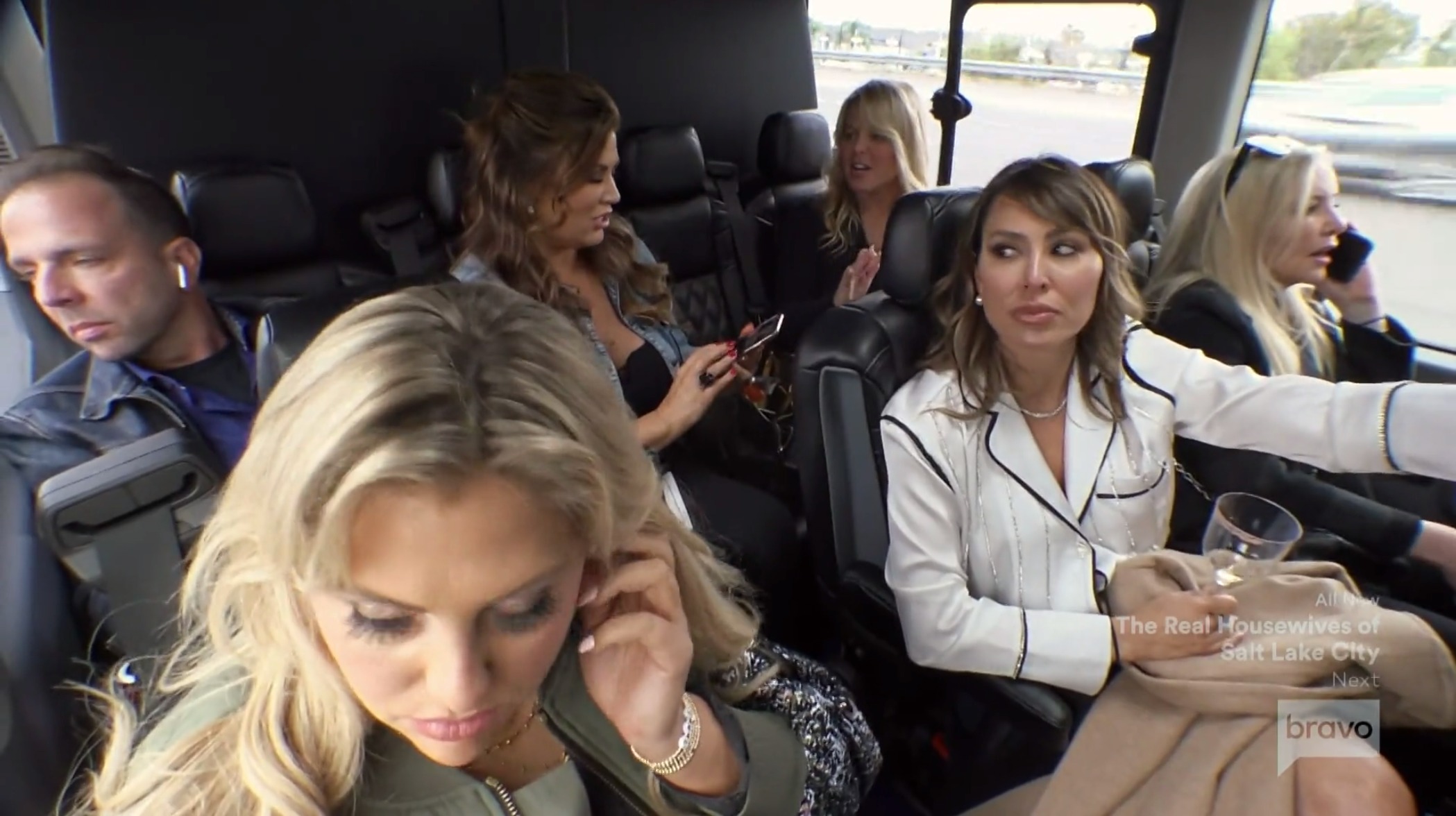 Back in Orange County, the rest of the women (plus Shane Simpson) pile into a giant van to make the trip to Palm Springs. And honestly, I'm kind of surprised they're all going. The most exciting part of the trip for Emily comes when Shannon finally unblocks her on Instagram after three years. Three years, people! Emily has been blocked since her very first season! She's right, this development really does deserve confetti. However, the mood quickly sours when Gina reveals there won't be any tequila at the vow renewal. Mind you, there will be plenty of other alcohol. Just no tequila, as it's newly-sober Braunwyn's main trigger and poison of choice.
Rather than be understanding or, you know, supportive of an alcoholic who just started recovery, Kelly and Shannon balk at the news. Kelly even throws a little temper tantrum, comparing Braunwyn to a diabetic who opts not to have cake at their birthday party. The words "Why should you punish everybody because you're the alcoholic?" literally come out of her mouth. It's just vile. And instead of politely going one day without tequila in support of their "friend," the 'Wives make an emergency pit stop at the liquor store. Real classy, ladies.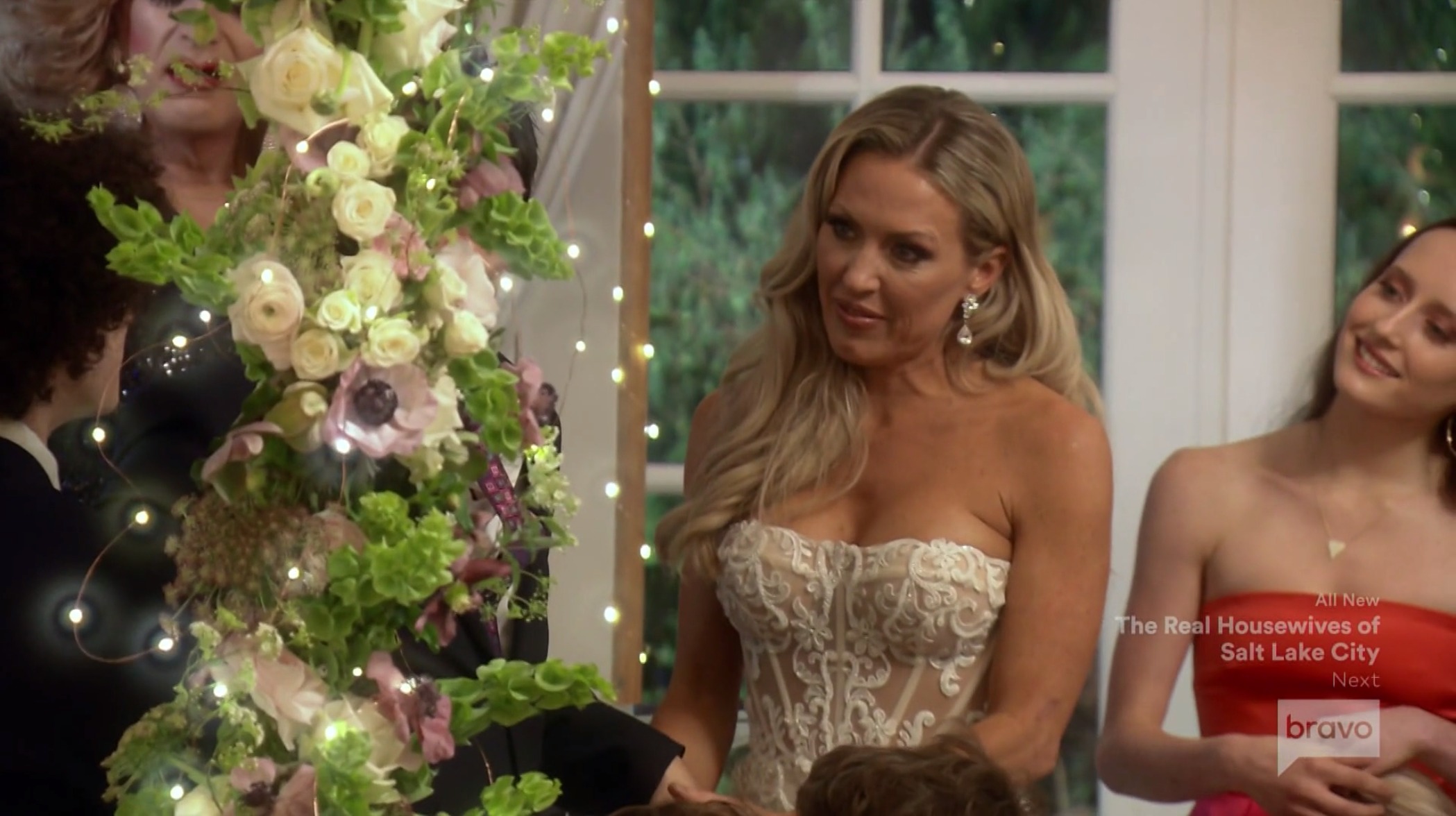 Everyone arrives in Palm Springs just hours before the ceremony, which is being officiated by a drag queen, naturally. During the cocktail hour — with alcohol! — Kelly confronts Shannon with the cheater brand narrative she's concocted in her head. Naturally, Shannon's confused because she's developing a 2-oz. nutritional supplement that doesn't have anything to do with Kelly's company. But Kelly doubles down, even when flashback footage proves Shannon always and only ever said "tincture." It may be hard for Kelly to understand because she makes it clear in her confessional that she doesn't even know the definition of the word "tincture." She's really just proving to have A+ brains this week.
The vow renewal finally begins, and it's a lovely, heartfelt ceremony….with more than a few awkward moments. Braunwyn gives Sean Burke a new immunity idol, err, I mean statement necklace. The Househusband reciprocates with a ring featuring the birthstones of all seven Windham-Burke kids. Jacob Windham-Burke makes terribly unfunny jokes about his parents leaving each other. It's all just how you'd expect, and the mention of the Housewives vow renewal curse is creepily foreboding knowing the couple are currently living separately. But as soon as the Windham-Burke fam waltzes back down the aisle, Shannon makes a beeline for Gina and Emily, ready to complain about Kelly's accusations. And just like that, we'll have to wait until next week's Real Housewives of Orange County episode  to see how many times the women can scream the word "tincture" at each other…
TELL US – WHAT DID YOU THINK OF BRAUNWYN'S VOW RENEWAL? COULD KELLY BE ANY MORE TERRIBLE AT SUPPORTING BRAUNWYN'S SOBRIETY? ARE YOU SURPRISED SHANNON FINALLY UNBLOCKED EMILY?
[Photo Credit: Bravo]