The Real Housewives of Orange County sure are squeezing as much out of this Lake Arrowhead trip as they can, huh? In no year other than 2020 would a non-international cast trip featuring only four of the 'Wives get stretched out for three episodes. Just imagine the quick Season 6 jaunt to San Antonio lasting that long. Because Lake Arrowhead is basically the equivalent of that, just with fewer Gretchen Christine Beaute handbags.
This trip has thrown Braunwyn Windham-Burke for a loop. She calls her BFF Shari from her hotel room to vent about the "anti-Braunwyn campaign" the other 'Wives seem to be on. And sure, you can argue that Braunwyn is being paranoid. Except that at that very moment, plenty of anti-Braunwyn gossip is being thrown around the house by her cast mates. Kelly Dodd calls her a "Debbie downer." Gina Kirschenheiter says she came in "nervous and aggressive." So is she really that wrong that an anti-Braunwyn campaign is happening?
Before Braunwyn arrives at the house, we actually get some insight into Elizabeth Lyn Vargas' past. The newbie shares that she actually grew up in a Pentecostal Christian family in the Ozark Mountains. And, she confesses, she hated it. Apparently her grandmother was the leader of the church; her father, the preacher. And everyone wanted Elizabeth to grow up and follow the same devoutly religious path. In fact, at just eight years old, her grandma forced her to speak in tongues in front of the congregation. The gag? Eight-year-old Elizabeth made it all up. And seeing the flock fall for her fake tongues taught the 'Wife she could lie to adults and get away with it.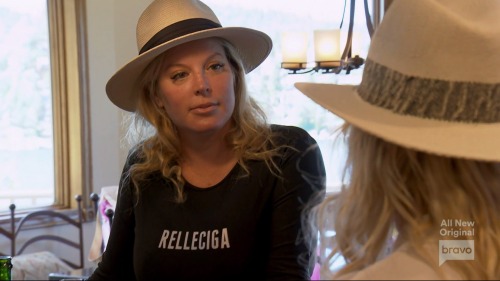 When Braunwyn shows up, she pulls Elizabeth aside asking to talk some time during the day. Turns out, she's ready to come clean about digging up the dirt on the rookie's past. She just didn't expect the confrontation to kick off before they even left the cabin. Braunwyn admits she found everything about Elizabeth available on public record: the defaulted mortgage, secret private loans, financial paper trails incongruous with the facade she projects as the "richest bitch in Newport." Naturally, Elizabeth didn't take kindly to having a new friend digging around in her past. But the way Braunwyn sees it, Elizabeth's just full of lies and half-truths. Are we surprised Elizabeth blames all the drama and dishonesty on her divorce? Hardly. You practically knew she'd say "gag order" before she even opened her mouth.
However, Elizabeth's ready to come clean, and be transparent, now that her divorce is finalized. So yes, she rents her house in Newport. But she still also rents a condo just for her clothes. Because she is that rich, OK? Just look at the Ferrari parked in the cabin's driveway. You know, the one whose alarm she doesn't know how to turn off? Braunwyn's betrayal of their growing bond also plays into Elizabeth's trust issues with friends. And she promptly breaks down in tears about not being able to trust women, which Braunwyn thinks can be solved with a smothering hug and a promise she won't go digging again.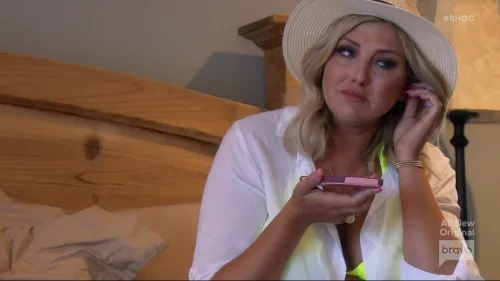 At the same time, Gina's dealing with her own heavy drama. Taking a call from her lawyer, she gets an update on Matt Kirschenheiter's domestic violence case. And it doesn't look great. Her ex-husband has been charged with two felony counts. He's facing a minimum of four-and-a-half years in prison. However, because of the victim impact statement she filed, the judge is strongly considering Gina's feelings in making a decision. So she has some sway here. She just doesn't know what to do with it. Gina doesn't want to ruin Matt's life — if only for the sake of their kids. But it also ultimately comes down to whatever the judge says. Because while she may have served as "judge, jury and Gina" in the early part of Season 13, Gina's not responsible for the outcome of this case. It's a hard, dark situation all the way around.
Back in the OC, things are looking a bit better for Shane Simpson. Much to Emily Simpson's relief, he's breathing better — though he's still in the hospital and on oxygen. Unable to be with him in the hospital due to COVID restrictions, Emily had quite a scare when her husband had stopped texting back after admitting every hour felt like a "fight to live." The Simpsons' marriage had already been in a stronger, more stable place this season before Shane's hospitalization, but this crisis has reaffirmed to Emily the importance of her relationship. She'll choose Shane and the life they've made together a million times over, and needs him to get better and come back home.
On the other hand, Shannon Beador's home life has taken a dire turn. After three negative results, she's tested positive for coronavirus. To literally no one's surprise, this sends the veteran 'Wife into a full-blown meltdown. She sobs to her mom on the phone, worried she's infected John Janssen. She angrily confronts her daughters over FaceTime, using the diagnosis as ammunition to blame them and remind them of her lung damage. Somewhat hilariously, the girls — who are five days into their own quarantine — are completely unfazed by their mother's histrionics. (Also, please recognize that it's easy to be snarky here with the hindsight that Shannon makes a full recovery. I'm sure it was terrifying as it was happening in the moment. There's just nothing like a Shannon Storms Beador meltdown, you know?)
Shannon also doesn't know that in Lake Arrowhead, she's getting blamed for the drama between Braunwyn and Elizabeth. The former throws Shannon all the way under the bus by revealing she put the idea to look into the newbie's past in her head. Gina affirms this accusation, and says it's all because Elizabeth said Shannon yelled at Jimmy Juarez back in Palm Springs. Ah ha! I knew the consequences for that loose end would come back around…
Elizabeth is flabbergasted by this, but Kelly says it's just par for the course when it comes to the way Shannon operates. It's the same thing Shannon did to Kelly her first season at the '70s party. You know, using her camera-hungry friends to accuse Kelly of having an affair in Deer Valley? It also ties back to Kelly's accusation at the Season 14 reunion that Shannon hired a private investigator to look into her. Hmm…is Shannon the true puppet master of RHOC and we're just now seeing it?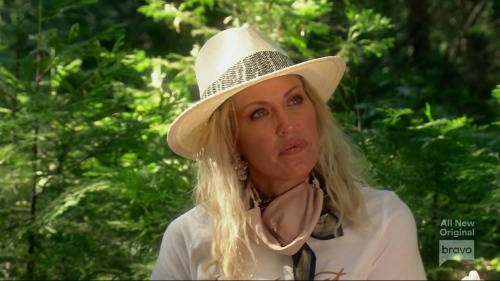 Finally, the ladies head to the Lake Arrowhead SkyPark for a day of outdoor activities. Which Gina just loves. While she and Kelly go mountain biking and fishing, Braunwyn and Elizabeth try archery and axe throwing. But not before Braunwyn makes an off-hand comment calling her BFF Shari her "wife." Huh? That label makes Elizabeth's radar go up, and Braunwyn even admits she and Shari have been social distancing together. Meaning not social distancing at all, technically. Knowing what we know now, this feels like the subtle start of Braunwyn's public coming out process. (And on a side note, did anyone else find it interesting that Shari's last name was blurred out for the cameras? I also can't find her last name anywhere online, so apologies for that.)
Away from the other 'Wives, Elizabeth decides to keep opening up to Braunwyn about her past. And here's where things take a completely unexpected left turn. The newbie admits that she doesn't know who she is or what she believes. She's in the process of trying to find herself in the wake of her divorce. But she has a hard time working through that because of the way she grew up.
Which is this: Elizabeth grew up in a cult. Like a literal religious cult with beatings and threats and being physically separated from society. And while she doesn't put a name to the organization, I need to know everything. Because I'm imagining the kind of secretive backwoods religious order involving snake handlers and, like she said, speaking in tongues. However, after confessing such a heavy, vulnerable secret on national TV, the poor 'Wife immediately freaks out and goes into a full-blown panic attack. So with an ominous "To Be Continued…" we'll have to wait until next week to learn more about Elizabeth's dark past.
TELL US – IS THERE AN ANTI-BRAUNWYN CAMPAIGN GOING ON AMONG THE OTHER REAL HOUSEWIVES OF ORANGE COUNTY? IS SHANNON MANIPULATING EVERYTHING BEHIND THE SCENES? WERE YOU SHOCKED BY ELIZABETH'S REVELATION THAT SHE GREW UP IN A CULT?
[Photo Credit: Bravo]