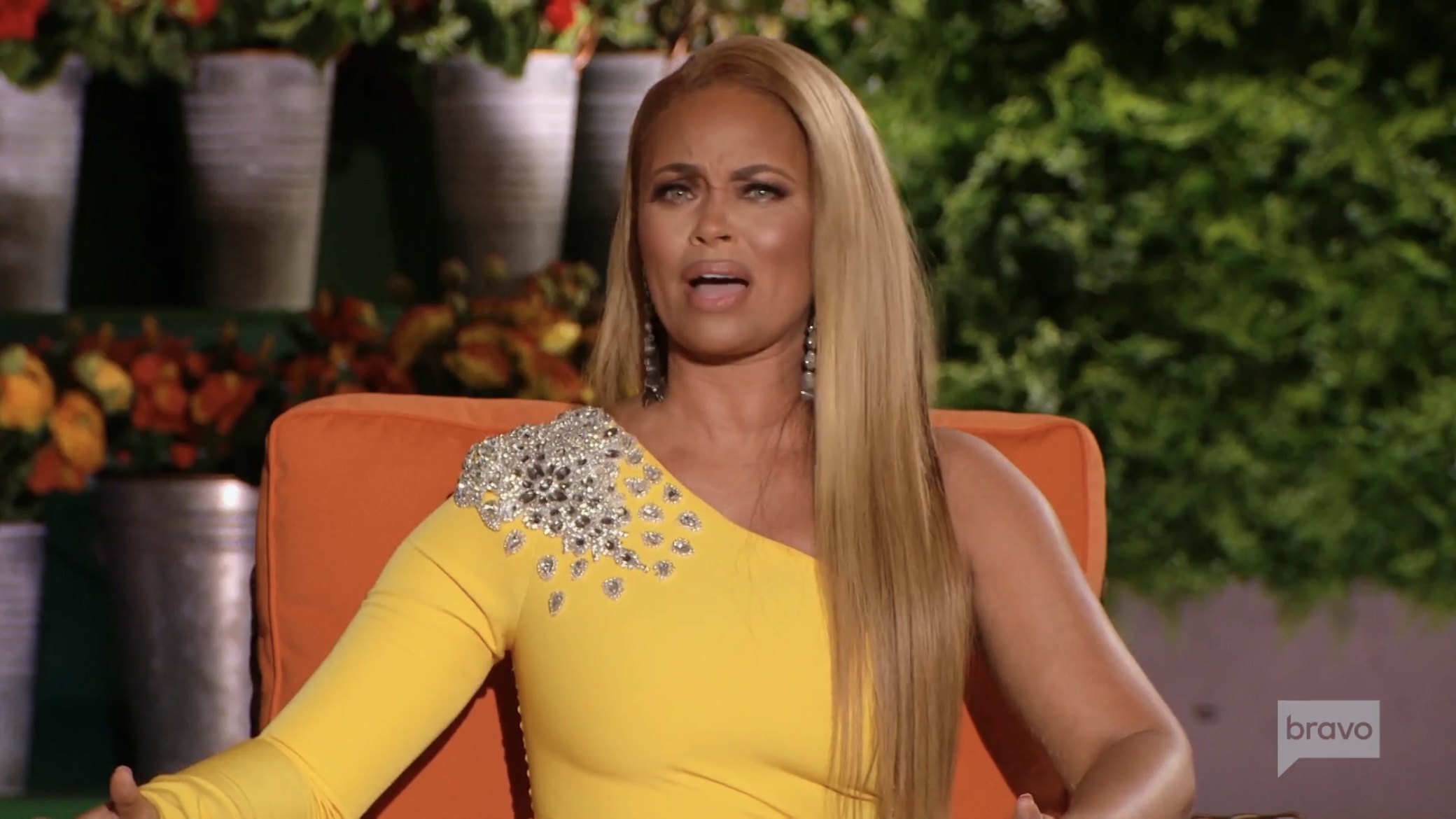 Monique Samuels and Karen Huger came for Gizelle Bryant and her fake relationship with Jamal Bryant during the Real Housewives of Potomac Season 5 reunion episodes. Real Housewives of Potomac viewers came for host Andy Cohen for the way that he felt he treated some of the cast members, specifically Monique.
Monique "quit" announced her departure from the show right after the last reunion episode ended. Then, Andy addressed the backlash against him. So did Monique. And, in addition to all of that, Andy addressed the claims that a Gizelle  meltdown was edited out of the reunion. To be honest, this wouldn't be surprising. We all know Andy, an executive producer on the show, plays favorites. Plus, Gizelle is also on the snooze-inducing show Bravo's Chat Room. It would make sense for the network to protect someone who's considered "talent" (lol) on two different shows.
Let's back things up a bit before getting to Andy's recent remarks. Gizelle herself teased some major issues at the reunion during an episode of Bravo's Chat Room, according toShowBiz CheatSheet. Gizelle teased, "A major [breakdown] recently, and you guys will see as a little tease to the reunion, is I was sitting there very nice and pretty and everybody and their grandmother was coming for me for about eight hours — and then in the last two to three hours, I just lost it." But, we never saw that. So, what gives, editors? I would love to know.
Gizelle really hyped it up, remarking, "Wait and see, it was a doozy… it didn't go well for me." Minus the whole "Where's Jamal?" and text screenshots of it all, Gizelle didn't break down. Instead, we just saw her sitting there silently, trying to come up with a clap back.
Then, Monique told All About The Tea, "There was a lot more to it too." After that, she said, "I'm talking about a full-out meltdown and explosion. My husband asked a simple question…I'm like, why couldn't you just answer the question?" She even claimed that Gizelle just kept saying "fuck you" over and over again. This correlates with what Gizelle teased on Bravo's Chat Room. So why didn't we see that? For once, Gizelle and Monique said basically the same thing, so why didn't we get that footage?
On Watch What Happens Live, Andy was asked about the claims that the "breakdown" was edited out. And, as expected, he denied the claims. He insisted, "That absolutely was not edited out, it didn't happen. If that happened it would have absolutely aired." Sure.
After that, Monique commented on an Instagram clip of Andy saying that, writing, "Wow the lies," followed by an eye-roll emoji. I'm just waiting for Monique and NeNe Leakes to team up for their (bound-to-fail) Andy Cohen takedown.
TELL US- DO YOU BELIEVE A GIZELLE MELTDOWN WAS EDITED OUT?
[Photo Credit: Bravo]