PRAISE THE BRAVO HEAVENS BECAUSE THE REAL HOUSEWIVES OF NEW JERSEY ARE BACK. The ladies of the Garden State always know how to bring it and give us the most explosive season. A focal point of this season is set to be an epic feud between Teresa Giudice & Jackie Goldschneider. These two have never seen eye to eye, but this is something entirely different. This is something they may never recover from.
In the Real Housewives of New Jersey trailer, Jackie can be seen yelling at Teresa saying, "I need you to admit that this was a lie." Talking about anyone's marriage is going to be perceived as a below the belt attack. It just is. Anyone with a brain knows that isn't something you do. However, Teresa's always been her own woman and isn't afraid to go for the jugular.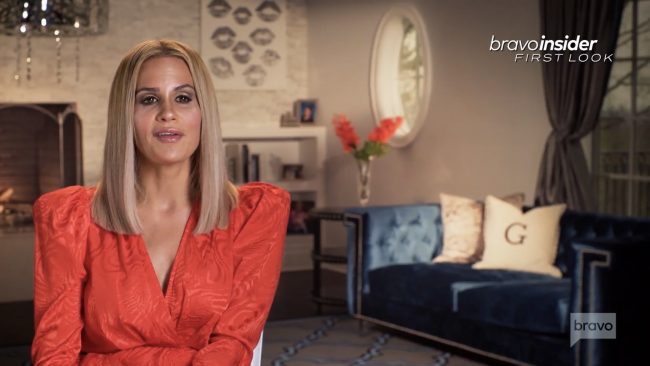 We immediately begin with a bone chilling montage of a fight between Jackie & Teresa. There's such a visceral reaction coming from Jackie being directed toward Teresa. Margaret Josephs has arranged this sit-down, but she's in over her head.
Teresa DOES NOT take kindly to being told what to do. Jackie's holding her own though saying she's not a stupid girl. Although Teresa saying where there's smoke there's fire is not the right move. That's not going to help anyone move forward. Also, I'm not sure if Teresa could've possibly said c**t any more times. There was a million bleeps in the first 30 seconds.
It flashes to three days earlier, so it won't take long before we get into that explosive drama. These ladies are so giving to us. It doesn't even feel like a season filmed in a pandemic. I'm eternally grateful for that.
Jackie says everything in her family life is spectacular. We'll see how long that lasts. By the looks of things, in about three days, s**t is going to hit the fan in a big way.
Jackie's planning a birthday party for Evan Goldschneider, and all of the women are invited. I believe this is the first time they've seen each other since the last Real Housewives of New Jersey reunion.
It's heartbreaking to hear Teresa talk about the loss of her father. He went downhill so fast. Once he had a mini stroke, he passed away 24 hours later. She has so much guilt about the loss of her mother, so I'm assuming she does with her dad too. She's been through so much over the last few years. How many more hits can this woman take in her life?
Melissa Gorga remarks that she's never seen anyone hangout with their ex husband as much as Dolores Catania. It is a bit weird how often they're out and about together. Her actual boyfriend David Principe is never around. If we hadn't seen them together in solo scenes, I would think he doesn't exist. David is the groundhog. You only see him once a year.
The women have some apprehension about seeing Jennifer Aydin again. She's a wildcard because you never know what you're going to get with her. Melissa decides not to bring up any of her lingering issues with Jennifer tonight though. That's nice of her not to ruin Evan's special day with petty drama.
Right away Margaret invites all of the women to Lake George for a trip. It feels early in the season for a trip, but group scenes give me life. Some other cities should take note. Looking at those East Coast Georgia peaches. Their lack of group scenes have led to a snooze fest season.
It's nice of Jackie to be extending olive branches at this party to both Teresa & Jennifer. She says no matter what she wants Teresa to be happy, so this is a step in the right direction. We know it won't last though. In three days, all hell is going to break loose.
After Jackie's speech about how much she loves Evan, Teresa does the unthinkable. She goes over to Melissa and says she heard that Evan "does stuff" at the gym. What? Melissa doesn't know what she's talking about, so she asks Margaret instead. She "heard" that Evan cheats on Jackie when he's at the gym.
Teresa, no. This is low even for you. BUT STILL. She has no factual evidence to back up this claim. Not only is this bold accusation despicable, but she's doing it at the man's own birthday party. Why is she coming in guns blazing like that at Jackie?
Margaret is gob smacked to hear these rumors about Evan's alleged cheating. You can't go around saying things like that without having anything to back it up. Teresa told Jennifer this over a year ago, but Jennifer paid no attention to it. She feels like if there aren't receipts, Teresa should shut the f**k up.
Teresa's going around to EVERYONE repeating this rumor. Jackie has no idea what's being said about her family behind her back. Teresa has no shame in her game at this party. Why now? Why wait until this moment to finally reveal these alleged rumors? I smell bulls**t.
In the bathroom Margaret & Melissa recognize they have a disaster on their hands. Once this gets out, it's not going to be good. Any truce Jackie & Teresa had is over once she learns about this. How could you do this Teresa? Why?
Margaret's home renovations are finally coming along. It's been over three years, but there's some headway being made. I'll believe it when I see a finished project.
Joe Gorga isn't impressed that his daughter Antonia Gorga has a boyfriend. He would rather her dress in a nun outfit for the rest of his life. He comes across like such a caveman that sets women back so many centuries. Someone needs to educate him. The sexist attitude isn't cute.
The next day everyone dissects the cheating rumors about Evan. Basically everyone thinks what Teresa did was crossing the line. If Teresa hasn't actually seen this for herself, she shouldn't be spreading it.
Margaret wants to warn Jackie ahead of their Lake George trip that this is being said about her. Jackie's going to lose her mind when she learns what Teresa's saying behind her back. After all of the negative history between them, Teresa destroyed all of their positive progress in one night. What a waste of time and energy.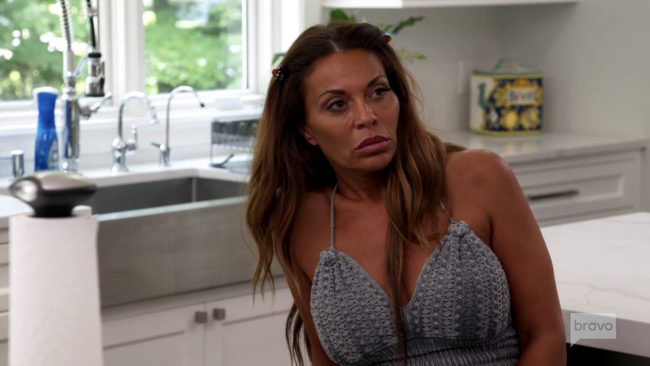 Dolores built a house with David, but she never moved on. She still lives with Frank Catania which is the weirdest living arrangement of all time. Frankie Catania lives with David though. There's so much about this that screams bizarre land. It's all cuckoo bananas.
Dolores tries to confront David about never coming around the group, but he diverts the subject. He brings up her surprise plastic surgery instead. He's against doing elective surgeries like that which is odd giving his profession. She doesn't want to hear any of this from him because she has the freedom to do what she wants.
It's difficult to understand why these two are still together. We've never seen them spend any considerable amount of time together. When we actually do see them together, it's always awkward and a conflict is brewing. Why not just call it quits and move on? Is he just with her for the free promo the show gives? If so, it doesn't portray him in the best light.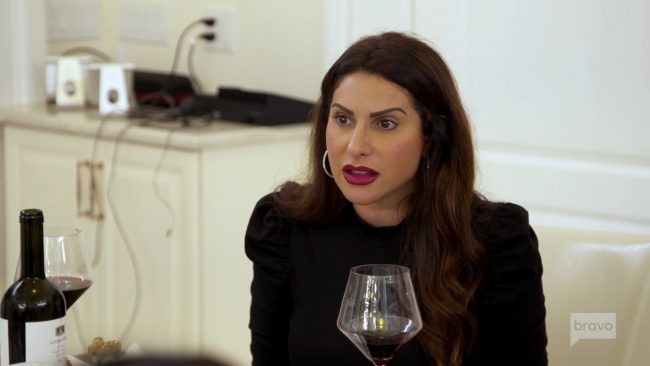 Everyone in Jennifer's family is coming over for dinner except for her mother. Trouble in paradise? Even though her mom isn't there, her brother and sister both brought dishes prepared by her.
Lately Jennifer's parents have been bickering a lot lately, so he's moved in with her. The relationship with her mother is strained because she wants to fight with everybody. Jennifer wants things to be better, but it's hard right now. The last thing she wants to do is go against her mom.
Getting involved was the last thing she wanted to do, but she had to step in. Letting her dad get verbally attacked was no longer an option for her. Hopefully the family can come together and heal in due time. There's a lot of passion with them all.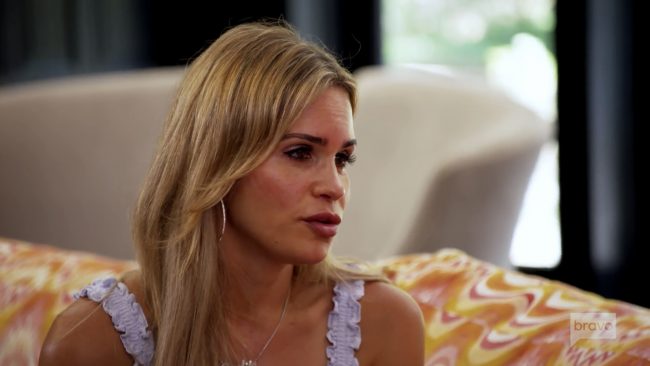 Teresa gets a call for Jackie asking her to talk before the trip. Jackie's aware of the negative rumors being spread about her. To make it worse, she didn't hear it from anyone in the group. This is malicious gossip that can tear a family apart.
Jackie wants to meet at Margaret's to talk about everything. It's somewhat neutral territory, and they can talk away from their respective families. Trying to have a rational conversation with Teresa can be difficult at times though. There's almost zero chance that any type of emotional please to stop will get through to her. It was a calculated effort at revenge. PERODT.
Since learning what Teresa's did, Jackie's been sick to her stomach. It's horrible because Jackie was trying to have a clean slate with her, and this is what she gets for it. Jackie had to tell Evan what happened, and it set him off on an irate rant. You can't really blame him.
No matter what, why would Jackie want to go to Lake George with Teresa at this point? F**k all of that. Do not put me on vacation with someone trying to wreck my life. DON'T BRING UP MY FAMILY.
You can see Jackie's been crying because they live in a small gossipy town. People talk, and this could do a ton of damage to his reputation. Jackie needs her to admit this isn't true, and shut it down.
Jackie asks how far they should go to protect someone like Teresa. It's a valid question because Teresa's exhibited some of the most questionable behavior in Housewives history. She never holds herself accountable for those actions either.
Once Teresa arrives, Jackie cries to Teresa about what she's done to her marriage with this rumor. Teresa just stares at her with a blank look. All Jackie wants is for her to admit that there's no hint of truth to this rumor. Teresa says she doesn't want Jackie to be upset, but she won't say who told her. She won't admit it's not true.
Margaret chimes in and says it was the wrong place to go around talking about this rumor. Teresa doubling down and saying it's true is such lowbrow behavior. Literally what the f**k.
The more Teresa tries to justify, the more pissed Jackie's becoming. She screams she needs her to admit this is a lie and says she's not a stupid girl. WHAT JACKIE SAYS NEXT LEAVES ME BEYOND SHOOK. She says she heard Gia Giudice snorts coke in the bathroom at parties. Obviously it was an analogy to try and make Teresa understand, but it was a bad move.
Bringing up Teresa's daughter in any capacity doesn't accomplish anything but set her off more. She wants to rip Jackie's head off for saying that. I've never seen anyone yell the word c**t that many times in such a short span. Damn.
Jackie taunting Teresa saying "I win" was SPINE TINGLING. This is going to be an incredible season. I don't see how these two women are ever going to be able to move forward after this.
TELL US – DO YOU BELIEVE THE RUMORS ABOUT EVAN? WAS JACKIE WRONG TO BRING UP TERESA'S DAUGHTER? WHAT DID YOU THINK OF THE PREMIERE? ARE YOU EXCITED FOR THIS SEASON OF THE REAL HOUSEWIVES OF NEW JERSEY? 
[Photo Credit: Bravo]