This reunion feels like it might be the most dramatic one in years for The Real Housewives of New Jersey. There's the Louie Ruelas of it all. There's also what appears to be the final nail in the coffin of Teresa Giudice and Melissa Gorga's fake relationship.
These looks got a lot of flack online, but I think these ladies look great for the reunion. Jersey doesn't get enough credit for their reunion looks. They're nowhere near as horrendous as some of the other cities tend to be.
Teresa's not supposed to yell because she's not cleared by the doctors to do so. We'll see how long that lasts because she's not someone who typically sits there quietly. She's going to talk her talk and scream in the face of opposition.
A Friendship On The Rocks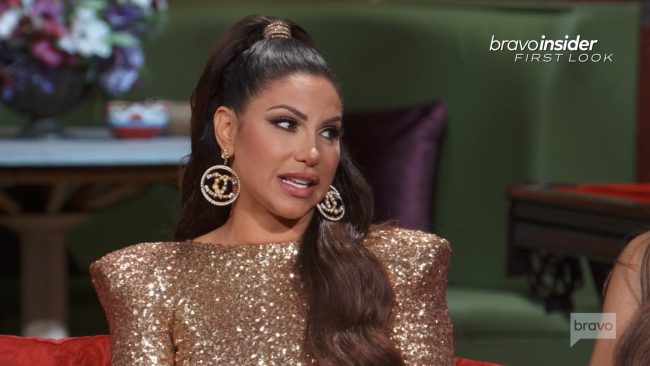 Jackie Goldschneider says she doesn't fear Dolores Catania. However, Dolores' was exhibiting some anger that looked like it was on the verge of something physical. There was no reason to refer to Jackie as "this". She was speaking the truth at that moment because Dolores teeters the fence far too often.
Dolores feels like she was a good friend to Dolores. Jackie feels like she was the same. However, it seems like Margaret Josephs was playing both sides of the fence in the Jennifer Aydin/Dolores feud. Every year at the reunion it comes out that Marge is doing more fake and fraudulent shit. How are they not clued into how she operates?
Jennifer wants to know if it was Dolores or Frank Catania's plan to bring the digging for dirt up on camera. She feels like Dolores has jumped shipped to be besties with Marge. Considering Dolores and Margaret used to be mortal enemies, it's a little weird.
Jennifer thinks Dolores had a hidden agenda because she didn't want her to look bad. She feels like it was all a way to protect Margaret. Woah. I kind of like this, because these two having a falling out, is needed for this group. The dynamics have gotten stale, and something needed to have a shakeup. This is perfect. '
Margaret tries to say that Dolores has defended Jennifer for a long time. However, Jennifer's sick of it.  Jennifer is always going toe-to-toe with these women at reunions. She's always forced to be on the defensive.
Dolores is shocked because Jennifer has been saying she's not a good friend. She can't believe the things being said about her in the press. Dolores is disgusted by all of this, and Teresa tries to stick up for her.
Dolores and Jennifer go back and forth telling each other to shut the f**k up. Everyone at this reunion is against Jennifer, except for Teresa. The only thing I don't agree with is Jennifer trying to pin everything on Margaret. Let's be clear, Margaret didn't hurt a happy home. She may have brought something up and allowed it to resurface, but she didn't make something up out of thin air.
Jennifer's defending her emotions which I feel like she was entitled to do. Jennifer says she changed her emotions toward Jackie after actually hearing what she said about Bill Aydin. It wasn't the massive dagger that Dolores was trying to make it out to be. Dolores was twisting it to use it against Jackie.
Jackie's right to defend herself, but Teresa doesn't see it that way. She's trying to push a narrative that Jackie was being mean-spirited. Tre also calls out Jackie for ghosting her as a friend after her fallout with Margaret. They were never close friends like that, but please go on.
Teresa calls Jackie a bitch, so there goes any progress they ever made. Tre's so classy. Jennifer calls out Jackie for being an insecure follower to Margret. Speak your truth!
Jennifer is seemingly done with Dolores. She's tired of the way Dolores minimizes her friendship. I'd assume their dynamic means these two are likely both returning next season. As of now, I wouldn't mind seeing Jackie get demoted or cut from the show. I'm still on the fence about Teresa and without Teresa, it doesn't make sense to have Melissa.
Teresa's Love Bubble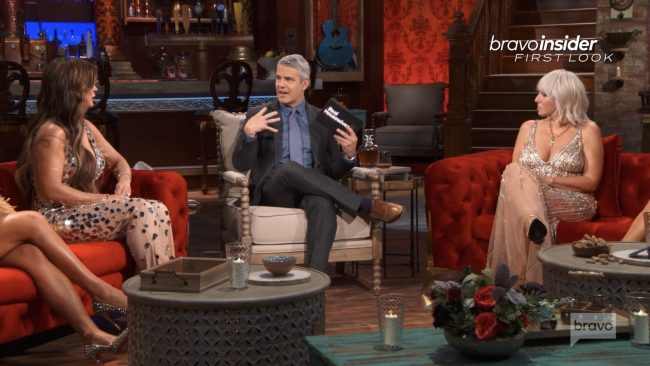 Teresa says Margaret was going after Louie's life, and he never signed up for it. Man, that's tough because he always knew she was a public figure. Unfortunately, that comes with the territory.
I don't understand why Teresa's so committed to saying Marge started the rumors. These were out there forever before Marge ever said anything. Whatever.
Louie is the opposite of Joe Giudice, and they've allegedly never fought. He's so hot-tempered, so it's difficult to believe that. Teresa believes she was never in love with Joe, which is so crazy to hear. She used to go to war with her costars about that man. Yet, somehow it comes across like everything that was ever said about him was true. Their marriage wasn't the cookie-cutter crock of shit she was making it out to be.
Dolores backtracks and changes the tone of her dog analogy about Teresa. Of course, she did. She's forever one of Tre's little soldiers.
Teresa reveals that she hasn't decided whether or not to get a prenup. Please get one. This man is red flag central. Everyone's also confused about why Dolo wasn't invited to the engagement party. Somehow Melissa was invited, but not her longtime friend. ODD.
Teresa's asked why Melissa isn't in her wedding, and she reveals everything. Teresa says they aren't close. Melissa says when Tre was in prison, she was the one taking care of her dying mother. She doesn't want Teresa to take anything away from her.
Melissa says for she and Tre to stop faking that they have a relationship. We're finally getting somewhere. The fake shit is dropped, and these two can finally get real again. Margaret tries to comment on it, but Teresa tells her to shut the fuck up and calls her a stupid bitch. Is this her swan song?
Teresa gets pissed off because Melissa didn't marry Joe Gorga after she had her baby. She wanted her to move the wedding until after she had it. That's so weird and hypocritical.
A Family Divided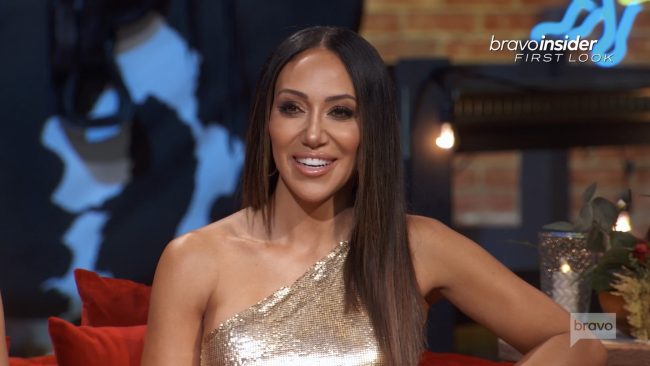 Teresa can't remember a time that she had her brother's back. Nobody in that family ever practices the loyalty they preach. Both Tre and Joe suck at being loyal to each other. It's never going to change. Also, this show has torn their family apart. I'd imagine things were better before money and fame got in the way.
Melissa flips the script and says Tre should've had her back after Jennifer got physical with her. Not only that, but she also wanted Tre to intervene after her brother was called a crook by Jennifer. These are all valid points, but both Teresa and Melissa are hypocrites.
I don't think it's that weird the girls didn't enjoy Joe talking about their father. They should all stop badmouthing each other in the press. It's not that difficult. I hate seeing a family rip each other to shreds on our screens.
Joe sends his anger toward Jennifer, but this is more about Teresa and Melissa/Joe. Although, Teresa saying Joe's a bitch boy for being on Housewives is a little low. That's so fucking degrading. Why is she so nasty to them?
Joe takes the stage and is openly hurt about Teresa not including Melissa in the wedding. Melissa says Louie only calls Joe to talk about the show. That's it. Melissa is poking a ton of holes into Tre's narrative about being all about family.
Joe and Teresa are falling out right before our very eyes. Joe can't even get a word in edgewise, and Teresa's so stuck in the past. It's funny because I started the season a big Tre fan and someone eager to rid the show of Joe and Melissa. However, this time I think Tre's the one who looks bad.
Melissa/Joe and also Teresa all claim to be the only ones who try in these relationships. One of these sides is wrong. If everyone was trying their best to be a real family, they wouldn't be arguing on TV like this. What we are seeing is years of a sham relationship cracking into tiny little pieces.
Joe walks off the stage and says he's done. He quits. This is the end of the road. He says "fuck you people" and walks off the set. He screams for Teresa to be a sister once in a while. WELL DAMN.
TELL US – TEAM TERESA OR TEAM JOE/MELISSA? IS DOLORES A GOOD FRIEND TO JENNIFER? WHO HAD YOUR FAVORITE REUNION LOOK? DID YOU ENJOY PART ONE OF THE REAL HOUSEWIVES OF NEW JERSEY REUNION?
[Photo Credit: Bravo]