Somehow, we're more than a dozen episodes into Real Housewives of New Jersey Season 13 and we still have yet to see the actual final blow-up between Teresa Giudice and Joe Gorga. The seeds have been planted for the Melissa Gorga cheating rumor to rock the group, but it's sure been a slow ride to get there. Thankfully, Danielle Cabral was more than ready to spill the beans when the time was "right".
The latest RHONJ episode took place a week before Tre and Luis Ruelas' big day. MelGo was trying to maintain peace at that point by attending Tre's bridal shower, but the tension only continued to grow. Here are five of the main takeaways from the latest RHONJ episode "Messes and Bridesmaids Dresses."
Danielle is a ticking time bomb
Ever since Jennifer Aydin told Danielle about the Melissa gossip from Margaret Josephs' arsenal, she was on edge. The long plane ride home from Ireland gave her even more time to stew on the secret. Danielle felt obligated as a woman and a friend of Melissa to let her know about Marge's dirty little secret. She put herself in Melissa's shoes and would want to know the truth. She couldn't hold it in and spilled the beans to her mom and husband, who agreed that Danielle should ironically be a rat.
Danielle self-proclaimed that she was a "new woman" after the Ireland trip Danielle 2.0 apparently will pick her battles and choose her friends wisely. However, she couldn't resist almost immediately poking at Rachel Fuda once they were forced to be in the same room. It's no surprise that Danielle is swayed by flashy chaos — it's her brand.
Dolores doesn't fall for Frank's tears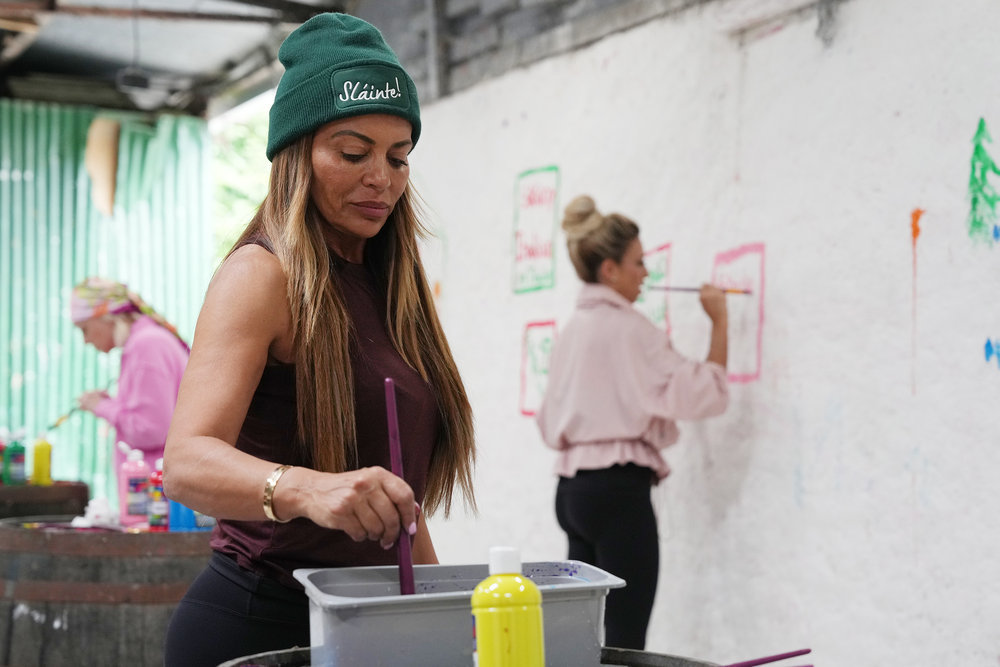 Dolores Catania and Frank Catania finally met up for a one-on-one conversation about the changing dynamics of their divorced besties' relationship. Dolo wasn't at all excited to have a serious conversation, but Paul Connell urged her to do so. She reflected that throughout the 30+ years, they've known each other, Dolo and Frank have never had a serious emotional conversation. "This has never been how we do things," Dolo explained in a confessional. "I don't think we ever even told our kids we were divorced." This explains A LOT about Dolo's demeanor but also shows that Paul really is pulling out her softie side.
Frank goes right into it trying to get Dolores back to their family of four, even though both of them are in serious relationships. Frank was particularly upset that he felt like Dolo never answered his calls anymore. He cried when thinking about how he always gets the urge to call his late mother but can't. Nowadays, he calls Dolo in those situations. "Not only did I lose my mother but I lost basically my best friend," Frank said. Dolores rightfully stayed firm in her boundaries but assured Frank that their family is going nowhere. "You can't throw 30 years away," she said. It seemed like some true resolution for this passive-aggressive behavior between the Catanias. Hopefully Frank realized that he needed to back off a bit and let his ex-wife blossom.
Jennifer Aydin is partying her pain away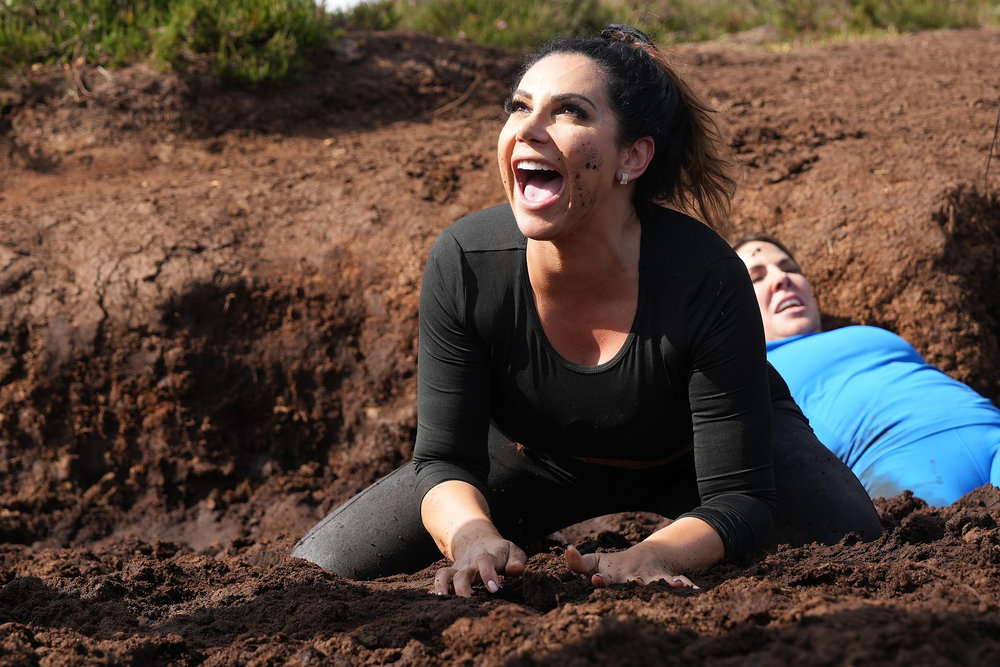 Jennifer Aydin took her duties as Tre's bridesmaid seriously. She teamed up with Tre's four dorters this episode to throw an epic "surprise" bridal shower (that Tre wore an almost too appropriate bridal gown too). While Jennifer was clearly having a blast helping her friend's big day come together, it came at the same time she was dealing with some issues in her marriage.
Jennifer and Bill Aydin sat down to talk about her trip to Ireland. Mainly, Jennifer was upset that her kids kept calling her for their needs when Bill was at home. Jennifer suggested the two go back to therapy as she still felt as though Bill wasn't meeting her halfway. Bill shot down the idea. "I think maybe you're the one who has more of the issues and more of the complaints," Bill said. Oh brother, this man obviously could use a trip to the love doctor aka Olivia Aydin. It made me sad to see Jennifer so gung-ho about love when it's clear Bill wasn't being the best husband he can be.
Luis's facade begins to fade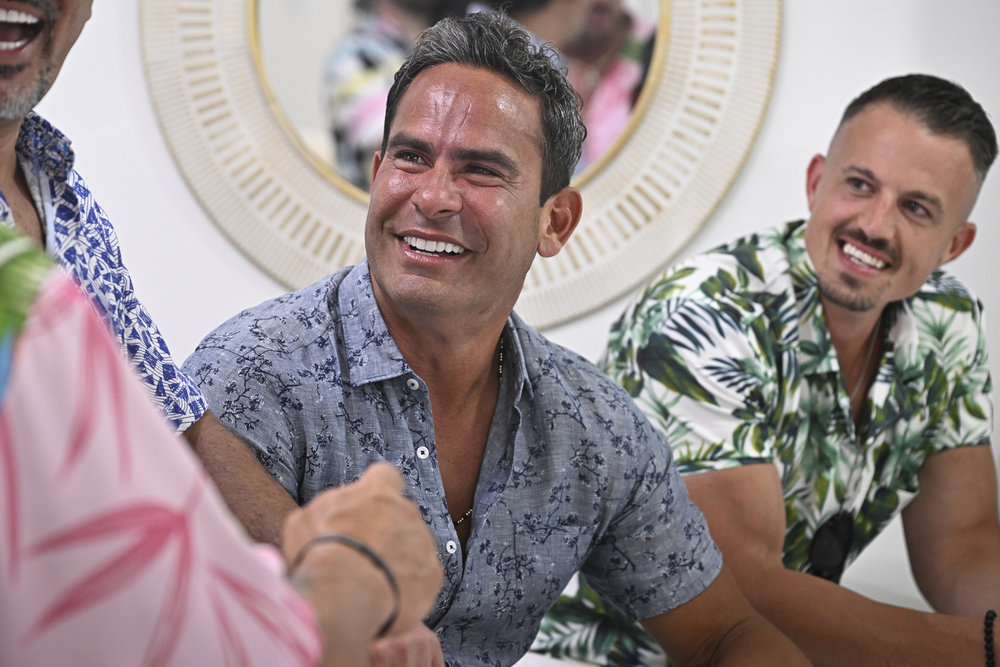 Melissa came back from Ireland ready to be done with Tre. She made an eerie statement about wanting to just get through the wedding day before, in the words of Tre, cutting the cancer out. "It took me 18 years to say no," MelGo said. Unfortunately, we know that "no" couldn't wait until after Tre made it down the aisle.
One of the wildest moments in a relatively tame episode of RHONJ was Luis's hot mic. Tre and her girls were driving to the bridal shower when Luis called to make plans about ANOTHER pre-wedding dinner for later in the week. While on speaker phone, Luis proclaimed he was inviting all of Tre's cast members aside from MelGo and Joe. Even Margaret and Jackie Goldschneider made Luis's list over Tre's only brother. Tre quickly let Louie know she was filming at the moment and he shut his mouth real quick. "You have to invite everyone. You can't do some and not others," Tre said the rehearsed line through gritted teeth. I'm always a sucker for a little fourth-wall breaking, and this moment totally revealed a lot about Tre and Luis's dynamic.
Tre takes chosen family to the next level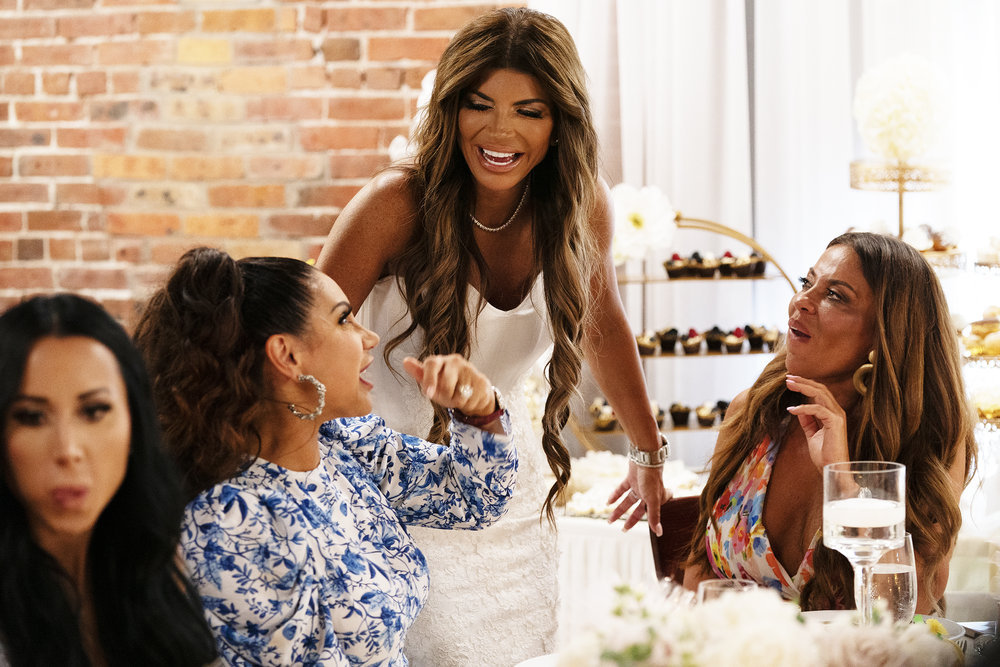 Tre was in love love love with her bridal shower extravaganza hosted by Jennifer. The party had everything — Tre-tinis, Henna, and, for some reason, Ashley Darby. Melissa walked into the party unenthusiastically, and even her nieces like Gia Giudice weren't that keen on having to play nice. MelGo spent some time getting acquainted with Luis's sisters, whom she feels Tre replaced her with. She's sad to have to "walk on eggshells" at a family party. I get MelGo's emotions but wasn't she the one who just said she was going to play it stone-faced until the wedding? It's a little messy to go around the party talking about yourself when you know you're mic'd up.
Tre gave a speech at the event thanking everyone. She called out specific members of her chosen family like her sister-in-law from California and her friends who aren't reality TV stars. To no surprise, Melissa didn't get a shout-out and, for some reason, people were still surprised. Tre's made it clear MelGo gets NO mentions in her speeches at this time, why are we shocked? "It feels very intentional and if I was Melissa, I would feel like I was not really wanted," Margaret said. We've hit the one-week countdown to Tre's wedding in the show and let's hope these episodes start getting a little more action-packed.
Real Housewives of New Jersey continues Tuesdays at 9/8c on Bravo.
TELL US – WHAT DID YOU THINK OF THE LATEST REAL HOUSEWIVES OF NEW JERSEY EPISODE? DID YOU THINK TERESA WAS INTENTIONALLY SHADING MELISSA WITH HER BRIDAL SHOWER SPEECH?