Kroy Biermann is shading his soon-to-be ex-wife Kim Zolciak in a new Instagram story. 
Y'all, it's getting messier by the day. Fans have been aware of Kim and Kroy's financial troubles for some time. In November 2022, reports began swirling that Kim and Kroy's home was facing foreclosure and had only been auctioned off for nearly $260K. In response, she called out the "idiot" believers who think she would let her multi-million dollar home go down the drain like that. 
"My house was not sold for $257,000," she explained in an Instagram video. "If you guys think that I would let my home, that we put millions and millions of dollars [into], go for $257,000, you're an idiot, OK? For real."
However, only months after that, more reports became available stating she and Kroy owed over $1 million in back taxes. Oh, and to top it all off, they BOTH filed for divorce and primary custody of their children as well. Whew. Talk about vicious. 
However, the most unserious thing about all this is that they both have the time to throw jabs online amid this chaos. 
Kroy references Kim using a meme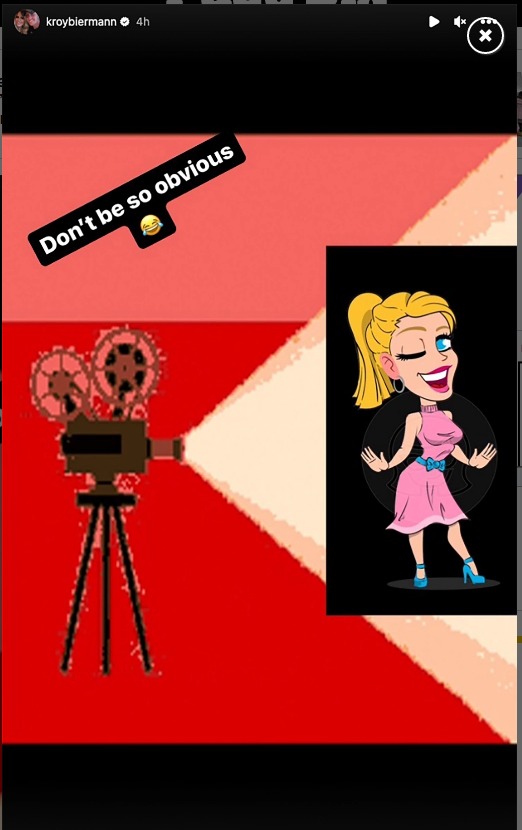 Now that the world knows Kim has blown all her money away gambling, it's clear as day why she's apparently dying to get back on the Real Housewives of Atlanta. According to sources, "Kim knows how to make great reality TV – and not much else – which is why she's begging them to take her back! She needs the money. She needs a job. She's desperate!" 
Desperate, she is. And apparently, Kroy thinks so too. In a new Instagram story, the former NFL player posted a photo of a blonde cartoon character in front of a TV camera. He wrote the caption, "Don't be so obvious," followed by a laughing emoji. 
Kroy made no further comments, so it's hard to precisely decipher what his IG post means. But, with how these two have been airing each other out, it seems Kroy's latest stunt only confirms what the streets have been saying is true. 
TELL US – DO YOU THINK KIM IS DESPERATE FOR A JOB ON BRAVO? DO YOU WANT TO SEE HER RETURN TO THE REAL HOUSEWIVES?