Are Tom Sandoval and Rachel Raquel Leviss still a thing? Despite the rumors that their affair is dunzo, Tom was spotted on a plane Sunday, May 28 (hopefully prior to takeoff) making a call to her.
On his way to a Monday night gig in Pittsburg, the Vanderpump Rules star passed the time waiting for takeoff by making a quick call to his former(?) side-piece. One of his fellow passengers recognized the TomTom owner and snapped a pic, which TMZ is exclusively reporting. The screenshot clearly showed the name "Raquel Leviss" on the screen — in addition to Tom's douchey white nail polish.
Still going strong?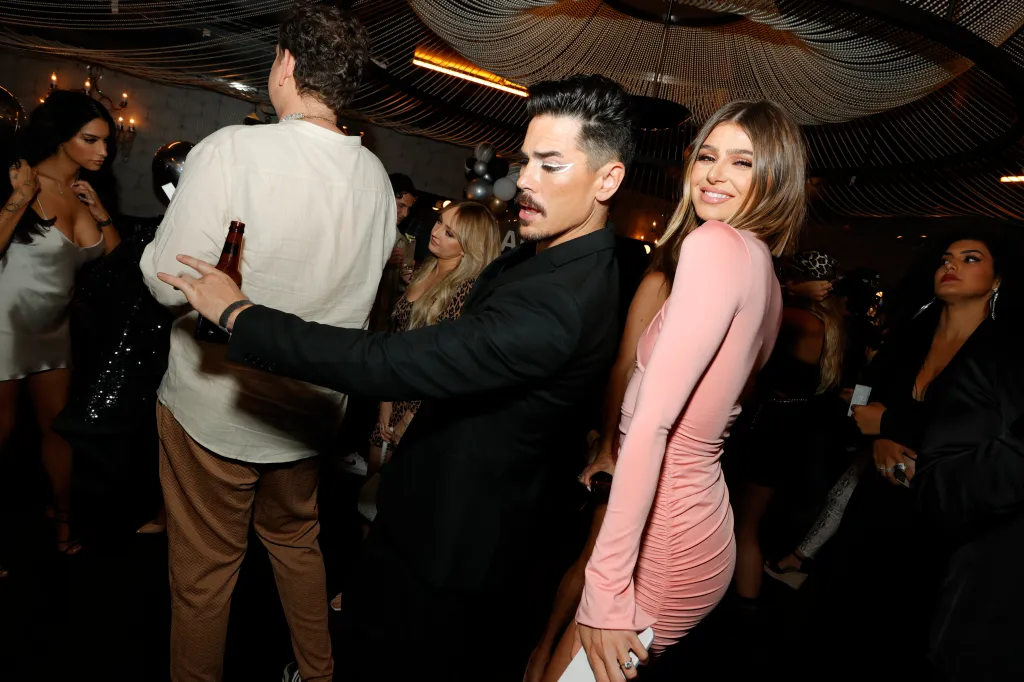 The passenger who took the photo said Tom seemed to be trying to keep a low profile, but his voice was "highly recognizable." Though Ariana Madix's cheating ex did manage to keep his voice low, the eyewitness clearly heard him say he was traveling to "f***ing Pittsburgh."
Isn't Raquel supposed to still be in a "mental health facility" somewhere? Don't they typically restrict the use of phones? I've known people who've visited those places, and they usually keep your phone locked away and only allow you to use it for short periods. Unless someone happens to call while you have your phone, you can't receive calls.
Or perhaps the former Miss Sonoma County is off somewhere gestating that rumored Scandoval offspring? Though that theory's been debunked by the Pump Rules EP Alex Baskin, you just never know, right? Sandy has mentioned wanting to have a child one day, and I wouldn't put it past Raquel attempting to hold onto him that way. She's not the sharpest tack on the bulletin board. But ewwwww. Just the thought of a #Sandoquel spawn kind of grosses me out. Poor kid.
More likely, Raquel's just hiding out somewhere, either at home with Mom and Dad in Tucson or with some other obscure relation. You can't really blame her when she and her family are receiving credible enough threats that the FBI has opened an investigation. Calm down, people! It's a TV show for God's sake. Get a grip.
In the end, breakup or not, Tom still needed to check in with Rachel before his flight. So apparently there's still something there. What remains is TBD.
The Vanderpump Rules reunion continues this Wednesday at 9 pm ET.
TELL US – DO YOU THINK THERE'S STILL SOMETHING GOING ON BETWEEN TOM AND RAQUEL? DO YOU THINK SHE LIED ABOUT GOING TO A "MENTAL HEALTH FACILITY?"