We've finally made it to the tumultuous Real Housewives of New Jersey Season 13 reunion and, as promised, things reached a new level of toxic. Teresa Giudice and Melissa Gorga had no allegiance to each other whatsoever, so it's no-holds-barred. Bravo is breaking up this reunion into three parts to make it easier to digest, but something tells me we won't feel settled by the end of the season.
The first part of the reunion wasted no time getting into the crux of the RHONJ drama. Rachel Fuda and Danielle Cabral fought about Margaret Josephs' arsenal for the 80 millionth time. Somehow, Love Guru Dolores Catania got them to put it to bed. The same can't be said for Tre and MelGo's long history of drama. Here are five of the main takeaways from the first episode of the RHONJ Season 13 reunion.
Several blasts from the RHONJ past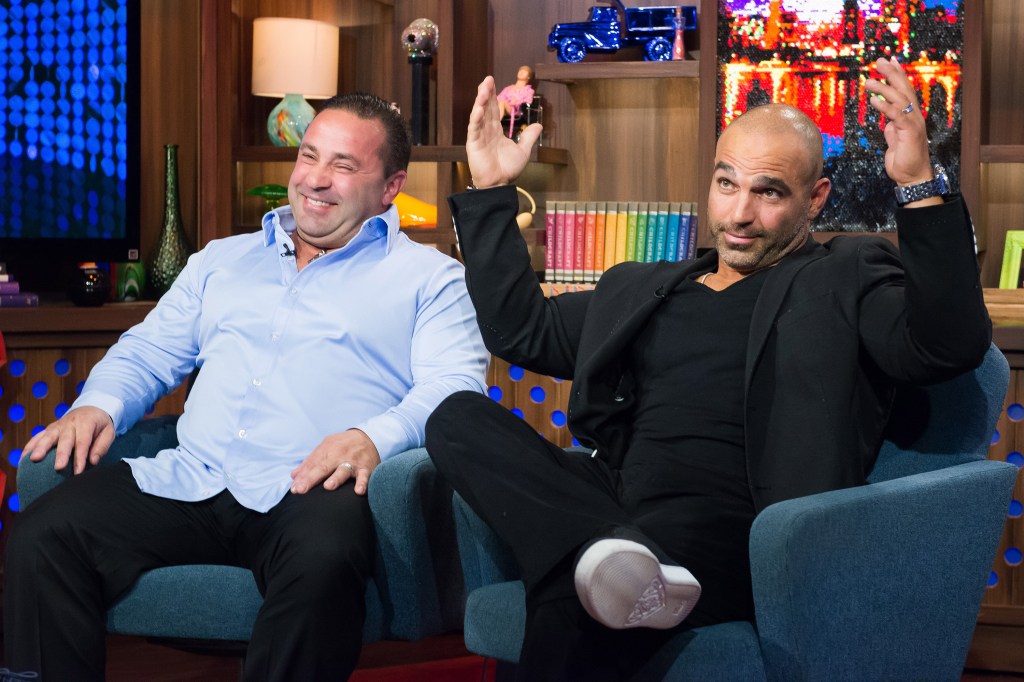 While we're in the thirteenth season of RHONJ, the show will always go back to its roots. The first example was when Andy Cohen attempted to kick off the reunion but was interrupted by Joe Giudice calling Tre for a referral to Bill Aydin's plastic surgery practice. Andy got to ask Joe a few questions, mainly if he watched the show/missed filming. Juicy admitted he only really watched while he was in jail, but he didn't like to hang around the guys who were big fans. Someway, somehow, I miss this meatball of a man and his distinct personality.
That's not the only throwback Jersey reference in the episode. Of course, Teresa had to rehash how Melissa got on the show when Marge's friend Laura Marasca Jensen was inevitably brought up. The ladies were discussing that Laura tried to get on the show, but Andy pointed out that she'd be more enticing to cast as Marge's enemy. Tre was quick to interrupt to compare the situation to how MelGo joined the show, "This story is so old," Dolores said from the sidelines. Girl, we all feel you. Later on, Jacqueline Laurita, Dina Manzo, and Caroline Manzo all got name-dropped, giving the reunion that old-school RHONJ vibe.
A fed-up Teresa has entered the chat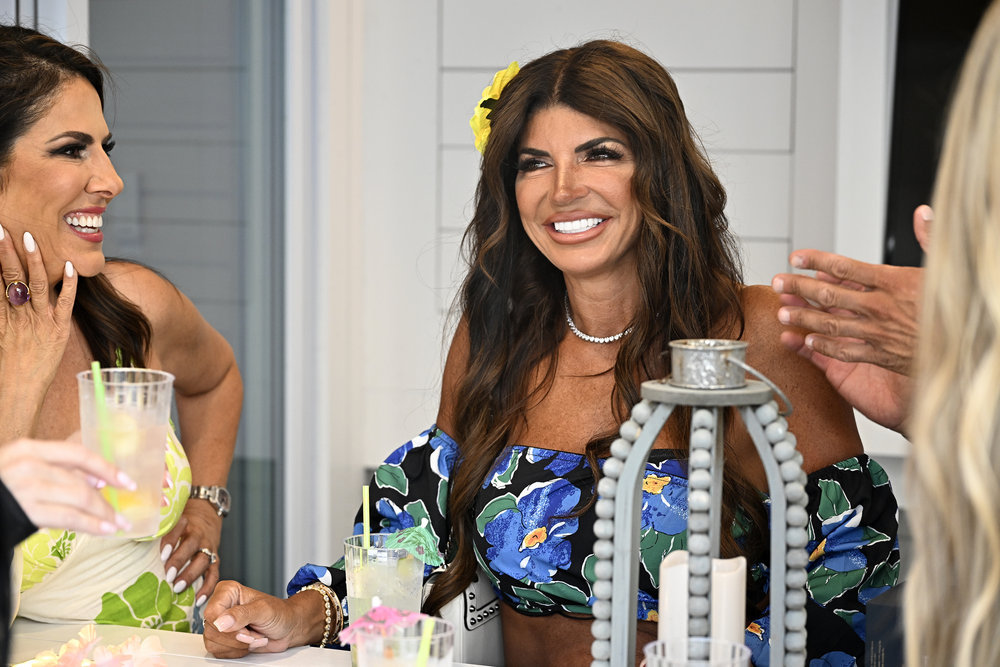 Teresa came into the reunion with a new short haircut that matched her sharp attitude. Both she and MelGo walked into the room, clad with whimsical antique portraits of the ladies, ready to do business. Tre proclaimed she was ready to close the chapter and move forward. Meanwhile, MelGo wanted to expose some truth before kissing her least favorite sister-in-law goodbye for good. Of course, Teresa didn't even hide the fact that she wanted Melissa to be fired before the next season. "Definitely, she's going to be out of my life after tonight," Teresa said. Sure, we've seen these parties fight literally for years, but this was a new low.
While Tre came into the reunion ready to fight, she was not prepared to answer questions she didn't want to deal with. When Andy asked why Dina opted out of being a housewife, Tre claimed it was because Dina didn't like the cameras. Let's all say it together — DEFLECTION. Andy followed up by asking about Joe Gorga alleging that Luis Ruelas had business beef with Dina's man. Tre and MelGo didn't take the bait or give it any life. Sketchy.
The worst part about seeing Teresa's side of the feud with Melissa is that, unfortunately, it's coopted by Luis. Tre's staunch defense of his questionable behavior makes her, now more than ever, an even more unreliable narrator. But don't hold your breath. Andy said we'll have to wait until Luis hits the stage to get all of our Bo Dietl questions answered. I don't think I'll ever be mentally prepared for all of that.
Rachel and Danielle put down their weapons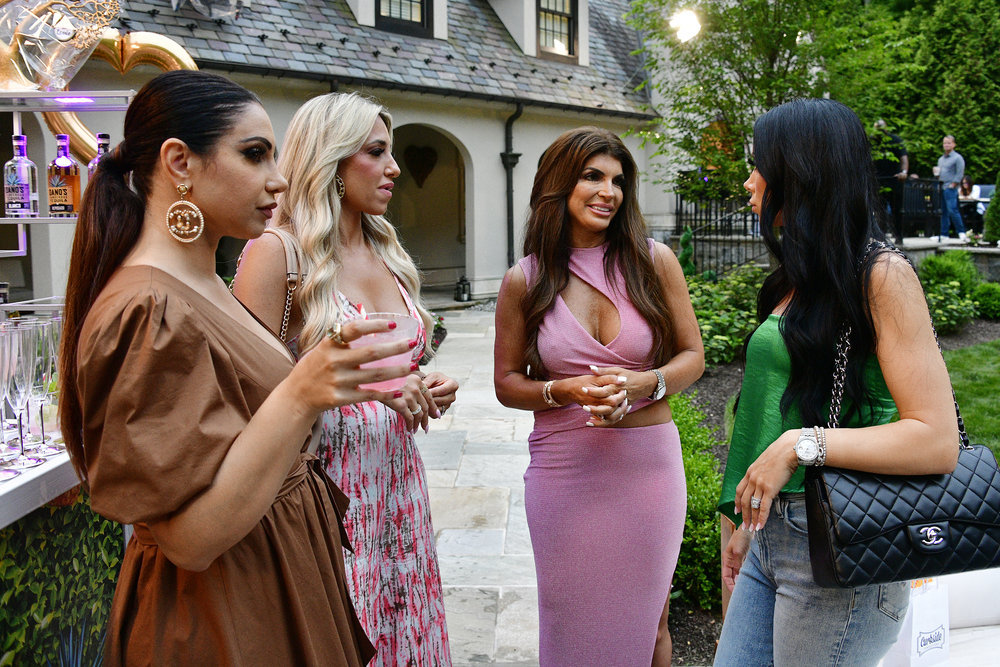 To be honest, way too much of the first episode was dedicated to Danielle and Rachel's drawn-out problems. Even Andy had to agree. "This is the dumbest fight, I'm sorry," he said. Marge couldn't even stay mad at the arsenal comment once she saw how "mild" the scene was in retrospect. After Rachel and Danielle exchanged final fighting words, Dolores brought them back together. They agree to bury the fight and never bring it up again. Hopefully, we see these bougie newbies make an alliance next season.
Danielle also had to address the problems with her brother during the episode. She revealed that the day after the reunion, she planned to attend her grandfather's funeral. It just so happened that her estranged brother would also be attending. Danielle didn't have any resolution in the situation but did reveal an interesting tidbit about her brother's thoughts of RHONJ. "This was his favorite show," Danielle admitted. "So he definitely watched." Can you say awkward? Let's please get the brother in a confessional chair STAT to get to the bottom of this. Or at least, as a guest on Watch What Happens Live to share all of his Bravo opinions.
Melissa hangs on by a string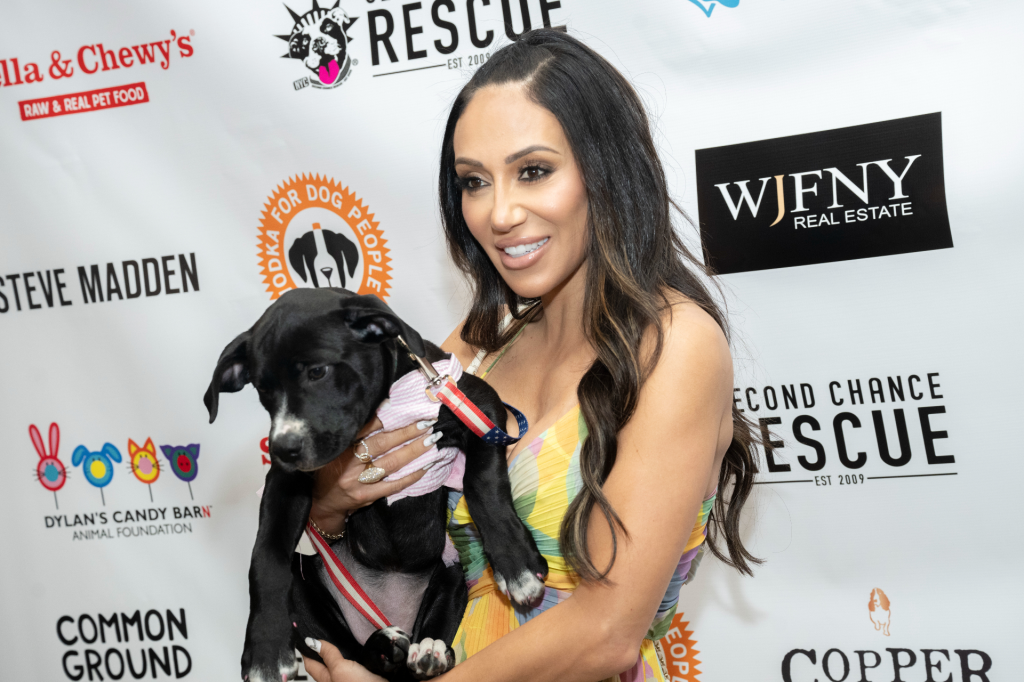 Melissa tried to enter the reunion with the same energy as Teresa, but it was clear she was fighting a losing game. To be fair, she kind of always has been when it comes to her relationship with Tre, but MelGo just can't stop adding fuel to the fire. In general, she came off as very defeated. She relied on the same crutch argument of feeling tossed away by Teresa after she met Luis. She also just kept saying how "sad" she was about the demise of her family. OK girl, we get that but you have to give us something else. Obviously, it's past the point of no return, but both Tre and Melissa are responsible for it getting to this "sad" point. Don't even get me started on Tarzan's role in all of this until he makes his way out on the stage.
Melissa also seemed to know that her TV gig might be on the line now that she's on the outs with Teresa. "Your whole storyline was me," Tre said about MelGo's reality TV career, and I see no lies being told. Melissa tried so hard to come off as cool and interesting — no literally, she said those words about herself — and even Andy rolled his eyes. Melissa could have a solid argument if she wasn't so preoccupied with the TV show of it all. Like, she can't chastize Teresa for talking about their kids on TV when she doubled down at the reunion that the four dorters have hatred in their hearts for Melissa. You've had 13+ years to get your story straight, Gorgas, yet it's still somehow not making sense.
We're all stuck in Melissa and Teresa's jail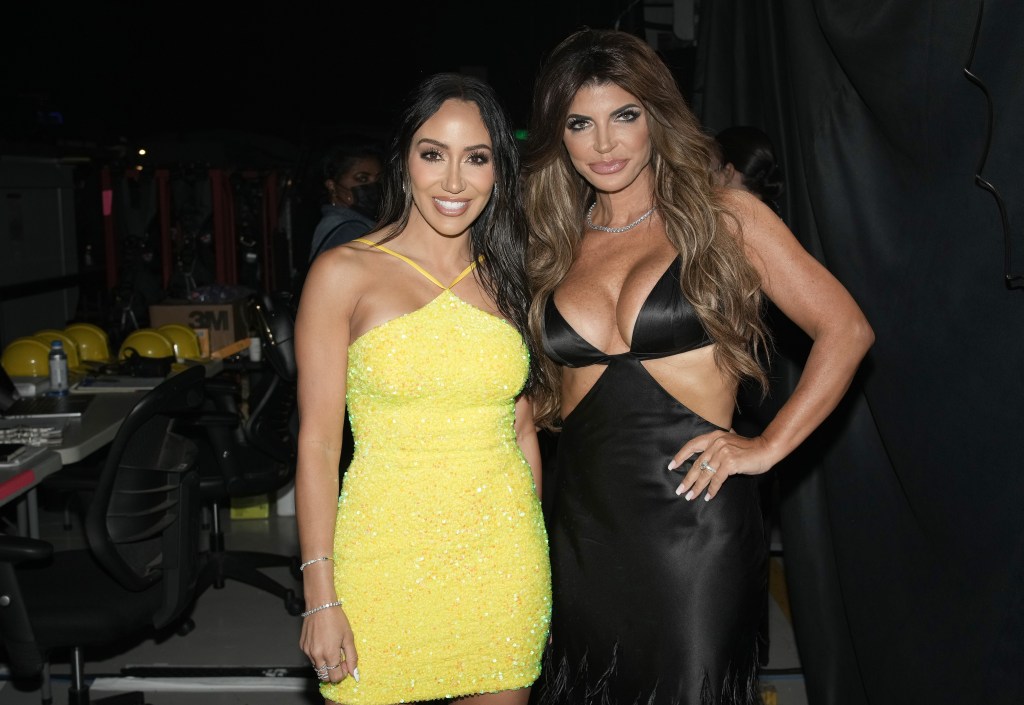 Since Teresa and Melissa seemingly approached this reunion as one final duel about all of their gripes, Tre's stint "at camp" was obviously brought up. Tre spoke about coming home from jail and feeling like she needed to make the relationship smooth with the Gorgas. She also claimed that Joe only visited her once when the cameras were involved. Melissa threw it back on Tre, claiming that Joe wasn't on the visitors' list until she needed him for filming. Seriously, this family is the definition of demise via fame and fortune.
Tre also brought up going to jail when she was explaining everything that she's brought to RHONJ that Melissa has not. It was like the TikTok sound. "I had a baby on the show, I got married on the show, I went to jail on the show," Tre said. MelGo clapped for Tre saying the "J" word, which is such fan behavior. It's worth noting that there is no life behind Andy's eyes as he listened to this cyclical argument.
At the very end, Tre dropped a bomb that Jacqueline told her. Rumor has it that Joe and Melissa were hanging out with Joe Giudice's ex-business partner, who didn't go to jail for their collective crimes. Jacqueline claimed the business partner outed Tre to the feds. Tre walked back her claim that Caroline put her behind bars. "I take that back, I think you did," Tre said to Melissa. The collective shock in the room provided the ultimate cliffhanger for us to hop back on this runaway train next week for Part 2.
Real Housewives of New Jersey continues Tuesdays at 8/7c on Bravo.
TELL US – WHAT DID YOU THINK OF THE FIRST EPISODE OF THE REAL HOUSEWIVES OF NEW JERSEY REUNION? ARE YOU ON TEAM TERESA GIUDICE OR TEAM MELISSA GORGA?