Real Housewives of New Jersey star Jennifer Aydin once sought guidance from a source that may not please her lord and savior best buddy Teresa Giudice. That's right, Detective Meghan O'Toole King McDill Edmonds Owens has something for Jen.
Life isn't lifing unless Meghan is on social media talking about herself and sharing TMI. She was also very free with her opinions on a recent appearance of Watch What Happens Live. Meghan was asked about Luis Ruelas and she basically gave her take which didn't please Teresa's soldier. Jen, who is married to an admitted cheater, insulted Meghan's history with men.
Now Meghan responds to Jennifer because she has the memory of an elephant and the evidence to go with it.
One receipt, coming in hot!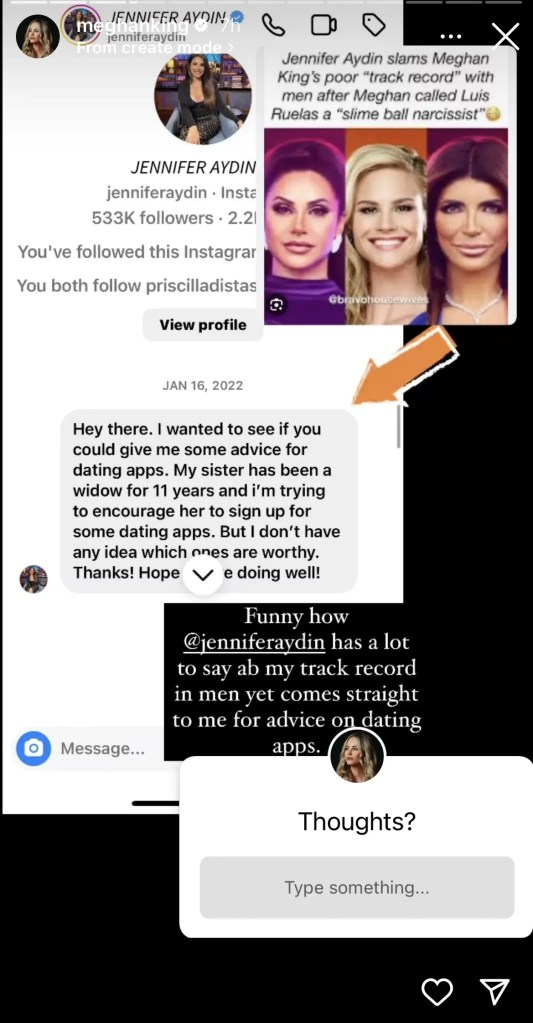 Meghan took to Instagram, as she does, and produced a previous message from Jennifer. It read, "Hey there. I wanted to see if you could give me some advice for dating apps. My sister has been a widow for 11 years. And I'm trying to encourage her to sign up for some dating apps. But I don't have any idea which ones are worth it. Thanks! Hope you're doing well!"
Over the screenshot, Meghan wrote, "Funny how @jenniferaydin has a lot to say ab my track record in men yet comes straight to me for advice on dating apps." Then she referenced an article where Jen attacked Megs for calling Luis a "slimeball narcissist."
When asked by a WWHL if Luis and Brooks Ayers were on the same playing field of deceit, she said, "He's 100 percent in the Brooks realm. He's a slimeball narcissist. He's a terrible dude."
Naturally, this prompted Jen to get out there and protect Luis at all costs. She doesn't want Bo Dietl sent to look for any of her husband's dirty little secrets. In a now-deleted Instagram comment, Jen wrote, "Listening to an opinion from a person who doesn't know him at all and has never met him a day in her life is not that smart. But then again, neither is her track record [with] men #teamlouie."
Don't make Detective Meghan mad, or she'll go looking into Luis' closet of skeletons and might find more than Nonno's clothes.
TELL US – IS JEN A HYPOCRITE? DO YOU AGREE WITH MEGHAN THAT LUIS IS A SLIMEBALL?