Real Housewives fans always anticipate a girl's trip. Most of the time, it is glamour sprinkled with some drama mixed with a great time. But sometimes, the hostesses slack off on their duties.
Whether the accommodations were found to be lacking. Or the hostess kicked her own guests to the curb. There are some trips that the housewives can't wait to leave in their rearview. Let's take a look back at the worst Real Housewives hostesses.
Heather Thomson – Real Housewives of New York City
During Season 6 of Real Housewives of New York, Heather Thomson brought the ladies to her home in the Berkshires. Heather made the Berkshires a destination before Dorinda Medley and her infamous fish room.
Ramona Singer was horrified by her accommodations. Mostly because there was no air conditioning. So, Ramona ordered an air conditioner and had it installed. She also threw a wine glass at RHONY co-star Kristen Taekman from a canoe. All because Kristen splashed Ramona's hair. Oh, the nerve! Kristen ended up with a cut on her lip.
After dealing with housing that wasn't up to her standards, Ramona claimed that a hike brought up unpleasant childhood memories. A friend in a private jet rescued Ramona and deposited her in the Hamptons.
As for sticking Ramona in a room with no air conditioning? Not the kindest move.
Kenya Moore – Real Housewives of Atlanta
Real Housewives of Atlanta star Kenya Moore proved just how terrible a hostess she was when she planned Cynthia Bailey's bachelorette party. Kandi Burruss saved the day with Bolo the stripper. Amen!
Kenya took her baby, Brooklyn Daly, and her friend, LaToya Ali, on a private plane to South Carolina. The rest of the peaches made the trip via a hot and crowded bus with no restroom. And Kandi, Shamea Morton, and Porsha Williams also had young babies at home. They weren't offered the chance to bring their children.
And the next day, the starving RHOA cast members waited for hours for a pig roast. Then Kenya walked around enjoying the crab cakes she ordered for her lunch. No one wants a "hangry" Kandi. Please take care of your guests, Kenya.
Tinsley Mortimer – Real Housewives of New York City
Tinsley Mortimer planned a trip to Cartagena, Colombia for her RHONY co-stars. The Season 10 trip went down in Real Housewives history—almost literally, due to a boating emergency.  
Carole Radziwill and Bethenny Frankel were squabbling, as were Dorinda and Luann de Lesseps. The group boarded a boat, and for once, they seemed to be fairly chill. Tinsley arranged a cute bar with a spa on an island.
But when the ladies returned to the boat, they were warned about the ocean being choppy that time of day. While the waves pitched and rocked the boat, Sonja Morgan peed herself. Ramona held a terrified Sonja as Tinsley told them everything was "normal."
Dorinda, searching desperately for life jackets, discovered the boat was taking on water. The cameras shut down for the safety of everyone on board the boat.
Filming continued the next day at the house. While the ladies were alive, they certainly weren't well. Everyone except for Bethenny and Tinsley dealt with diarrhea. And that is why Tinsley was never allowed to plan another trip.
Marlo Hampton – Real Housewives of Atlanta
Marlo Hampton's Season 14 trip to the Blue Ridge Mountains was a disaster. Marlo was laser-focused on having it out with Kenya. And Kenya was hell-bent on avoiding her.
The RHOA ladies were trying to head out to a gem mine. But first, they had to stop arguing in the driveway. And Kenya uttered her iconic line, "I'm an icon, you're an ex-con" to Marlo.
All the ladies continued to bicker with each other. Finally, Marlo told her guests that the trip was over and that they needed to leave. Marlo wanted peace and relaxation. And now she had her solitude.
Dorinda Medley- Real Housewives Ultimate Girls Trip
During the second season of Real Housewives Ultimate Girls Trip, Dorinda hosted her co-stars at her beloved Bluestone Manor in the Berkshires. And she had some rules for her house guests. The most important was that no one should have food in their bedrooms. Dorinda didn't want mice moving into her manor.
Real Housewives of Orange County alums Tamra Judge and Vicki Gunvalson were the biggest offenders. They ultimately felt the wrath of Dorinda. Meanwhile, the hostess who "makes it nice" puts cupcakes in each bedroom for her guests before their arrival.
I think that Dorinda forgot to read her own house rules.
Mia Thornton – Real Housewives of Potomac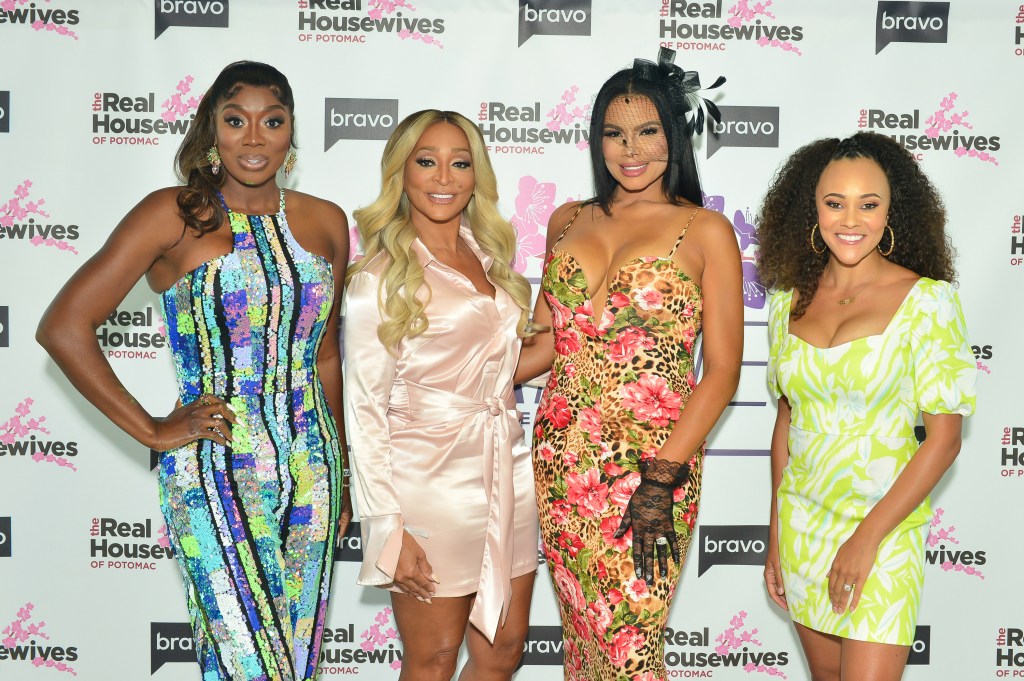 Season 7 of Real Housewives of Potomac featured a trip to Miami that was unforgettable. Mia Thornton, who must be going for the worst hostess crown, tossed a drink at Wendy Osefo. When they returned to the house, Wendy left to stay at a hotel. She didn't feel safe staying with Mia.
Meanwhile, Mia was furious when the birthday girl, Karen Huger, didn't take her side. Karen decided the next day to go and see Wendy.
Mia strolled up to the car and had some words with Karen, Candiace Dillard Bassett, and Ashley Darby. "Except for Karen because she came to me and she told me what she was doing, you guys are going to need a place to stay when you come back, okay?" Mia told her guests.
Tossing out your guests for literally no reason? Hopefully, Mia isn't planning any future trips for the RHOP cast members.
TELL US – WHICH REAL HOUSEWIVES HOSTESS IS THE WORST? IS IT EVER ACCEPTABLE TO ASK GUESTS TO VACATE THEIR ACCOMMODATIONS?