There's a lot of confusion over what exactly is going on between Bethenny Frankel and Sonja Morgan. Bethenny, and her "Zero F–ks," ripped Sonja a new one for promoting a new prosecco called Tipsy Girl, which Bethenny called a "Cheater Brand" because it was too closely related to Skinnygirl. I co-sign that the name is absolutely a calculated play off of Skinnygirl, and I agree with Bethenny that, on a personal level, she has every right to be angry at her so-called 'friend,' but on a business level – is Sonja really stepping on Bethenny's turf? 
In light of all the confusion about what's legal, and how exactly Sonja's brand could possibly be a threat to Skinnygirl, the Real Housewives Of New York star explained about trademarks on Twitter, and Bethenny announced plans to produce her own business show! 
After someone suggested Bethenny trademark the words "skinny" and "girl," Bethenny shot back, "You cannot trademark a regular word. This is why I'm producing a biz show." Last year Bethenny launched B Real Productions and co-produced Food Porn, which aired on the FYI network. 
Answering to another challenge, Bethenny explained why there's no friction between Skinnygirl and the creators of Skinnycow, the brand John Medhessian accused Skinnygirl of being the "cheater brand" of. 

But Skinnygirl does do diet desserts – which Skinnycow also does (not just ice cream). Is that not a conflict? I'm curious to see if Skinnycow has any "girl" or "cow" in this fight? 
Bethenny also says that if she had to re-do her girl vs. girl smack down with Sonja, she wouldn't change a thing!

Bethenny shared behind-the-scenes information from last week's "brutal" episode – including what she's wearing during her confrontation with Sonja. And she's making this a regular thing – Bethenny announced a new web series available through her site, called "Show & Tell".  Just in case you haven't gotten enough of her rants during her regularly scheduled programming (or her radio show).  All of which is brought to us by the Number "Zero" and the Letters "N" and "F" for "No F–ks". Because someone who truly gives no f–ks can't stop talking about about all the things she gives no f–ks about, right?! (Yeah, B Real – not so much; B Overkill?! – abso-f**king-lutely!)
"I never saw a mini skirt I didn't like… Prosecco is a different story," declares Bethenny. "Shiz got real From SoHo to the Skinnygirl office, there was no shortage of style (or shade… so much shade)."
During the dinner scene with Carole Radziwill and Ramona Singer, which took place at NoMo, Bethenny explains why Ramona ordering appetizers Bethenny can't eat was a good thing! "One of my favorite tips from my book Naturally Thin is you can have it all, just not all at once – so ordering a bunch of apps to share is the way to go. I'm allergic to fish so the tuna tartare was a no-go, but on looks alone that's my kind of circle of life." 
Moving from shellfish to cold fish, Bethenny mentions wearing designer to ice Sonja out. "The whole situation back at Skinnygirl HQ… Let's just say that this Alexander Wang sweater was the most comfortable thing in the room." How charming. 
RELATED – SONJA MORGAN QUITS DRINKING?!
Finally – moving from Skinnygirl to Tipsy Girl! I was a bit curious about the status of Sonja's latest venture – given her track record for invisible businesses. Last I heard Bethenny was planning to take Peter Guimares, Sonja's business partner, to court for copyright infringement, but was denied. Peter owns the trademark to Tipsy Girl (and Bethenny was denied a trademark for "Tipsygirl" – one word). As of this week Peter was granted a SOU, or "Statement Of Use" by the United States Patent and Trademark Office, and had a "Notice Of Allowance" issued.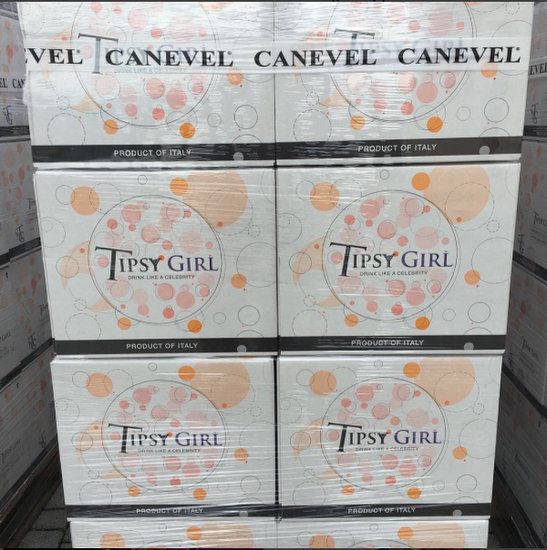 [Credit]
On Tipsy Girl's Instagram they announced that "Tipsy Girl Prosecco and Rose has left Italy scheduled to arrive NYC end of month. #tipsygirlnyc #italianwines #prosecco," and they also posted a photo of the upcoming Tipsy Girl restaurant in Hell's Kitchen.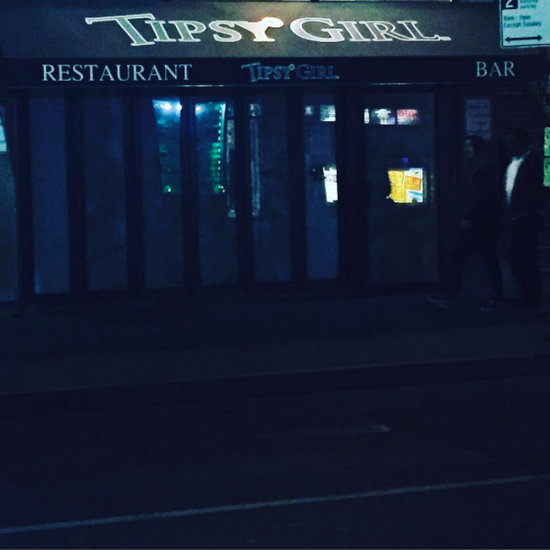 "Ready to open just waiting on liquor license.#newyork #nycrestaurants #teamsonja" [Credit]
Let's see if Peter and Sonja's restaurant thrives more redolently than his AOA venture with Ramona! 
TELL US – WOULD YOU WATCH BETHENNY'S BUSINESS SHOW? IS TIPSY GIRL A CONFLICT OF INTEREST WITH SKINNYGIRL?
[Main Photo Credit: Instagram]