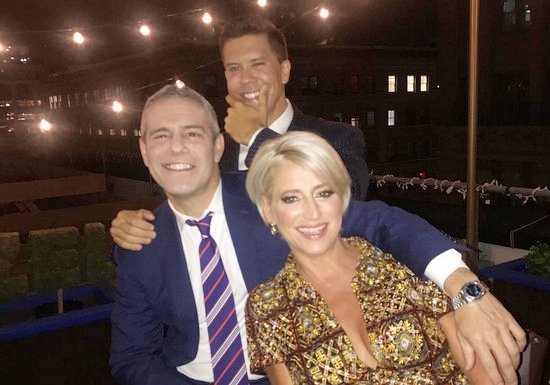 After the best season ever of Real Housewives of New York, this current one is not living up to last year's glory – other than Dorinda Medley who comes through in every single episode. She went off on Sonja Morgan during that "gangster lunch" in the Bronx and gave this season some much needed life. I had no idea what she was talking about when she kept saying "clip" over and over again, but she clarified on Watch What Happens Live.
Fredrik Eklund was also in the club house for a perfect crossover of New York Bravo shows – especially since he and Bethenny Frankel have their own real estate show in the works.
As expected, Andy Cohen ditched the drinking word and played Dorinda's "clip" over and over again. So of course he asked her what she meant in that moment. Dorinda admitted, "I couldn't take it anymore. I wanted her to just clip it shut. She's like a TV you can't turn off so I was like 'clip.' Done."
Fair enough. I don't even care what Dorinda meant, I just wish I could personally thank her for gifting the fandom with that scene. It was much-needed this season.
Andy asked Frederik who will be investing the money during his show with Bethenny. Fredrik admitted, "We're both investing. Millions of dollars of our own money, that's the scary part."
Then Dorinda was shown a clip of her going off on Luann de Lesseps during the next episode. Dorinda explained, "Relationships aren't perfect. Sometimes you get this 'I'm so perfect. I'm so perfect' and I love Luann. I'm so happy she's happy. I said it about John [Mahdessian]. I'm very honest about my relationship. Sometimes it's good. Sometimes it's terrible. The alcohol made me a little bit fed up. I'm sorry, Luann."
RELATED: Bethenny Frankel Says Ramona Singer Lacks Class
I don't blame her though, after a million and a half pre and post wedding celebrations and a year of Tom D'Agostino-focused conversation, Dorinda had to snap sooner or later.
After Ramona Singer's appearance on Watch What Happens Live last week where she refused to take responsibility for trashing Dorinda's home, Dorinda was asked if Ramona has ever apologized. Dorinda shared, "Privately she has. I think humility and a simple 'I'm sorry' goes a long way in life. I screwed up. I made a mistake. We've all been there. I didn't like the fact that she poked fun at it. Even last week I got pissed off at it." #TeamDorinda
Fredrik was asked, "Who is more difficult to work with: Bethenny or Ryan [Serhant]? Fredrik said, "I don't really work with Ryan. Bethenny is very difficult. I love her. We're friends. I have a lot of respect for her, but she's really intense. I have a lot of fun with her, but she is like in my face, you know."
When she was asked, "Did you ever ask John if he sent Sonja a text about Tipsy Girl?" Dorinda perfectly delivered some shade when she replied, "No because I don't care."
TELL US – IS LUANN TAKING THE TOM/WEDDING TALK TOO FAR? SHOULD RAMONA PUBLICLY APOLOGIZE FOR TRASHING DORINDA'S HOME?
Photo Credit: Instagram