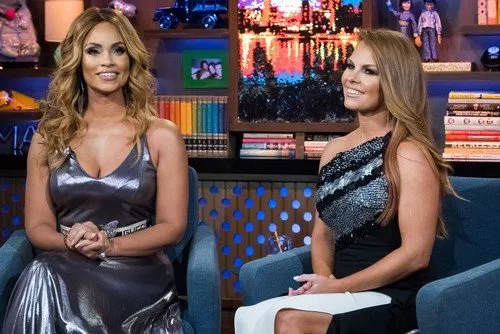 Love her or hate her, the Real Housewives of Potomac viewers and cast members have to give Karen Huger some credit for the success of Season 3. The Housewives were either talking about Karen or looking for an excuse to bring her up. Almost every storyline came back to Karen.
Karen's suspicious finances served as the backbone of this season. It all came to head when Gizelle Bryant, Ashley Darby, and Robyn Dixon rung the doorbell at Karen's home to see if she really lived in that mansion. Karen did not answer the door- obviously. Not only that, but she did not even find the pizza they left on her front porch. So does that mean she doesn't live there? Or did production take that pizza to stir up drama? There are so many possibilities.
Gizelle joined Real Housewives of Dallas star Brandi Redmond in the Bravo clubhouse for last night's episode of Watch What Happens Live. Of course, Andy Cohen opened with a question about the pizza prank. He asked Gizelle, "We all saw the pizza was gone, so do you think she got the pizza?"
Gizelle told Andy, "No. We asked her. She did not get the pizza. She did not see the pizza. Does she live there?" That is the question of the season.  Andy admitted, "I'm trying to remember what she said at the reunion. She did have an explanation." That is the explanation I am dying to hear. Will it make sense? Most likely not? But it is bound to entertain and perplex me- just like almost everything Karen says on this show.
Moving on to a way more joyous topic, Andy asked Brandi about the adoption of her son Bruin. Andy asked, "How did your daughters react to the news that you are adopting and how are they adjusting?" Brandi revealed, "They were ecstatic. Super excited. I was shocked. We actually FaceTimed with the girls when we were in the NICU and they were like 'Just bring him home!'"
Andy asked, "Which Dallas lady has given you the best baby gift so far?" Brandi shared, "Stephanie [Hollman] because she gave me the baby." By "gave me the baby" she means that Stephanie was instrumental in the adoption process.
Of course, it wasn't all happy questions. Andy did try to stir shit up a little as well. He asked if there were any Dallas Housewives who did not give her a baby gift. Even without hearing Brandi's response, it was inevitable that Brandi would name LeeAnne Locken– which she did. These two have been enemies since Season 1. Clearly, nothing has changed.
One relationship that apparently has changed is Brandi and Kameron Westcott's. They did not get along at all last season, but she was the Housewife that Brandi named when Andy asked which Dallas Housewife she would ask to babysit Bruin (besides Stephanie, obviously). Are these two actually friends now? It sure seems like it, especially since Kameron just posted a photo on Instagram wearing a dress from Brandi's clothing store.
Then the questioning got serious. Andy said, "You adopted little Bruin at two months old in a closed adoption agreement. Because you're on reality TV and the couple knows what the child looks like, are you concerned at all that they might make that connection?"
Brandi explained, "They actually don't know what he looks like. They were teens who had him. They completely gave up all their rights and apparently she didn't even look at him when he was born to disconnect."
Then the conversation switched back to Potomac. Gizelle told Andy, "I love to see them go at it. Ashley and Karen go at it like I've never seen before." They really do. Their arguments never disappoint- especially this season.
They weren't the only ones who went at it during the finale though. Ashley's husband Michael Darby and Karen's husband Ray Huger also exchanged some words. Gizelle told Andy, "Michael is 100% messy- messier than Ashley. I wasn't shocked, but I was feeling like Ray is normally cooler than that. He normally keeps his cool and he kind of lost it."
After that, a caller asked Gizelle, "Why did you start drama by telling Karen that Ray had a crush on Erika Liles? What was Erika's reaction when she saw it on TV?" Surprisingly enough, Gizelle revealed, "Erika thought it was very funny because she remembers the incident. Karen was all up in my business- my Every Hue business. I need to let her know, don't come for me because I'm gonna tell the world your husband's business."
Another caller really came for Brandi when she asked, "Have you learned your lesson to stop spreading rumors you heard from other people?" Clearly, Brandi was taken aback by that question. She said, "Did I do that? Ummm. I don't think I did that actually." Really?
Then Brandi discussed the storyline we are all thinking of when she said, "If you're referring to the stuff with Cary [Deuber] and Mark [Deuber], that was not a rumor. That was information that was given to me through Mark's daughter." By that "information" Brandi is referring to when she said Cary and Mark got together when Mark was married and Cary was a nanny for his kids.
TELL US- ARE YOU EXCITED FOR REAL HOUSEWIVES OF DALLAS TO RETURN? IS MICHAEL DARBY MESSIER THAN ASHLEY DARBY?