Remember when Danielle Mullins' white binder of evihdunz was the most controversial thing happening on the 90 Day Fiance Tell All stage? Yeah, those days are gone. Because this year's crew has pretty much topped out TLC's hit show for deranged behavior, off-screen drama, and unhappily ever after endings. In real time, Colt Johnson has filed for divorce from Larissa Dos Santos Lima after her third (yes, THIRD) arrest for domestic battery. Jonathan Rivera and Fernanda Flores have split. And, it looks as if he fancies himself the next D-list Bachelor. Poor Ashley Martson was admitted to the hospital this weekend after being found unresponsive in her apartment (sources report she's doing better now) from complications of Lupus. We don't know whether she and Jay Smith are even still together. Steven Frend and Olga Koshimbetova are officially "on" since her visa was approved in December. Eric Rosenbrook and Leida Margaretha continue to post troubling videos about Leida being "suicidal" on social media. Kalani Faagata and Asuelu Pulaa are having baby boy number two. And effing EVERYONE has a GoFundMe.
So…good times! But for our last installment of the season six Tell All, we'll try to suspend disbelief and comment on the lunacy we saw last night. Because there was plenty to go around. Let's link arms and stumble off the battlefield of this 90 Day Fiance season like the wounded soldiers we are. Viewers of 90 Day Fiance, I salute you! You deserve a medal.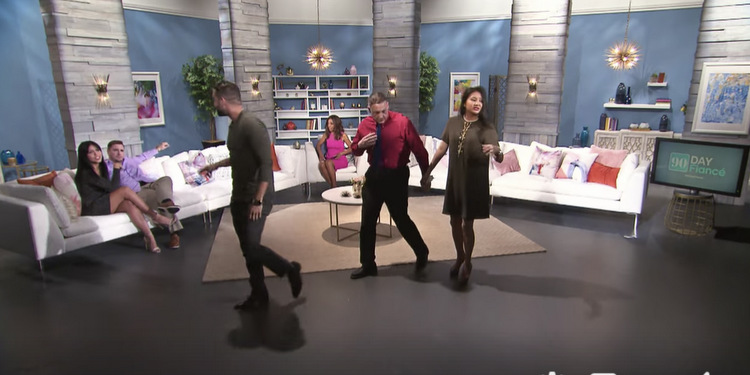 This week's show cuts right back to the fight between Larissa and Fernanda. This causes everyone else to shout and Asuelu to box his ears. After most of the cast marches off stage to talk about Larissa, who is especially persona no grata to Ashley, who complains that Larissa's "loud ass mouth" is triggering her. Kalani is more concerned about her oldest child Asuelu, who doesn't have post-neanderthal social skills to handle conflict. But Asuelu seems to have found his voice. "I want her to shut the f**k up," he chirps backstage to a highly shocked cameraman.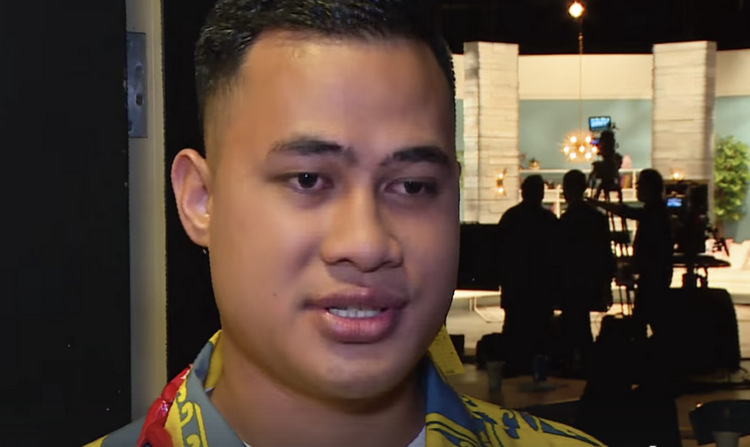 Back on stage, Jonathan tries to explain Fernanda's intentions when posting a comment on Larissa's Instagram. But he gets nowhere in the face of Larissa screaming at him that he's just jealous of Coltee's house, Coltee's fame, and Coltee's many social media followers. Sure, crazy lady. Well, I can tell you one thing: Jonathan certainly ain't jealous of Coltee's "accidentally leaked" private pictures. YEAH, I SAID IT. Also, no one is jealous of the troubling facial hair situation Colt has going on right now.
While everyone else flees the scene, host Shaun Robinson tries to clarify the situation with Larissa and Colt. They feel like Fernanda was looking to stir up drama by making Larissa look bad on a public post because she is "boring" on the show. Um, you mean to tell me that Colt doesn't realize that Larissa makes herself look bad all on her own? <pause for lengthy eye roll>
After the group reconvenes and briefly discusses Larissa's second arrest, Leida is back in the hot seat. THANK THE LORD. (I welcome the Dr. Pimple Popper commercials at this point, and that's really what hitting bottom looks like.) Then, Tasha Rosenbrook joins the conversation via Skype. Sadly, she reveals that her relationship with Eric is over. Eric argues that until he gets an apology for messing up the apartment, he won't talk to his own daughter. WOW.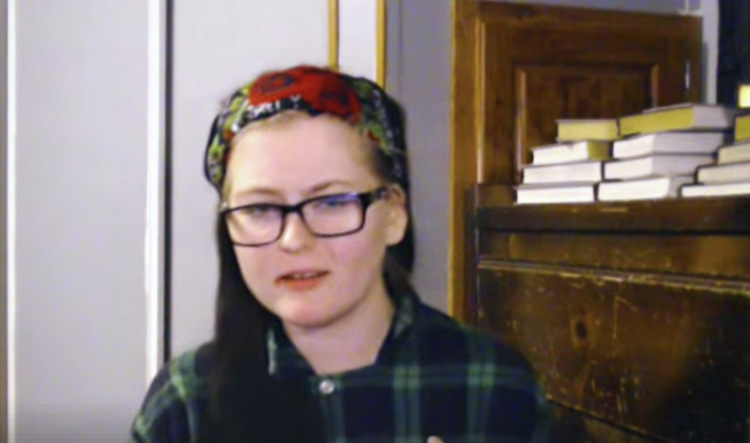 Leida snarls that Tasha needs to own her behavior, which is HIGH-larious coming from the queen of not owning her sh*t. Speaking of owning things, does Leida feel like an evil stepmother for calling Tasha a b*tch – both on camera and for months on social media afterward? More importantly, is Tasha's OWN FATHER still cosigning on this vile behavior? Even Steven wonders how Eric can stand for this BS.
"I have no words for that," says Steven after Eric admits he knows that Leida refers to Tasha as a b*tch, "because I know that feeling with my own family." Ashley (and everyone) jumps in to tell Eric what we'd all like to tell him: He's a crap father. And he deserves his crap wife. And we all hope they have to live in that crap heap of an apartment in Baraboo forever and ever. Amen.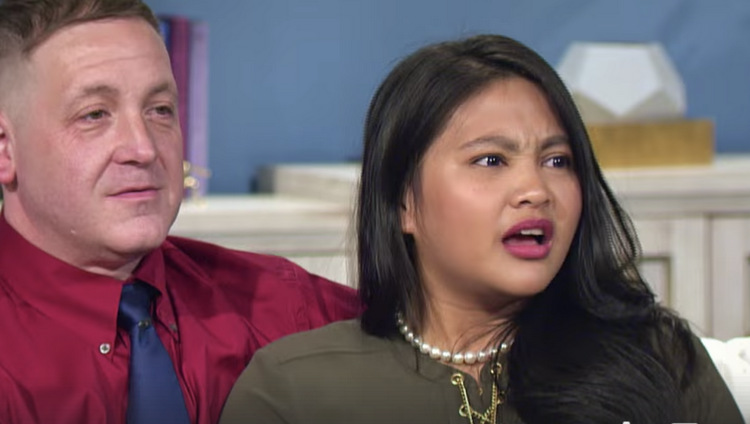 No one cares about the ten-minute argument Leida and Eric have with Tasha about her messy ways, but everyone else certainly thinks they are pieces of actual sh*t for treating Tasha like they have. Ashley reminds us that Leida called Tasha a "c*nt" as well, which is beyond the bounds of anything acceptable, EVER.
"What's done is done," Eric idiotically whines, imagining that he still has any kind of argument to win. He's lost his daughter. Therefore, he's lost everything. As Tasha cries, Eric wipes his crocodile tears and tries to look like the sad victim. UGH. Whatevs. Eric – go home and age another few hundred dog years while you think about what you've done.
Let's just wrap this segment up by reiterating the facts: Eric and Leida are the absolute worst, full stop. (Please never put them on TV again. Mmkaythanksabunch.)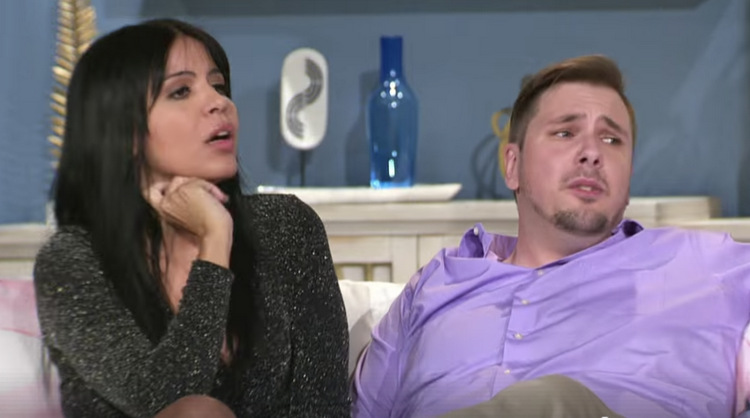 Back to Colt and Larissa we go! How are those hater cousins of Colt doing? Apparently (at the time of filming), Cousin John is still against the queen. Yet he is not dead? Colt still stands by his choice to not defend his wife, but Larissa admits she regrets throwing her ring at Colt. Hmm. Methinks she's regretting a lot more than that these days.
But we'll play along. Debbie joins the crew on Skype and Colt perks up instantly upon seeing his one true love: MOTHER. "You look cute," he smiles at the woman who will be spoon feeding him beef stew for the next twenty years. Although Larissa and Debbie were at odds from the start, apparently things have calmed down since then. Debbie says she had no intention of taking Larissa's place because she will always be First Wife. Fernanda thinks that Larissa was straight up disrespectful to Debbie, but Larissa has no time for Fernanda's input. Larissa does think she should more patient in the future. All we can say to that is, good luck with those #RelationshipGoals in Brazil!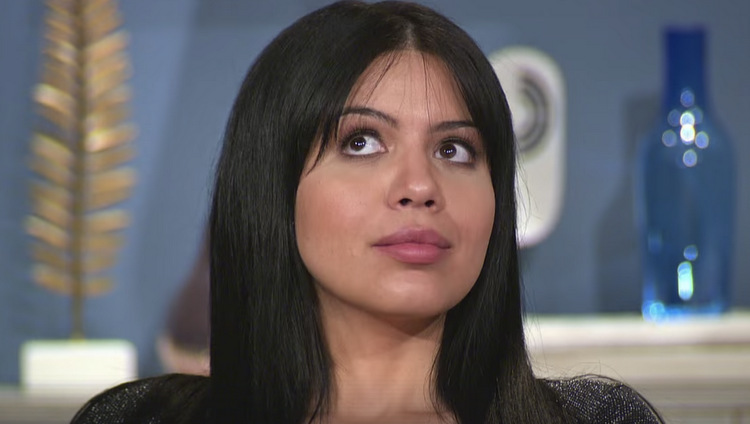 Next, we travel back in time to Larissa's jealousy issues over waitresses with glasses. She still thinks Colt doesn't compliment her enough, and to be fair, has more to be jealous about than waitresses considering Colt's dirty dealings with other women on social media. Basically, these two are a total sh*tshow, but for the sake of Tell All appearances, attempt to explain their "love languages" to Shaun. Essentially, Larissa's love language is compliments. And Colt's love language is sending obscene videos to randoms.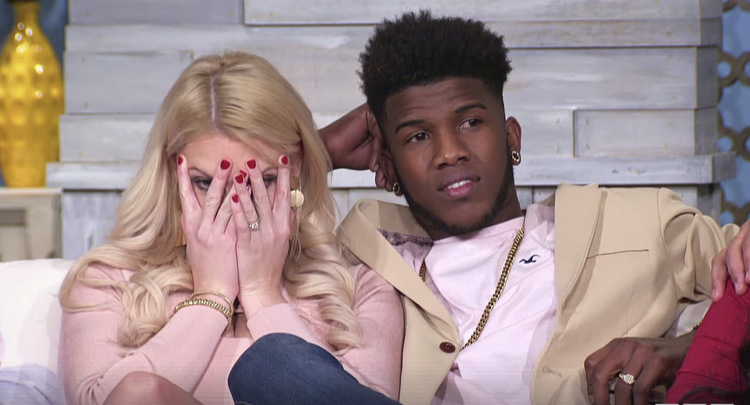 Speaking of sh*tshow relationships, let's check back in with Ashley and Jay! According to Ashley, Natalie interfered at a time when Jay wasn't cheating, therefore she was being a bad friend. Now that Jay's been outed as a lying cheater, though, is Natalie welcome to scooter on back in to Ashley's life? Um, apparently not. "I don't give a f**k what she thinks!" snaps Ashley, who is serving up the dumbest logic ever seen on this stage since The Family Chantel tried to argue about Pedro harvesting the American dollar.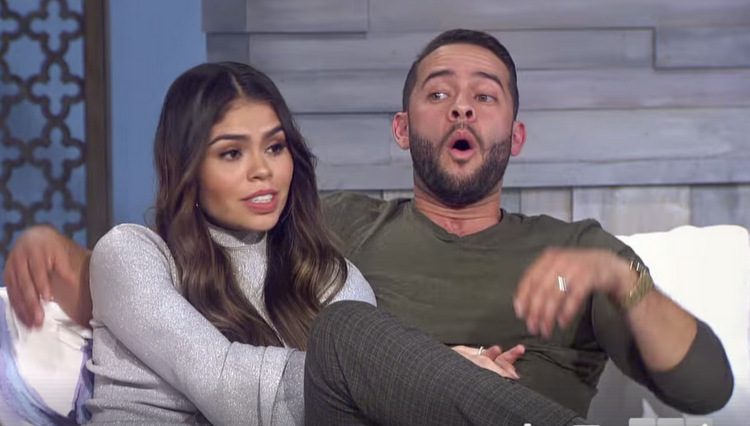 After a flashback montage of everyone's super depressing wedding days, we are reminded that the only person deserving of any sympathy in this motley crew is Olga, who we must protect at all costs. (Given Aseulu's outbursts on stage last night, we can go abandon our posts on the wall for his safety.) Ashley and Jay regret their decision to elope. Steven says Olga wants a Vegas wedding, but their "real" wedding will be in Russia.
Jonathan and Fernanda plan to have a big wedding in Mexico too…but that ain't happening now. Larissa didn't love the stink eye Cousin John was giving her at her wedding (nor his upscale workwear paired with Jamz), and Eric complains that his wedding basically sucked. BECAUSE HE SUCKS. At least Kalani and Asuelu were happy with their boat nuptials – and the fact that Asuelu didn't need to wear a big boy life vest to climb on board!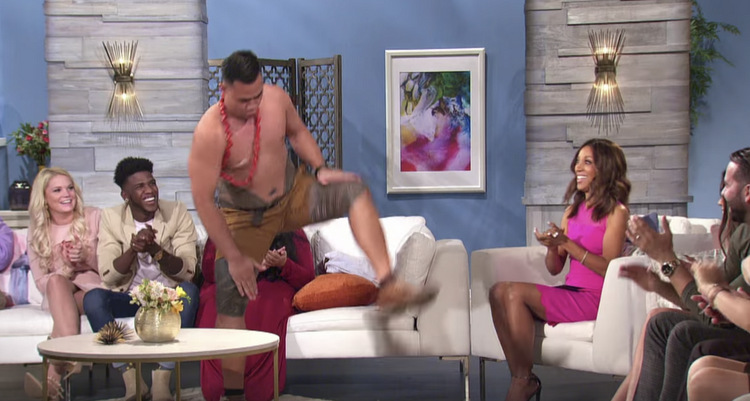 To end this epic night of pain and suffering, Asuelu rips off his shirt and treats everyone to a Samoan dance. Much like that chick in the airport, I'd like him to know that if things don't work out with Kalani, call me. KIDDING! I am not a slut person.
Writer's Note: Check out my podcast Pink Shade With Erin Martin for more Reality TV talk (Housewives, 90 Day Fiance, Exclusive Interviews & more!). Available on Acast, Stitcher, & iTunes! Visit pinkshadewitherinmartin.com for all links.
TELL US- THOUGHTS ABOUT SEASON SIX OF 90 DAY FIANCE? WHAT DID YOU MAKE OF THE 90 DAY FIANCE COUPLES' INTERVIEWS AFTER THE TELL ALL ENDED? 
[Photo Credit: TLC]