I don't even know what to say about tonight's Below Deck except where do they find these people? A sanitarium? A circus? A casting call for the insanely entitled? A meeting of Delusionals Anonymous? Actually I feel like Tyler Rowland is chairing that meeting. And obviously I'm delusional too if I think that's all I'm going to say about last night's epic episode!
So we open the episode with drunk guests falling off a moving jet ski at 10 am. The jet ski definitely would've failed a field sobriety test, but Captain Lee Rosbach screaming in the guests' faces certainly knocked the sobriety into them!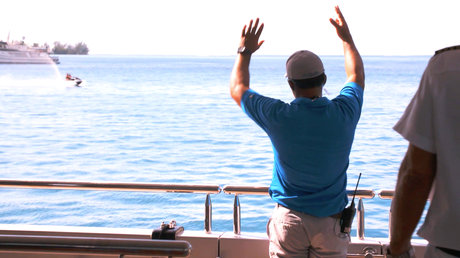 Immediately afterward, they revive themselves to stupor with "Sparkling Unicorn" cocktails, which Kate Chastain describes as mixing vodka with sprinkles, then adding anything sparkling from the bar. That turns out to be the start of a pretty tame day for Charley and his crew, who make their final dinner a wig party.
Kate plops on her finest from the Dolly Parton collection and begins serving Adrian Martin's version of a Hungry Man dinner. It involves "charred asparagus" and beet gelee. Obviously, because Adrian is burned out and exhausted by creative cooking, a guest has a problem with the food.
This guest is suddenly allergic to crab, which wasn't on the presence sheet, of course. That means Adrian has to quickly whip up something with mushroom pulp. All while Susan, aka Laura Betancourt, stands around joking with Josiah Carter. Lately, Adrian is annoyed when anyone has fun. Especially when that fun is had by Laura. He lives to rain on her parades, but it is so nice to see Laura getting along with Josiah and Kate.
Magical unicorns couldn't have turned these relationships around faster. Basically, Laura is much more relaxed after she stopped pretending to be Kate's peer. And, well, Kate sufficiently checked out of her emotional attachment to hazing Laura once she cracked Laura like a frat boy's iPhone screen.
So wigging out no more!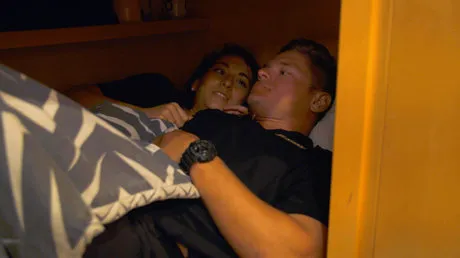 After dinner service, Laura skips off to be with Ashton Pienaar, who shares his life story. It takes all of two heartfelt minutes. And you guys: Laura has had bad relationships (see: Kate), so she knows that the most important thing is being able to co-exist together. Communication, you guyyyyyzzzz! Not boninggggggg!
The next morning the guests are up bright and early, demanding booze before breakfast. It's like they have to make sure they get all available hours of the open bar in! But there is Laura, cheerfully concocting bloody marys while rejecting Adrian's sexual harassment.
At checkout, Kate has to literally force the guests away from the bar, where they were trying to scam drinks at last call. Then, she practically ejects them off the boat as the entire crew stands there in their whites for send-off. Obviously, the tip was paltry. The crew has a brief 23 hours before the next charter magically appears, which means no late night out. But alas, the next charter is the LAST charter. Which means it's time to put high pressure to define your yacht flings! Kate and Josiah have already had 'the talk' and will be together forever.
Switching gears to sparkling UNIONS, Tyler asks Rhylee Gerber to get a drink before the crew night out that evening. She says yes, of course. Then, he requests that she wear her finest. That turns out to be cut-off denim shorts with a men's shirt.
Later when Kate and Josiah come across Tyler in the crew mess he is wearing an "Alaskan sweater' Which Kate takes as a sign that he and Rhylee will be naming their first born "Seanna Kate" – the finest stripper in all of Tahiti. Then Kate accosts Tyler into admitting that he likes Rhylee and even goes so far as to ask it over the radio where Rhylee hears! Rhylee initially blames Laura, but Kate is more than willing to take the blame for initiating the conception of Seanna Kate. Whose hair will be made of disco wigs and seaweed, and whose eyes will sparkle like unicorns.
All is on plan for Rhylee and Tyler to go riding off into the sunset. As one of those couples that Josiah says live in a truck with one bucket to poop and one bucket to shower. It is a rather dirtily perfect portrait for Rhylee's future. But, then she ruins it all by insinuating a future is to be had!
Post Below Deck Tyler dreams of captaining his own sailboat. Of course, Rhylee mentions that with her fishing expertise they could have quite a business. Record scraaaatch! Tyler just wants to keep their relationship to bunk bed banging. Even though their parts – the parts of the personality, that is! – go together quite nicely.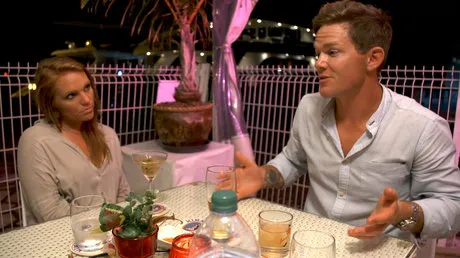 That night as Rhylee stresses about what to wear, Tyler stresses about how to let her know that parting is such sweet joy. He does so by making snarky comments about how he cannot be tied down like a 200lb marlin. Tyler is no dolphin swimming in a pod! He is a shark! Eating clams, then bailing for other fertile waters. Also, Tyler asked Captain Lee if his wife was love at fist sight and since Tyler hasn't experienced that YET, Rhylee – you are not the one! Rhylee is crushed. We should've seen this date going badly when they started the evening discussing the weather…
Back on the boat while everyone prepares for dinner, Rhylee cries. Tyler realizes something is wrong at the restaurant, but he's too stupid to realize what. Or more likely he's being intentionally stupid. Tyler is one of those guys who prides himself on being too cool to settle down, but it's not genuine. Secretly he's more conventional than he wants to admit which really chaps the balls he'd probably let freeze in a Polar Bear Swim just to prove a point.
Ashton pulls Tyler aside to figure out what's up. Laura tags along to eavesdrop for her girl. Tyler complains that Rhylee is trying to make him the guy who has commitments and that's like not for him. That night Tyler finds himself bang-less and sleeping back in his own bunk. That's when it really hits him in the nuts that something is wrong. Meanwhile, Laura and Ashton snuggle on the crow's nest.
Obviously, Laura tells Rhylee what Tyler said. Rhylee attempts damage control by claiming she was joking about a future together. Like duh! She favors Alaskan halibut while he prefers Tahitian humidity. Clearly, they're not meant to be! You know I have hated Rhylee many a time this season, but I felt for her last night. Girl you can do so much better!
All this talk of the future has Ross Inia missing his son. He is determined to get his family back together by having his girlfriend and son meet him in New Zealand post-charter. Ross, I hope it comes true, but if not Rhylee is back on the market!
At least Kate is excited about the final charter: a group of girls who want to have fun, drink wine, and celebrate the primary's 30th birthday with fireworks and cake. She envisions that they'll be chill, have a lot of laughs, and be light in the demands department. Oh, Kate… I expect better fortune telling from you after all these years and all these crazies!
The moment Krystal – with a K – shows up trouble wafts through the air like the exhaust from a broken jet ski. The first words out of her mouth are whining about the heat and sunburned feet. Also, this girl is celebrating her 30th birthday? More like 40th! Or this is a cautionary tale about what happens when you consume nothing but daddy's credit card points and bourbon.
Of course, Krystal's mentality is more like a 13-year-0ld, but we've all had a friend like Krystal. Briefly. You know what I'm talking about. Someone who can occasionally be super fun, but is the most hostile horrific drunk. And you keep making excuses that it's not who they really are. But it is. And Krystal is apparently like that sober because she whines that Josiah made her Old Fashioned with an orange rind instead of a lemon.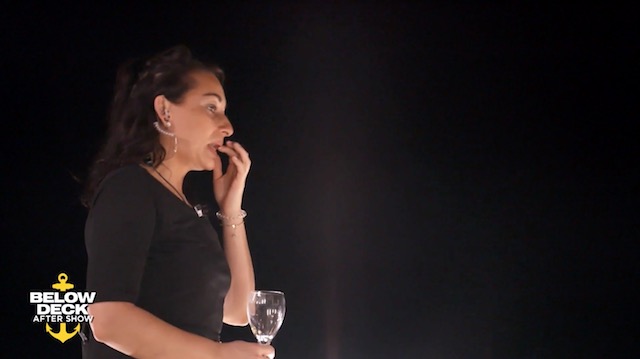 By nightfall, Krystal is on her 3rd hangover of the day and is ripping into her friend for making them late to the boat. The friend tries to apologize but Krystal threatens to KICK HER OFF THE BOAT. Like, Captain Lee is going to send her off to sea in the dinghy? The escaped jet ski is going to appear on the horizon to scoop her up and ferry her to the underworld where people who dismiss chicken as being for poor people live?
All of these girls apparently have names that begin with C or K, so whomever Krystal was fighting with left in tears. When Laura tried to help, Krystal smugly told her that no one cares about her feelings. But downstairs, while they were all getting ready for dinner, Krystal starts freaking out about what a fucking bitch and a whore her so-called friend is.
She is screaming so loud, with the door open, that the entire crew, gathering the kitchen to prep dinner can hear WITHOUT EAVESDROPPING. Even so, Kate and Laura inch closer only to narrowly avoid having the door slammed in their faces by one of Krystal sycophants. Josiah realizes that none of these girls are actually friends. Krystal is obviously paying for companionship. Who knows maybe there is an escort website for this?
Of course, the offending friend finds herself sitting at the table, alone, mainlining wine through her tears, waiting for dinner which is delayed by Krystal's obscenity-laced tantrum.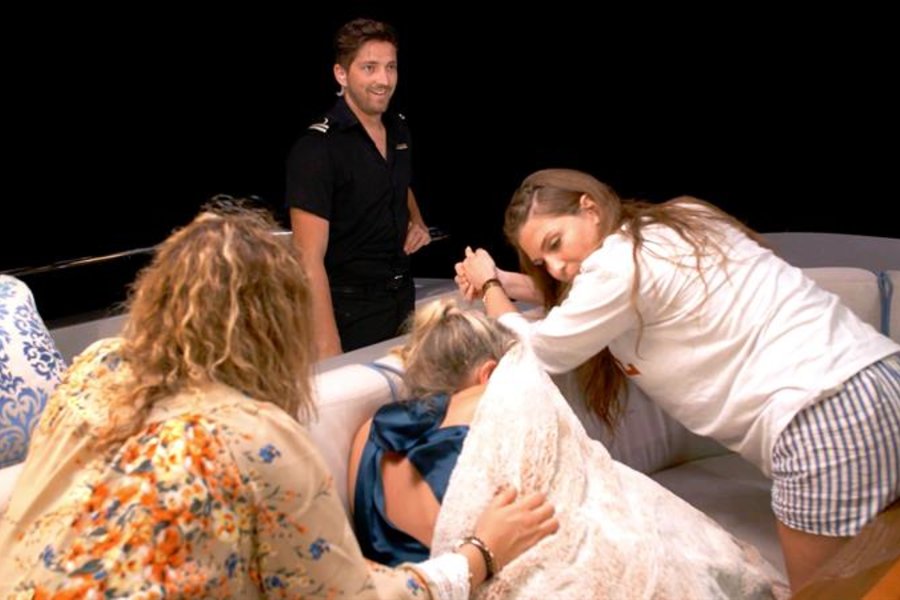 By the time Krystal arrives, obviously, with orders that everyone is to ignore Chantal (?), the friend is too drunk to see straight and eventually stumbles to bed. This puts Krystal in a euphoric mood. So she starts slamming the espresso martinis hard. Until she passes out on the banquet. Literally passes out while everyone finishes dinner around her and no one bothers to deal with her until it's time to clean up, and they have to get her to bed.
Except for Princess Kritty Litter from Boones Farm County refuses to move and starts screaming from under her "shame cocoon" (thank you Josiah for that excellent description) that no one is allowed to touch her or speak to her. Her friend Kam tries hard to get Krystal to "be an adult" and go to bed, but after calling her the wrong name several times, Krystal only sits up long enough to punch her.
Ashton even offers to carry Krystal to bed but she bellows that no one – Ellie, Santa Claus, Beetlejuice – can touch her!  Not even hot guys with accents? She really is a sociopath. Remember when two five year olds were on board and behaved a hundred times more mannerly than this so-called 30 year old with princess delusions?!
Finally, Krystal's friends decide someone from the crew will just stay up all night to watch over her and make sure she doesn't roll overboard. Like maybe that can be Kate's job? Actually, if Krystal could have a Goldie Hawn reckoning moment and end up living in a trailer, hauling grubby boys to hockey practice and cooking Hamburger Helper (with lemon peel!), that would be delightful! And probably a much-needed awakening. Pun intended!
Kate is so fed up with this spoiled brat she tells Josiah to get the hose. Where is Captain Lee when you need him. He'd scare Krystal straight!
The most shocking development of this Below Deck episode is that Krystal is married. To WHOM?!
TELL US – IS TYLER LYING ABOUT WANTING A FUTURE WITH RHYLEE? SHOULD KATE SPRAY KRYSTAL WITH THE HOSE?
[Photo Credits: Bravo]