If last week's episode Southern Charm was the introduction of Mary Jane into the cast (with cameras involved, obviously), last night's show was a sky-high debacle. It's the first day on the mountain for the Charmers, minus Shep Rose who is still nursing a drunken knee injury and Whitney Sudler-Smith who is still crying over a ski accident from childhood. Chelsea Meissner is channeling Putin's mistress, Austen Kroll is pretending he's not trying to hook up with ex Madison LeCroy, and the majority of the girls are headed to ski and snowboarding lessons.
Over a pre-slope breakfast, Austen denies any smooching with Madison, but he's not going to lie and say he doesn't want to rekindle that flame. Cameran Eubanks recognizes that this trip will not be rejuvenating her mojo as she FaceTimes with baby Palmer. The group is quick to motivate, waiting on Kathryn Dennis to don her Tellatubbie/Charlie's Angels (original, not the reboot) ski look. It's a lot, but it is magnificent.
While Whitney and Shep snort oxygen and chug beer, Cameran, Kathryn, Chelsea, Danni Baird, RCG Eliza Limehouse, and RCG's beau are with the kiddos in ski school. It is an amazing comedy of errors. As Shep and Whitney watch from the bar, Austen, Madison, and Craig Conover are viewing the debacle from the gondola. Madison has been snowboarding since 8 AM, and it's about time she's got some competition. Craig, the world's worst third wheel, chastises Madison and Austen's flirtation.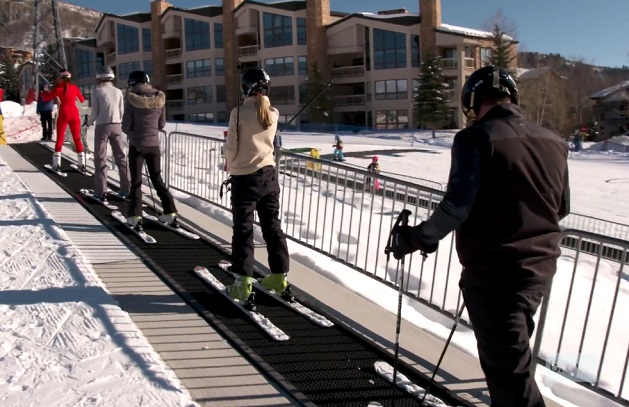 Taking to their own gondola, Kathryn and Danni are discussing the evening's marijuana-infused dinner. Kathryn is beyond peeved that no one seems bothered by hosting a meal which includes the drug that caused her rehab stint and got her kids temporarily taken from her.
Danni feels badly since it didn't even cross her mind, so she quickly changes the subject to Whitney's amnesia regarding his hook-up with Kathryn. Not surprisingly, Kathryn has receipts. As if she'd delete his booty call text messages! She and Danni cackle over the exchange, sparing us the socks and glasses details.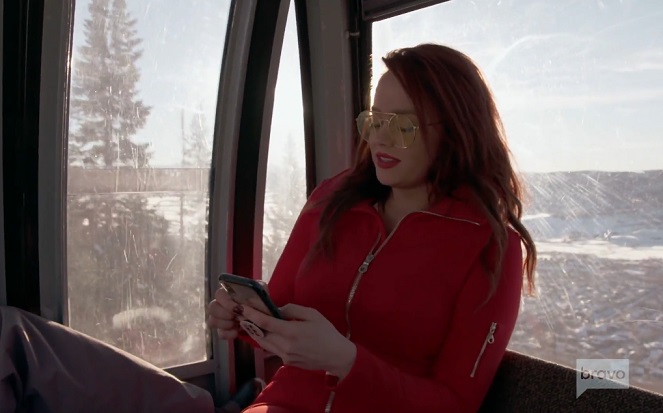 Back in Charleston (and against her better judgment), Naomie Olindo answers a phone call from Ashley Jacobs begging for a meet-up for cocktails and conversations. Naomie cringes, but allocates no more than forty-five minutes of her afternoon to give Ashley an eighty-fifth chance to apologize for her ridiculous past behavior.
Back in Colorado, Austen finds himself buying a round of shots for the entire bar, but at least he's got Madison to keep his empty, cold wallet warm. Shep tries to laugh off their PDA, but he's dying inside to once again lose single Austen to the clutches of some white trash hairdresser (his words, not mine!).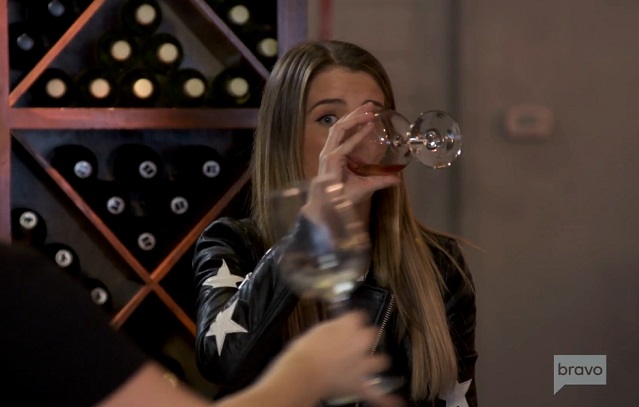 Also dying inside is Naomie, as she orders an XL glass of wine to deal with the absurdity that is Ashley. Naomie chugs her first drink as Ashley practices her extremely scripted (and monotonous) apology. She hates holding grudges, but she also can't apologize to save her life. Ashley hopes to get some advice from Naomie about apologizing to Kathryn.
Given her inability to take any accountability, I'd say that is a bad idea. Naomie advises Ashley to steer clear of Kathryn if she ever sees her in public. Seriously, not even a wave. As Ashley rattles on about how a little birdie turned her against Kathryn, Naomie drowns her out with another rosé.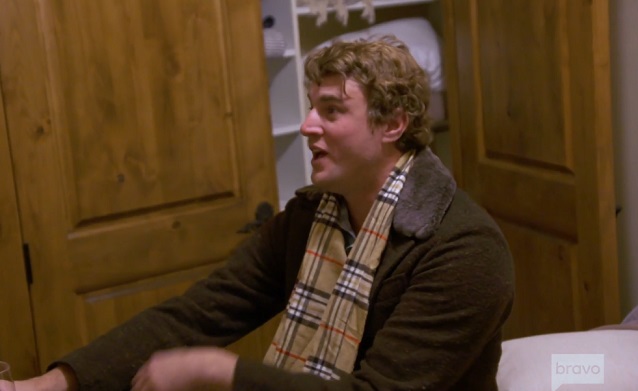 Preparing for dinner, Austen and Shep make the wise decision to eat some weed gummies before their weed dinner. Will that make them eat more? Their cannabis chef arrives, and Shep requests some THC-free dishes for some of the folks in their party. Chelsea sniffs some CBD wine while chastising Austen for getting stoned without her. In the house next door, Craig is getting an earful from Madison for his negative opinions on her relationship with Austen. When she joins the group, high Shep piles on the compliments. Madison finds his charm disingenuous, and she's happy to discuss her feelings with him in his room over some pot gummies.
Mellow Shep does not discount Madison's fun factor, but he pushes her to admit that she maybe enjoyed playing with his friend's feelings. She reminds him that he called her white trash and her relationship with Austen is none of his business. He admits to the white trash comment and slightly apologizes, but he doesn't think she has Austen's best intentions at heart. She asserts that Shep is a terrible influence who is sulking because he lost his wing man.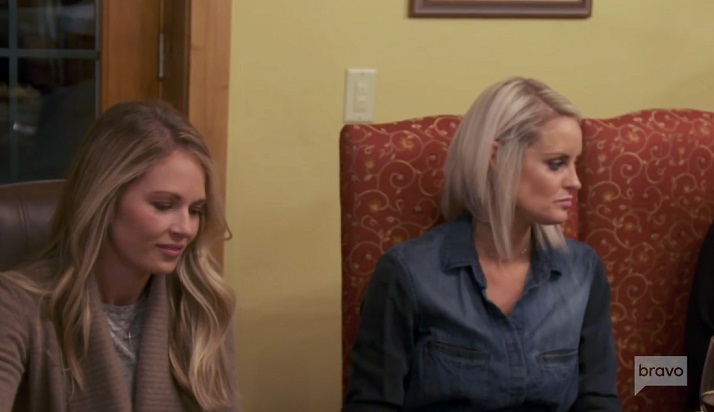 Austen is able to open his eyes (and ears) long enough to hear Madison tell him that Shep apologized…but she has yet to accept it. The chef explains the menu and the different infusions. Shep pressures Cameran to use the THC infused salad dressing, but she's sticking with her Coca-Cola and white wine. As Austen cackles, Kathryn questions him about organizing the marijuana menu.
She passive-aggressively thanks him for considering her feelings when planning this dinner. Kathryn isn't tempted, but she's fine being reminded of the substance she abused that lost her custody of her children. It's cool. All good. Austen sobers up for a millisecond to reflect on the fact that he probably should have given her more of a head's up regarding the meal. She distracts herself by searching past articles about her low points before retreating from the table.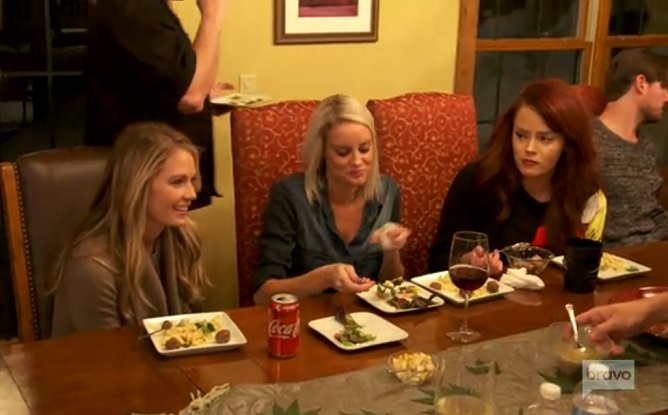 Craig goes to check on Kathryn, and she expresses her disappointment that Austen didn't consider her feelings regarding the dinner. It reminds her of how crappy her life was when she was smoking weed, and she's frustrated that Whitney is lying about their hook-up. Kathryn gets he may not want his personal business out there, but telling her it never happened but he's flattered was too much. Craig is astounded by this admission, and he leaves Kathryn to her alone time while he heads back to dinner to confront Whitney. As Craig tries to convey Kathryn's feelings to the group, the super high ones can't control their obnoxious laughter.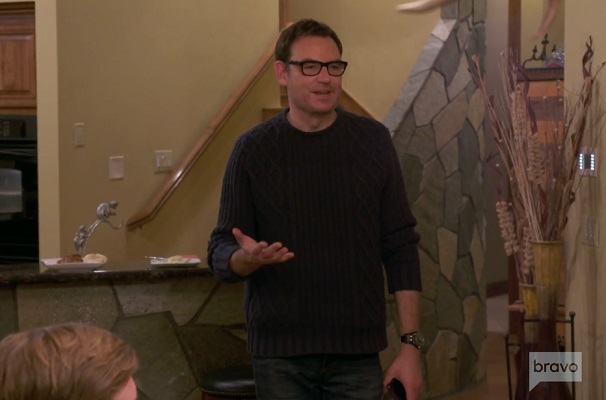 Austen seems shocked that Kathryn takes offense to his pot dinner, even though she told him the same five minutes earlier. Craig relays that the real problem is Whitney's denial of their interlude. Three years ago, Whitney was quoted as saying she was a delusional drug addict who didn't deserve custody of her children, and now they're all celebrating the cause of her demise.
Once again, Whitney stammers over his denial of a hook-up while Craig interrogates him as to what it hurts for him to go check on Kathryn. Aren't they friends? Has Whitney ever apologized for the nasty things he said about Kathryn in the past? As Shep douche-ily corrects the grammar in Craig's monologue, Whitney begrudgingly agrees to make peace with Kathryn who politely requests that he leave her alone.
WHAT DID YOU THINK OF LAST NIGHT'S EPISODE? DID KATHRYN OVERREACT ABOUT THE WEED DINNER?
[Photo Credit: Bravo]