Denise Richards made a bold claim on last week's Real Housewives Of Beverly Hills episode. She alleged that Brandi Glanville told her she had sex with someone in their group. SOMEONE AT THEIR TABLE. Whether or not that is true remains to be seen. Kyle Richards put her math detective hat on to narrow it down to her and Lisa Rinna. This didn't sit well with Rinna at all. She wanted it SHUT DOWN.
Another feud in the works is between Rinna and Garcelle Beauvais. After a comment about Rinna's Instagram dancing and her daughter's body issues, these two might clash. Plus, Garcelle is very loyal to Denise. Rinna on the other hand hasn't been a top tier friend this season by any means. It's coming. Hopefully, we can get through ONE dinner on this Rome trip without someone wanting to storm away.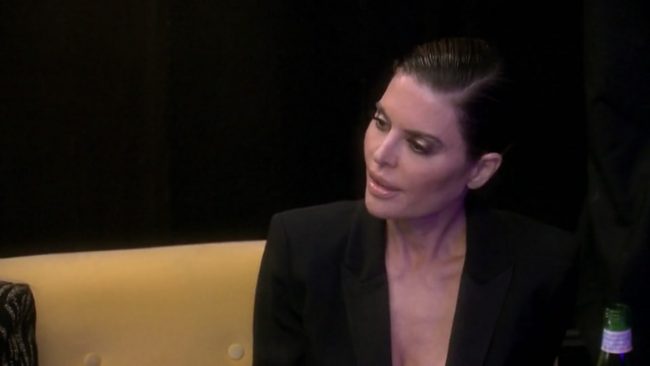 Nobody at the table believes Denise's story that Brandi claimed to sleep with someone else in the group. There is a whole lot of deflecting and projecting going on right now with Denise. Just own it, baby. The truth will set you free. She says she's being honest, but her story has honestly changed so many times.
Dorit Kemsley wonders if Kyle and Teddi Mellencamp are quick to believe Brandi because of their issues with Denise. That's possible, but Denise is handling this in an awful way. Do I think Brandi needed to share this on camera? No. Do I think that despite that, her story is absolutely true? YES.
Denise continues to deny saying anything negative about Teddi or anyone else at the table. I don't believe her one bit. In all fairness, most of what she allegedly said is spot on. Erika Jayne can be cold, and Teddi is obnoxious. No lies detected in those statements. No idea why Denise refuses to just own up to LITERALLY ANYTHING.
Garcelle starts to get annoyed with Denise's inability to defend herself. Denise doesn't stand up to the women when they come at her. That's something I admire about Garcelle. She doesn't appear to have an issue saying how she feels. She at least addresses the things thrown at her. Isn't that what everyone is supposed to do on these shows?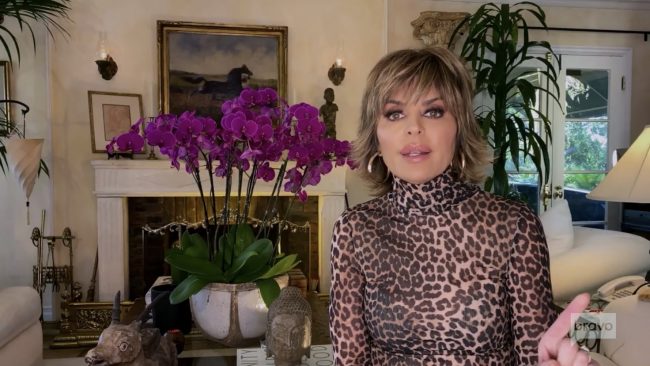 Rinna is pissed at Denise after spreading what she believes to be lies at the table. Rinna tells Denise, "If you don't want to be here then go". It's coming! "In December, Denise stopped shooting with the group". That's what we were told in the first episode. Everyone knows Denise decided to run away.
The look of annoyance on Denise's face at this dinner is so relatable. Regardless of my opinion about all of this, Denise has put up with a lot. However, in her confessionals, Denise admits to having agreed with Brandi about Erika being "cold." Listen, I know people hate Brandi, but how can anyone believe Denise at this point? SHE IS LYING SO HARD.
Denise furthers her comments to say that she actually said worse to Brandi about Teddi. THERE YOU HAVE IT. Another shift in her story. Everything Denise says changes constantly.
Garcelle decides to bring up Rinna's Instagram dancing and how it might affect her daughter. Rinna is legit just having fun and living her life. It's a massively judgmental statement coming from Garcelle. I think she chose to bring it up because she doesn't like how Rinna is handling the Denise drama.
This might be one of the most emotionally draining Housewives trips ever. They're not even really having any fun of any kind. It's like nonstop drama and clashing. If I'm going to Italy, I'd destroy someone if they ruined my good time with petty bulls**t.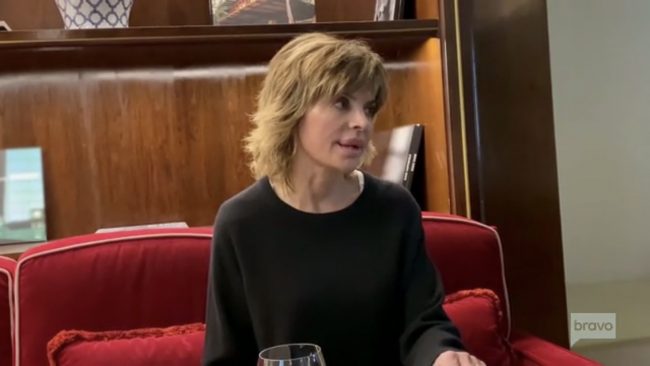 All of the women are splintering off into different groups for the day. Dorit is looking very astronaut chic heading to her Vespa day with Kyle. That actually looks fun. What doesn't look fun however, is the conversation at the hotel Rinna and Denise are about to have.
Denise doesn't like the energy Rinna was projecting toward her the previous night. She thinks Rinna is coming off as a "mean friend". I get the friendship loyalty thing, but I'd do the same if I was in Rinna's shoes. It looks like Denise is lying out of her ass, so I don't know if I could defend that.
Rinna hates the tit for tat of Denise at the table with her. She tells Denise to end that. In Denise's defense, she did have Rinna's back in a previous situation with Kyle. That situation was a lot less deep than this one though. Denise is hurt at Rinna but not mad, and that assertion leads Rinna to break down.
It really sucks to watch a twenty-year friendship disintegrate here. Denise wants Rinna to stand up for what's right. At least Rinna owns her failure to warn Denise ahead of time. Denise feels like the women are trying to destroy her family. At the end of the conversation, Rinna agrees to go to church with Denise, Garcelle, and Sutton Stracke. The entire exchange between these two was heartbreaking to watch.
There is so much at stake with this current drama. Denise's family. Longtime friendships. While I do think Denise is lying, there really isn't any reason any of this had to be divulged in the first place. What's the point? There's nothing exciting about watching a group of people totally break someone.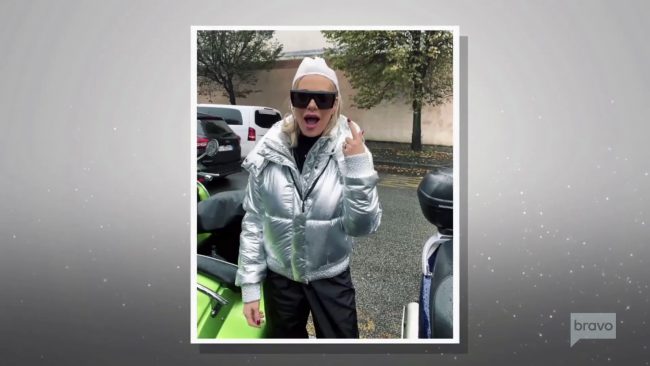 Dorit is dismayed after learning she needs to wear a helmet with her look. It's Italian law, so your look is going to have to be compromised. To try and preserve her hair, they put this hair net type thing on Dorit's head. She somehow pulls off this look too. LEGEND.
How wild is it that Erika's step-kids are the same age as her? How awkward must that be for some of them in the family? If Housewives didn't work out for her, Erika would've been perfect for Marrying Millions.
For now, things are much better between Rinna and Denise. If it could stay that way, it'll be nice. Sutton throwing major shade in her confessional asking "Is there a better side to Lisa Rinna?". How does this woman not have a diamond? She throws the best shade and wraps it in a pretty little bow doing it.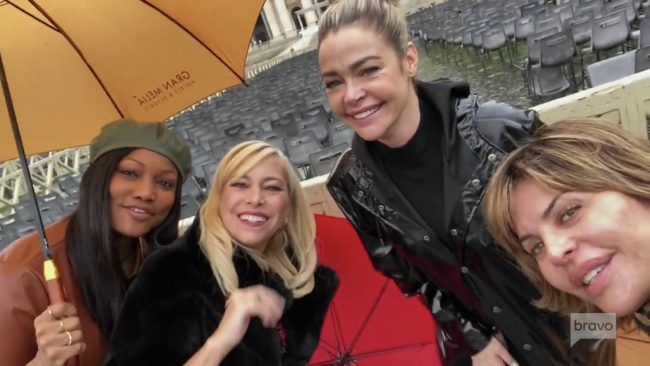 The women can't go to church like they planned because you need tickets ahead of time. Rinna quite possibly planned the worst trip of all time. This will go down in history as a total disaster.
Rinna links up with Kyle and Dorit to fill them in on the ordeal with Denise. Kyle claims to feel for Denise which comes off so disingenuous. She put half of this into motion. Save the fake empathy. We see right through it. I don't know who she's fooling.
It appears like Rinna genuinely wants to repair her friendship with Denise. She is happy to have that conversation with Denise, but the peace might not last. They're having another dinner with Denise soon. What are the odds Denise stays for that entire dinner? She has to be at her wit's end with the chaos by now.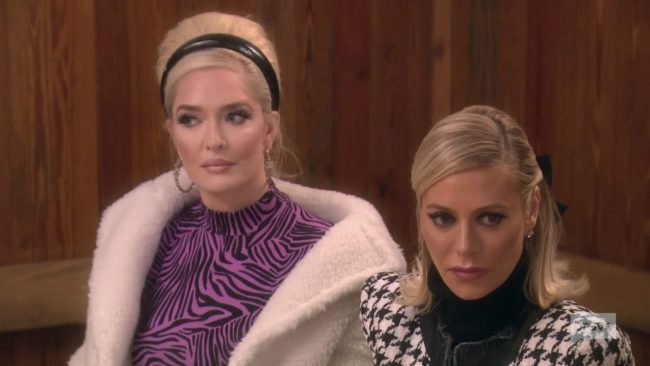 Dorit will be saving the day yet again and taking over the planning of Teddi's baby shower. Is Kyle not capable of putting together any event on her own? Dorit is always the one to swoop in and save the day. Kyle needs to give her more credit for saving her ass on several occasions now.
Apparently, Denise has a lot to say to the women when they arrive. She is done listening to them, and this time she's controlling the narrative. What are the odds that Denise stays for the duration of the dinner? Nobody wants to believe her, and she is sick of them. How do you begin to move past that?
Garcelle is shocked that Denise is standing up to the women finally. Denise definitely turned up the aggression level for this meal. She uses the term mean girls with them again, which will trigger most of them. They all went through the wringer last year after that restaurant owner had her puppy plot foiled.
Garcelle makes an abrupt exit which came out of nowhere. Um okay? Denise decides to walk away from the table after saying what she had to say. Knew it. She always leaves. Every single time. She makes her own bed with this group. SHE is the one who has dragged this out by leaving every time there is a conversation she doesn't vibe with.
Before she can leave, Denise is stopped by a producer who tells her going back is a big mistake. Bravo breaking the fourth wall lately is EVERYTHING for me. I live for the behind-the-scenes look. It makes it infinitely more interesting. Overall, I want to see more of this.
As someone who produces multiple dramatic reality shows myself, I know the kind of antics they have to deal with. I have had cast members skip the reunion or abruptly stop filming, so seeing it on Real Housewives of Beverly Hills fascinates the hell out of me.
The producer tells her that she can't just go in there and make a huge speech and then dip out. Thankfully, she returns to the table which everyone is appreciative of. This could be a step in the right direction, but probably not. We all know the end result is Denise leaving. However, it's been a highly entertaining journey getting there.
It's sad because this group has genuinely had a great time together in the past. I love the drama too, but some fun would be nice. They start having a conversation about sex, and Denise is finally more open!
Check out the Reality Tea Merchandise Store to buy clothes, accessories, mugs, and more!
TELL US – TEAM RINNA OR TEAM DENISE? DO YOU AGREE WITH GARCELLE'S COMMENTS ABOUT RINNA'S VIDEOS? ARE YOU ENJOYING THIS SEASON OF THE REAL HOUSEWIVES OF BEVERLY HILLS?
[Photo Credit: Bravo]