Welcome back to Below Deck Mediterranean. You know, home of spoiled British brats throwing tantrums over cucumbers. Last I spent the majority of my recap railing about Tom Checketts' ego-centric histrionics and vile treatment of Aesha Scott. And if you think that won't continue into this recap…well, you don't know Tom.
This week's episode picks up right back in the middle of the cucumber confrontation, where Aesha is tasked with explaining the basic principle called empathy to the furious chef. Tom literally doesn't understand the concept. By saying "I'm sorry," Aesha was simply trying to validate his feelings in the moment. She wasn't personally apologizing for anything she did. Because guess what? She didn't do anything wrong! It's honestly infuriating watching Tom berate the poor girl to the point of tears. Infuriating and sad.
Eventually, Aesha can't take it anymore and storms out of the galley after standing up for herself. Thankfully Bugsy Drake is waiting in the galley to comfort her crying deckhand. I know Bugs took a lot of flack for being promoted after Hannah Ferrier was fired, but after a handful of episodes with her in charge, I need to say something. Bugsy Drake is an excellent chief stew. Dare I say much better than Hannah. Yes, their management styles are wildly different. But just look at how Bugsy took the time to comfort Aesha when she needed a shoulder, and managed to de-escalate the drama happening around her. She's motivational. She's encouraging. She's unfailingly on top of things. Even Jessica More admitted that the ship runs much smoother with Bugsy in charge of the interior. Should she stick around as the chief stew for the future of the show?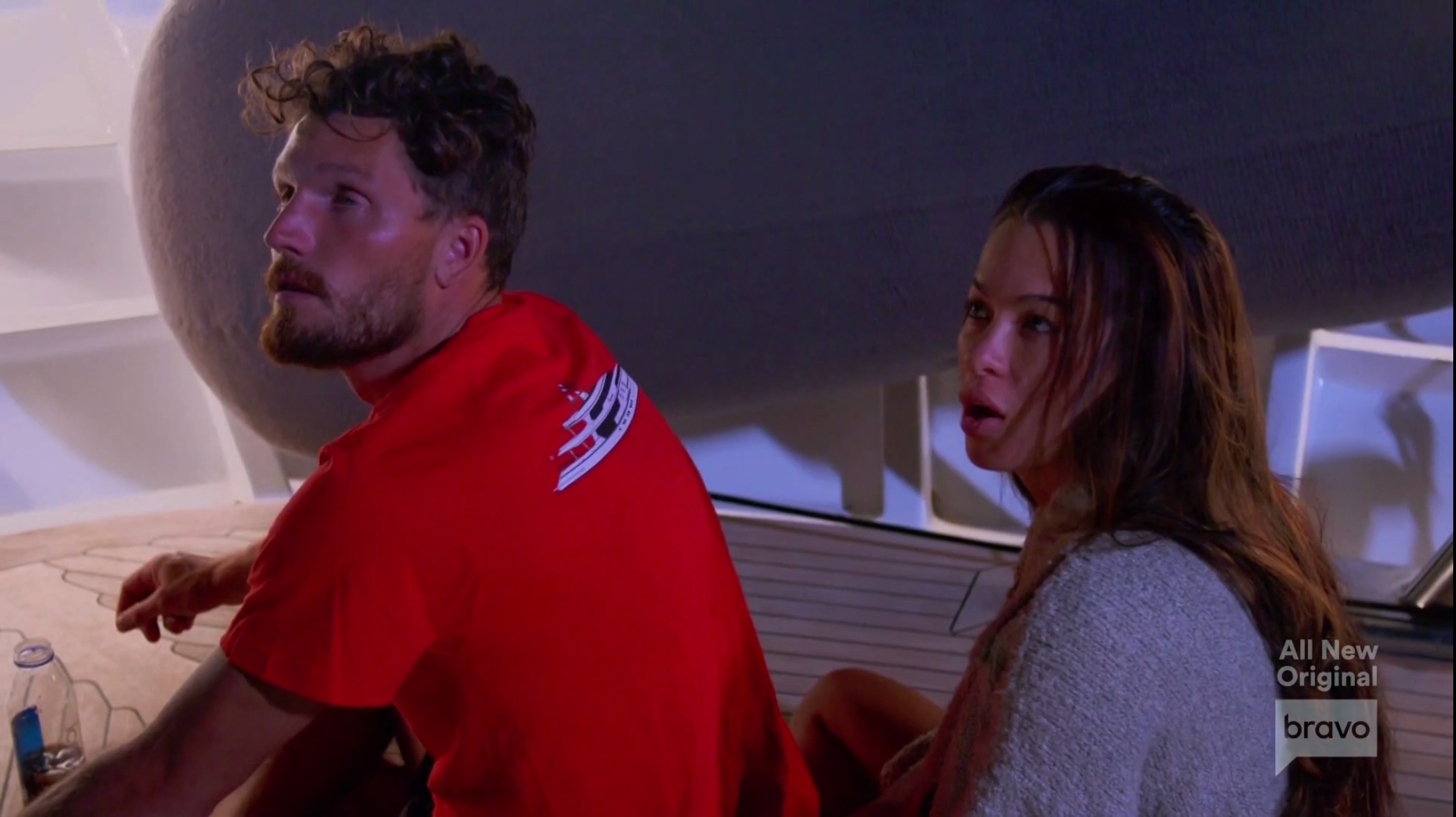 Speaking of Jessica, she and Rob Westergaard couldn't get through the episode without a bit of drama. But at least this time, they had a mutual enemy in Malia White, instead of being at each other's throats. During the naughty and nautical-themed dinner, the lovebirds got to knock off early. And instead of cuddling up in the cabin, they decided it was a good idea to have a full-blow make-out session on the bow. Out of uniform. With the charter guests less than ten feet away.
Of course Malia caught them, and issued a stern reprimand: any time guests are awake and on board, you should be in uniform. Anyone who's watched this show for five minutes can tell you that's yachting 101. Like the bosun pointed out, this is a super yacht, not a Sandals couples resort. But don't worry, Rob and Jess manage to put Sandals to shame in just a few minutes…
The following day is drop-off day, and surprise! Malia's mom just so happens to be in Spain, so she gets permission for her mom to watch The Wellington dock. Mary seems perfectly lovely as Sandy, Bugsy, Tom and her daughter come ashore to greet her with hugs and smiles. Sandy even mentions they've been out to dinner off-camera in the past. However, as Malia gives her mom a tour of the boat, I can't help wondering what she thinks of Captain Sandy after a certain Cameo went viral today.
As the guests leave, there's a quick pump-fake involving a dinner invitation as a tip, but the drama ended up being mostly played out for the sake of the promos and the crew bags a nice $20,000 tip envelope as well as a chic dinner the next time they're in Malibu. Charter eight is complete!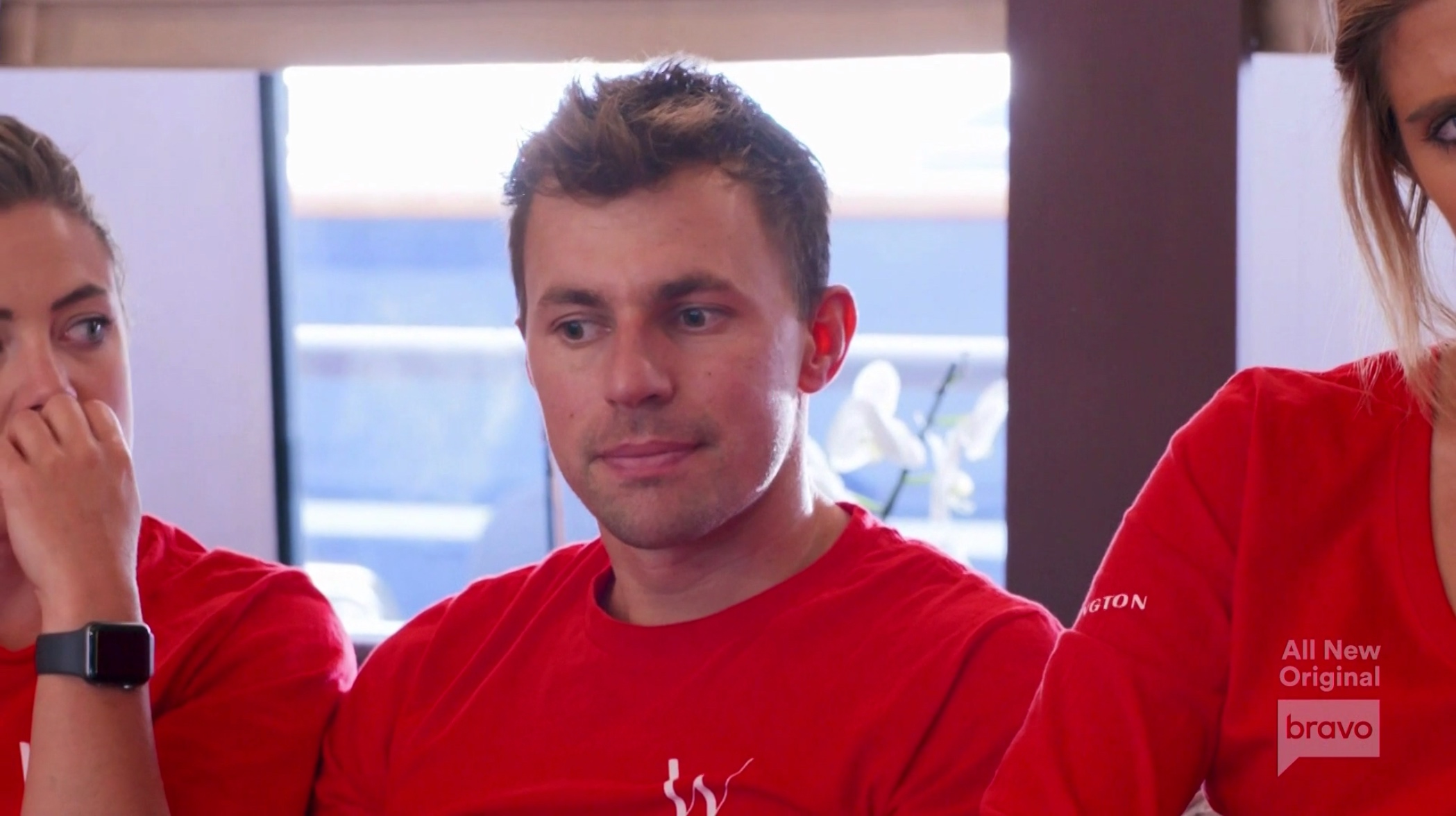 The final charter of the season is less than 24 hours away, so there will be a speedy quick turnaround. But first, the requisite tip meeting, which takes a much more dramatic turn than usual. Rather than dole out compliments and team spirit like she usually does, Sandy puts Tom in his place over the cucumber debacle. (Read: in actuality, his incorrigible temper.) And rather than take the note like a pro and commit to doing better, the scolding sends Tom off to pout in his room.
He even has the nerve to complain to Malia about how unfair her mentor is being. And that's after he kinda, sorta already apologized to Aesha with a defensive explanation about why the whole conflict was really her fault. When I tell you, the audacity of this man. Knows. No. Bounds.
Ahead of the charter, the crew heads out to Port Adriano for a quick night on the town. Well, except Rob and Jess. The couple of three weeks and counting opt to stay behind for a romantic date night on the boat. Bugsy even gives them permission to sleep in the guest cabin! And they put it to good use, first by debating the details of their upcoming trip to Bali. (Will they stop in New York first? Celebrate Jessica's birthday with her mom in North Carolina?) And then they traumatize viewers and crew members alike by having very loud, very tantric sex that was somehow picked up by their mics. You didn't think the editors would not subject us to those "Oh baby!" moans, did you? (Also, raise your hand if you've already tried to find Rob's tantric sex documentary on the dark web.)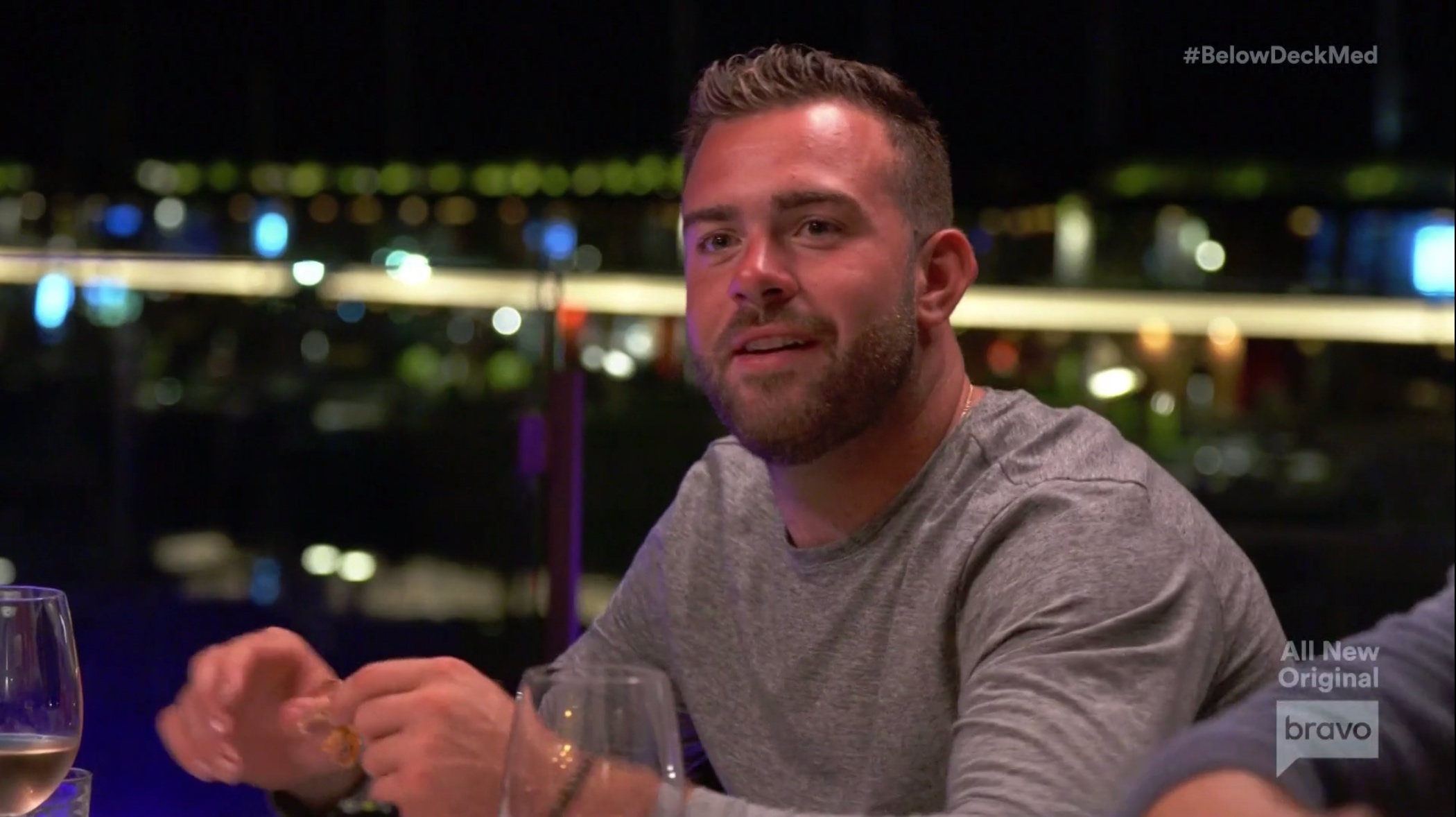 Back at dinner, the conversation turns to the status of Bugsy and Alex Radcliffe's constant flirtations. Will they or won't they? I mean, they already did. However, when pressed by her co-workers, Bugs shuts down, denying that there's any sexual tension between her and everyone's favorite Jersey teddy bear. Poor Alex is left hanging after admitting to the table that he like likes the chief stew "on an actual level." If Bugsy knew what was good for her, she's lock the deckhand down before he takes his adorable bromance with Andy Cohen to an actual level, but apparently she doesn't.
Aesha also opens up at the table about struggling to fit in after joining so late in the season. On top of that, she admits she's feeling a bit "crewsick" for her pals from Sirocco in Season 4. She just can't find her footing with this bunch, and feels like she can't fully be herself because of it. Basically, this is all a way of saying that Aesha doesn't think the Season 5 crew is as fun as last year's. Do you agree? At least one thing's for sure: no one was ripping her head off over an avocado aboard Sirocco.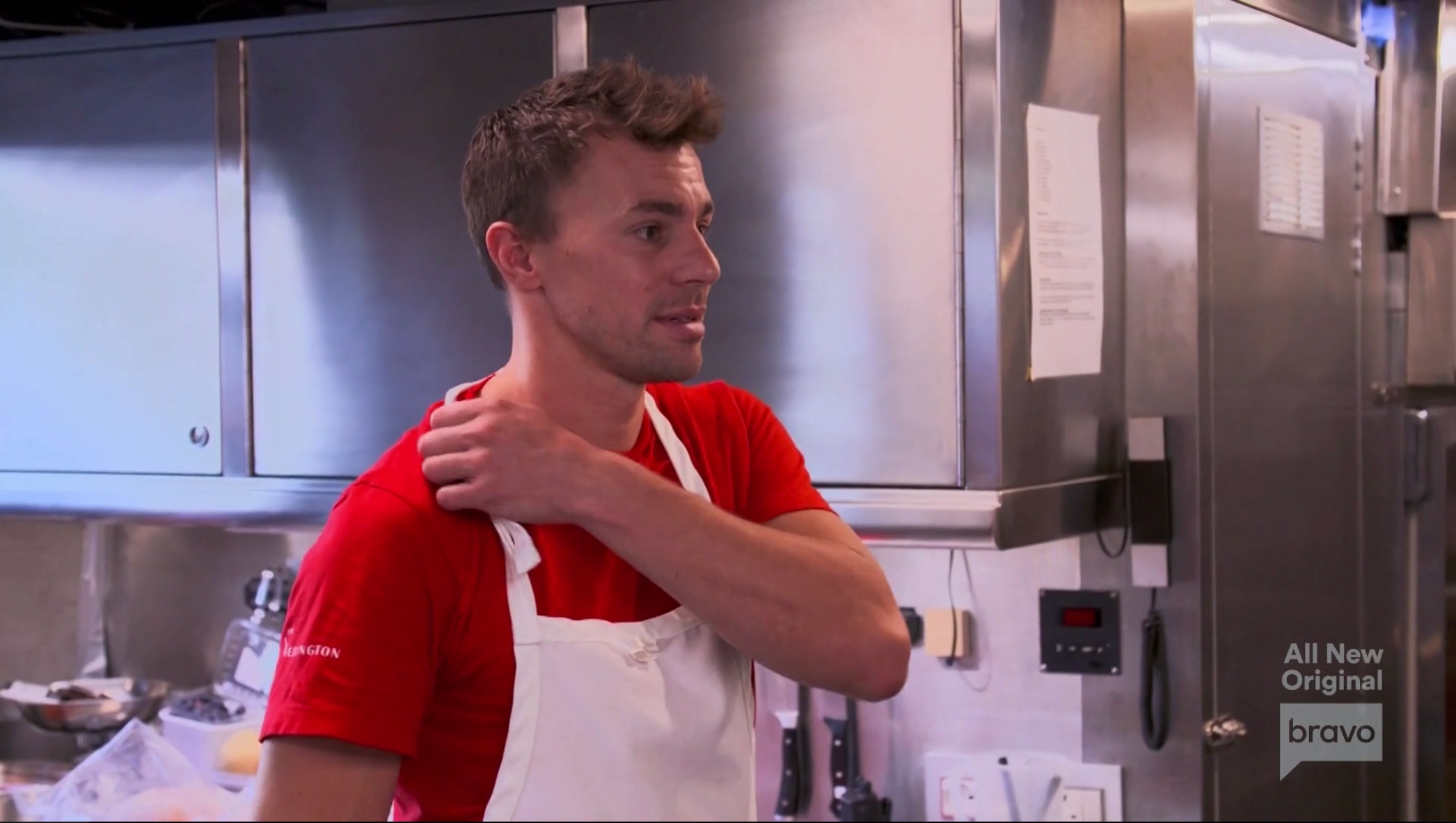 The next morning is the start of charter number nine. The final countdown to the final charter, if you will. However, the day gets off to a frazzled start when the charter guests inform Sandy that they'll be arriving an hour earlier than planned. Which means the crew has even less time to prep the Wellington for the voyage. Any guesses at which crew member takes this news the hardest? (Hint: it's not Aesha.)
Tom's problems revolve around provisions; he starts to unravel when the provisioners deliver room-temperature fish at 12 degrees Celsius. At first I can't blame him — the mistake makes the fish inedible and now he was nothing to serve for lunch.
As we've learned before on this show, your meal can only be as good as your provisions. However, in classic Tom fashion, his tempers seethes until he explodes. We're talking threatening to walk off the boat. Disrespecting Captain Sandy. Lashing out at Malia. It's not a pretty sight, but we'll have to wait till next week to see how the hothead's latest tantrum turns out.
TELL US – WAS TOM'S MELTDOWN OVER PROVISIONS WARRANTED? SHOULD BUGSY BE GIVING ALEX MORE OF A CHANCE? IS BUGS A BETTER CHIEF STEW THAN HANNAH?
[Photo Credit: Bravo]