It's reunion time, yachties! And the Below Deck crew has gathered from (literally) the four corners of the globe for a virtual sit-down with Andy Cohen. Did this season of Below Deck really need a reunion? The answer is debatable depending on how much you think a phrase like "Eat my cooter" needs to be discussed ad nauseam. Though I suppose there were a number of strings left loose in a season cut short by the coronavirus pandemic. So here we are. Anchors aweigh!
Personally, I love how Andy always insists on going fully in on the nautical wardrobe when he hosts these Below Deck reunions. Captain Lee Rosbach always dresses up in his finest. But the rest of the crew's looks are…wildly disparate. Francesca Rubi and her feathered shoulders are coming all the way from Sydney. James Hough decided to put on a basic green shirt at home in the U.K. Elizabeth Frankini, meanwhile, is wearing a full rainbow gown in Florida. Sadly, though, we can only see maybe two colors of the rainbow since she's stuck in a tiny box on Zoom.
Izzy Wouters is down in New Zealand. Ashling Lorger is also in Australia. Honestly I wouldn't have been surprised to see her and Chess filming together since they seem to be BFFs. Rachel Hargrove is quarantining in Italy, though she's no longer dating her Italian boyfriend. Eddie Lucas may be wearing a collared shirt in Baltimore but he's secretly still wearing sweatpants. And even Shane Coopersmith is here! Naturally, he's wearing a sustainably thrifted yellow top to match his blonde locks. Because, you know, Sunshine. And where's Rob Phillips? Hold that thought.
Come Rain Or Come Sunshine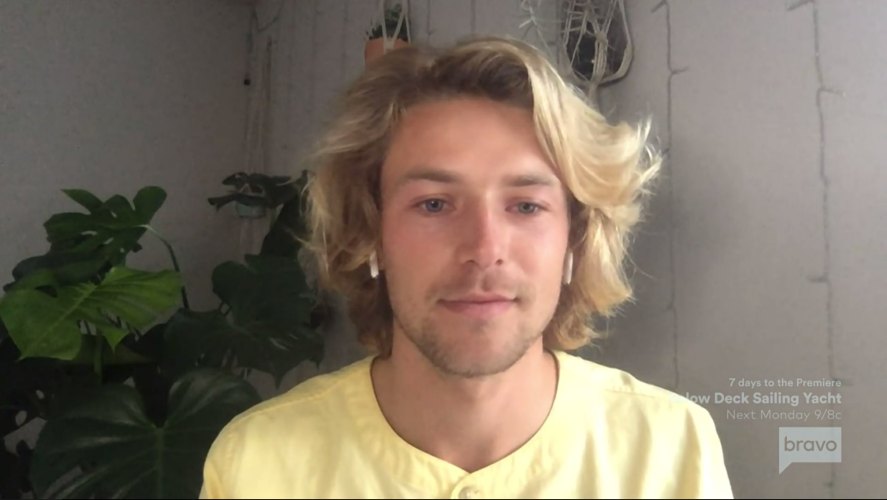 First in the hot seat is Shane, who was summarily fired partway through the season. The ultra-green deckhand insists he gave the job 100 percent of his effort, even if he was constantly failing to meet Eddie's basic expectations. He even took a maritime training class before joining the show, you guys! (Do they not go over closing the laz door at night in these classes? I wish that wasn't a serious question.) But Shane didn't come to the reunion just to get mocked and made fun of, OK? So if you don't stop teasing him, he's going to pull a Nene Leakes and log off.
Andy questions whether Eddie or James could've done more to help Shane. Just to give him some guidance so as to, you know, not fail so miserably all the time. But everyone pretty much agrees that the junior deckhand was a lost cause. And really, the entire reason he joined the show in the first place was to preach about the importance of sustainability and environmentalism in front of Bravo's cameras. He never really cared much about actually being a yachtie. And with that, Shane exits stage left. Though it was nice to see Sunshine and his beautiful hair one last time.
Chef Rachel, Redeemed?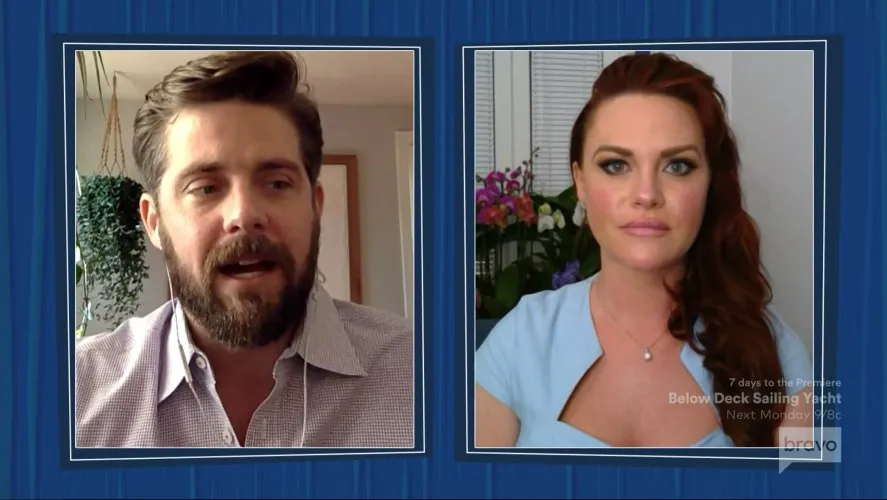 Next, Rachel has quite a bit to answer for. There was that controversial "eat my cooter" outburst. Also the time she quit and walked off the boat. Oh, and also her problematic drinking off charter. The chef claims she walked off the boat because she felt "set up for failure" by the guests' insane preference sheet demands. That mixed with concern over Italy going on lockdown simply pushed her over the edge. However, she immediately regretted it the next day. And spent the rest of the season trying to redeem herself in the eyes of Captain Lee. But did she rebound fully?
For Eddie, the answer to that seemed to be "absolutely not" for most of the season. However, Rachel and the bosun make up at the reunion and it all seems to be water under the bridge now. Rachel's also singing a wildly different tune these days about her drama with Francesca and the interior. Chess is fully on board with this revisionist history. She claims in retrospect that they worked well together! They did a good job, just watch the show! Speaking for literally anyone watching at home, Andy thinks he may have been watching a different show than whatever alternate reality these two are living in.
As for Rachel's drinking, the crew seems divided on why they never confronted her. Half were scared she'd fly off the handle. Not to mention possibly walk off the boat again. Others think it was just her way of blowing off steam between charters. And who are they to judge? However, Eddie admits he should've stepped up and called out Rachel's concerning drunken behavior. But ultimately, it was Captain Lee who got through to her by speaking about his late son's substance abuse issues.
The Epically Bad Boatmance of Elizabeth and James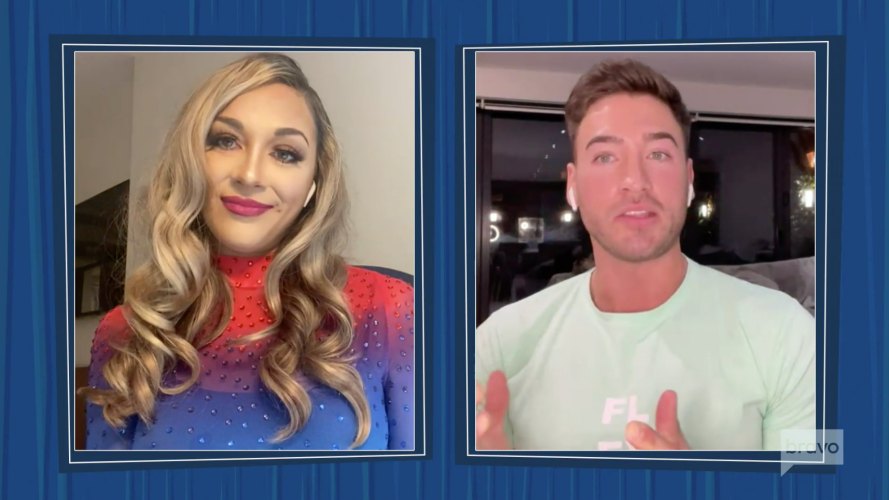 Does anybody really want to rehash the saga between Elizabeth and James? Not me, that's for sure. But this is what reunions are for, I suppose. Except Andy is more interested in how much James plucks his eyebrows. Rachel still clearly can't stand James. She even says he didn't have "virtuous intentions" when it came to Elizabeth and she was just an "activity" to him while on the boat. James, though, claims he never led Elizabeth on and they were on the same page about the reality of their fling.
As for sleeping in the guest cabin, James allegedly says he tried to warn Elizabeth. She claims he invited her. To James, it was a matter of risk vs. reward, and he definitely doesn't regret it. But Izzy pipes in to say that he just clearly was in DILLIGAF territory. Seems like charter guest Delores' attitude rubbed off on him! Elizabeth did feel hurt that James was so relieved when she got fired. It may not matter now, but there was just so much Elizabeth didn't see until the show actually aired. There was just a lack of compassion and empathy, but what do you expect from a certified f–kboy like James? Ultimately, there's nothing James would do differently, except maybe stop everyone from using the word "relationship" to describe their ill-fated boatmance.
An Ego Clash on Deck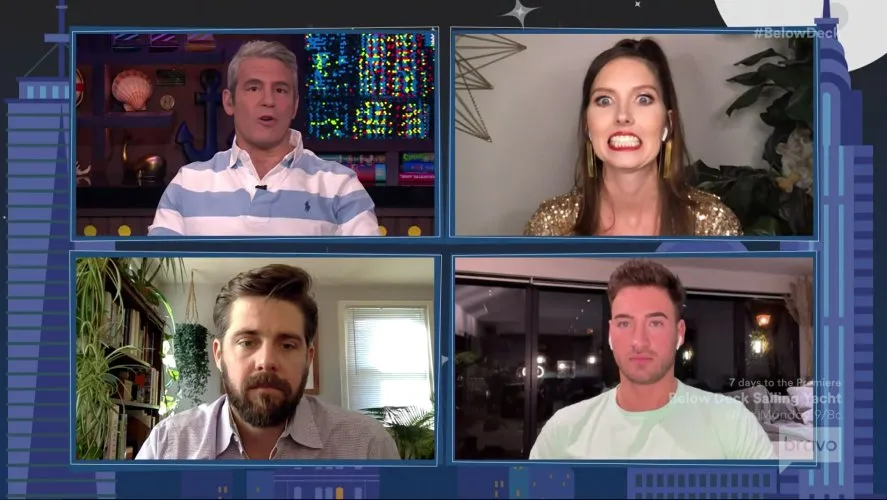 When it comes to the drama among the deck crew, all eyes are on Rob. But where is the passive-aggressive deckhand? Nowhere to be found, that's where. Turns out Rob is somewhere in Fiji digging for gold, and couldn't make it to the reunion. Izzy thinks this is a convenient excuse. Particularly considering that he managed to call in and film the After Show on more than one occasion. But now he doesn't want to confront the way he disrespected her as lead deckhand all season. (Side note: apparently, there really was a tropical storm in Fiji the day the reunion filmed. Rob posted about it on his Instagram.) But still, it's a missed opportunity for a much-needed confrontation.
Izzy also reveals she first applied for a spot on the interior because she didn't trust working with men following an assault on a previous boat. But thankfully, everything worked out in the end. Eddie also defends promoting Izzy over James and Rob because she put in more effort. She wanted the job more, according to the bosun. And let's face it, the two guys were much more focused on their budding bromance than taking on extra responsibility. James also pushes back on the assertion that he and his bestie gave Izzy a hard time. But Izzy shuts that down, because at the end of the day Rob's comments were absolutely rude and patronizing. Too bad he's not here to speak for himself.
A Mean Girls Interior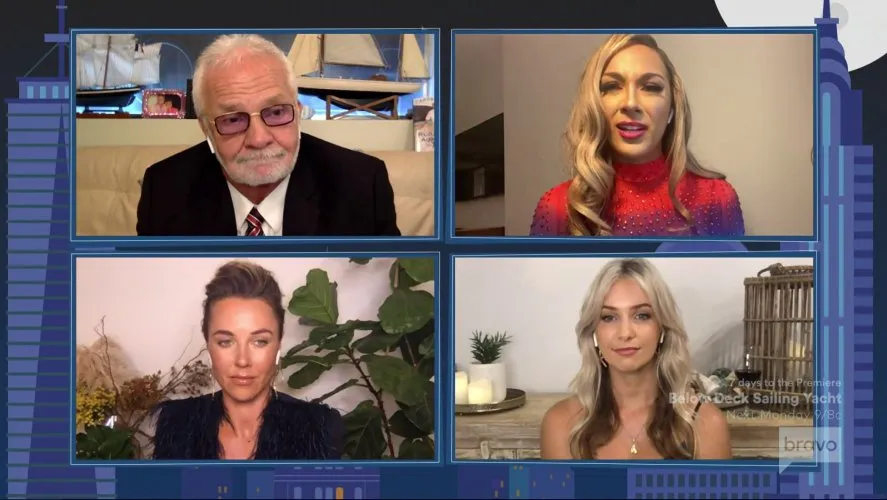 Next up is the season-long feud between Francesca and Elizabeth. With Ashling as the chief stew's loyal minion. Shockingly, Chess doesn't think she was all that hard on her nemesis. She wasn't mean, just directional. Ok, Chess, if by directional you mean condescending and rude, then sure. Ashling even goes as far as to say the interior worked well together as a team. It was just Elizabeth's lack of work ethic that got in the way. Elizabeth fires back that the two stews were simply bullies in the end. And points specifically to Ashling calling her a "lost cause" during WWHL. However, Ash stands by the comment and doubles down that Elizabeth just isn't cut out for the yachtie life.
Captain Lee jumps in at Andy's prodding, and sides with Francesca. Watching the season back, Elizabeth simply caused too many problems that he wasn't fully aware of at the time. (Mustard gas, anyone?) In Cap's eyes, Elizabeth probably doesn't enjoy being a stew, and should stick to something she's more passionate about. Might I suggest energy healing? However, Elizabeth gets the last word that, at the end of the day, she didn't feel supported in the workplace, and that's on Francesca for being a bad manager.
As the crew wraps things up, there's time for one more revelation from Andy. When Elizabeth got fired, Captain Lee actually had a familiar face ready to replace her for the last two charters. Josiah Carter, from Season 6, was all set and waiting at the airport when the season got abruptly canceled. So chalk Josiah's return up as one more thing the coronavirus ruined in the past year. Josiah for chief stew next season! Who's with me? And with that, we're closing the book on Season 7 of Below Deck. Stay tuned for the return of Below Deck Sailing Yacht next week!
TELL US – WHAT DID YOU THINK OF THE BELOW DECK REUNION? DO YOU THINK ROB WAS AFRAID TO CONFRONT IZZY? WERE FRANCESCA AND ASHLING BULLIES? ARE YOU DISAPPOINTED WE DIDN'T GET TO SEE JOSIAH?
[Photo Credit: Bravo]