Whew! The Real Housewives of New Jersey wasted little time erupting into chaos on the season premiere. Teresa Giudice went straight for the jugular. She really got the ultimate revenge on Jackie Goldschneider by telling everyone within earshot that her husband Evan Goldschneider was cheating. If you're going to throw out a shot like that, you better be able to back it up. Unfortunately, she wasn't able to do that.
However, Jackie fired back at Tre in the lowest of ways possible. Using her daughter Gia Giudice as an analogy was the worst possible thing she could've done. Sure, she wasn't saying it as fact. Once something like that is out there though, it can stick with them. Implying in any way that Gia uses cocaine at parties is unacceptable and damaging. It would be shocking beyond belief if these two are able to move forward following this.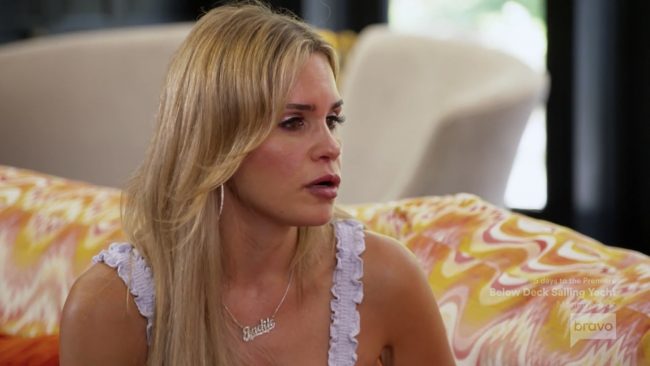 How could Jackie have possibly believed Teresa would grasp an analogy? Teresa's never been known for her strong comprehension skills. Then to add in her daughter to it, there was about a zero percent chance it was going to land.
Margaret Josephs is entirely shook that Jackie would use Gia as an analogy. It makes sense that it was an analogy, but it was the worst example to use. Read the room Jackie. You broke every rule in the book when coming at Teresa. You brought up her daughter. There was never going to go over well with her.
I don't want to say that Teresa opened up the door to this, but she really did. Obviously Jackie shouldn't have said what she said, but why was Teresa so bent on trashing Evan's character?
Teresa calls Melissa Gorga to tell her how it went with Jackie, and she's beyond pissed. Teresa says hopefully after she tells Melissa about it, they won't be friends anymore. That's putting Melissa in a tight spot, but also when has Melissa ever had Teresa's back? These women will never be as tight as they want us to believe they are. We see through the bulls**t.
Melissa is jarred hearing what Teresa's telling her about Gia, and she's half correct. Melissa saying she wasn't there to hear how Jackie said it totally set's Teresa off. She wants to "slice and dice" Jackie with her tongue. Given Teresa's explosive temper and history, I wouldn't question that one bit. If Jackie attends this trip, Teresa's going to make her life a living hell.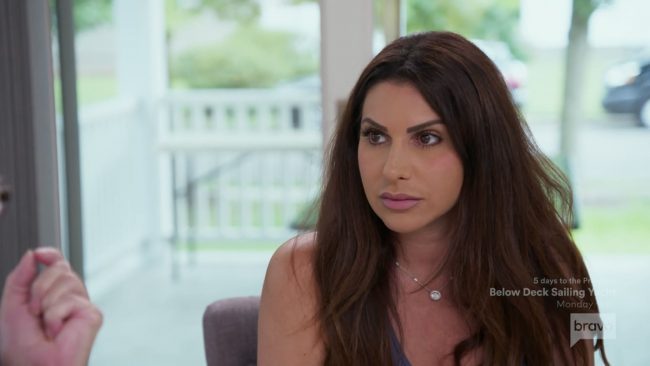 Jennifer Aydin stops by her mother's house for a visit. Things are tense lately because of the friction between her mother and father. Jennifer wants to mend this, but there's a growing disconnect between everyone. This isn't going to be an easy task by any stretch of the imagination.
Her brother named his new child after their father, but her mother won't acknowledge it. She won't say the correct name at all. She breaks down into tears talking about what her dad says behind closed doors. Clearly this pain runs deep. In her mind, her dad is turning their children against them.
Is he really doing that? Jennifer is literally at her mother's house visiting her right now. All of the children appear to be in contact with their mother, so that doesn't make sense. Obviously this isn't a happy marriage, and it's never going to work. In their culture though, divorce isn't an option. It pains my heart to think they're trapped in an unhappy marriage forever.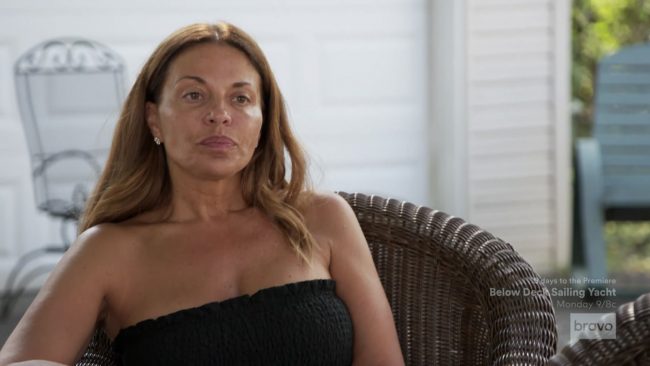 Dolores Catania spends some quality time with her mother which is always lovely to see. Before the pandemic her mother always had kids running around the house. The virus has destroyed her quality time with her grandchildren. It's horrible to hear how this has kept families apart. Things haven't been the same in quite a long time now.
Her mother asks about her relationship with David Principe, and things aren't going well. He never wants to talk about his relationship with Dolores. He treats her like a total afterthought. It's a waste of her time.
Her mother understands however why David was upset about Dolores hiding her plastic surgery. Dolores' reasoning makes sense because she doesn't owe anyone an explanation that she doesn't have a commitment from. That's fair. If he wants to play shy boy about their love life, she doesn't owe him a damn thing.
Dolores says she enjoys the time she spends with him and that she loves her space she gets as well. Obviously there are parts of the relationship that work for her. It's different though as a viewer and only seeing a peek into their world. With the little we get to view about them, there's not a lot of reasons to stay. It's well past its expiration date.
Everyone's packing for the Lake George trip which is still happening. How is this trip able to come together if both Teresa and Jackie end up attending? Someone needs to skip out on it. It's way too early for these women to find themselves in the same room.
Melissa understands that it was an analogy, but she says it wasn't the way to do it. Using Gia as the example was the biggest mistake she could've made. It totally missed the mark because it became about a new issue entirely.
Jackie should've stayed above the fray and kept coming at Teresa the way she was at first. Stooping to the level she did made her just as guilty. You don't set someone's house on fire because they shot out your front window. Point blank period.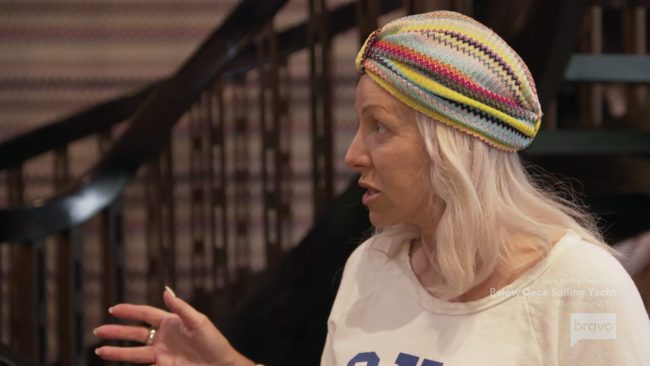 Margaret thinks about cancelling the trip, but with Jackie skipping out, it's still on. This is for the best. These are all grown ass women, so there's no reason to ruin the trip because of this rift. If someone wants to sit this one out, let's just let it happen.
For once Margaret's house is finally looking like a real home. These renovations may have taken her entire time on the show, but FINALLY there's progress. I never thought we'd see the day.
Melissa doesn't pay any attention to Jennifer when she enters the home. No surprise there after Jennifer told her at the reunion that she's self absorbed. She's spot on correct about that, but Melissa is unaware of her own self obsession.
I can't help but fall over out of my chair when Jennifer says Melissa would've greeted her if it was a mirror. I have to say that I couldn't believe my eyes the time Melissa had a birthday party with herself as the theme. There's narcissism, and then there's whatever the hell that is. Freud would have a field day with that ex-stripper small business owner.
Margaret tells the women that Jackie isn't coming on the trip. They're all a little shocked that despite the big fight Jackie isn't coming. Dolores knows it was a smart move for Jackie to opt out because Teresa isn't in a good place. The moment Jackie brought up Gia, she signed up to be annihilated.
Margaret tries to get the analogy part of it through Teresa's head, but there's no use. She's never going to get it. She doesn't even want to get it. She's correct though because if Teresa didn't create an issue with Evan, this never would have been said in the first place. They're all wrong in this. Nobody is an innocent fawn in the woods.
Teresa continues to say she heard the rumor about Evan from someone else. Let's be clear. This originated with Teresa. Everyone and their great grandmother knows it. Teresa will never be able to materialize any proof about this rumor because it doesn't exist.
This was all from a place of revenge because of Jackie challenging Teresa in the past. That's it. Once you cross Teresa, you make yourself her number one target. She believes this is the Teresa show and thinks she's untouchable. In her defense they did literally stop production of the series while she was in prison, so there's a ring of truth to that. BUT STILL.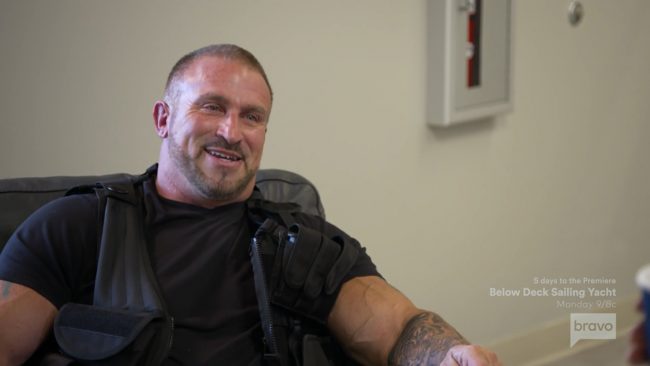 Frank Catania goes shooting with David which shows how unconventional this family is. I've never witnessed an ex-husband so entangled in his ex's inner circle like this. Whatever works for them though.
After Frank was injured on the job, he moved in with David who took care of him. Not many people would be willing to do that. My respect level for David just increased by a million percent. That doesn't make him a better boyfriend though. He still isn't putting in the work with Dolores. He's doing the bare minimum to get by.
After their shooting time, Frank says he was on David's side about Dolores withholding the surgery from him. The problem is neither Dolores or David are capable of having the difficult conversations about their relationship. David defends not proposing marriage to Dolores, but Frank isn't having it.
Frank too finds David to be a mediocre boyfriend with commitment issues. imagine your girlfriend's ex hubby reading you for filth like that? OUCH!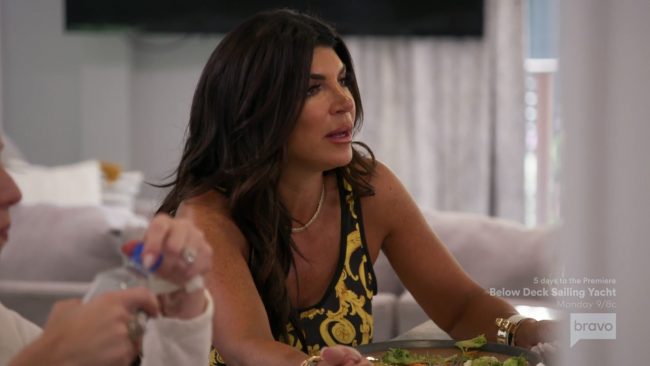 Jennifer shades Melissa when they get to the house when she starts searching for the best room. "THE ONE WITH THE BEST MIRROR" is a line that speaks volumes about Melissa. She's gotten more vain the longer she's been on the show. All of that being said, I don't think any of the rooms are bad. The house is GORGEOUS.
I used to travel to Lake George every summer with my family, so I know how incredible it is. It was one of the highlights of my childhood, and I'd love to go back. For now, I'll have to live vicariously through the Jersey women.
Teresa brings up how Jackie talked about her being seen with a man last season. There were photographs to back up that rumor though. It's not the same thing. What it does though is show how it was only about revenge. She made a calculated effort to attempt to rip apart her life.
They're two seconds into the trip, and Teresa's already losing her s**t about Jackie. I don't know why they're wasting their time trying to explain what an analogy is to her. It's never going to penetrate through her skull. Give it up.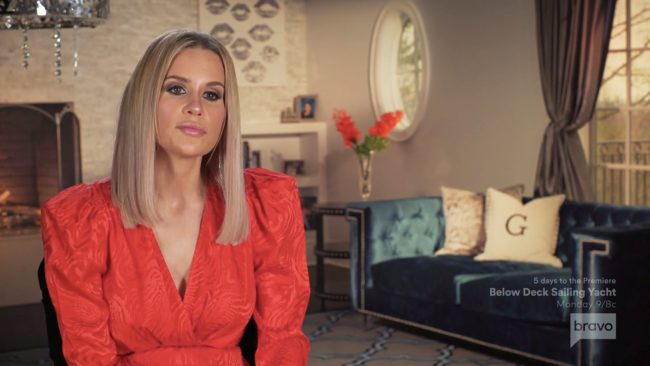 Back in Jersey, Jackie's at home cutting her children's hair. That's not exactly a beautiful house on the lake with your friends, but it's something. This is what she needs right now though. With these rumors circling now about her family, quality times matter now more than ever.
Jackie's trying to put on a brave face for her children, but things aren't good with Evan. Teresa's put in motion something that is now causing a downward spiral in her marriage. This is exactly what Teresa wanted. She wanted to throw a wrench into Jackie's life.
I would prefer for Jackie to take some ownership in how poor her analogy was. There wasn't a need to use Gia to make that example. Not at all. However, Teresa now acting like the victim of all of this is a total crock.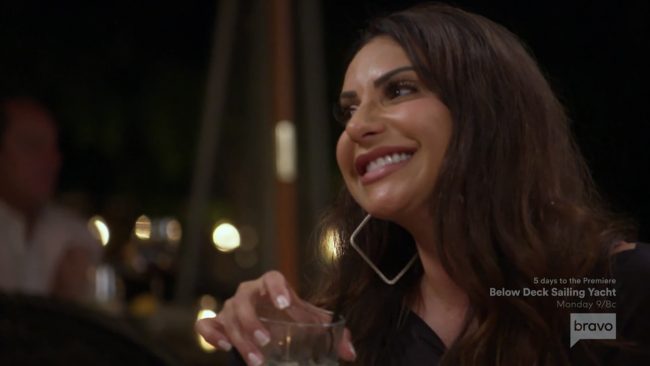 Melissa still cannot believe Jackie's not there. You better believe it because it's YOUR sister-in-law who put these wheels in motion. Teresa doesn't get logic though, so all of this talk is a waste of time.
The ladies are starting out their first night with tequila. Jennifer has to be in heaven with this. Melissa might want to watch herself because Jennifer with tequila in her is an entirely different animal. Watch out!
At dinner Jackie texted the group (sans Teresa) which leads to a revelation that GIA told TERESA to apologize. I wasn't expecting that. Let's see if she actually follows through with that because saying sorry is hard for her.
Finding out that Joe Giudice is selling sex toys was not how I wanted to end this episode. IT IS SO WEIRD HE SENT ONE TO TERESA. That's your ex husband. Ex for a reason. I wish him success in his new business though! Make that coin.
Margaret points out that Jennifer & Melissa are getting along on the trip. Melissa makes a joke about being self absorbed, but Jennifer doesn't want a problem. Don't go looking for a fight if there isn't one. Jennifer wants to start fresh and continue this season in a more positive direction.
Teresa cannot help but stay fixated on Jackie. She says she doesn't want to talk about it anymore, but she brings everything back to that. Get on a new topic. You're sounding like a crazy broken record.
TELL US – TEAM JACKIE OR TEAM TERESA? WAS JACKIE WRONG FOR USING GIA AS AN ANALOGY? ARE YOU ENJOYING THIS SEASON OF THE REAL HOUSEWIVES OF NEW JERSEY?
[Photo Credit: Bravo]