This is it folks! The last regular episode of The Real Housewives of Atlanta has arrived. The season started out rockier than ever, but things have picked up in a big way lately. Somebody pray for LaToya Ali because according to Drew Sidora, she has committed the ultimate sin. She's openly accusing her of sleeping with Prophet Lott. Why is whatever relationship they may or may not have any of her business? Make it make sense.
If LaToya really is dipping into the pond of divinity like Drew claims, so what? Why is she being extra extra and cancelling her baby's blessing ceremony? She's doing the most, and it screams desperate and thirsty. LaToya isn't anyone's favorite cup of tea, but come on now. What she chooses to do and whom she chooses to do it with isn't any of her business. Drew didn't like Kenya Moore investigating StripperGate, so why is she doing this? Hmm.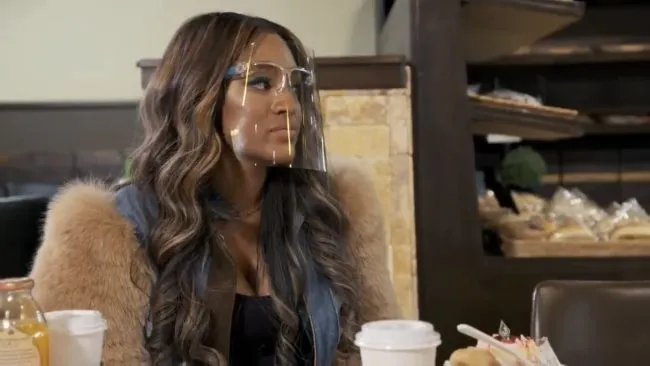 This season has been going on for so long, I literally forgot Mike Hill and Cynthia Bailey got married. It was cute and all but I'm kind of over it. It's also the perfect way to write Cynthia off the show and send her off into the sunset. Sorry!
Kandi Burruss getting her own day in her honor is next level boss type stuff. she is probably the smartest business woman in all of the housewives cities. Kandi is who Bethenny Frankel thinks she is. She has her hand in so many different pots and is bringing in so much income from so many different streams. It's inspiring to witness.
The only thing she needs to learn how to do better is balance her work life with her family. A lot of times her success in business comes at the cost of being away from her family, and that is difficult. being a working mom and a boss ass bitch is no joke. Not everyone can do it.

Cynthia and Mike are going to be spending their life as a married couple in Atlanta, which means she might stay on the show longer. I thought she was going to head off to California, but clearly that's not the case. There's nothing inherently wrong with Cynthia, but I feel like her time on the show has come and gone. What does she really offer us at this point? The versatile hair looks? Stop it now. Give us a peach who really works for it.
Porsha Williams' activism continues to be one of the better parts of the show, but it really is disappointing that lately it's been tainted by negative reports. I wish the focus could be on the good that she's doing in the world and not the petty drama between costars. The movement is what really matters, and I would hate to see them make a mockery out of something so important and critical to the future of our country.
I'm aware that Ralph Pittman is going through a weird complex/crisis because of the passing of his own father, but that doesn't mean that Josiah suddenly has to connect with his biological father. We're talking about a man that's never really paid any interest in being anything other than a glorified sperm donor. Why would she think that that's going to change now?
It's so uncomfortable because time keeps going on and on and he's not showing up. There waiting an enormous amount of time for a man that's likely not even gonna show. Ultimately he does show up, but still.  He doesn't want to hang out with this man. He doesn't want to break bread with a man that's basically abandoned him. Garbage.
I've been on the end of this situation that Josiah is on, and it's the worst. Having people tell you that you are supposed to have a connection with someone who's never made an effort to form one with you is asinine. In no way shape or form should this child be obligated to humor this random out of the blue contact from his biological father.
He has zero interest in even speaking to this man. She sitting there so unbothered about the idea that he's there trying to communicate with him. This is way too much for a nine year old to have to take on. Drew is doing the most here. The second half of the season has really made me stop and think about it since she is as a person.
When Josiah steps away, Drew asks what the plan is here in terms of being in his life. She wants them to be able to build a positive relationship, but I'm not sure I see it happening. Josiah agrees to see him again in the future, but with anything will really come of it? I find that difficult to believe.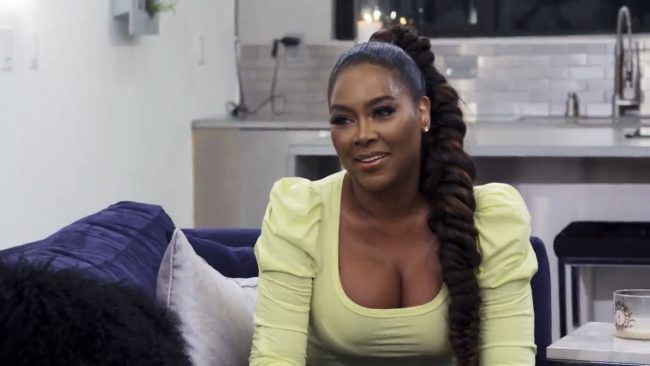 Kenya's therapist stops by for a visit to check in on how things have been. Obviously things have been confusing in Kenya's personal life because of Marc Daly's recent visit. for some reason she won't cut the cord and divorce this man. Why?? What do you have to gain by remaining in a marriage with someone who doesn't even love you? 
When Marc visits, he stays with Kenya. That's a bit odd. The state of the relationship is why it's so weird. He is like a petulant child. I guess she probably wants to work things out for her daughter's sake, but it's so toxic.
Marc is a power player, and he tries to play chess with his own wife. He has only his self interest in mind. That's all he cares about. It's all about what's the best move for Marc moving forward. He doesn't even stop to think about his own family.
During the therapist appointment, Kenya tries to call him, but her number is blocked! This man actually blocked the phone number for the mother of his child. What if there was an emergency with her daughter? What if she was so sick and Kenya needed to get a hold of him? Marc is a joke. This man has no business being anywhere near this child.

Once Kenya turned away Marc's sexual advances, he blocked her number. That speaks volumes about who he is as a man. Can you even call him a man? I don't think you can.
Kenya calls an alternate number, but again it goes straight to voicemail. However, this time she sends a text and it's delivered. Marc replies and it turns out that he's allegedly at the hospital with a friend who was in an accident. I hate to be the person that doubts that kind of story, but that makes no sense. She even called him out for lying considering people in New York couldn't have visitors at the hospital. Why is he so sketchy?
She's going to do whatever she needs to do to protect her family, and good for her. She's doing whatever it takes to make sure her daughter is the priority in all of this. Unlike Marc, she actually cares. Kenya is ready to refocus and move forward toward a brighter future, and I couldn't be happier for her.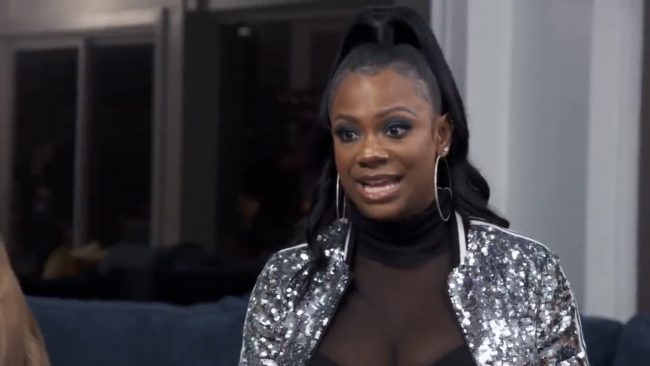 One thing I will say is that I'm so envious of Lake Bailey. It's always gorgeous looking! Cynthia lives a life that so many people dream of having. Now that being said, it's time for her to exit stage left and leave the show.
Latoya texts Cynthia to let her know she's not coming to the party because she doesn't want the drama. We can all thank drew for that one. I get where Latoya is coming from, but it's your job to show up and face the drama. Everyone that joins housewives at this point in time knows what comes with the territory. It's not a shock that there might be drama between the women. Get over it!
One of my favorite things on planet earth are llamas. I have llama everything. On any given day you can catch me in one of my many many llama T-shirts. I have a llama calendar. I have llama mugs. Llamas are my s**t. So whoever arranged for the llamas to show up to Cynthia's Christmas party, I owe you an eternal debt of gratitude because I'm so happy right now.
Kandi shows up, and is genuinely shocked that there are llamas in the driveway. Me too babe, me too. I feel really bad for Cynthia though because she went all out, and so many didn't show up. Not only that, but Drew and Porsha are going to be significantly late. It's rude. There's no excuse for that kind of behavior. 
Even though Marlo Hampton couldn't make it, she still managed to make sure her gift arrived. That's a lot better than just no showing the event. I hope Latoya changes her mind and makes an appearance. Not showing up, in my opinion makes you look like you have something to hide. she might as well confess to sleeping with the prophet if she's gonna no-show this event.
Porsha and Drew FINALLY ARRIVE, and they don't even really acknowledge how rude it is. 3 1/2 hours late is unacceptable by any means. Porsha ends up uncovering the secret Santa gift that was purchased by Cynthia.
Cynthia really really wants to claim this gift for herself. Luckily for her, she might actually get a shot at it. Porsha hates it. she claims that she doesn't wear necklaces, but the shady editors clearly show her wearing them in many confessional's and scenes.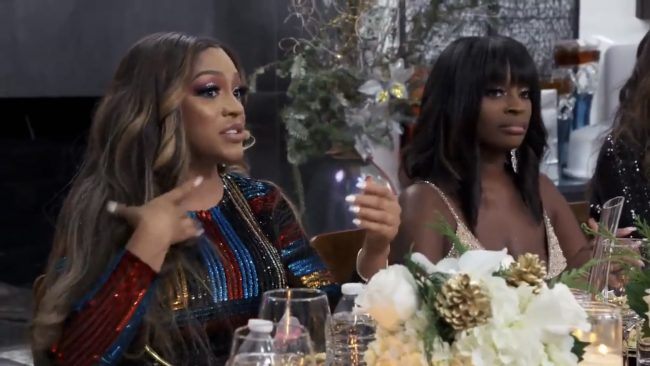 Kenya has to select the final gift, and it's the one brought by Drew. These two have not seen Eye to Eye one bit all season, so this should be good. This is either going to make or break this friendship moving forward.
Immediately the gift makes no sense. There is a cat carrier and a wig. A very cheap looking poor person's wig at that. WAIT A MINUTE. Is this the wig? This has a striking resemblance to the wig that everyone seem to have an issue with at the beginning of the season. Oh my god this is about to be epic.
The next gift that Kenya opens from Drew is a tape recording. OK something shady is definitely going down here. Drew has become quite the mess box as the season's progressed. I am so beyond here for it right now.
This is appalling though. As iconic as the shade and all of this is, so many of the women spent a lot of money on their gifts. for Drew to make a mockery of this is juvenile and it's a great way to get her ass beat by someone. She better hope this is worth it. Whatever's on that tape recording better be as juicy as she clearly thinks it is.
Let's just say that the recording did not prove anything. Not one single word coming out of Drew's mouth was validated by this outdated tape recording. It made her look petty, vindictive, and parched for drama. Girl, bye.
Kandi immediately takes offense to the recording because it's vile to her. At the best possible timing, Latoya walks in. Oh goody. She and Drew dive right into a full-blown argument over this that devolves into quite a slew of insults.
Drew said that Latoya was looking for some prophet dick which is wild. I couldn't imagine trying to help somebody spiritually, and then doing something like this against them. Drew is wrong for this dead wrong.
Why does it even matter if they were having any type of a relationship together? Find someone else to do this damn baby blessing, and move the f**k on. It's really that simple.
Latoya start saying that Drew's husband was in Florida banging women. Harsh, but honestly probably accurate. He's been vague about what he did in Tampa for so long, but it's obvious something went down. Hopefully we get some clarity about what he was doing in Florida at the reunion. Maybe Andy Cohen will be able to crack him.
Kandi's not playing around with Drew here. She tells her that if the prophet wanted to date Latoya that's his business. She is 100% correct in that assertion. Drew is far too pressed about this situation for no good reason. I think she thought she was creating a monumental moment here, but she looks nuts.
There's more back-and-forth between Latoya and Drew about the profit, and things escalate to a higher level. Latoya takes the ugly Chia pet looking wig and tosses it at Drew's face. I don't want to say I was cheering in that moment because I don't condone violence, but clap clap clap.
Drew has to be held back from attacking LaToya, and poor Cynthia is always in the middle. She steady phones herself in the middle of any kind of physical confrontation that goes down in this group. These women are destroying Cynthia's house? Cynthia wants Drew out of her house, and I can't blame her.
Kenya tries to physically remove Latoya and put her in the car but they are stopped by Carolers. It's hard to take the drama seriously when random people start breaking out in jingle bells. 'Tia the season for chaos at Lake Bailey.
TELL US – TEAM DREW OR TEAM LATOYA? WAS DREW WRONG FOR HER GAG GIFT? WHAT DO YOU THINK OF PORSHA'S EXCESSIVE TARDINESS? 
[Photo Credit: Bravo]