Are you ready for the Erika Jayne drama to FINALLY play out on camera? The Real Housewives of Beverly Hills are back, and things are getting spicy in the 90210. Fans were clamoring for Erika to be axed after last season. Thank goodness she's still on the show. If she was fired, this insane drama wouldn't be playing out this season for us. Nobody knows the full scope of what's real and what's not, but it's going to be a fascinating journey.
It'll also be interesting to see how Garcelle Beauvais' relationships with the other women develop. She left things last season in a not so good place with Kyle Richards and longtime friend Lisa Rinna. The wounds are still semi fresh. We'll see! Anything's possible. Most importantly Crystal Minkoff & Kathy Hilton are new faces on the scene. They better bring it. Period.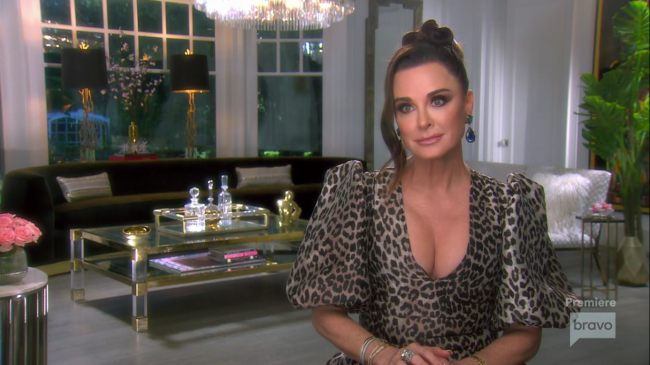 The entire opening montage regarding Erika and everything with Tom Girardi is bone chilling. I am SO invested in this ongoing saga. There are so many unanswered questions. Hopefully we get some answers the longer the season plays out.
Things immediately kick off this season with Lisa visiting Kyle at home. We love to see the two longest running cast members together in the first scene. More of THIS.
While filming the movie Halloween, Kyle's nose was damaged. Since she was already going under the knife, she decided to make it cuter. I am living for her new nose. Giving me all of that nasal life tonight!
Erika & Dorit Kemsley go for a car ride to talk about their pandemic experiences. Erika says she and Tom have taken the time during all of this to reconnect. Honey, no. WELP. We know where all of this is going to end up.
It sucks that Erika's Broadway dreams were cut short because of the pandemic. This was something she wanted her entire life. This was her moment. However, the virus had other plans, and she wasn't able to finish out her gig.
Lisa hasn't spoken to anyone, so she's excited to see Erika & Dorit. We love the Fox Force Four being together at the beginning of the season. Everyone who hates the "mean girls" is going to be seething when they see this. HA!
Kyle wants to reach out to Garcelle, but she's surprised Garcelle unfollowed her. Accusing her of shortchanging a charity auction is definitely going to lead to that. Rinna however plans on having dinner with her, so that'll be interesting. There is a lot to dissect that after everything that went down with Denise Richards.
Garcelle & Sutton Stracke are living their best lives drinking fireball in the living room. They honestly seem like quite a bit of fun together. Garcelle loves hanging out with Sutton even if she is an oddball. This duo might be my new favorite on Bravo.
Sadly, Sutton hasn't heard back from Denise. I never thought Sutton did anything wrong to her, so that's a shame to hear. Sutton also tries her best to convince Garcelle to come together with Lisa. They have such a long history together. There's no reason to throw that all away.
Dorit invites all the women for cocktails at her house. This will be the first time the entire group is together in a long time. There's so much unresolved tension between most of the group.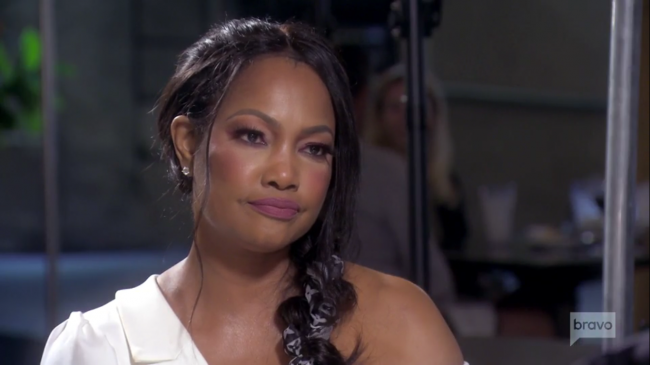 It's so weird seeing Dorit (who is typically in glam) walking around in pajamas. The children are doing great in their school from home. She has a private tutor to teach them throughout the pandemic which is so on brand for her.
SUTTON STOLE KYLE'S GODDAMN HOUSE. Just kidding! She's renting from Kyle while her current house gets a facelift. Even the homes in Beverly Hills get some plastic surgery apparently.
It's nice of Kyle to knock a few thousand of the rental price for Sutton. However, it must be so weird for her. I couldn't imagine walking into my own home with someone else crashing there.
Garcelle wants to resolves things with Lisa, but she wants to understand what she did. Right now Garcelle doesn't like Rinna AT ALL. She has no time for her. Even though they have a long history, things are toxic between them. Let's hope we can get some resolve with this meeting.
Lisa tells Garcelle she's always cared about her, and she apologizes for hurting her. It's nice of Lisa to own it right away, but Garcelle's going to want more. She even claims she wishes she could've been like Garcelle and had Denise's back a bit more. This is somewhat shocking coming from her.
Garcelle asks Lisa why she couldn't just be there for Denise. Even though Denise was seemingly dishonest, Garcelle wants Rinna to be a decent friend. Even though Lisa claims it's not about Brandi Glanville, it sure seemed that way. I agree with Rinna on this one. It was more about how Denise had a history of damage control
Lisa says she was friends with Garcelle longer than Denise, so she wouldn't do the same to her. It's wild to type, but Lisa says she was wildly protective of Denise. Where was that? Did I miss that? Stop. GASLIGHTING.
Lisa refers to herself as a c**t, and Garcelle doesn't disagree. Let's see if these two can ACTUALLY move forward after this conversation. So many long term friendships have been destroyed on this show in recent years. Let's break the cycle with these two.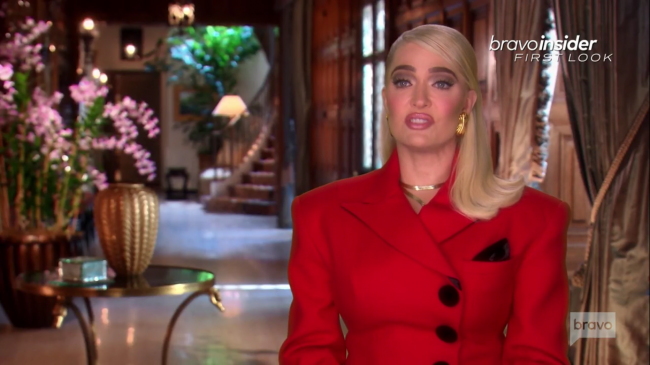 Erika discusses having the blues while stuck at home during the pandemic. She's running out of things to do at home. There's only so much she can clean and organize things.
Erika thinks the quarantine taught her that things can change at any given moment. She lost her Broadway job because of COVID. This has been her worst nightmare.
Dorit pays Garcelle a visit, and both of these women slay the fashion game. I'm not going to lie, Garcelle naming her goldfish after Kyle is the ultimate shade triumph. I fully expect Kyle to turn this into a storyline that drags out all season. That's sort of her thing.
Crystal is a friend of Kathy, so the newbies already have a preexisting bond. I'm glad Crystal isn't coming in totally blind. It's great to have a strong and powerful woman like Kathy on her side already. That'll go a long way in helping.
Kyle tells Rinna she plans on having dinner with Garcelle soon, but Rinna's already done it. Garcelle explains to Dorit that she doesn't know if she can trust her. Dorit knows this all too well because they had their hiccup in the past as well. However, since then Dorit & Rinna have never had an issue since then.
Garcelle asks Dorit if she trusts Lisa, and she insists she does. There was a slight hesitation with her answer though. You can forgive, but you never forget. Dorit knows how Lisa can be, so she has a watchful eye on her at all times. You have to be prepared to be bitten in a group of sharks like this.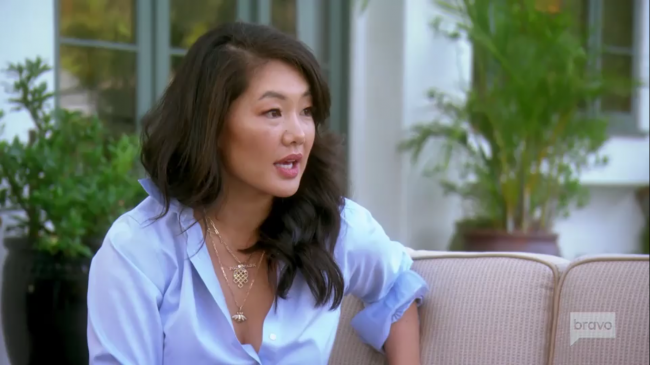 Crystal's never met Kyle or Lisa, so it must be weird as hell to have them in her home. If she's uncomfortable in any capacity, she's surely not showing it. HER HUSBAND ROB MINKOFF DIRECTED THE F**KING LION KING, SO I MIGHT WORSHIP THIS FAMILY.
Name drop all day honey. Hakuna Matuna is THAT song. It will forever be the biggest banger of all time. I said what I said. Argue with a wall.
Crystal tells Lisa & Kyle about how she went out of her way to plan having a boy. It was much simpler for Lisa. She had sex and got pregnant, and voila a baby popped out. Just like that!
On the surface, Crystal has a similar personality to Kyle. They should get along right out of the gate. I don't think Crystal is going to be the type to hold her tongue either. She is going to call people out like she sees fit, and that's so welcomed in this group. Let's end the last three seasons of fraudulent s**t.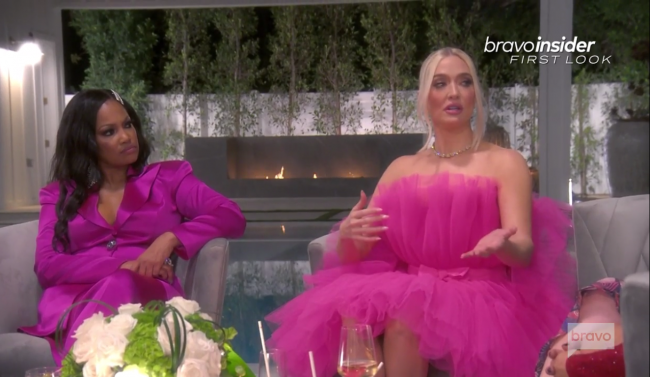 Erika walking around completely dolled up and sporting expensive jewelry is cringe. We all know how it's going to end up with her, so seeing it flaunted like this makes me sick. I can't.
Crystal instantly feels under dressed when she arrives to Dorit's BBQ. She makes a dig about older friends dressing way too young, and it's totally directed at this group. She's going to LOVE Sutton. Sutton routinely dresses like a confused child. There's zero chance of the two of them vibing on ANY level.
Crystal says if you don't know someone in Beverly Hills, they probably aren't worth knowing. When asked if she knows Dorit, she says "no", but in such a dismissive manner. Crystal is coming for the Connecticut Queen right out of the gate.
Lisa tells the group she feels really great and invites them all to Lake Tahoe. We love a cast trip right out of the gate. This is how you do it. Those peaches could learn from this. Period.
Garcelle's open to figuring out the future with Lisa, but Lisa thinks they're good to go. There's already a miscommunication between these two. Garcelle needs to lay it out on the table now, so Lisa isn't walking around thinking they're besties.
Kathy calling Dorit "DOOR IT" is just not okay. I'm on the floor trying to gather myself after hearing that. There's no way she doesn't know her name, right?
Sutton says in the beginning of the pandemic, she didn't want to leave her bed. I think that's the same with a lot of people. It was tough to find motivation to look forward to anything. The entire world came to an abrupt halt.
It was Erika who seems to have gone through the darkest time during the last year. There was an eerie silence that she dreaded from a lack of work. She ended up going on an antidepressant because of how things took a turn. RELATABLE.
Erika says there's so much the women don't know about what she's going through. Her friends truly don't know what she deals with every night. I'd like to get more answers about the ins and outs of her life as the season goes on.
TELL US – CAN GARCELLE TRUST LISA? WHAT DO YOU THINK OF CRYSTAL & KATHY? DID YOU ENJOY THE SEASON PREMIERE OF THE REAL HOUSEWIVES OF BEVERLY HILLS?
[Photo Credit: John Tsiavis/Bravo]