BAYBAY! The Real Housewives Of Potomac are FINALLY back on our screens. We truly don't deserve this group of dynamic women, but somehow we remain eternally blessed. Last season got dark and heavy following the physical altercation between Candiace Dillard Bassett & Monique Samuels. However, the latter won't be returning this season, so perhaps it will be a much lighter vibe. Although they do NOT play in the P.
Besides Mo, all of the previous cast members are returning for another season of fun and drama. Longtime frenemies Karen Huger & Gizelle Bryant are likely going to be at each other's throats again. Undoubtedly there will be drama with Ashley Darby & her controversial Aussie husband Michael Darby. Robyn Dixon is there too! Mia Thornton is making her debut. She better be fabulous. Sadly for Gizelle, Wendy Osefo is also back and NOT here for her games.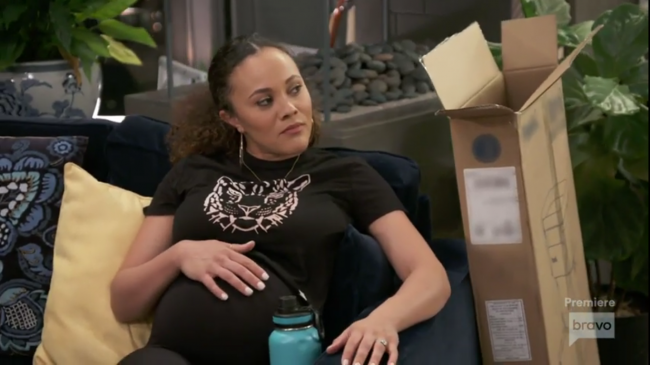 The women kick of the new season talking about how toxic last season was. After the fight, everything changed. It altered so many friendships possibly beyond repair. I have CHILLS. The show some of the fights that are coming later this season, and it's GOODT. We are in for a treat.
Wendy sends the ladies an invite to the "Nude Interlude". It is STEAMING HOT. Wendy's glow up for her second season is real. She's here to serve everyone "rich Auntie" vibes. Give us more professor!
Candiace has a new house y'all! No more living under the thumb of Dorothy Dillard! Let her live. She's an adult. She is securing the bag without ANYONE'S assistance.
Ashley's only ten days away from the birth of her second child! She never knew what fatherhood looked like, but somehow Michael is showing her. He's excelling as a parent. It's nice that he can be good at something. He's the worst husband on the planet and overall creepy, so kudos to being a decent dad.
Ashley's trying to look pretty for Michael. However, the vibe between them remains incredibly awkward. It's recommended for them to have sex to speed up the birth, but she's not into it. It's been nearly four months since they enjoyed coital relations.
Does Ashley know who her husband is? How is this man not out there shaking his sausage all around the streets of Potomac? Ashley, girl. How naive are you? Stop this blind trust of your husband. We're talking about MICHAEL.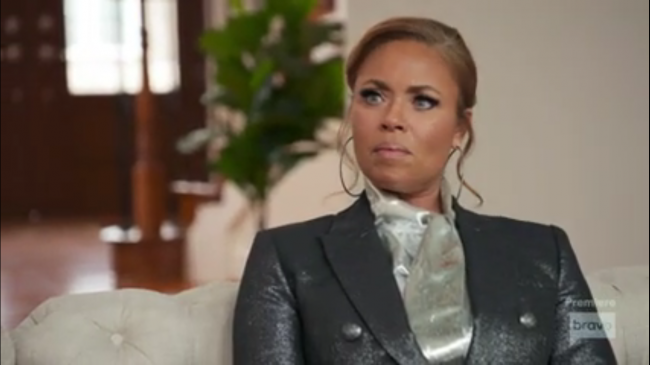 Gizelle stops by Candiace's new pad and meets her bonus daughter. How great is it to see the children visiting? Thanks to the pandemic, she and Chris Bassett have the kids for like a month. I love seeing this side of Candiace. She thrives on the drama, but now we can start to see additional layers to her.
Gizelle's the first guest in the new home, and she loves that she's out from Dorothy's rule. Candiace needs to brace for everyone to comment on it. It's inevitable. It's bizarre that her mom has her own room though with a life sized cutout of herself. Someone smack that piece of cardboard with a purse and knock it over.
Can I also comment on Gizelle's fashion game seemingly being stepped up this season? All of the negative feedback about her clothing last season must have gotten to her. She's sort of serving so far in the few scenes we've seen her in. Keep it up.
Candiace asks Gizelle about her relationship with Jamal Bryant. Things are NOT good between them. That's shocking to NOBODY. Word on the street is that pastor holy whore might be embarrassed after Monique's epic read at the reunion last year. Speak on THAT.
Gizelle claims the pandemic put a large strain on their rekindled relationship. Candiace is visibly confused because obviously the pandemic isn't going to last forever. Why is Gizelle already throwing in the towel? It's probably because it's the biggest sham of a relationship in the history of fraudulent BS.
Candiace wonders if the public embarrassment is why she's calling it quits. She says it was hard to watch that happen and Gizelle be blindsided like that. It was one of the most epic reunion moments of all time.
Candiace loves Karen still, but she's not recovered from the betrayal from last season. I want these two to get back on the same back ASAP. They had such a close bond, and the s**t with Monique shouldn't shatter it forever. With Mo out of the picture, it's time for healing to get done.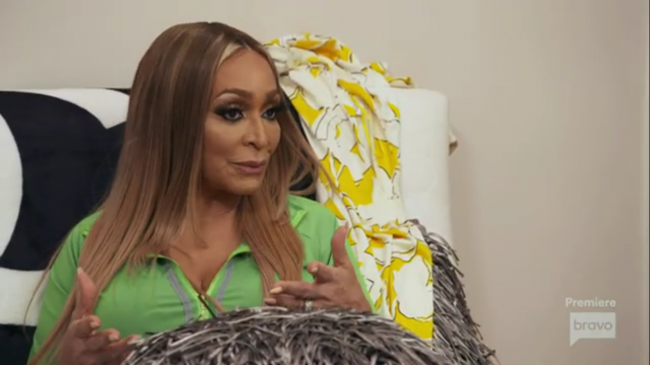 Karen & Ray Huger are doing ANOTHER renewal because why not? Their marriage was shaky as hell last season. She's not calling it a renewal this time though. It's "so nice they had to do it twice". I'll be positive here. It's likely doomed, but let the Grand Dame have her celebration.
Ray wants to have a small ceremony, so many people won't be making the cut. Karen has no hope for her friendship with Gizelle, so she's likely OUT as a guest. Such a shame.
Gizelle tells Candiace that Karen will not continue to make lies about her relationship with Jamal. This is it for their friendship. It seems like this is the worst place they've ever been on. It might not be salvageable at this point.
The issue is both Karen & Gizelle are now out for blood against each other this season. The shade line has been walked on for quite a while, but now all bets are off. DONE.
Everyone receives the salacious invitation from Wendy, and they're left shook. They might as well remain shook because all of the women in one setting is asking for trouble. Tensions are higher than ever before. Karen & Gizelle in the same room? It's game time.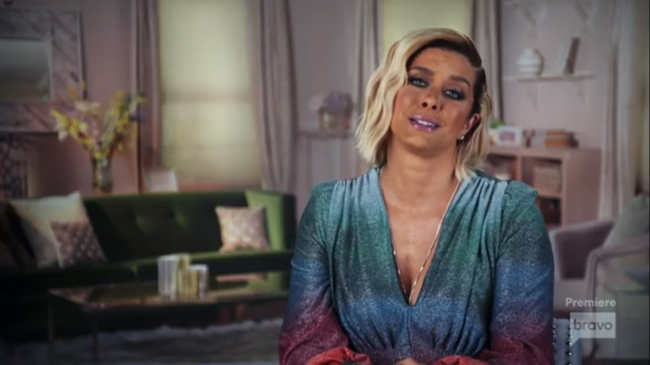 Wendy got new breasts! Yes honey, treat yourself! I'm already loving Wendy way more this season. She feels more comfortable, and it shows. The women don't know about her new "adjustments", so the nude interlude will be a fun reveal!
Robyn takes Juan Dixon out to toast to a successful season. However, what everyone wants to know is when they'll be getting married. He finally popped the question, so actually getting married is a natural progression. What is the hold up? Let's get on with it!
It seems like Robyn is having trouble getting out of bed in the morning. There are some days where she doesn't get out of bed until after two o'clock. Holy s**t. That's such a late start to the day.
Robyn doesn't find anything to look forward to anymore. The pandemic has made things depressing and dreary. She's overwhelmed. She's shutting down. It's THAT bad.
Juan wants a baby girl so bad, and the clock is ticking for Robyn. However, the lack of motivation is causing her to be hesitant about this. How is she going to handle a baby? It looks impossible if she remains on her current path.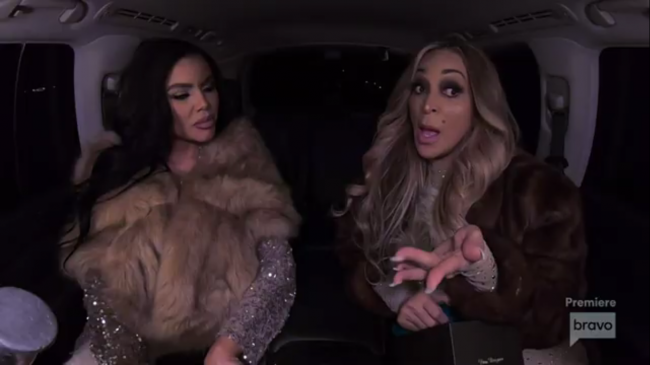 I'm obsessed with watching Candiace & Chris with the kids!! I never thought I'd see Candiace excelling in this role as a stepmother. Seeing her helping his kids with their homework is heartwarming. More of this please!
Gizelle takes Robyn on a tour of Wendy's kitchen to look at the name tags. Mia's name stands out as someone neither of them know. She's coming into the group as a friend of Karen's, so Gizelle doesn't stand a chance.
Wendy & Karen got off on a bad note last season. This season is a chance for these two to start fresh. Also, Wendy keeps talking about two special guests at the party. It took me FOREVER to realize she's referring to her new breasts.
Karen's looking forward to seeing how Candiace is, but she won't be at the party. She called last minute and pulled the plug on her appearance. She's claiming to be sick, but the timing is suspect. Own up to the fact that you don't want to lay eyes on Karen.
Gizelle wants an immediate apology from Karen which doesn't happen. There was zero chance of that ever taking place. They've both thrown dirt. Both are at fault. This is a two way street.
Mia tells the group her husband is 38 years older than she is. There's a lot of ambiguity about her actual age, and we get no real answers. Alright. She's one of THOSE housewives. Not a lot happening in the cranium.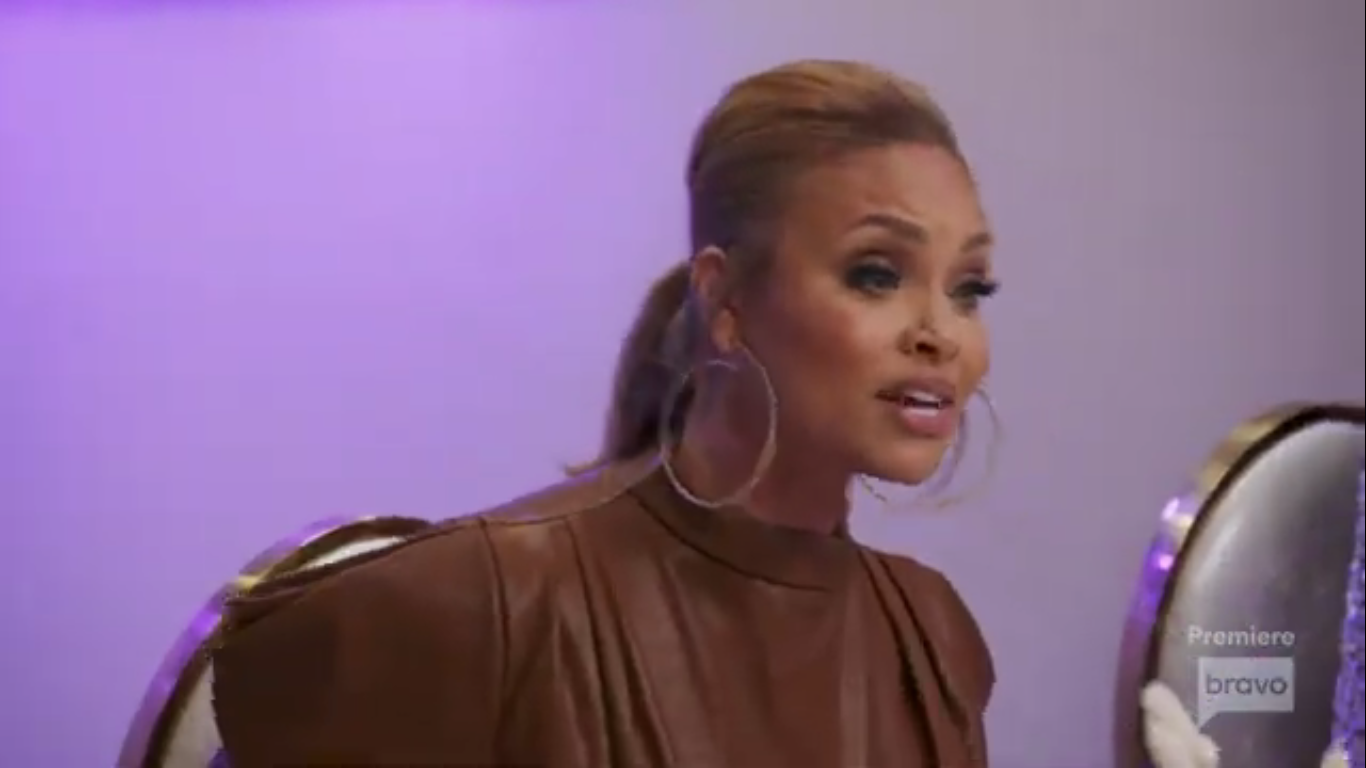 Wendy goes on the longest rant ever to get to the point about the reason for the nude interlude. She finally reveals the new boobs. Everyone thinks she tweaked her backside too. I mean, DUH. It's her prerogative if she reveals it more or not, but don't insult their intelligence. It's highly obvious.
Mia admits what she's had done after Wendy says it's obvious she got work done too. The list is so damn long. She basically overhauled her entire body and created a new person. Whatever works for you boo.
Karen inquires about Candiace, and Robyn says it's likely so she could avoid Karen. Karen wants to respect Candiace's emotional process which is big of her. I'm glad she respects the friendship enough to do that. Ashley bascially echoes the same sentiment.
Gizelle says she and Karen will NEVER be good again. She's ready to unload all of Karen's truth to the world. She plans on spreading it out over time though. How generous of her?
Karen fires back saying Gizelle has a "hot box", so Gizelle brings up Ray's broken penis. Karen calls Gizelle a broken whore, and we are off to a scorching hot start!
TELL US – TEAM KAREN OR TEAM GIZELLE? WAS CANDIACE REALLY SICK? WHAT DO YOU THINK OF NEW CAST MEMBER MIA? ARE YOU EXCITED FOR THIS SEASON OF THE REAL HOUSEWIVES OF POTOMAC?
[Photo Credit: Bravo]