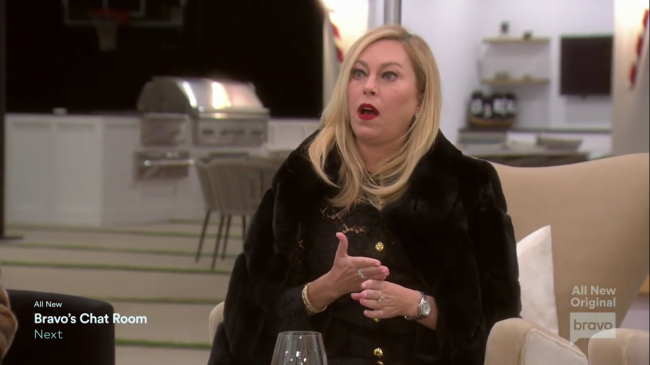 The Real Housewives of Beverly Hills madness over Erika Jayne is continuing yet again. When we last saw the group, Sutton Stracke was holding court after the latest article about her and Tom Girardi. She's not letting this go. She needs answers to what her friend has really been up to.
Sutton deserves some sort of investigative prize for trying to uncover the truth about Erika. She understands there's trouble afoot, and she's calling it out. I think we understand now what earned her this well deserved diamond.
Sutton's rightfully concerned about how this could affect the other women in the group. She's protecting herself from being dragged through the mud. The allegations against Tom & Erika are unfathomable. Nobody wants to be associated with that.
Lisa Rinna doesn't understand how any of this would affect her. She knows damn well this could have a ripple effect on the group. Never do this again.
Sutton's feelings are valid. There's so much unknown with this situation. Lisa's rubbed the wrong way about Sutton worrying about her reputation and not her friend. Where was that energy when Lisa was leading the charge against Denise Richards? OWN THAT.
Dorit Kemsley doesn't want the support of Erika to be misconstrued as support for what allegedly was done. She has a deeper history with Erika than Sutton, so that makes sense. However, nobody knows what to do right now.
Sutton reveals a bit of gossip about one of the firm's partners leaving the firm because his wife thought something was off. Why are people dropping out of this law firm like flies?
Sutton's firm in her belief that Erika lied to the group. If everything began on the date of the car accident, why do allegations date back way before then? Someone's not telling the truth here. It's becoming even more difficult to believe Erika with each passing week.
Sutton also believes Erika has been in communication with Tom's lawyers. I appreciate her going full Meghan King Edmonds with all of this. She has a mission to uncover the truth. There's nothing that is going to stop her. The eventual meeting between Sutton & Erika is going to be a cataclysmic encounter.
Lisa says the difference between Erika & Denise was that it was a lot clearer Denise was lying. If she was convinced Erika was guilty, she would be coming at her just as hard. Do any of you actually believe that? She doesn't care if she's liked or not, but this is putting her in the direction of the latter. It's not a good look.
Sutton refuses to allow Erika off the hook on the sake of ignorant. She finds her to be far too intelligent to have zero inkling about what's going on. This is so reminiscent of Vicki Gunvalson's back and forth with Meghan on The Real Housewives of Orange County.
The group is in agreement that Erika has a lot to answer for. She's coming to Kyle Richards' for a holiday dinner, but it might turn into another dinner party from hell. This might be the worst Christmas of Erika's life. She can't escape the questions coming her way. She can't run either. This is THE MOMENT we've all been waiting for because she is about to hit the fan.
It's always a joy to see Garcelle Beauvais interacting with her family. It's so fun and wholesome, and it never feels forced. It'd be hard to imagine the series without her at this point. Her voice is very much needed.
Garcelle's also not afraid to put it all out there. She talks about the tough issues and does so in the most reliable and easy to understand way possible. She is the moment.
Her oldest son deserves a medal for dealing with four kids under 8 during the pandemic. I couldn't even imagine. Being trapped with all of those screaming children sounds like a nightmare. He's handling it well though. It's a testament to the solid values instilled in him by Garcelle growing up.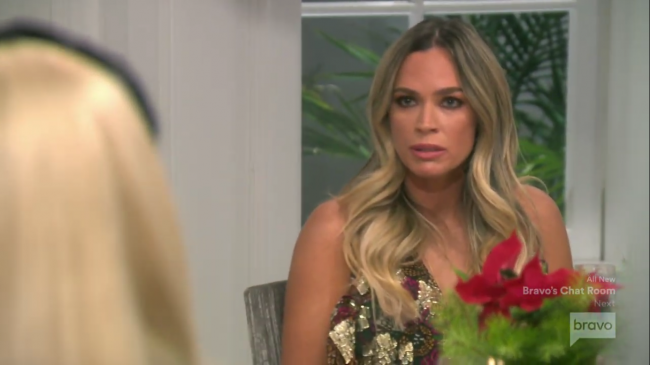 Why are we being subjected to Teddi Mellencamp this season? I thought Bravo was all in on giving her the boot. Stop it. Nobody asked for this. I try so damn hard to like Kyle, but she insists on keeping Teddi on our screens. DEEP SIGH.
Lisa shows up to the party dressed like one of Harry Hamlin's more likable girlfriends. This time, Heather is gracing our screen. Is she going to be as loud and obnoxious as Lisa? Let's hope not.
Dorit being locked out of Kyle's with no way of getting inside was hilarious as hell. Everyone's laughing and joking inside while Dorit continues to struggle.
Kathy Hilton said she's "ready to have a gorilla". WHAT. Are all of the Richards sisters off their fucking rockers? She's gone out of her way this season to be as weird as possible. Don't get me wrong. Kathy's still a national treasure. She's an icon that must be protected until the end of time. However, sometimes it feels like she's putting on an act for the cameras.
The only person who has yet to arrive to the party is Erika. Well, the girls shouldn't talk too much because Erika has ARRIVED. The Ice Queen is here to answer their burning questions.
The vibe in the room is incredible awkward. She's in for quite the rude awakening once dinner commences. Let's see if Sutton holds her own or backs down under the pressure of the fallen Queen.
Sutton & Garcelle are both overwhelmed by the awkwardness of being around Erika. Obviously it's for different reasons, but it's still uncomfortable. Someone has to make the first move.
Erika appreciate's having a solid friend like Kyle during all of this. She's going to need that friend once everyone starts firing off rapid questions toward her about Tom. Full transparency will be here friend throughout all of this.
Erika's sitting right next to Sutton at this dinner table. Holy shit. Erika tells the group there's more coming out in the future about everything with Tom. Sutton takes this opportunity to ask if Erika has access to the information before it hits the press.
Erika doesn't wants to sit there and answer a long string of questions. She shouldn't have bothered to show up then. Did she think the group was going to read all of this about her and never ask a damn question? Erika's not THAT naive. Not at all.
Dorit tries to comfort Erika and say nobody is looking into what was going on. Garcelle instantly calls her out and says she wasn't as supportive as she claims to be. HOLD HER ACCOUNTABLE. YES!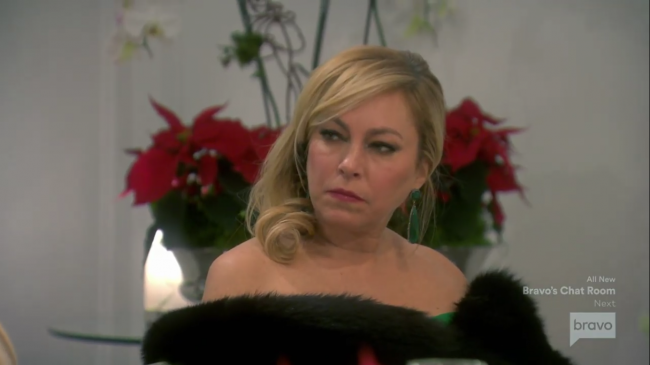 Erika's not impressed to learn about the group secretly meeting behind her back. Sutton wants to make sure that they have as much information as possible about what's going on. Erika is dismayed to learn multiple women in the group sought out legal advice about the ongoing situation.
Why is everyone somewhat clamming up regarding all of this? Why won't the say what they said behind her back? Don't be fake as fuck. Stand on your own two feet and be upfront.
Erika says she was kept away from the books regarding her own LLC. She also says she didn't know about the 80 million dollars disappearing until the LA Times article.
Sutton's disappointed in Dorit because she completely backtracked on everything she said when they all met. However, Dorit doesn't like to hear anyone asking questions about what Erika spoke about with her lawyer. What's with the sudden ass kissing from Dorit? The backtrack is making her go even more out of favor. This is gross to watch.
It's about damn time she shows somewhat of an ounce of remorse for the victims. She's really pushing the diminished capacity narrative though. Also, her wanting to know where the money is kind of sends a wrong message.
Erika admits the victims NEED to be taken care of. She said she's not worried about herself, and she's last in all of this. I'm happy to hear her admitting they are the ones who need this money. It's such a relief to hear that come out of her mouth after all of this time.
Sutton confronts Dorit after the dinner about throwing her under the bus. She feels a bit set up by some of the long term members of the group. A lot of them shared the same feelings as her, but they abandoned ship last minute.
TELL US – DO YOU BELIEVE ERIKA? TEAM SUTTON OR TEAM ERIKA? WHY DID DORIT CHANGE HER TUNE ABOUT ERIKA? ARE YOU ENJOYING THIS SEASON OF THE REAL HOUSEWIVES OF BEVERLY HILLS?
[Photo Credit: Bravo]