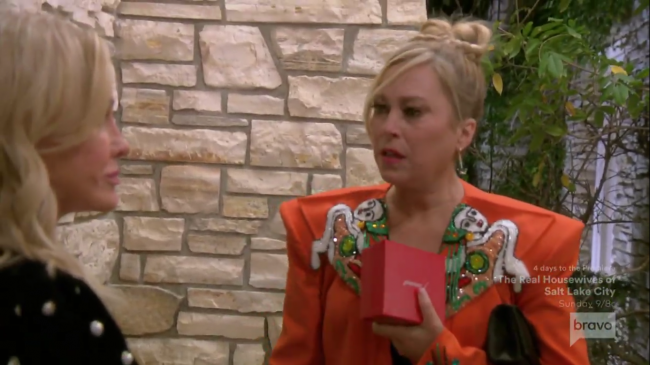 Thank you Real Housewives of Beverly Hills for giving us another dinner party from hell. It delivered. It's what we deserved. Erika Jayne remains low key insane though. The way she hisses and dishes out threats is unmatched in a creepy way.
Erika's terrifying when she turns into this angry monster. Sutton Stracke doesn't like what Erika's saying to her, but there's no reasoning. Erika alludes to the idea that Tom Girardi might come after Sutton with a lawsuit. Is Erika trying to protect Sutton, or am I reaching?
Dorit Kemsley doesn't think it's fair for Erika to threaten Sutton. I have to agree. There's no reason for Erika to issue threats to everyone at the table. Why is she losing her shit on everyone? They are asking questions that NEED to be asked.
Erika takes a breath and looks at Sutton and says, "if you ever call me a liar again, I'm coming for you." Sutton doesn't know how to take a statement like that. A murky threat like that could have all sorts of meetings. Maybe Sutton should look into suing Erika instead of the other way around.
Poor Kathy Hilton has lost total control of this dinner party. She's accustomed to a life of elegance, and this is low down trash. Erika's proving every hater right with a display of hate like this.
Sutton wants out of this dinner party as soon as possible. She's not going to sit there and be Erika's punching bag. Crystal Kung Minkoff's choosing the wrong side of history here. Why is she so quick to back up Erika's nasty display?
Sutton's reaction is way too intense though. She's not actually going to get sued here. Her life is NOT over. Calm down, and take a damn seat. It's really not that serious.
Garcelle Beauvais backs up Sutton because she said everything that needed to be discussed. Erika's the one withholding things from the group. ERIKA is the one making things uncomfortable. She won't listen to reason. She thinks everyone's an idiot for even suggesting she should back off of Sutton.
However, Kyle Richards is right. Erika's back is worse than her bite because what have we ever actually seen her do. The butler is horrified by the events transpiring in front of him.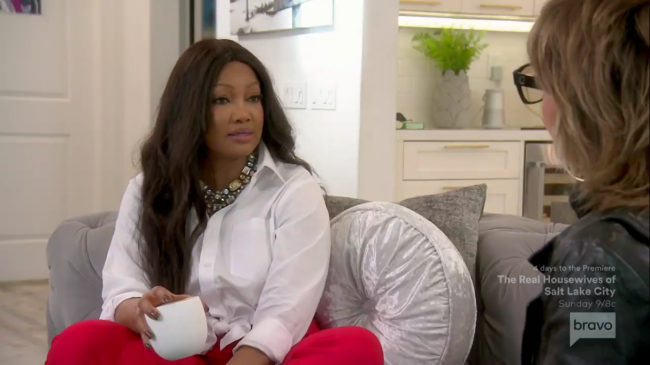 It's surprising to see Lisa Rinna show up at Garcelle's. Their friendship remains in this weird place of limbo, so it's odd to see her there. It would be nice to see these two come to a place of genuine love for each other again.
Lisa explains she recently dropped off Harry Hamlin's delicious sauce for Garcelle. There has to be strings to that. Lisa doesn't usually go out of her way to express kindness. Garcelle should keep her eyes open for the knife in her back.
Lisa was wasted at Kathy's party, so she doesn't remember all of the details. She had no idea Sutton fled the scene in tears. Hopefully nothing nasty like this goes down at Garcelle's upcoming Haitian themed dinner. Are we really going to have a third dinner party from hell?
Garcelle feels like the Fox Force Four are isolated from she, Sutton, & Crystal. They all look out for each other, but the other three are left to the wayside. Lisa doesn't feel this way, but it's blatantly obvious. Although there have been flashes of Dorit & Kyle breaking away from the pact.
Lisa says it wasn't her place to get involved in Dorit's conflict with Garcelle. She didn't disagree with Dorit's issues with Garcelle regarding the jabs. She doesn't want to pick apart every minute detail of her friendship with Sutton.
However Lisa's choosing to bring up a story from months before about not being thanked for sauce. She's not going to kiss your ass for life over some spaghetti sauce. That's not how friendship works, but alright. That's likely why Lisa's constantly losing longtime friends on this show.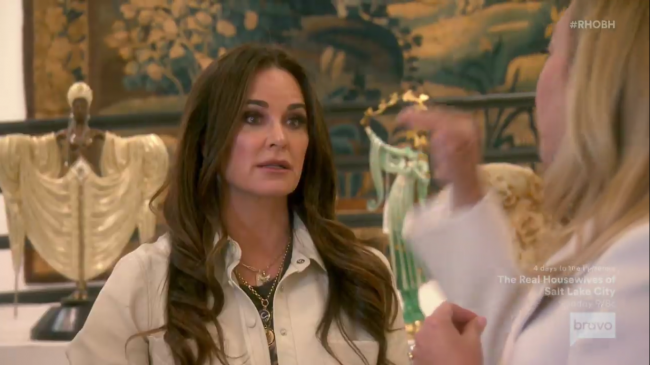 Sutton & Kyle link up to look at items for an upcoming auction. It's insane to see the price tags on items Sutton'd like to procure for her store. Asinine amount of money.
Sutton doesn't want to listen to Kyle's version of events from the dinner party. She doesn't think she backed down the way Kyle's making it out to be. She tells Kyle she talks too much like Dorit and storms away.
The thing about Sutton is the storming out of situations needs to end. It makes her look bad. A lot of times, she's actually in the right, but walking away makes her look bad. Stay and stick to your guns. Earn respect.
Sutton didn't do anything that earned the level of threats Erika issued. She wants to be spoken to like an equal and play on an even field. What more do these women want from her? She's saying everything ALL of the women want to know about Erika. They're all afraid of her for some reason. Sutton's presenting nothing but valid points and won't be their scapegoat.
A Dorit solo scene is not what I'm trying to watch because she is blah. The show's firing on all cylinders, so let's avoid Dorit's blah life. She gives a toast at home to her new wedding dress collection and a launch party is coming. Oh goody!
PK Kemsley thinks Erika should express more remorse for the victims in all of this. Her social media is sending the wrong message during the crisis. She's provoking everyone on social media, and it's making things worse. She doesn't give a fuck, and it's sad to see. She should. Erika should work to help the REAL victims.
He doesn't believe Tom's mind is falling apart for one damn second. Maybe this solo scene was with something after all! We love PK speaking the damn truth because somebody had to. However, PK thinks the Erika Jayne persona needs to take a hiatus. That alter ego isn't doing her any favors right now.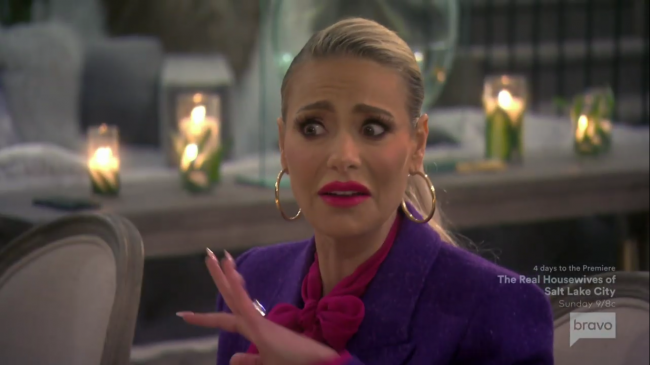 How great is it for Garcelle to open up her culture to the other women. She's been feeling a lot like an outsider, so this might help change that. If they get to see this side of her life, there's more room for connection. We love to see it!
Why is Dorit showing up to this looking like Daphne from Scooby Doo? Jinkies folks, this look is quite the mess. Sutton arrives and it's like the world stops because It's SO AWKWARD.
Dorit goes on and on and never shuts up. It's painful to watch at times because she doesn't seem to get it. Someone should teach her some social cues about when it's best to zip the lips.
Lisa's stepping out of her comfort zone to try the Haitian food. She's not an adventurous eater by any stretch of the imagination. However these two are trying to get on better terms, so she's making an effort. There might be hope for them yet.
Erika's not interested in anything Sutton has to say at the dinner. She's scrolling on her phone and tuning out the bullshit. Why is she also so disinterested in everything? If she doesn't want to engage, she should walk away from the group.
Nobody wants to discuss the elephant in the room between Erika & Sutton. It's best to leave the dinner instead of talking about the issues at hand. Erika wants an apology from Sutton for calling her a liar. That's never going to happen because Erika NEVER does that. This issue might never die.
Sutton's sick of being in the hot seat. Crystal informs her though that Erika's never letting this go. There's no friendship between Erika & Sutton moving forward. There's nothing left for them to talk about because nobody will judge.
TELL US – TEAM ERIKA OR TEAM SUTTON? DOES DORIT TALK TOO MUCH? SHOULD GARCELLE TRUST LISA? ARE YOU ENJOYING THIS SEASON OF THE REAL HOUSEWIVES OF BEVERLY HILLS?
[Photo Credit: Bravo]