This is it y'all! The Real Housewives of Potomac is finally at its conclusion for the season. There's no greater way to go out this season than with the inclusion of the LEGENDARY Nicki Minaj. This is going to be epic.
Nicki wasted no time going in on Ashley Darby. It was so intense to the point that even Candiace Dillard Bassett stepped in to defend her. I understand where Nicki's coming from because Ashley appeared to have no story line within the group. However, I don't think that's any different than anyone else. Everyone does whatever they can to keep the stories moving and create moments.
Wendy Osefo tells Nicki she honestly didn't think Ashley was being malicious. To her, it was Gizelle Bryant who was coming from a place of ill intent. You can't argue with her there. Gizelle didn't have to bring the rumors about Eddie Osefo into the show. She's the person giving these vicious lies a platform for millions to buy into.
Robyn Dixon is Nicki's next target. It starts off nice though. She says she saw more of a sexual spark between she and Juan Dixon this season. Basically to Nicki, Robyn's looking like she's getting that good D. Juan apparently finds it sexy to see Robyn thriving and being successful on this show. It would be nice to hear that from the source himself.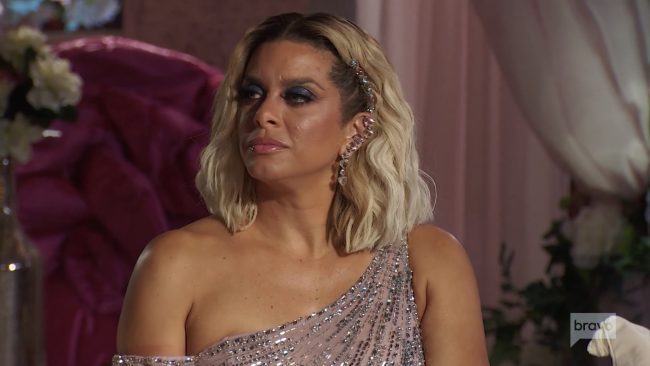 Nicki calls out Robyn for blindly following whatever Gizelle wants. Robyn defends herself and says she was speaking on behalf of the entire group's feelings, not just Ashley. Robyn, I want to like you so much. I really do. However, stop acting like you aren't Gizelle's sidekick on this damn show. Step out of Gizelle's shadow.
Nicki comes right out and asks if Robyn & Gizelle are secret lovers. They set the record straight that they don't have any current relations with one another. They do reveal though that they shared a bed one time when at Andy Cohen's baby shower. The more this goes on, the more secrets are revealed from the green-eyed bandits. Getting freaky deeky in Potomac!
Another hot topic gets called out by Nicki when she asks if Michael Darby is attracted to Juan.
Most of the group thinks there's a sexual attraction between the two. Ashley's trying so hard to defend Michael and change the connotation, but Nicki's not buying it. What's interesting is Nicki's curious why Juan's entertaining the friendship after hearing Michael say he'd suck him. She's never seen a straight man be totally okay with that.
Nicki tells Gizelle she loves the scenes with her daughters. That was a cute moment which was just warming her up before the real question came out. Nicki asks Gizelle if her beauty has started fading at all. Well damn. Nicki's brutal as the host, but I think I'm sort of loving it.
Nicki's seemingly more sympathetic to Gizelle than she is to most of the other women. However, she does hold her accountable for the frequent attacks on Karen Huger's age. There's really no reason to shame someone for their age. If you have to do something like that, you've already lost.
Gizelle's questioned by Nicki for the timing of her "reconciliation" with Jamal Bryant. To her, this was her opportunity to be on equal footing with Jamal for the first time. Gizelle was always in the shadow of his larger than life persona.
Karen's questioned about referring to Gizelle's "hotbox". That's quite a low place to take what was originally a petty feud. I'm glad these two are in a good place in the present, but it got far too nasty this season. In the earlier portion of the season things were dark and seemed impossible to move on from.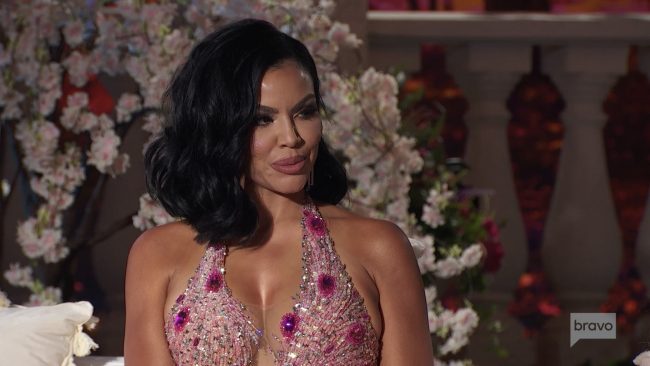 Nicki lets Mia Thornton know that the scenes with her mother were her favorite of the season. It was great to see a newbie open up and be so vulnerable so quickly into their tenure. Petty drama of the show aside, these were a serious of real moments that impacted her entire family. Seeing raw and real human emotion is always refreshing to witness.
Nicki asks Karen, Ashley, & Mia if they had their own money in the bank at the time, would they have still picked the same men. This is a great question, but regardless of what she says, there's no way Ashley was picking Michael. She was in this to secure the bag and get herself some COIN.
Hearing Mia go on and on and ramble about the differences between stripper and entertainer is hilarious. She's just trying so hard to come off classier than she probably was at the time. I am very much in support of strippers, but Mia's the one making it way by going out of her way to say entertainer. She's almost adding to the stigma in a way.
Nicki questions Mia about her comments at Karen's regarding Eddie being unable to look her in the eye. Why is she getting off on making comments like that about someone's husband? How is her own husband okay with that? What kind of whack ass marriage do they have for that to be accepted?
Going from Wendy the political commentator to Wendy the candle maker was surprising. I'm glad Nicki's touching up on that. It didn't make any sense. Does it have anything to do with Eddie following booty models on social media? Could there be truth to her getting her ass done as a result of this? Obviously Wendy denies that being the cast in any capacity.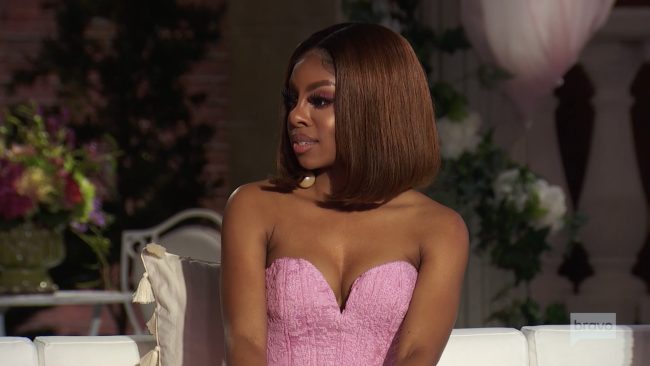 Candiace is in the hot seat next and the first portion is about her mother Dorothy Dillard. Candiace admits the footage from this season has impacted her marriage. Her mother's always dead-set on causing chaos in Candiace's life. She clearly enjoys being on television and having her moment in the spotlight. She values that more than the well being of her own daughter.
Nicki asks the group if before the video came out for Drive Back. how successful did they think it would be? That's a loaded question, but Mia wastes no time saying she didn't have high hopes for it. HATER.
Nicki's going in on Candiace about the success of her album. Candiace has only sold about 20,000 copies of her album, but that's not bad for a newbie indie artist. She's not going to be making Nicki level sales this early in the game. Let's be clear about that.
Candiace has used autotune on multiple songs, so Nicki wants to hear something live and in person. She wants to hear some lines from Candiace's song Drive Back, but that's a nonstarter for Candiace. She probably wants something that'll better show off her vocal ability. Also, it has to be slightly intimidating to be asked to abruptly perform in front of a global music superstar.
Unsurprisingly, Candiace rises to the occasion and delivers a flawless snippet of her hit song. This was EVERYTHING. She proved everyone wrong and delivered in the moment. Even . was forced to admit that Candiace can SAAAAAANG.
TELL US – DID YOU ENJOY NICKI'S LINE OF QUESTIONING? CAN CANDIACE SING? WAS ASHLEY DESPERATE FOR A STORY LINE THIS SEASON? 
[Photo Credit: Bravo]