The intro for the Real Housewives Of New Jersey premiere is EVERYTHING. The Jersey girls know how to bring the heat. Jersey's a franchise that continuously delivers every single season. The worst season of this franchise is better than some of the top seasons of others. I'm so ready for the Teresa Giudice show.
Teresa already seems lighter and airier than in past seasons. Being with a man that makes her happy is doing wonders for her aura. We don't know a lot about her relationship yet, but I'm sure this season will explore it.
Teresa's daughters are nervous about living with two men because they haven't in years. It's been only the girls for the longest time. It'll take some getting used to, but the blending of the families is proceeding regardless. Teresa claims Louie Ruelas is her soulmate which is a bold statement.
For Teresa, everything feels right. At least Gia Giudice is calling out the quickness of the relationship. She's sort of showing signs about not being entirely on board. Gia's almost hinting about pumping the breaks a little bit on the relationship. It's been full-speed ahead
The girls are fighting with Joe Gorga because of comments he's made about their father Joe Giudice. No matter how many times he apologizes, he puts his foot in his mouth. It's been six months since the girls have spoken to their uncle. They want him to retract statements he made about them.
It's a tough situation for Joe to be in because he's not necessarily wrong about what he says. Joe wasn't the best husband. It's their father, so it's difficult for them to take those blinders off. We saw him for who he was, and Joe's just calling it out.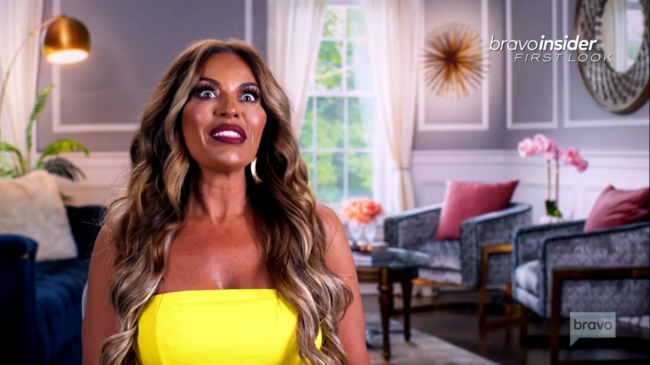 Dolores Catania always looks her happiest when she's with her kids. Things are going great in her life, and she's never looked happier. Things in her new home are unfinished, and it's been over nine months. What's taking so long?
Dolores says her relationship with David Principe hasn't changed at all. This relationship is DEAD. I can't wait for the moment she finally pulls the plug on this dying love connection. Frank Catania has a new girlfriend, so things aren't the same with her and him either. He's supposed to be making sure the house gets finished, but he left her hanging.
Do I sense a hint of jealousy from Dolo? She wants his full and undivided attention, but it's not going to happen. His new young girlfriend is adding a layer of stress and friction. It is what it is though. If she doesn't want to be with him or take him back, he's not going to be alone forever.
A video of Louie surfaces on social media, and everyone's calling out the red flags. It's ominous as fuck. This is the dark drama Jersey used to be known for. This is going to be the catalyst for Margaret Josephs' issue with Teresa. The perfect opportunity for retribution has presented itself in the form of this video.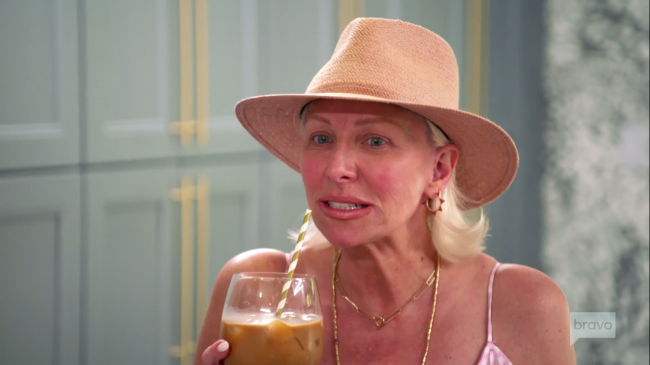 Margaret discusses the bizarre video of Louie, but they sadly don't show it. I was hoping for them to play it for anyone who never got to see it. You better believe she's going to talk about it.
Jackie Goldschneider stops by Margaret's to gossip about the Louie video. Jackie wonders if she'll bring up the video. How naive of her to think Teresa's going to draw any attention to it. There's no way she's going to bring up any allegations of him allegedly mistreating his exes.
Margaret says there's some explaining to do from Teresa. People want answers as to why Louie's apologizing for this if there's nothing to it. Teresa's pool party's already shaping up to supply some shocking fireworks.
Things seem better for Melissa Gorga & Joe. It's about damn time. That felt like the first storyline of theirs that wasn't fabricated. I could see Joe and his caveman mentality being threatened by Melissa's growing success.
Tiki Barber & Traci Barber meet up with the Gorga's which is our first time seeing them. This is kind of big! Not only is Tiki a sports LEGEND, but this group needed a new woman. Traci is the first actual newbie in quite some time.
Joe's stand-up comedy is incredibly uncomfortable to watch. I'd be down to NEVER see him do that ever again. The two-second clip they showed was enough to turn me off to it permanently.
Joe's questioned whether or not Louie makes Teresa happy. In the beginning, he vibed with him and liked him. However, things are starting to sour since the release of this video. You can't believe everything you read, but there are red flags.
Traci's known Teresa for a hot second and is already gossiping about her relationship. You've been here 20 minutes girl. Who are you to come into this and have ANYTHING negative to say whatsoever. Her opinions of Teresa might have cost her a spot as a full-time Housewife. Love her or hate her, if you're on her bad side, you don't last long on the show.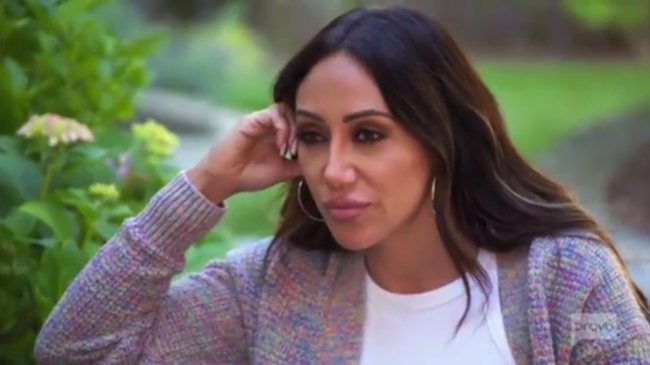 Mazel to Jennifer Aydin on her new nose job. If that's what empowers her then all the power to her. The new nose and chin are looking fab, so I can't say anything bad about it.
Bill Aydin didn't perform the surgery on Jennifer which is probably for the best. It's such dangerous territory to have your spouse perform something like that on you.
Jennifer's in a better place with her mother which is great to hear. If they ignore the elephant in the room they can continue to be on a decent path. If Jennifer meddles again in her mother's past with her father, it could spell the end of their relationship yet again.
Jennifer's still in an awful place with most of the group. She left the reunion thinking things were on the path to peacefulness, but that's not the case. Since they left that stage, things have once again soured between her, Melissa, Margaret, & Jackie.
Jennifer brings up the video to Bill and says it's weird, but that it's private. She's anticipating a major Teresa freak out if anyone mentions the video to her. It's going to happen because Marge will force the issue.
Teresa's NOT happy with Joe after making comments at a comedy show about Louie. Saying you miss your brother-in-law after the video came out is not a good look. It feels like a betrayal. Once again, he's saying something negative about Teresa's significant other. Why not say "no comment"?
Joe tells Melissa he's going to skip Teresa's pool party. Cool. He's going to send his wife in there to catch all flack for his comments. Pussy move.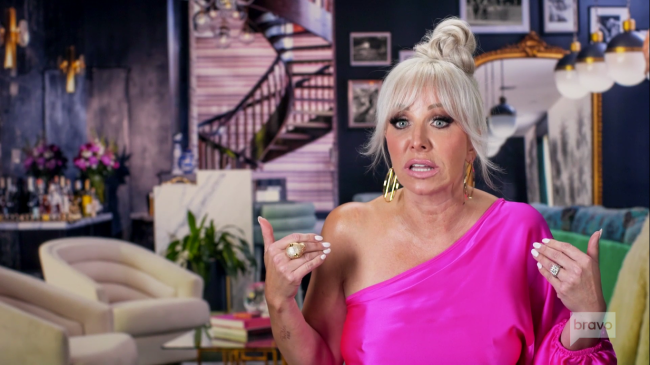 Margaret doesn't want to ruin Teresa's night, but she's disgusted with Jennifer. It's always weird to me how people go to other people's homes intending to cause a ruckus. Tacky behavior.
Dolores is considering bringing up Joe's comments about Louie to Teresa because. Good luck to everyone at this party because it's already developed into a complete shit show. Can't they all go swimming and have some drinks without wanting to tear each other apart?
Joe ultimately decides to come to the party, but Teresa isn't taking anyone's bait. Dolores tries to get her to speak about what was said at the comedy show, but Teresa plays dumb. Interesting development. How long can you run away from the word on the street? Good luck because with Margaret around, you're going to speak on it.
Margaret doesn't hold her tongue and immediately tells Teresa that Louie needs to address the video. She wasted no time stirring up the shit. However, Dolores was trying to be the bone carrier a lit bit herself. She just isn't as good at it.
Everyone's gossiping about Jennifer's nose which looks noticeably different. Margaret and her team always come across as the ultimate mean girls. I never realized how damn rude Margaret was. She has nothing kind to say about anyone ever.
Jennifer asks Jackie to explain her issues with her, and it's over the rumors Margaret started the rumor about Evan Goldschneider last year. Jennifer's isolated right now and is genuinely seeking friendship with Jackie. They come to an understanding, so now it's Jennifer's time to deal with Margaret. Good luck with that. She's seemingly not capable of being loyal to any of her friends.
Margaret says Jennifer's not being honest and says they all know. What is it they all know? What's Margaret holding in the vault about Jennifer? Margaret reveals Bill allegedly had an affair which led to Bill leaving his old job. It wasn't the flex Margaret thought it was because Jennifer corrects her with the facts. She says the affair was with a pharmaceutical rep. JENNIFER COMES OUT OF THE GATE MAKING MARGARET LOOK FOOLISH. WE LOVE TO SEE IT BECAUSE OF KARMA.
TELL US – TEAM MARGARET OR TEAM JENNIFER? DO YOU SEE RED FLAGS FROM LOUIE? IS MARGARET BEING MESSY OR SIMPLY LOOKING OUT FOR TERESA? DID YOU ENJOY THE PREMIERE OF THE REAL HOUSEWIVES OF NEW JERSEY?
[Photo Credit: Bravo]