The Real Housewives of New Jersey reunion continues with Andy Cohen telling everyone to shut up. He has plans that evening, so he wants them to be silent. Well damn.
Jennifer Aydin reveals Bill Aydin's affair lasted over two months. However, he claimed he didn't want to get a divorce and planned a romantic Miami getaway.
Jennifer said she never thought about the affair for over a decade. She was willing to put this aside for the sake of her family. According to Jennifer, Bill's a good man that did a bad thing.
During the season, Bill was checked out, but it was because of being uncomfortable with it all playing out on camera. Jennifer was breaking down all season because it was the first time she was allowed to cry. She bottled up all of her emotions for ten years, so this was somewhat cathartic in a way.
Margaret Josephs says Jennifer was a villain for so many years which surprised them. The illusion Jennifer gave off about her perfect life made it difficult for the other women to believe her hurt. The moment she started crumbling between them was a game-changer for the group.
Melissa Gorga says she thought Jennifer felt relieved because this finally came out. Bill was finally forced to face what he did to their marriage, and ultimately it helped. They're closer than ever. Something as insane as this was able to give them new strength as a couple.
Marge admits she regrets her actions because of the way it cut Jennifer to the core. Jennifer's not even mad at her anymore. She's even open to a friendship with her. After the way they hurt each other over the last four years, it's shocking to see that the door isn't closed.
Watching Marge cry over the struggles of Marge Sr. because of the Russian invasion of Ukraine is heartbreaking. Her origin story is harrowing, and I can't imagine living in fear like that. Her family was doing what they thought was best for their children, so it's horrible to hear how the family was torn apart. So sad.
The Husbands Take Center Stage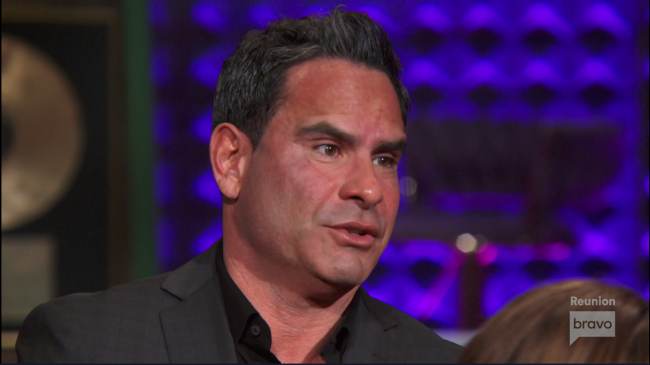 The men join the ladies on the stage, and Andy looks so happy. Evan Goldschneider's proud of the progress Jackie Goldschneider's made and wishes he could do more to help her. More on that later.
Louie Ruelas said he had a horrible season and felt judged every time he spoke. However, he doesn't blame anyone in the room. The first time he filmed he was nervous. You could see that. There was so much circulating around about him, so there was a lot to speak on. That's what you sign up for when you enter into the world of someone like Tre.
Frank Catania reveals that David Principe was hurt by the breakup. Dolores Catania flips out when Frank says Dolores' new man looks like Buzz Lightyear. She almost smacked the teeth out of his mouth when he said that.
There's some tension between Frank and her new man because of their closeness as exes. Frank's not used to anyone questioning that dynamic. She's pissed though. She's upset at the jokes Frank's making, and I feel like he's going to hear about it later.
Andy asks Louie about THE video, and Louie admits he did in fact make an intention to that woman. He claims he was asked by the men at the retreat to do that. Marge says she was only trying to help him flip public opinion, but Tre wouldn't let her do so. She wouldn't let her do anything of the sort.
Everyone accepts Louie's explanation of the video which makes you wonder he didn't do so prior. He was able to easily explain everything, so it's weird that Teresa would never let him speak or explain himself. All of her drama with Marge could've been avoided if she let him be his own man.
Louie thanks Margaret for not wanting anything bad to happen to him. Teresa disagrees with everything because of course she wants to fight. Tre hears it and says Louie's a nice and forgiving man.
More With The Men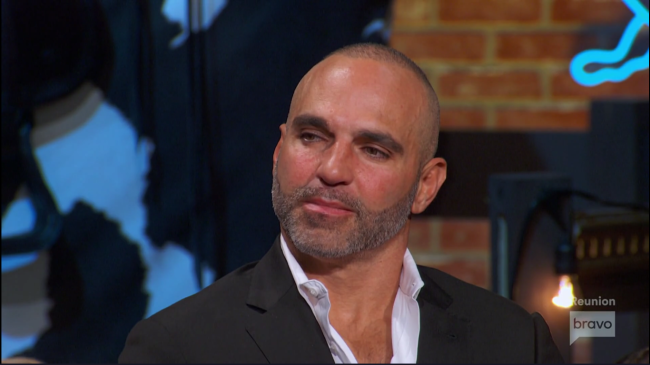 Evan says the turning point for Jackie and her recovery was one of their children noticing it. Thankfully things are improving, and that's all you can ask for. Thank goodness.
Bill says everyone in the world finding out about the affair was difficult. However, it's hard to understand why he'd agree to do the show if he had this skeleton in his closet. He's somewhat glad the secret finally came out, and he doesn't like the narrative that he doesn't defend his wife.
Jennifer gets pissed at the insinuation of Bill that Joe Gorga was entitled to his opinion. Melissa says Jennifer asks for everything that happens to her. I know she has a razor-sharp tongue, but that is taking it a step too far.
Dolores called Jennifer a f***ing c**t which was unexpected. Jennifer feels like Dolo played a role in Frank revealing Jen was digging. She's demanding Bill clear the air and reveal what went down.
Louie reveals he's been let go from the company he founded as a result of the negative press. For some reason, Tre's blaming Marge though. She wants it to be her fault so bad. Andy tells everyone to shut up again because they won't let him wrap this up and get a clear and concise answer.
Margaret is so done with Teresa because she's a psycho now. Nothing that comes from Tre even makes sense at this point. She's on the next level of delusional. MARGE DID NOT MAKE UP THESE STORIES. THEY WERE ALREADY EVERYWHERE. Teresa truly believes Marge is the one who did all of this to their relationship.
TELL US – TEAM MARGE OR TEAM TERESA? DO YOU BELIEVE LOUIE? WILL JENNIFER AND BILL'S MARRIAGE LAST? DID YOU ENJOY THIS SEASON OF THE REAL HOUSEWIVES OF NEW JERSEY?
[Photo Credit: Bravo]