Real Housewives of New Jersey original Teresa Giudice isn't afraid of stealing the spotlight. While her family drama has been tabloid fodder for years, her fashion choices are also a topic of hot discussion. Whether you like her looks or not, you're always going to remember them. Here's a look back at the New Jersey native's most memorable looks. Can she outshine Melissa Gorga?
Ready For The Ballroom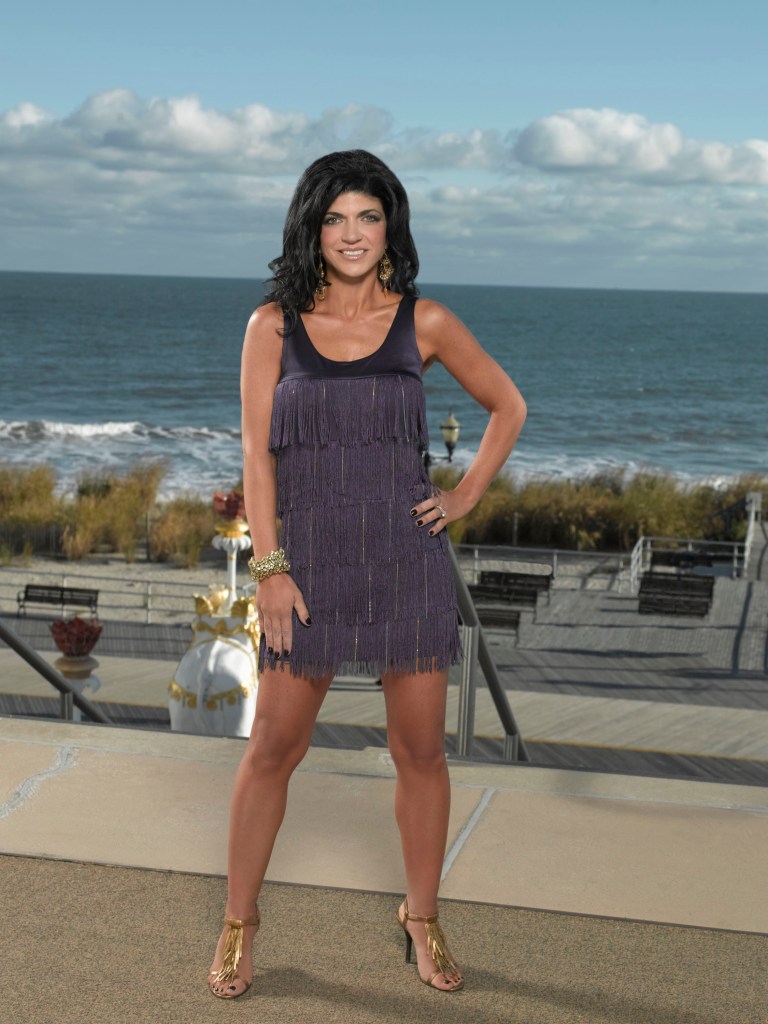 Teresa knew she had to stand out when RHONJ Season 1 started. This was a platform not afforded to many people. She could make a full-time career out of this shift to reality TV. And it turns out, she was the perfect person for it. Who couldn't become enamored with the woman who bravely wore this deep purple number? And to pair it with those golden heels and earrings? The times may change, but that look is forever. Fans knew Teresa was going to be THE moment, from THIS moment.
Let's Get Loud
Serving fashion while pregnant is a tough job. This may not be a look for everybody, but Teresa knows how to make just about anything work. Glowing while just a few weeks out from labor, she matched a casual green top with a tie-dye bandana, complete with standard denim jeans, a small gold heel, and matching accessories. Teresa seems a little out of her comfort zone here, but when you're the queen of New Jersey, you shine no matter what. Take notes, ladies!
Welcoming A New Fashionista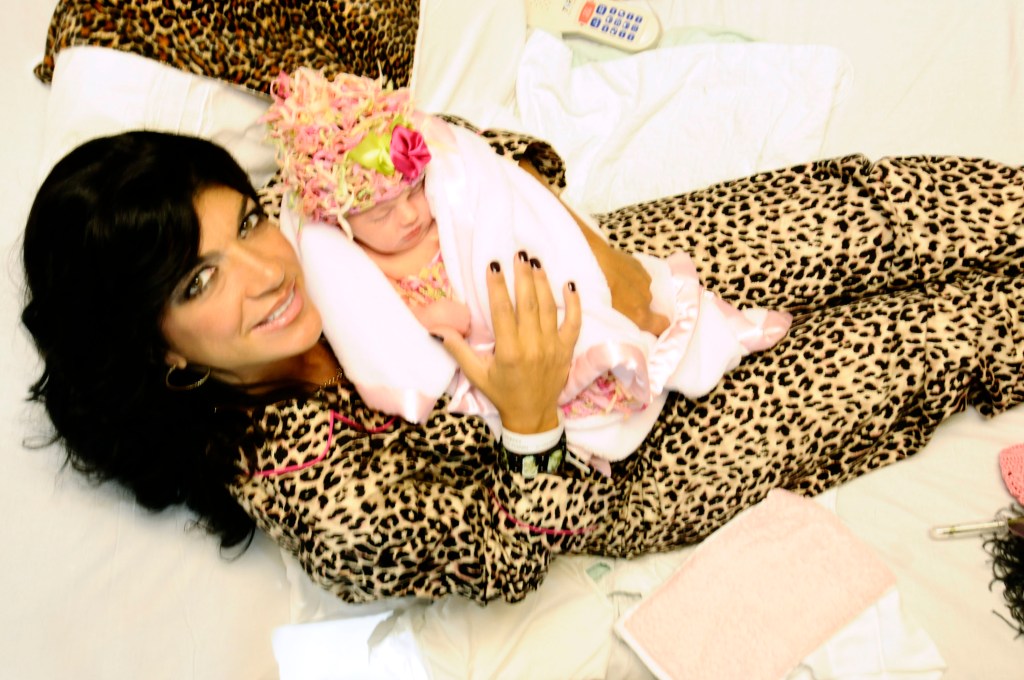 When Audriana Giudice was born, Teresa showed you can still deliver a moment from your hospital bed. The leopard print was all the rage back in 2009, and Teresa was all in. This was such an iconic look, that it was recreated by Real Housewives of Atlanta star Kandi Burruss when she gave birth to her son Ace Wells Tucker in 2016. Sharing this precious moment with viewers was a gift. Teresa has given everything to her reality TV career, and fans are grateful for it.
A Classy Book Signing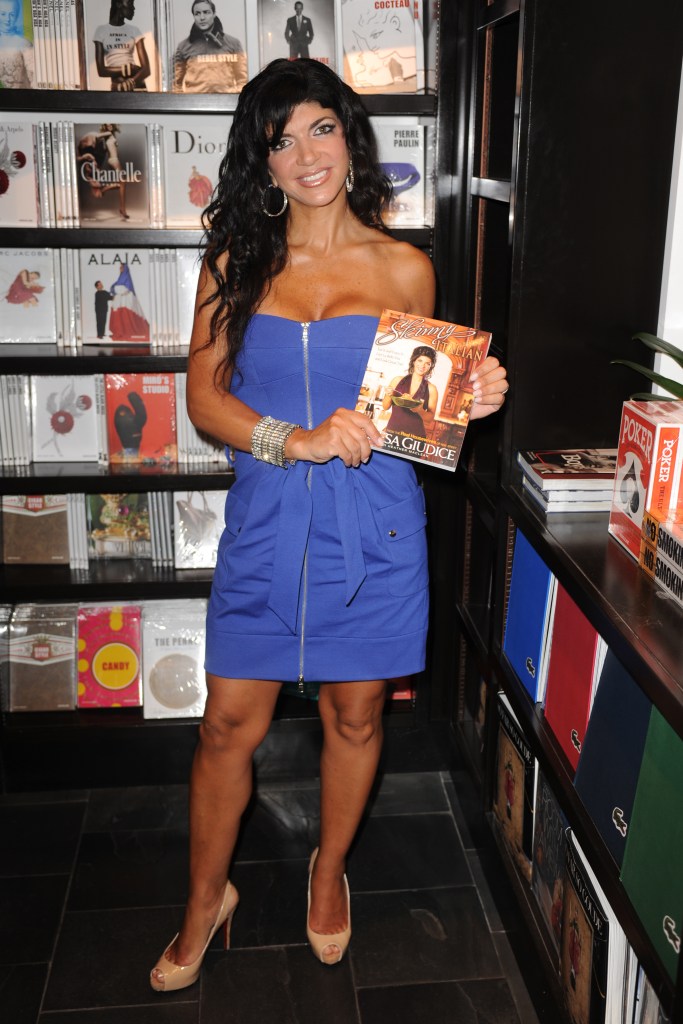 Teresa kept it classy when promoting her book Skinny Italian. She didn't need to show off every inch of her body to look good. Caroline Manzo was probably just happy she wasn't being teased in this book release. Tre dazzled in this short blue dress with a full-length zipper. The silver bracelet complements the color perfectly. And those nude heels? The best finish she could have had for this look. This outfit seemed like the start of a new era of fashion for Teresa that screamed "Fabulicious!"
Pretty In Pink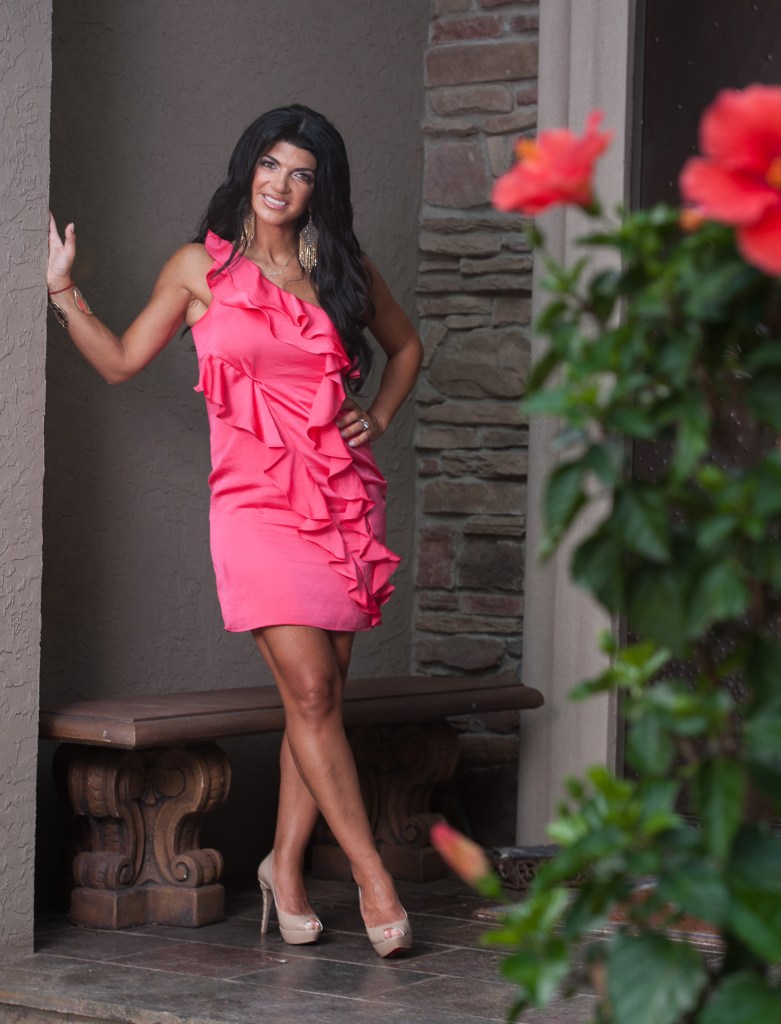 Ruffles don't look good on just anybody. Thankfully, Teresa looks fantastic here. She should wear pink more often because the color makes her shine. She could never be accused of wearing an understated earring with these outfits, and the golden bracelet pops. Tre also has that model pose down to a T by this point. This outfit is simple by design, but Teresa ensures it delivers a message: she's the ultimate Real Housewives star, and nobody can dim that shine.
Strike A Pose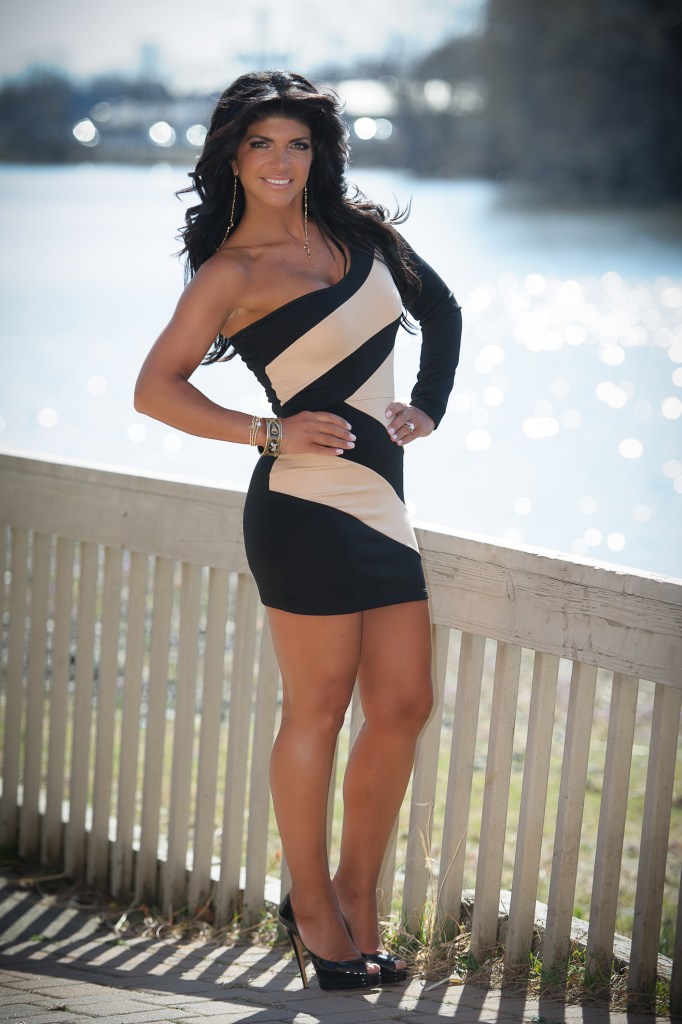 There is an elegance in simplicity, and it's often underrated. That is what Teresa is serving up with this stunning look. The black heels match the main color blocking of the dress. Then pairing the color of her nails with the nude illusion cutouts? It is fashion, ladies, and gentlemen. Throw in some light accessories on the wrist, thin earrings, and a hefty blow-dry, and you have what could be considered Tre's best photoshoot from the past 15 years.
A Christmas Pageant Dress To Die For
New Jersey reunion looks can be very hit-and-miss. When Caroline called Teresa's Season 5 look a "Christmas pageant dress," history was made. But there's no denying it was a beautiful gown that Teresa looked incredible in. In fact, looking back, she was the clear standout on the night when it came to the fashion game. It's just a shame that all of the drama and shouting over each other overshadowed it. Still, it's a reunion that people will revisit for years to come, so the dress will undoubtedly stand the test of time.
Mob Wives Vibes
You would be forgiven for thinking Teresa was headed to an audition for Mob Wives wearing this ensemble. This high-waisted black skirt with a matching blouse and black fur coat is something Karen Gravano would be proud of. The red heels are sure to make a statement no matter which room Teresa walks into. Even on that worn carpet. Completing the look are some stunning yet simple silver earrings. She looks regal but ready to kick butt if necessary.
Booked And Blessed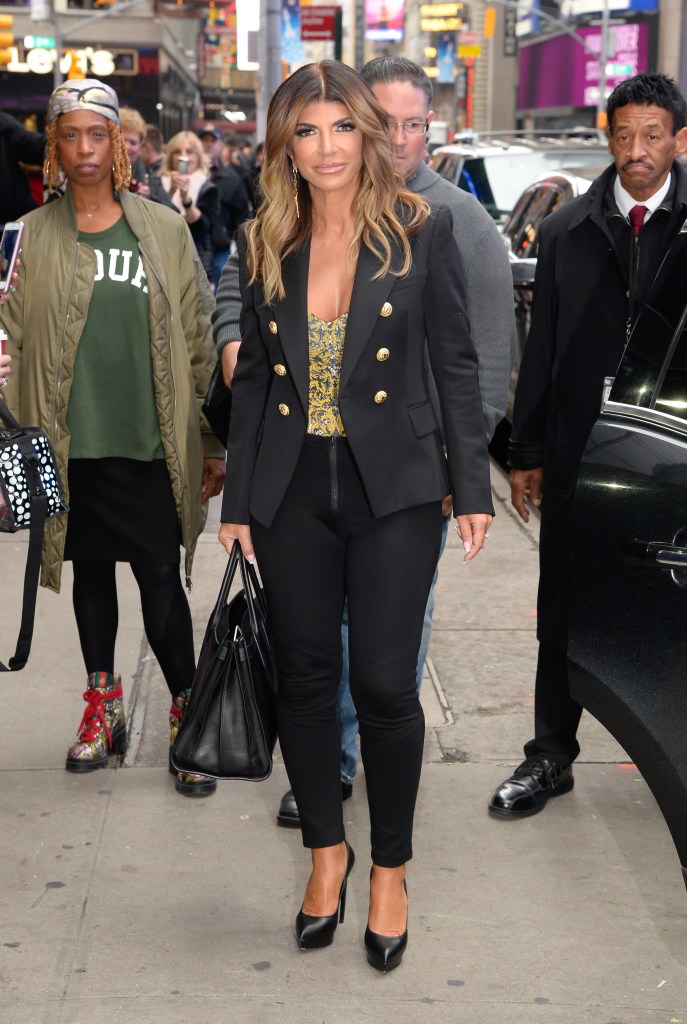 Teresa is a businesswoman, and she isn't afraid to wear an outfit that shows that. Leaving the show Good Morning America here, Tre looks ready for a day at the office. Her blazer is emblazoned with eye-catching gold buttons, and the colorful gold and silver top she is wearing underneath leaves just enough for the imagination. Her black trousers and heels complete what is a unique look for the New Jersey native. Not something we're used to from the star, but memorable all the same.
Shine Bright Like A Diamond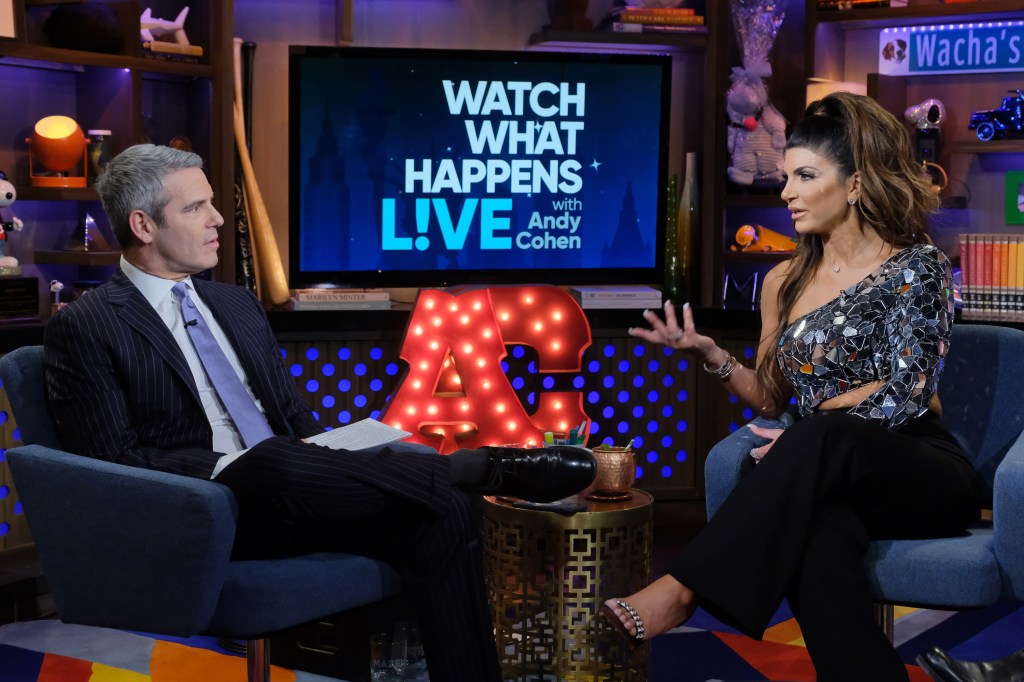 Teresa is more confident than ever, and her recent fashion choices represent that to the max. Her marriage to Luis Ruelas is clearly doing her wonders. This stunning top she wore on Watch What Happens Live looks like a broken glitterball, and the cutouts allow her to show off just a small glimpse of her incredible body. She kept it simple from the waist down with black pants and shoes with silver studs. It's a look not everybody could pull off, but Teresa does so with style.
TELL US – WHAT IS YOUR FAVORITE FASHION MOMENT FROM TERESA? ARE THERE ANY OUTFITS YOU DIDN'T THINK WERE JERSEYLICIOUS? DOES SHE HAVE BETTER FASHION THAN MELISSA?
[Photo Credit: Andrew Eccles/Bravo]