Season 7 of Real Housewives of Atlanta gave its devoted fans everything that they could want. There were walkouts, reading sessions, and a surprising admission. Let's take a look back at the bombshell moments from Season 7 of RHOA.
Apollo Came Clean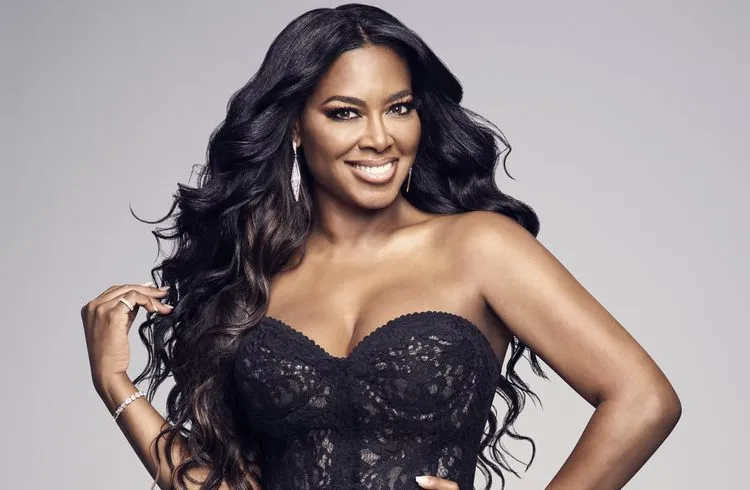 Phaedra Parks' husband, Apollo Nida, was a man on a mission. He was also a man on the way to prison.
Apollo was charged with stealing identities in a money laundering scam. He pleaded guilty to conspiracy to commit wire, mail, and bank fraud. He was sentenced to eight years in the slammer. And he was plenty angry that Phaedra was not there for him in the courtroom. Ouch!
At Cynthia Bailey's party for her Ebony photo shoot, Apollo tried to make things right with Kenya Moore. He admitted that he made up the claim that she offered to give him fellatio in Los Angeles. At the time, Phaedra believed her husband and called Kenya "a whore."
He made up the lie after Kenya told everyone at the reunion that Apollo had been texting her. He was pissed at her and wanted revenge. So, Apollo managed to both apologize and still blame Kenya. Good talk, Apollo. See you in eight years!
Nene Was Read for Filth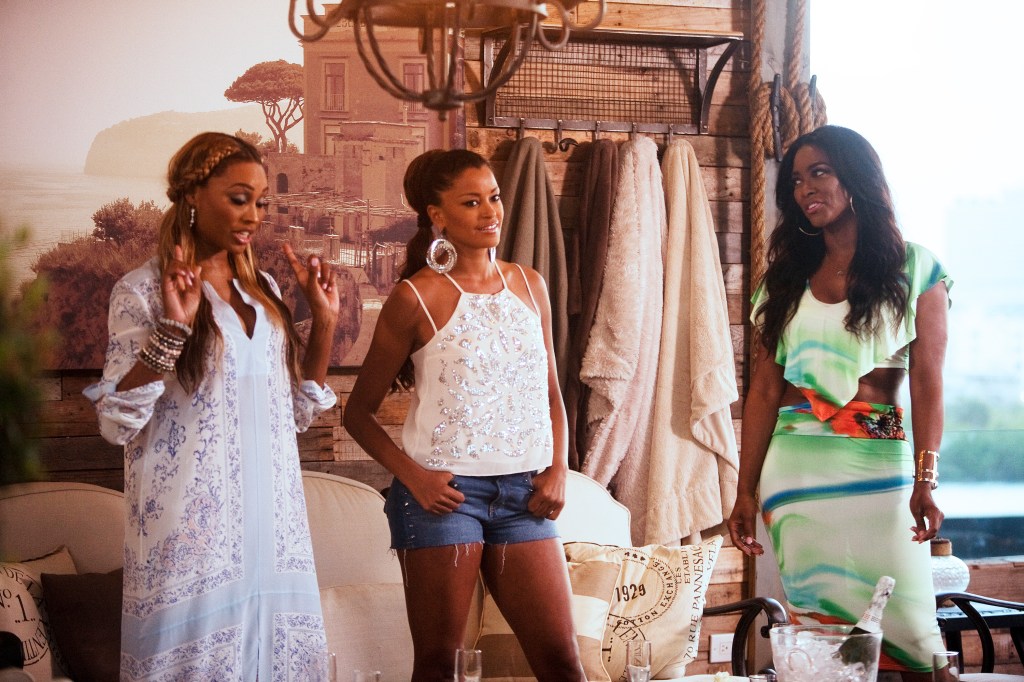 Newbie Claudia Jordan was Team Kenya all the way. But this one-season wonder butted heads with NeNe Leakes. At a dinner in Puerto Rico, Claudia decided to come for NeNe. Can't these Real Housewives ever eat in peace?
Claudia called out NeNe for being "catty." Then Claudia dissed her big Hollywood career after her show was canceled.  NeNe crowed about all the money she had in the bank. Remember that NeNe is "very rich, b*tch." Claudia told NeNe that she never had to be a stripper. Unlike NeNe.
NeNe called Claudia "a puppet." After Claudia finished reading NeNe, the "OG" flipped a switch. Welcome back, Nay-Nay! RHOA fans know that when NeNe gets heated, bad things happen. True to form, NeNe called Claudia "a whore" and alleged that she slept with almost everyone in Hollywood. Then she slammed Claudia's fashion and the state of her vaginal area. Let's leave it there.
Apollo's Unwelcome Visit
We know that Apollo thought that Phaedra was cheating with a man dubbed "Mr. Chocolate." And Apollo was pretty salty about it.
So, Apollo took a detour on the day that he was due to report to prison. He showed up at Phaedra's house and screamed at her and threatened her. Apollo accused his wife of changing the locks to keep him out. He was pacing through the house. It was intense.
Apollo demanded to see his kids after seeing them the night before. Even though they had been separated for months, Apollo accused her of planning to leave him. Well, duh. Phaedra, being the Southern lady that she is, told her that she prays for him. He finally left after she threatened to call the police.
No Chocolate for Phaedra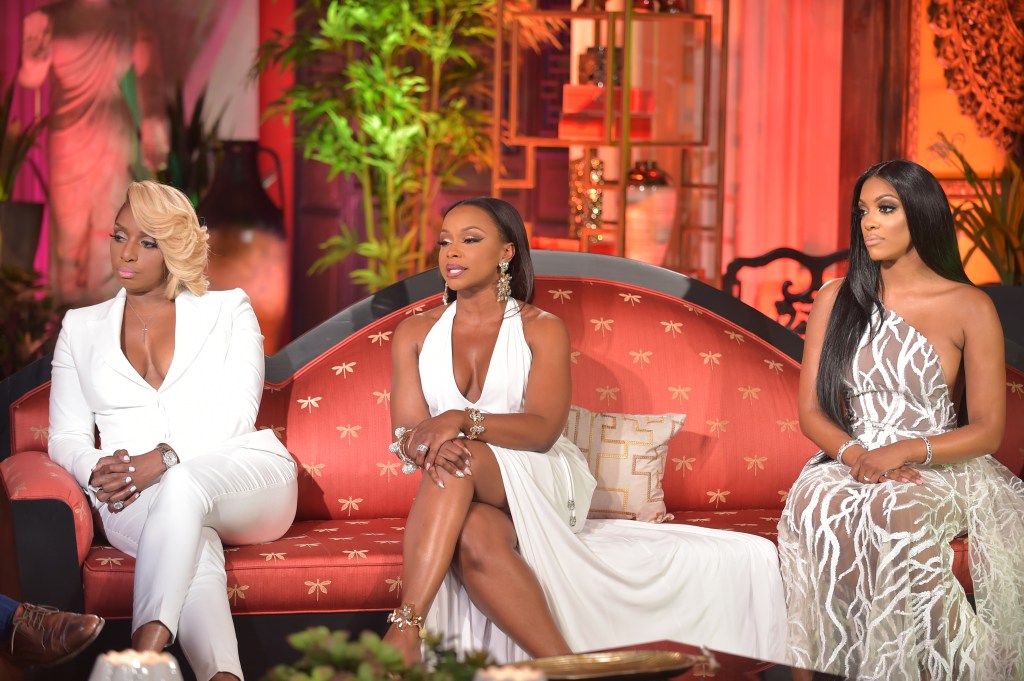 Phaedra looked nice and relaxed at dinner with her co-stars. So, Cynthia decided that it would be a stellar time to bring up what Apollo told her husband, Peter Thomas. Apollo told Peter that his wife was dating an African guy. He even showed Peter text messages. Phaedra denied it.
Kenya added that the texts were to a "Mr. Chocolate." When Kenya slammed Phaedra for having an affair while married, Phaedra tried to clock her with her purse. Porsha Williams ushered Phaedra out as Kenya called her "the biggest whore here."
Phaedra felt that Kandi should have defended her. But Apollo had already told Kandi and her husband, Todd Tucker, all about Phaedra allegedly cheating. Kandi thought it was just stupid gossip, so she never informed Phaedra. Oops.
Counseling Gone Wrong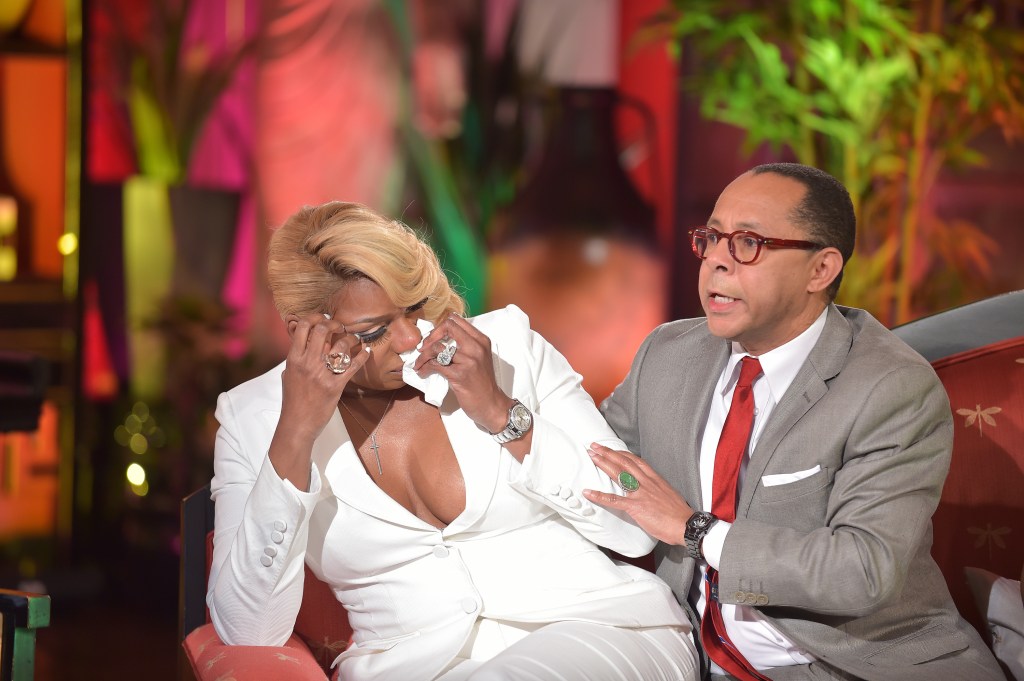 NeNe suggested that the entire group attend a therapy session with Dr. Jeff Gardere. Cynthia called out NeNe for calling Peter "a bitch" at Kenya's charity event. NeNe was sarcastic and talked over everyone. She claimed that all the ladies are always coming after her.
NeNe added that Cynthia was "a mean girl." Dr. Jeff asked her not to talk over Kenya. NeNe replied, "I don't know you like that."
Dr. Jeff, who was clearly out of his league with NeNe, talked about the fallout between her and Cynthia. NeNe got up and stormed out. Dr. Jeff followed her, begging her to return to the session. She accused him of being against her. NeNe even threatened to go after his license. Poor Dr. Jeff. He was nearly closed in her vehicle door as she prepared to drive away.
Season 7 gave the fans some epic fights and some tense moments. Our Atlanta peaches impressed us once again with their ability to read and ability to storm out.
TELL US- WHAT WAS THE CRAZIEST MOMENT THIS SEASON? SHOULD KANDI HAVE TOLD PHAEDRA ABOUT THE CHEATING RUMORS?
(Photo Credit: Getty Images/NBCUniversal/Alex Martinez/Bravo/NBCU Photo Bank)