Season 12 of Real Housewives of Atlanta was a milestone for the series. "OG" NeNe Leakes departed after this season, reportedly due to stalled contract negotiations. But NeNe made sure her final season delivered plenty of drama. We saw friendships tested and a marriage fell apart. Let's reminisce about all of the bombshell moments from Season 12 of RHOA.
Marlo Flips Her Wig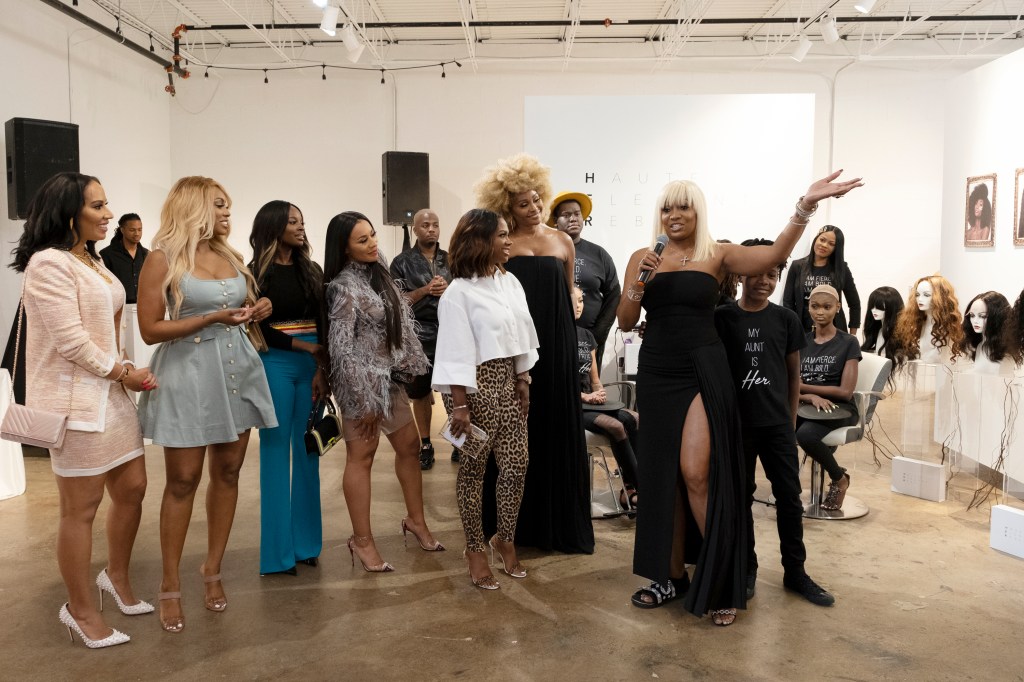 Marlo Hampton was minding her own business, having an event for her wig line. Marlo called on Porsha Williams and NeNe to compete in a wig-styling competition. Suddenly, everyone was shocked to see a marching band, with members chanting "Kenya Moore Hair Care!" The mini parade came into Marlo's space, with free samples of Kenya's hair care line.
Kenya was smiling and acting nonchalant as a shocked Marlo nearly flipped the wig she was wearing. Only Kenya would have the nerve to barge in and hijack Marlo's business event. Of course, Marlo tossed Kenya and her products out.
Kenya Ruins Cynthia's Big Moment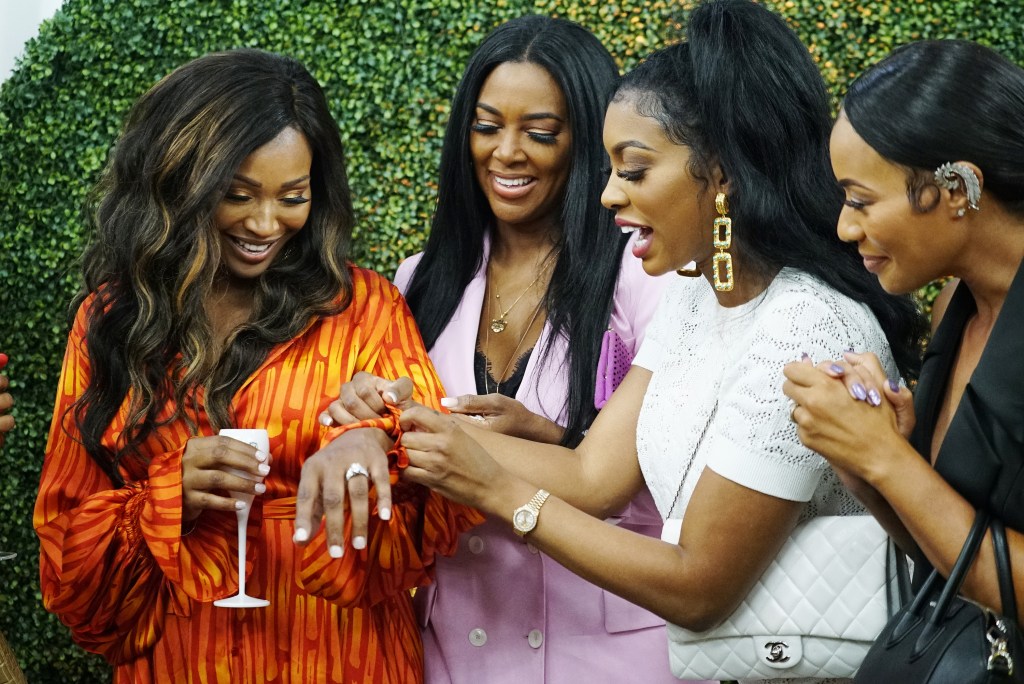 When Cynthia Bailey's boyfriend, Mike Hill, popped the question at her wine cellar event, it was supposed to be a surprise. Mike gave Kandi Burruss a heads-up not to leave early. Since Kenya was running late, Kandi texted her and told her that she thought Mike was about to pop the question.
Kenya showed up and immediately told Cynthia that she felt like Mike might propose. Kandi was furious. Mike did propose, and Cynthia was elated.
But later, Cynthia asked Kenya why she would tell her that he was going to propose and ruin the surprise. Kenya tried to say that it was due to her psychic powers. If Kenya was psychic, she never would have tied the knot with Marc Daly.
Kandi tossed Kenya under the bus and said that Kenya knew because Kandi told her. Not Kenya's magic 8-ball. Kenya said that she never meant to ruin Mike's big surprise. Cynthia might have been "CHill" at the time, but she was later angry at Kenya.
Snake Bite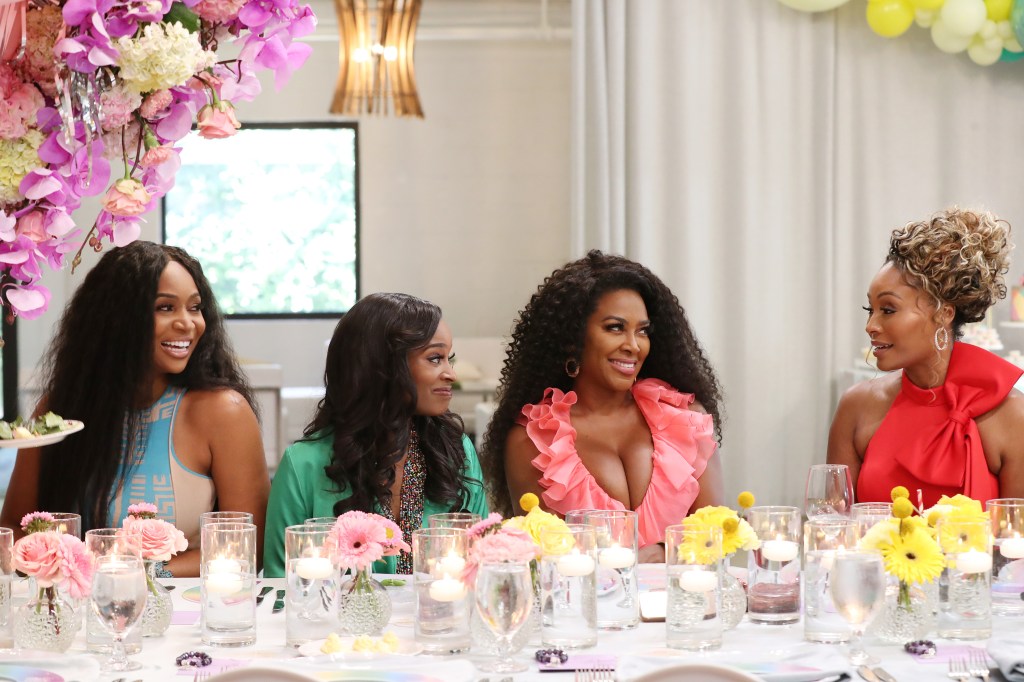 In episode 11, everything went off the rails in Toronto. Yovanna Momplaisir was a friend of the cast and close with NeNe. She had an audio recording of Cynthia dissing NeNe. The "OG" wanted Yovanna to reveal all to the entire RHOA cast. Cynthia bolted out of the hotel room, so NeNe brought her back to the tinder box.
Kenya pointed out that NeNe already knew what was on the tape, so why create all this drama? For television. Duh. Porsha screamed at Yovanna, "Why are you here?" Then Porsha demanded that NeNe tell the group who made the recording.
When a producer asked NeNe why she wouldn't spill the tea, her answer related to last season's finale. NeNe pointed out that Cynthia didn't give her a heads up, so she won't give her the courtesy. Bitter, party of one!
Porsha told Cynthia that NeNe and Yovanna were the snakes. Cynthia wanted it to be over and said she would talk to NeNe later. Kenya had Cynthia's back and said that NeNe "had the floor." NeNe once again took the floor and screamed, "You shut the f**k up, bitch."
Kenya and NeNe almost came to blows. NeNe was restrained by producers while Kenya left the room. She stood just outside, complaining about how NeNe made Cynthia look bad. NeNe went after Kenya but was again blocked by security.
Happily Never After
Most of the RHOA cast saw plenty of red flags with Kenya's husband, Marc. He didn't treat "Ken" very well. At the charity event Marc hosted, he insulted his wife and told the cameras to stop filming him.
The next morning, Kenya's publicist told her that Marc was releasing a statement announcing their split. When Kandi and Cynthia visited Kenya at her home, she opened up about Marc's explosive temper. Kenya also shared that she believed that Marc was cheating on her.
A Greek Tragedy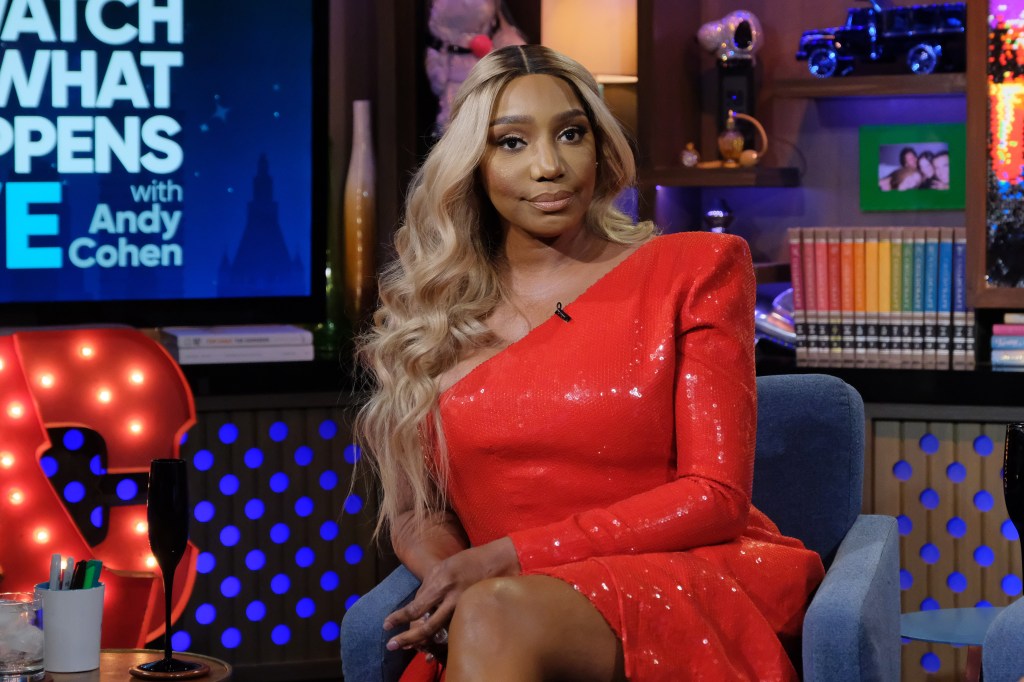 During the trip to Greece, the ladies decide to air their grievances in a civilized manner. If you were wearing the crown, you could speak. Cynthia gave NeNe the crown, which she accepted. Then announced she had nothing to say.
When Kenya started to shade NeNe, she serenely responded, "If you don't have a crown, you should be shutting the f**k up." Kenya asked if she was dealing with the "bipolar NeNe?"
NeNe quipped, "That's why your husband left, b*tch. Because you're bipolar." Not cool, ladies!
She continued to get heated and threw popcorn at Kenya despite the other ladies pleading for her to calm down. "Shut up, NeNe. You're just a low-life scum," Kenya exclaimed.
NeNe replied, "I'll spit in your mother f**king face." Of course, NeNe denied actually spitting at Kenya. Do these ladies realize they are on camera?
Well, Season 12 certainly saw some fireworks between Kenya and NeNe. Fans also saw Cynthia get engaged, and Kenya's marriage disintegrate. This season of RHOA was NeNe's swan song. It was also the end of Kenya and NeNe's endless feuding.
TELL US- WHICH MOMENT WAS YOUR FAVORITE? WERE YOU SURPRISED THAT KENYA AND MARC'S MARRIAGE FAILED? DID NENE GO OUT ON A HIGH NOTE?
(Photo Credit: Getty Images/George Pimental/Bravo/NBCU Photo Bank)