Last night's Real Housewives Of Atlanta was a trip to the insane asylum rather than carnival. Or maybe they thought they were visiting LeeAnne Locken's carnival of crazy? The fighting and attempted snake baiting went so completely off the rails that Kenya Moore's elusive SECURITY! appeared out of nowhere to drag Nene Leakes away. Does Kenya summon them by flicking her maxi dress?!
It's hard to believe the mess all started with Porsha Williams getting re-engaged in a surprise re-proposal. Dennis McKinley showed up Tanya Sam's party, and crept through the crowd like a gopher, until he popped up right at Porsha's feet holding a ring.
All it took was Dennis publicly admitting that he betrayed Porsha's trust and embarrassed their family for her to immediately re-accept and start calling him "husband," but something is not right because Porsha was all excited to take Dennis back to the hotel for some peen, yet he had to fly home to his hot dogs instead… Like Kandi Burruss I too have my suspicions. However if I were Kandi I'd be more worried about what Todd Tucker is doing with his time all day with all these unfinished properties he spent her money on! 
Porsha is beside herself with joy as she rides back to the hotel with the other ladies, staring her sparkly finger in the reflection of the bus window. Meanwhile Kenya has tricks up her skirt. Kenya keeps mimicking Tanya and doing unkind impersonations of her. It's not that Kenya doesn't have Tanya time spot on, but it's bizarre that she is suddenly coming from someone who is so nice. It's also not nice for Kenya to be interrogating Porsha about Dennis cheating. Can't a girl just enjoy her re-engagement in peace?!
To distract from the Dennis debacle Porsha decides now is the time to get to the bottom of SnakeGate. Everyone, except for Tanya who has skipped away with Paul, decides to meet back in Marlo Hampton's room for a snake summit. The exterminators have entered the building!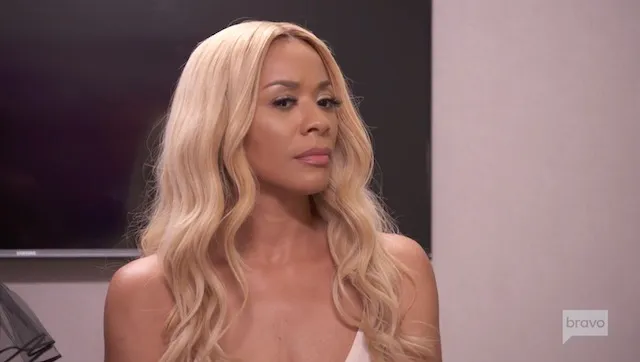 I suppose the point of this was to either catch Nene in a a lie, because no one believes there actually is a recording, or force Yovanna Momplaisir to finally admit she's the culprit behind secretly recoding Cynthia Bailey. Honestly I just think Cynthia wants to know what she supposedly said that can be so incriminating. For some odd reason Yovanna and NeNe, probably plotting, decide to put on their PJs before joining the other ladies, which also gives Kenya time to plot with Porsha how they will expose Yovanna.
NeNe flounces in with her boob literally hanging out of a red satin robe, and nothing else on underneath except matching panties! She doesn't think it's big deal because she has pasties on (and patsys for friends). NeNe now claims that it's not a recording – but "audio," like an accidentally recorded conversation similar to when Cynthia was nabbed telling Mike Hill how she wasn't supposed to inform NeNe that Kenya was coming to the Peach Bellini party from last season. Or like when NeNe accidentally left her mic on after Eva Marcille asked her not to? Also NeNe told Kandi that she had a recording — now she's changing her tune and calling it "audio."
Yovanna actually had the nerve to lecture everyone about how fake they are so that's why it Cynthia deserved to be recorded. Yovanna has been drinking NeNe's moscato, because she pretended to be friends with Cynthia so she could cajole her into trash-talking NeNe, then secretly recorded it – at Cynthia's own event – to give to NeNe. Yet Yovanna is calling Cynthia fake?! Girl… you aren't that bitch, you're just a bitch!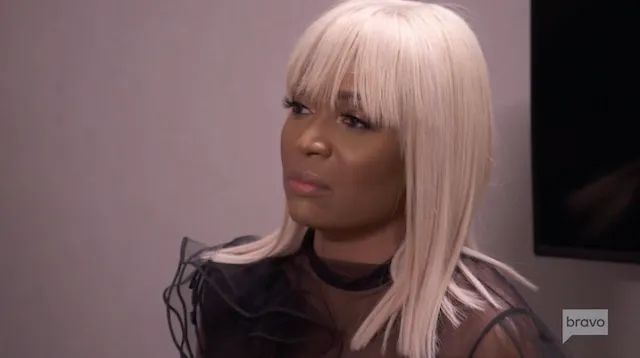 Also, this is all such bullshit! Marlo tries to defend NeNe and interpret her NeNe-talk, and Cynthia just loses it. They end cursing each other out, and Cynthia actually tries to leave before NeNe promises that she wants to explain. Timesssssss sup, NeNe! Cynthia wants to believe NeNe can be a good friend, but she needs to let go of that delusion!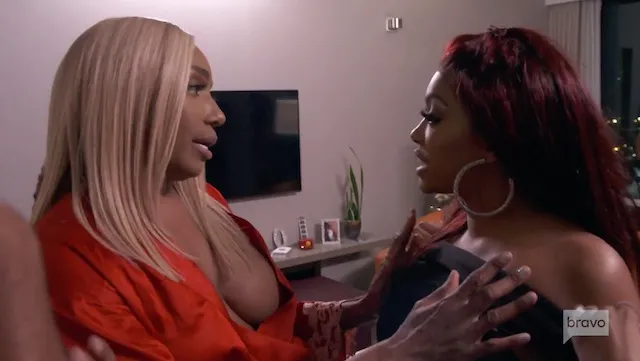 Eva and Porsha have also had enough of being strung along by a snake  Plus Eva has to leave at 5am and is about a million months pregnant. As Marlo stuffs food in her mouth and NeNe rambles nonsensically, Porsha and Yovanna get into it after Yovanna tells Porsha the only snake she needs to worry about is Dennis. Porsha jumps up and then everyone starts running into the hallway like a cobra is on the loose.
NeNe refuses to tell Cynthia that Yovanna is the one with the receipts because she wants Yovanna to take the heat. Basically NeNe set Yovanna up to get revenge on Cynthia for what happened with Kenya last season. She even admits it! And NeNe tells Yovanna she must tell Cynthia, because NeNe has too much history with these girls to sacrifice it over Yovanna. What the hell is wrong with "Yo-Yo" that she would put up with this emotional manipulation and continue to call NeNe a friend? MeNe needs to stop! Also why is everyone on Team MeNe wearing a blonde wig?
NeNe finally convinces everyone to come back to the room but someone called security – probably the hotel (or Kandi) – and that was a good call because all of the sudden NeNe and Kenya are at each other over who needs to mind whose business and shut the fuck up. Porsha, who was screaming at Yovanna, winds up helping production hold a foaming NeNe back – and thank god Porsha was there to block NeNe's full boob from hanging out! Cynthia and Marlo grab Kenya. Eva manages to slink out.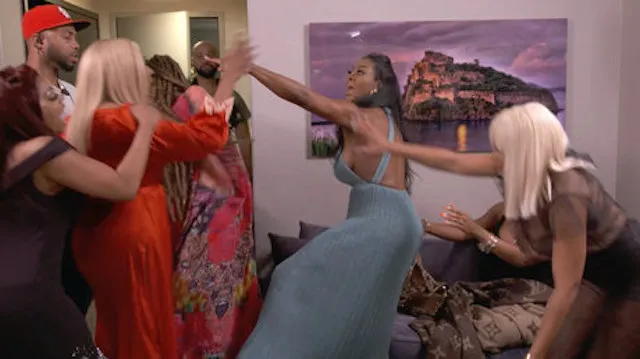 Production actually has to chase NeNe down the hall and restrain her as she tries to go after Kenya! You know what this means – for the rest of the season it will be Kenya vs. NeNe!
The next morning as Tanya is getting ready for Carnival, NeNe flounces into her room, happy as can be, as if nothing traumatic happened the previous night. NeNe gossips cheerfully to Tanya about the fight and gushes that Porsha tried to protect her from Kenya so now they are back to "Big Sis/Little Sis." I wonder what Porsha has to say about this? Tanya is shocked and confused. Also Yovanna decided to slither away to Atlanta early.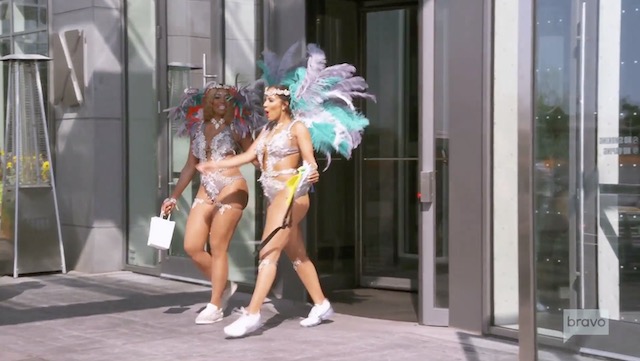 By the time the other women meet in the lobby for Carnivale NeNe and Yovanna are gone. Cynthia is still irritated with Marlo, who is also acting like nothing happened. And honestly when you're wearing 92lbs of sequins, a cape of feathers, and fishnet stockings, you're already irritated enough without having to add to the annoyance.
Also, it's Tanya time and she refuses to let anything rain on her literal parade. Porsha is also ready to turn WAY the hell up and celebrate once again being engaged. I have no idea why everyone – except Kandi – is supporting her getting back together with Dennis. No, he didn't commit beastiality as the blogs reported (so weird), but he certainly was unfaithful and lied to her while she was pregnant. NO. NO. NO.
After the previous night's insanity, Cynthia and Kenya just aren't in the mood to party and end up hiding on the bus talking about how annoying Marlo and NeNe are. Cynthia no longer cares about snakegate and is done trying to get to the bottom of who manipulated her. I mean, it's obvious and now Cynthia knows she just can't trust Yovanna!
That evening, after a long day at Carnival, the women all meet for their final dinner in Canada. Marlo, wearing her wise old lady glasses, apologizes to Cynthia, who accepts although she has no plans to trust Marlo every again. Everyone is in a surprisingly jubilant mood so of course Krayonce starts being messy. WHY? Why is Kenya messier than a hoarder house?!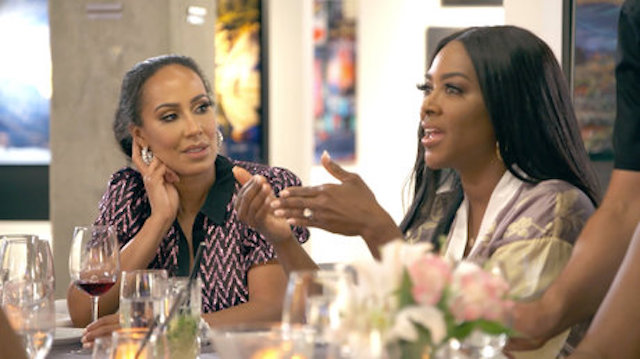 Kenya attempts to bait Tanya by asking a so-called 'general' question regarding who would want to know if their man was cheating. Porsha actually thinks Kenya is referring to her and Dennis, but Cynthia and Kandi know this is directed at Tanya. Apparently the girl who owns the cookie store nearby Cynthia's wine cellar was out one night when Paul showed up and lavished her with attention before asking for her number. According to Kenya Tanya lives in a fantasy word where Paul is faithful and they have a great best-friends-with-benefits relationship. Tanya even checks his phone – his only phone – and he doesn't mind. When pressed Tanya admits that if she found out Paul was flirting with other women or being unfaithful she'd be hurt and devastated.
I personally don't believe this cookie girl so far as I can throw her. The entire thing seemed contrived. And if Paul knows she has a business in the same building as Cynthia, I doubt he'd be so dumb as to shit where his wife's co-workers (literally) eat! Kenya clearly has some sort of issues with Tanya is seeking to discredit and embarrass her. Kenya was mimicking her in a cruel way on the bus, always behind Tanya's back, and now she's trying to humiliate her by asking loaded questions to set her up. This is on par with how snaky Yovanna was to Cynthia. And this is why I can have no sympathy for the devil's advocate!
TELL US – WHO WAS THE AGGRESSOR: NENE OR KENYA? DOES KENYA HAVE AN ISSUE WITH TANYA?
[Photo Credits: Bravo]