We laughed. We cried. We cringed. Alas, Season 15 of The Real Housewives of Atlanta has finally concluded with part two of the reunion.
We're not used to two-part reunions on RHOA, but the condensed format meant that things moved a mile a minute. This year, Andy Cohen had quite a task on his hands to get us across the finish line. One second, we're talking about Marlo Hampton's late nephew, and then, the next minute, Drew Sidora is singing a breakup song right to Ralph Pittman. Here's how we got there.
Clock out, Courtney
Part 1 of the reunion ended with Drew finally confronting Ralph's "unverifiable" cousin, Courtney Rhodes. We picked up right where we left off, and Drew finally got Courtney together for what she said about Drew's son and adoption.
Drew reminded Courtney that one day, her son would see this. Courtney didn't care. She attacked Drew's credibility and claimed she "singlehandedly" destroyed her kid's life. Drew was confident that Ralph had coached her.
At that point, Kenya Moore jumped in and said, "That's so evil." Sanya Richards-Ross also intervened and reminded the "cousin" that kids are off limits. That is the line we don't cross, yet Courtney is jumping over it like she's playing hopscotch.
The most interesting thing that happened to Courtney in this reunion came after she and Monyetta Shaw were dismissed from the stage. Courtney's first stop after stepping off the stage was Ralph's dressing room. She ran in there to give him the low-down and slammed a door on Drew's sister, Allison, in the process. Courtney messed with the wrong sister.
Allison popped that door open so fast, like she was ready to rumble. Courtney had a lot to say to Drew on the reunion stage, but she was on mute when Allison confronted her. Everyone needs a big sister like Allison, and nobody needs a cousin like Courtney.
What's the deal with Drew and Ty?
Things got interesting (but super uncomfortable) when the conversation turned to Drew's relationship with WNBA player Ty Young. Courtney claimed that Ralph said that he decided he wanted a divorce after learning of Drew's relationship with Ty. When your marriage is in crisis, the first person you call is your distant cousin whom you just met through Shereé Whitfield. That makes sense!
It isn't easy to navigate the Drew and Ty storyline because it feels like some of the women are trying to out her, which is never okay. Plus, the way some of the women talk about the idea of Drew being with a woman teeters on the border of problematic.
Shereé, the bone collector, pulled out some receipts to help further the narrative that Drew and Ty are having a tryst. It wasn't a magazine this time; instead, it was copies of Drew and Ty's text messages. Shereé claimed an anonymous source dropped them off at Chateau Shereé. Literally, a little birdie brought her these receipts? Okay, girl.
Drew did not admit to being in a romantic relationship with Ty, and she was adamant that they were just friends. She also said she's not into women, so we should respect Drew and leave it there.
Kandi (still) on the defense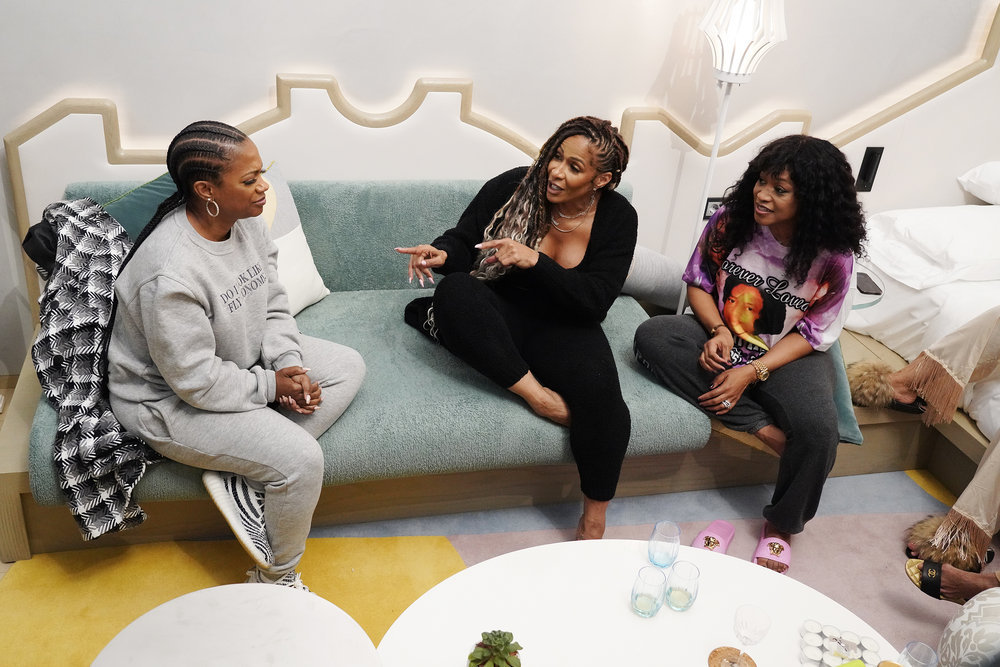 One of the recurring themes of this season was that everyone was after Kandi Burruss for something. So, of course, the reunion found Kandi in the hot seat for everything from her YouTube channel to her attendance issues.
Unfortunately, we had to revisit the storyline of Marlo's nephew and the mental gymnastics she did to connect her nephew's death to the shooting at Kandi's restaurant. It doesn't matter how many times Marlo has tried to explain why she got so mad at Kandi for something that happened two years ago; it never entirely makes sense.
However, one thing that did make sense from Marlo was her complaint that Kandi never shows anything negative happening in her life on the show. Andy jumped in for Kandi and reminded her of all of the Todd Tucker and Mama Joyce drama that has unfolded throughout the series.
Kandi also added that although we don't see a lot of behind-the-scenes restaurant mess on RHOA, her spinoff Kandi and the Gang did show all of that. It was a subtle flex on Kandi's part. It almost felt like she was saying, "Sorry, I have so many projects that you can't keep up with the full Kandi Burruss Cinematic Universe."
Babies, babies, babies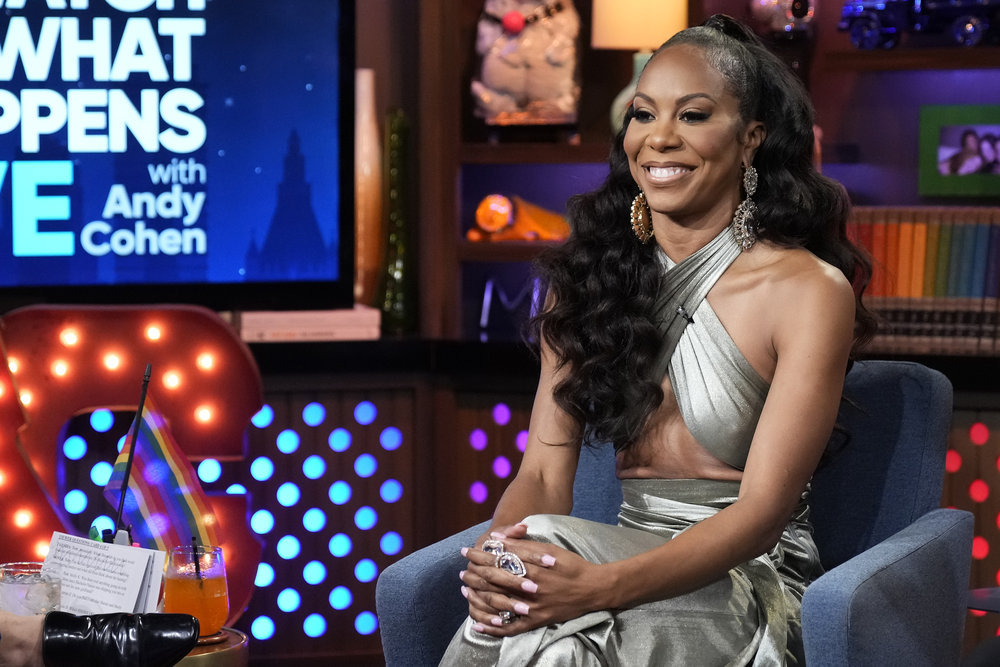 Between all the talk about infidelity, girl crushes, and questionable cousins, there was a segment for Sanya to talk about the heartbreaking loss she experienced. We followed her through the early days of her pregnancy, but when the cameras went down, she suffered a miscarriage. She described it as one of the most traumatic experiences of her life. She recounted it on the reunion stage and then confronted Kenya over her lack of support after the loss.
According to Sanya, everyone else from the cast sent flowers, Uber Eats, and well wishes, but there was radio silence from Kenya. Of course, this isn't the first time Sanya has tried to start a problem with Kenya. But this was the first time where she actually had a leg to stand on. Kenya said she tried to call Sanya but couldn't get ahold of her. Sanya felt like Kenya could have done more to support her, and if they both return next season, this will be a feud worth exploring. Sanya clearly wants Kenya's friendship, but is Kenya willing to put in the work?
In other baby news, Kenya shared an update on her journey for baby number two. She decided she wouldn't be moving forward with a surrogate. Although she was initially considering utilizing the embryos that she had ready to roll from her relationship with Marc Daly, at this point, that's no longer on the agenda. She announced that she wants to adopt a toddler, and Brooklyn hopes for a little sister! We can't wait to meet all the new little ones coming from this season. There was a lot of darkness this season, but the baby news was a rare glimpse of light.
Ralph got his peach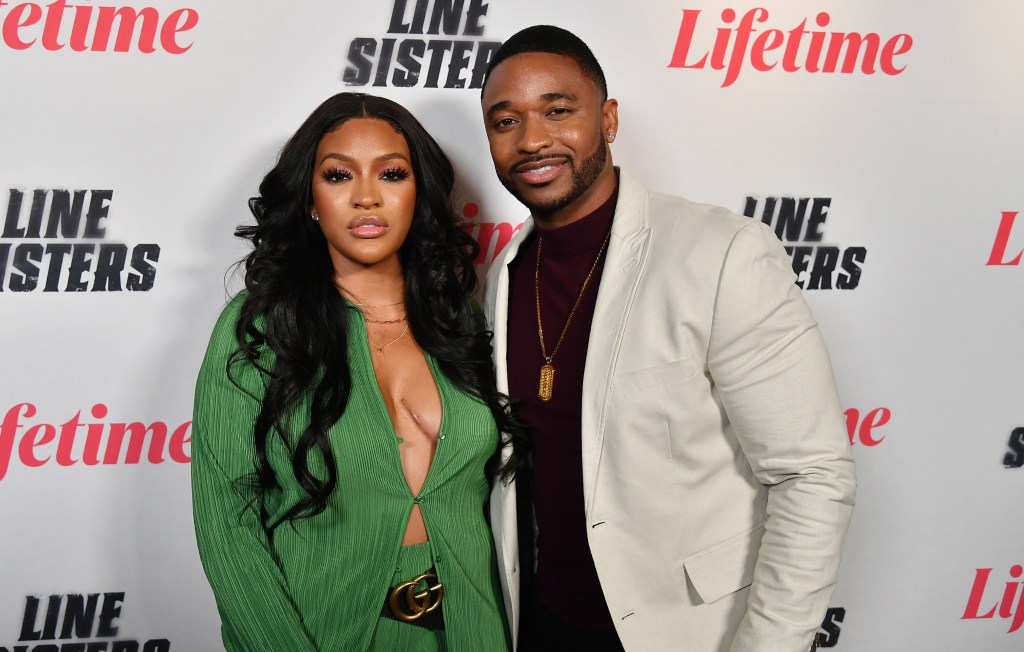 Okay, so let's get back to Drew, Ralph, and the most awkward sequence of events in RHOA reunion history. There were no other husbands or boyfriends at the reunion this time around. It was just Ralph, and he was in the hot seat.
Ralph arrived in his all-black sparkly suit, and Drew immediately pulled out a peach and gave it to him since that's clearly what he's vying for this year. Over the years, Drew has pulled out dog treats, a "pet" wig, a peach, and a plum. She is the prop queen of Atlanta, and you have to respect her for it. Ralph, however, wasn't amused.
Although he said he wanted to "just talk" with Drew and "represent" for their kids, we saw the same toxic behavior on the reunion stage that we've seen from him for the last three years on the show. He doesn't listen. He only blames. It was astonishing how he just sat there and called Drew a liar over and over again.
What was especially interesting was that Drew claimed that Ralph apologized to her days ago but then showed up to the reunion with a different tune. They disagreed on every topic. Drew would say that Ralph was lying. Ralph would say that Drew was lying. It didn't matter if it was the Black Magic Mike audition, marriage counseling, or cut-and-dry evidence of sexting; Ralph claimed that Drew was lying. How is it possible that she's lying about everything?
Eventually, Drew got overwhelmed and left the stage. Her glam squad and her sister were in the wings, ready to have her back. Allison asked Drew, "Why don't you tell them about the PI?" Yes, Drew. Please tell us about the PI! Instead, Drew said there were some things she wanted to leave off TV. That's not fair to us, Drew. Drop those receipts!
Throw it away
When Drew left the stage, it created a fantastic opportunity for Kenya to step in and talk to Ralph on her own. Kenya knows a thing or two about dealing with manipulative, gaslighting men. She easily took this one down, and it was so satisfying to see.
Kenya dismantled Ralph and then literally had a smile on her face. With everything Marc put her through (and continues to put her through), you know it was cathartic for her to stand up for Drew. It was also simply the right thing to do. Why wouldn't you stand up for your friend?
When Drew returned, she delivered a performance of her new single, "Throw it Away." If it's not evident from the title, this is a breakup song, and she sang it right to Ralph while Andy and the rest of the Housewives awkwardly watched from the couches.
Drew was brave for this — she spent the last few hours screaming and crying but then shifted into performance mode. She nailed it, for what it's worth, but this was probably the most awkward reunion moment we've ever endured. What a way to end things.
What's next for RHOA?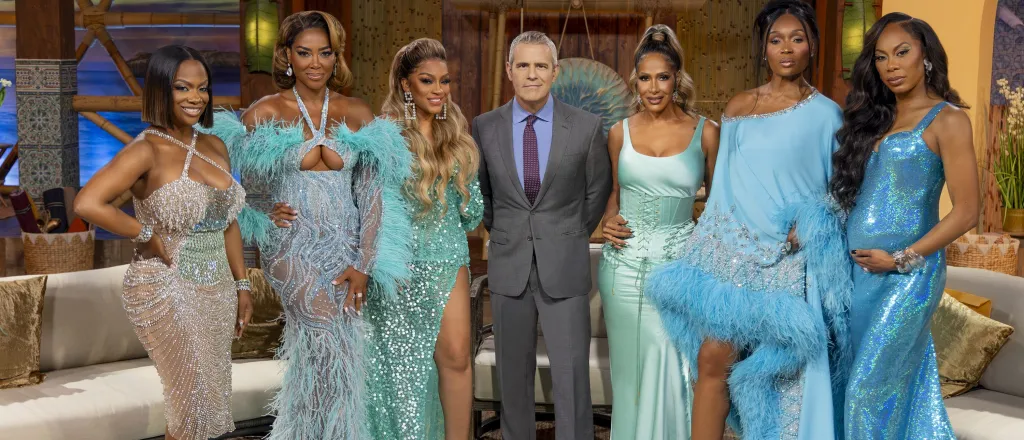 With any season of The Real Housewives, once the reunion ends, the casting rumors begin. Who's getting fired? Who's getting demoted? RHOA is especially in the spotlight because of the pesky rumors of a full-blown reboot and casting shakeup.
However, as Andy and the ladies toasted over Vinho Verde on the reunion stage, Shereé ended Season 15 with some poignant words of wisdom that hit harder, knowing that this could be the last time we see some of these women together on television. She told the ladies how much she loved them — especially when they can have fun and laugh together. This season got dark at times, but RHOA is best when they can all come together and laugh at the end.
"I'm not giving up on you guys," Shereé said. "And it's not over."
We're not giving up on you guys, either. The Real Housewives of Atlanta is never really over — especially since Seasons 1-15 are streaming on Peacock.
TELL US – WHAT WERE YOUR OVERALL THOUGHTS ON THE SEASON 15 REUNION? WHO WAS YOUR MVP? WHO SHOULD HAVE SPOKEN UP MORE? AFTER WATCHING THE REUNION, DO YOU STILL THINK THE SHOW NEEDS A REBOOT?