Real Housewives of Orange County has had an interesting season. We saw the return of Tamra Judge in all her glory, but that glory soon turned to … unrest. Viewers were also introduced to freshman Jennifer Pedranti. Jen came on as a friend of Tammy Sue's, and we all know how being friends with Tamra can go.
Tamra has been seeing red during a lot of her content. She's also copped to having her fair share of booze. It seemed Friend Jen had a target on her back and was the recipient of much vitriol from Tamra. Jen's boyfriend Ryan Boyajian was also the subject of conversation amongst the cast.
Tammy Sue and Jen were allegedly on the road to wellness. Unfortunately, they hit a bump in the most recent episode. After Ryan sustained another blow by Tammy Sue's word salad, he called out a different Ryan Tamra should be keeping her eye on. Hypocrisy and Jen's boyfriend have officially entered the chat.
Is a dick pic worse than a threat?
While Tamra drops the dirty dish on Jen and Ryan, are things in her closet just waiting to emerge? Ryan Boyajian took it there on his Instagram Story and posted a shot of Tamra with her oldest son, Ryan Vieth. And not for nothing, he might be right.
The photo of Ryan V and Tamra had the caption, "The only Ryan whose behavior Tamra should be concerned with."
Now, if memory serves me correctly, Ryan V was incredibly problematic. I mean, he was also slinging the D on social media. He threatened his ex-wife when things went sour, and it was pretty brutal. Obviously, that horrible incident was deleted after she shared barbaric texts, but you know, screenshots exist.
And then there was that one time Ryan V went on a homophobic/transphobic/anti-Black/anti-Asian rampage on his Instagram Stories. Yes, those eventually disappear but the internet never forgets!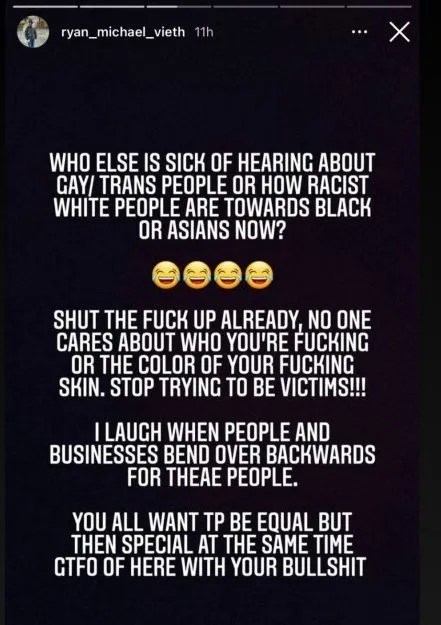 Golly, Ryan B might have made a pretty good point. This all kind of comes back around to Tamra saying Jen destroyed her family. As far as family goes, does Tamra have room to talk? I mean, how's the relationship with Sidney Barney? For years Sidney begged her mother not to share certain things on social media or the show. It reached the point where Sidney basically shut Tamra out of her life completely. Could Tamra not be blamed for the destruction of the relationship with her own child?
Sure, Jen and Ryan B aren't angels with perfect pasts, but no one on this cast should be pointing fingers – and certainly not Tamra (ahem, naked wasted). Ryan B might like to share the D but I can also recall several times Tammy Sue's boobs were on full display. And to my knowledge, Jen hasn't been so extra to have had an actual makeout session with one of her co-stars.
As far as Tamra throwing one of her friends into the pit of despair, at least Jen is in good company. Heather Dubrow has seemingly peaced out of the new version of Fox Force Five.
Ultimately Ryan B made a good point, Tammy Sue might want to stop throwing stones in her glass house.
TELL US – CAN YOU SEE WHERE RYAN B WAS COMING FROM? WHAT ARE YOUR THOUGHTS ON HOW TAMRA TREATED JEN?