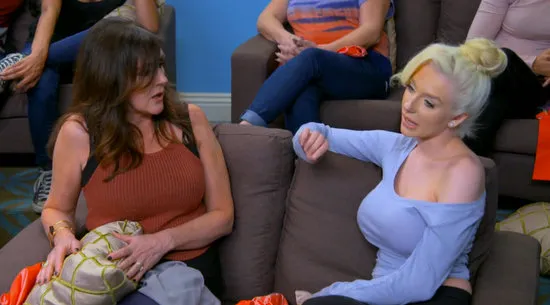 Courtney Stodden and her mom/former pimpmomager, Krista Keller, are currently appearing on The Mother/Daughter Experiment to work through Krista's obsession with fame, and her alleged attraction to Courtney's husband Doug Hutchison. Why anyone is attracted to Doug is a mystery to me; why a mother and daughter are fighting over him is downright frightening. This storyline needs to be included in American Horror Story! 
In a preview for next week's episode, Krista finally admits that Courtney's suspicions were correct – Krista did once have feelings for Doug. A heartbroken Courtney breaks down into sobs, while Krista threatens to leave the therapy house. However, in a few different interviews Krista says there is much, much more to the story and it was Doug who wanted more from their relationship! 
CLICK THE CONTINUE READING BUTTON FOR MORE!
Krista tells Us Weekly, that yes, her relationship to Doug was overly-intimate as a result of his issues with Courtney. Krista confesses to feeling "concern that [I could perhaps fall in love with him]," but insists she backed off before it went too far. According to her, this is just the tip of the salacious iceberg. She alleges that Doug's depravity included proposing a threesome between himself, Krista, and Courtney!
Sit down. Have barf bag nearby. You've been warned. 
"Doug and I never had an affair," proclaims Krista. Instead three months after Courtney and Doug married, the then 16-year-old had regrets. Krista, their next door neighbor at the time, was trying to support a couple in crisis. Oh so benevolent!  
"This was a hard time for Doug, so Doug was reaching out to me," explains Krista. "I was there for him emotionally." 
"You know, it looked like every time [there were issues with Courtney], Doug wanted to talk with me — I don't know if Courtney much liked it, but I was there for him when she wasn't." Hmmm… could it be because Doug and Krista are the same age, and Courtney was, oh, a child too immature for marriage?!
After Courtney and Doug's brief separation, Krista claims Doug, "begged me to stay with him" because "he had developed feelings for me." Also they were "emotionally dependent" on each other.
Doug's feelings also included sexual fantasies! Doug allegedly confessed to "fantasies of having both Courtney and me," says Krista. Krista realized her relationship with Doug was unhealthy. She distanced herself and started dating, which hurt Doug. "He got really upset about it. He tried to talk me out of dating him." 
Despite her actions, Krista insists, "I never wanted Courtney to leave. I tried so hard to keep those two together."
Krista professes that her decision to let Courtney marry Doug will "haunt me for the rest of my life." 
Adding fuel to the fire, Courtney's former publicist, Jim Strzalkowski, has come forward in support of Krista's allegations of "Doug's lust for her and his taboo fantasies."
"I can substantiate all of Krista Keller's current claims and stand in her defense," Jim says in a statement to Popdust. 
He also vindicates Krista's insistence that Doug is destroying Courtney. "Doug wanted complete control," explains Jim. "Courtney really was a very sweet, fun and outgoing girl, but she took her personality into a new direction and Krista and I became moving targets."
According to him, the root of Courtney and Krista's issues is Doug's jealousy. He denies that Krista participated in "any husband-stealing or outrageous shenanigans" such as selling stories to tabloids. Krista agrees, "It's just like, ever since she got into Doug's entanglement, she's just changed." Krista resigned over the direction Courtney's career started taking – specifically her sex tape! 
"Believe me, Courtney and Doug do not want the real skeletons in the closet to be revealed publicly," concludes Jim. Wait, there are MORE skeletons? I need to lie down. 
Meanwhile, in her own interview, Courtney takes a decidedly different route by saying she just wants a more positive relationship with her extremely screwed up mom! 
Courtney wanted "private therapy" with Krista well before Lifetime came calling, but Krista wasn't interested. Krista had a change of heart when TV cameras became involved, however.  Courtney agreed do The Mother/Daughter Experiment, as "a last chance to find some healing in our relationship." 
Fame corrupted their already unstable relationship. 
"I started to feel used a little bit," explains Courtney. She faults Krista for improperly managing her career. "I said, 'I really feel like this managerial relationship is taking priority and I really need a mom right now. I don't want us to sacrifice our relationship for Hollywood,'" Courtney told Krista. "She got so upset." 
Krista resigned, "I honestly feel that's the best thing that ever happened to me."  Courtney describes their current relationship as "on-going" before finally admitting, "It's… it's not good." 
"Dr Debbie has made me understand, throughout this process, that my relationship with my mom has never really been healthy," Courtney confesses. "There were never healthy boundaries set. At all. I know that she knows she has done major damage." 
You can see Courtney's full interview at Perez Hilton. She's remarkably well-spoken and composed. And then she undoes all of that by doing this: 
In an homage to Kim Kardashian, Courtney posted her own nude selfie, which coincided with her announcement that she has new music in the works!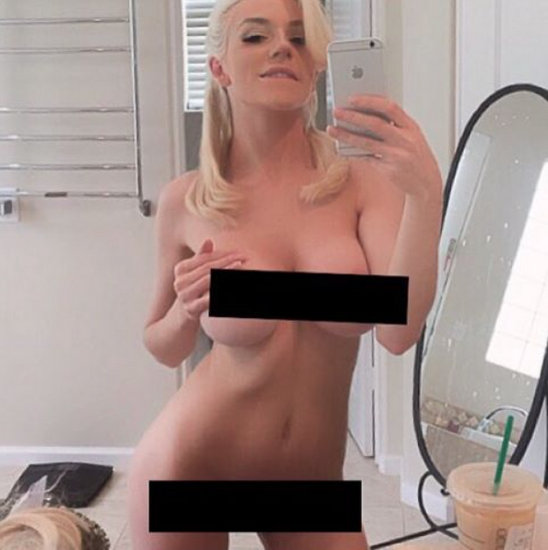 "Working on a new single! It's coming out soon… Oh & I can't find anything to wear either, Kim! #girlproblems #kimkardashian," insta-porned Courtney. Just no, to all of these TMI T&A pics. [Credit]
I have a real soft spot for Courtney. I feel she's been manipulated by Doug and Krista. I hope she can free herself from these people and build a happy life for herself. 
TELL US – WHAT DO YOU THINK OF KRISTA'S ALLEGATIONS? CAN COURTNEY AND KRISTA'S RELATIONSHIP BE SAVED? 
[Photo Credit: Lifetime]